This Week:
3 Reasons We're Quietly Getting More Bullish on Precious Metals
New World Order / Globalist Agenda for 2015
Why China May Struggle in the Years Ahead
Jim Rickards: China won't give up on Fiat money
Prices and Charts
| | Spot Price Today / oz | Weekly Change ($) | Weekly Change (%) |
| --- | --- | --- | --- |
| NZD Gold | $1660.13 | + $45.06 | + 2.78% |
| USD Gold | $1210.40 | – $5.10 | – 0.42% |
| NZD Silver | $23.51 | + $0.70 | + 3.06% |
| USD Silver | $17.14 | – $0.03 | – 0.17% |
| NZD/USD | 0.7291 | – 0.0235 | – 3.12% |
Sharp jump in NZ gold and silver prices this week as you can see in the table above.
And while the table doesn't show it both metals also had large rises during the week in US dollar terms. However they have since both pulled back sharply.
Whereas here in NZ the Kiwi dollar has dropped back close to the lows from earlier this year, under 73 cents today. So that has kept local prices of gold and silver up.
Ssshhhh – We're Quietly Getting More Bullish
We won't shout it too loudly but we are quietly getting more bullish on the metals.
Gold in NZ Dollars has again gotten above the NZ$1650 level and is currently bumping against the rising trendline we've been showing for a while.
Significantly we also saw gold in US dollars get above the US$1220 mark this week. As noted already it has pulled back since then but we're just starting to get the feeling we could have higher prices ahead before long.
Silver really burst higher during the week. Not surprisingly it has since pulled back a fair chunk. But we think a challenge of the January high around NZ$25 looks likely before too long.
And even silver in US dollars might well be in a quiet uptrend now (see lower half of the below chart).
3 other reasons why we're getting a bit more bullish on precious metals.
1. The 4 year downtrend in NZD Silver has just ended (maybe)
Check out the below 5 year chart of silver in NZ dollars.
Down in the bottom right hand corner you'll just make out the price appears to be edging above the 4 year downtrend line. That would be a very significant development after being in a downtrend for so long.
Now, it's probably too early to say this isn't just another head fake, but that NZ$25 level would likely be enough to make us a lot more convinced. Around these levels could be a good opportunity to "buy the breakout".
2. The Gold Silver Ratio might be breaking lower
Now this one definitely fits in the "too early to say" basket, but the gold silver ratio has dipped down noticeably in the past few days. Very close to breaking through the uptrend line from over 3 years ago.
It's not clear on this chart, but the ratio (of how many ounces of silver it takes to buy an ounce of gold) did get down to 69 this week, which is the lowest it has been for over 7 months.
This shows silver is rising faster than gold. Significant given all the talk of low inflation and deflation of late. Silver would be expected to not do so well in this environment due to its industrial uses.
When silver is outperforming gold this often occurs during a bull market for both precious metals. Such as in 2003-08 or 2009-11.
So if we can see the ratio head down towards 65 that will also be promising.
3. Mainstream News Headlines – Contrarian Indicator?
The fact that we've seen a number of very bearish articles in mainstream financial media of late also bolsters our more positive view.
One in particular this month that might well prove to be a contrarian indicator is a very disparaging article on gold in the Economist headed "Gold Prices Buried".
There is some history of the "magazine cover indicator" working well too.
Another example of this was Business Week's infamous 1979 cover, "The Death of Equities," which also kicked off the beginning of just the opposite.
Likewise in November last year the economist got it wrong on Russia too with the cover story "Russia's Wounded Economy". Which then proceeded to rebound.
Now, while it wasn't a cover article like the Economist's infamous "Drowning in Oil" March 1999 cover story which ran 2 months before a rise in oil prices, it might well be a good indicator that almost everyone has been washed out of the gold market that is going to. These mainstream media establishments are generally pretty good at getting to the party late.
Peter Tenebrarum over on Acting Man does a great job of picking all the holes in the economist editorial and is worth a read anyway.
So, as we said already we're not shouting it from the rooftops but it seems to us that the tide may have turned in favour of precious metals again after 3 or 4 loooooooong years.
If you've been sitting on the sidelines don't stay out of the game too much longer.
(NOTE: We also have a couple articles on this topic of a renewed bull market on the website. Scroll down to see them too.)
—– OFFER FROM OUR SISTER COMPANY: Emergency Food NZ —–
Your Financial Preparation May Be Done.
But are you prepared for when the shelves are bare?
Do you have basic supplies on hand?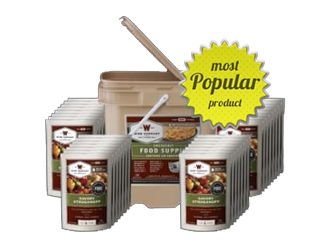 For just $395 you can have a 60 day long life emergency food supply.
Learn More.
—–
New World Order / Globalist Agenda for 2015
Maybe it's just us but we've been reading about a number of significant events due to occur in the September/October timeframe this year.
Now as we've written before who knows exactly what the grand plan of the "monied elite" who run the world exactly is. But it's a pretty good guess that they'd like to see things more centralised rather than giving in to market forces and seeing a more decentralised planet.
So we thought we'd share a couple of interesting articles which have a guess at some timelines over the next year or so. Warning – Thought provoking reading covering:
The Pope speaking to US Congress
A Greek default
Another US Government Shut Down
Rand Paul to be Elected
These posts also touch on the topic of the Chinese Yuan being accepted into the IMF's SDR currency. Although this for now seems to have taken a blow as the US has veto rights on the IMF:
Still there is a bit of water to go under the bridge before October yet.
Why China May Struggle in the Years Ahead
An email from John Mauldin this week summarised the speakers from his recent conference. One of these reports in particular caught our eye. From the presentation by a Professor at Peking University :
"Saturday morning we started off with Michael Pettis, who is not as bullish on China as Louis Gave is. Pettis is a Beijing-based economic theorist and financial strategist. He is a professor of finance at Guanghua School of Management at Peking University in Beijing. He was founder and co-owner of punk-rock nightclub D22 in Beijing, which closed in January 2012. He produces records for a lot of very innovative Chinese groups, so I guess you could say he is an economic rock star. He has one of the most eclectic and fascinating minds of anybody I've ever conversed with. He is also deeply embedded in the Chinese culture and government thinking. When Michael Pettis speaks, you need to listen. It is a little hard to summarize his fascinating lecture in a few paragraphs, but I will try.
China has seen many recent innovations, but there is a lot of confusion surrounding them. The Chinese government has three goals: slow down credit growth, keep the employment rate high, and repair the national balance sheet and simplify the debt structure. (Note: Chinese government-backed debt has risen precipitously in the last 14 years and even faster in the last 7. It is simply an unsustainable trend, and the Chinese government knows it.)
There is a need to restructure China's financial system to keep debt within servicing capacity. (Note: we saw the beginning of that restructuring this week as the Chinese government began allowing local governments to issue low-interest long-term bonds to substitute for bank debt. The beginning tranche is rather small compared to the size of the debt, but I think this process will be repeated continuously. I wonder what creative financing we will see for the massive corporate debt, which is over four times larger.)
It is politically difficult to impose reforms, but the Chinese must bring investment down and consumption up. That means shifting money away from tycoons and to more productive uses, which will be resisted by the people who are currently benefiting, which means, the hierarchy of the Communist Party. He gave us a little insight into Chinese culture, countering some myths by noting that "Confucians don't save." There is actually a need to increase the savings rate. Financial repression acts as a tax and is a killer for the economy.
CPI is not a good inflation proxy in China – use the GDP deflator instead. Capital is cheap, so companies use too much of it, which creates a great deal of nonproductive spending. Michael thinks China can sustain 3-4% annual growth IF everything goes perfectly. The world is not prepared for a Chinese economy that grows at only 3%. He points out that metal commodities are screwed, but food commodities should do well, as even at 3% growth the demand for more protein and food in general will increase."
www.MauldinEconomics.com
www.mauldineconomics.com/important-disclosures
So he believes China will struggle perhaps more than most think. Although he believes protein and food in general will still increase in demand. So that may be better news for us NZers in the next few years than our trans tasman neighbours.
Jim Rickards: China won't give up on Fiat money
Also on the topic of China is some comments worth reading from Jim Rickards.
Pointing out where some "gold bugs" may be going wrong on their expectations of China:
"China will probably announce its increased gold holdings later this year. But don't expect fireworks. China has three accounts where it keeps gold – the People's Bank of China, PBOC; the State Administration of Foreign Exchange, SAFE; and the China Investment Corp., CIC.
China can move enough gold to PBOC when it is ready and report that to the IMF for purposes of allowing the yuan in the SDR. Meanwhile, it can still hide gold in SAFE and CIC until it needs it in the future.
China will also probably be admitted into the SDR basket later this year. Far from launching its own gold-backed currency, China will be acknowledging that the SDR is the true world money as far as the major powers are concerned.
Why would China want to give up on fiat money any more than the Fed or the European Central Bank? All central banks prefer paper money to gold because they can print the paper kind. Why give up on that monopoly of power?
Gold is still the safest asset, and every investor should have some in his portfolio. The price of gold will go significantly higher in the years ahead. But contrary to what you read in the blogs, gold won't go higher because China is confronting the U.S. or launching a gold-backed currency.
It will go higher when all central banks, China's and the U.S.'s included, confront the next global liquidity crisis, worse than the one in 2008, and individual citizens stampede into gold to preserve wealth in a world that has lost confidence in all central banks.
When that happens, physical gold may not be available at all. The time to build your personal gold reserve is now."
There you have it – from a US Government insider no less. Now is the time to become your own central bank and "build your personal gold reserve". Take it from us you won't have to beat aside the masses, which also probably makes it a good time to buy. Let us know if you have any questions
Free delivery anywhere in New Zealand and Australia
We've still got free delivery on boxes of 500 x 1oz Canadian Silver Maples delivered to your door via UPS, fully insured.
Todays price is $14,125 and delivery is now about 7-10 business days.
This Weeks Articles:
2015-05-14 01:43:06-04
This Week: Recommended: See Catherine Austin Fitts In Auckland On Auckland Housing Bubble Theories Lower Interest Rates Becoming Consensus Inflation on the Horizon? Gold Digital/Crypto Hybrids Launching   Prices and Charts Spot Price Today / oz Weekly Change ($) Weekly Change (%) NZD Gold $1615.07 + $22.81 + 1.43% USD Gold $1215.50 + $22.90 + […]
2015-05-14 23:16:04-04
The changing of the global monetary system… It's something we've been talking about in our weekly newsletter quite a lot over the past few weeks. In this article Jeff Clark also comments on the very likely changes coming and the impact these will have on the price of gold. We'd also highly recommend you download the free report mentioned […]
2015-05-19 20:46:31-04
Darryl Schoon looks back at the great depression and looks forward to what might lay in store for us yet. With interest rates at close to zero there is no more ammunition to fire if or rather when another crisis strikes. Plus he has some thoughts on China and also on the rate of global […]
2015-05-19 21:02:36-04
Discover 7 factors that are on the horizon that will help transform the gold market from flat, sideways and meandering to a renewed bull market… History Shows A Gold Bull Market Is Fast Approaching By Jeff Clark Yearning for sunnier skies for your gold investments? How's this sound… Gold in a decisive bull market, with the […]
As always we are happy to answer any questions you have about buying gold or silver. In fact, we encourage them, as it often gives us something to write about. So if you have any get in touch.
Phone: 0800 888 GOLD ( 0800 888 465 ) (or +64 9 2813898)
or Online order form with indicative pricing
---
Today's Spot Prices
Spot Gold
NZ $ 1660.13 / oz
US $ 1210.40 / oz
Spot Silver
NZ $ 23.51 / oz
NZ $ 755.84 / kg
US $ 17.14 / oz
US $ 551.08 / kg
---
---
Note:
Prices are excluding delivery
1 Troy ounce = 31.1 grams
1 Kg = 32.15 Troy ounces
Request special pricing for larger orders such as monster box of Canadian maple silver coins
Lower pricing for local gold orders of 10 to 29ozs and best pricing for 30 ozs or more.
Foreign currency options available so you can purchase from USD, AUD, EURO, GBP
Note: Your funds are deposited into our suppliers bank account only. We receive a finders fee direct from them only.
---
Can't Get Enough of Gold Survival Guide?
If once a week isn't enough sign up to get daily price alerts every weekday around

9am

Click here for more info
---
Our Mission
To demystify the concept of protecting and increasing ones wealth through owning gold and silver in the current turbulent economic environment.
To simplify the process of purchasing physical gold and silver bullion in NZ – particularly for first time buyers.
---
---
The Legal stuff – Disclaimer:
We are not financial advisors, accountants or lawyers. Any information we provide is not intended as investment or financial advice. It is merely information based upon our own experiences. The information we discuss is of a general nature and should merely be used as a place to start your own research and you definitely should conduct your own due diligence. You should seek professional investment or financial advice before making any decisions.
Copyright © 2013 Gold Survival Guide.
All Rights Reserved.