This Week:
Deutsche Bank: The Fiat Money World May Be Coming to an End
Golden Catalysts
Here's How Inflation Could Surprise Everyone
Will the New Zealand Dollar Continue to Fall?
Prices and Charts

NZD Gold and Silver Breakout
Gold in NZ Dollars reached a new high for the year this week. Shooting above $1900 on Monday before pulling back yesterday. But it has edged higher again today.
Depending on how we draw the resistance line, NZD gold has either broken above it or just touched it. We've gone with the latter option today. But either way NZD gold continues its steady rise for 2017. Up over $200 per ounce.
Silver also shot sharply higher on Monday. It has now broken out of the downtrend it has been in since July 2016. While it did pull back sharply yesterday, silver is today still above the downtrend line. It's now likely that higher prices are ahead. With not a great deal of resistance until the 2016 high above $29.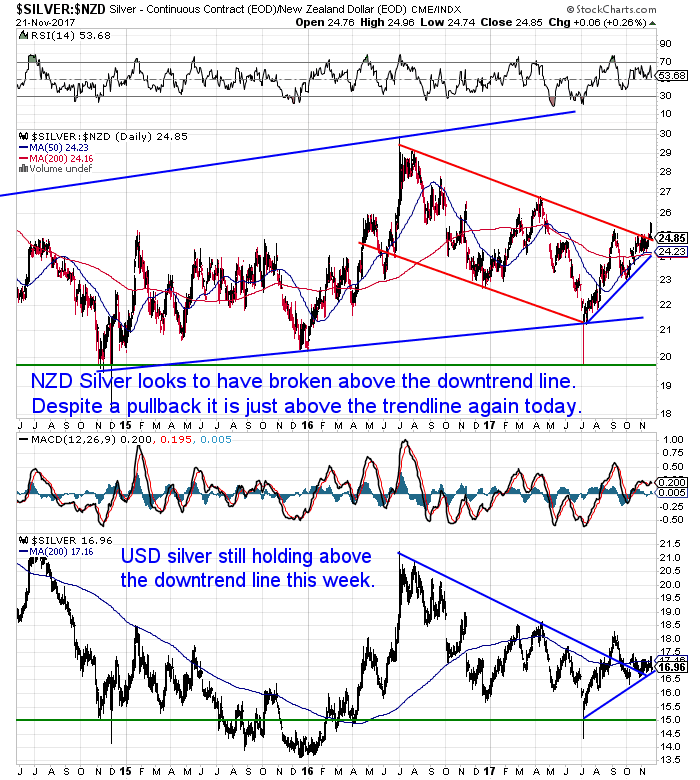 NZ Dollar at New Low for 2017
The weaker New Zealand dollar has been a big factor in the higher NZD gold and silver prices of late. This week the Kiwi Dollar set a new 17 month low as it dipped below the horizontal support line at 0.6825.
Will the NZ Dollar fall further yet? Check out this weeks feature article where we look at this question in detail.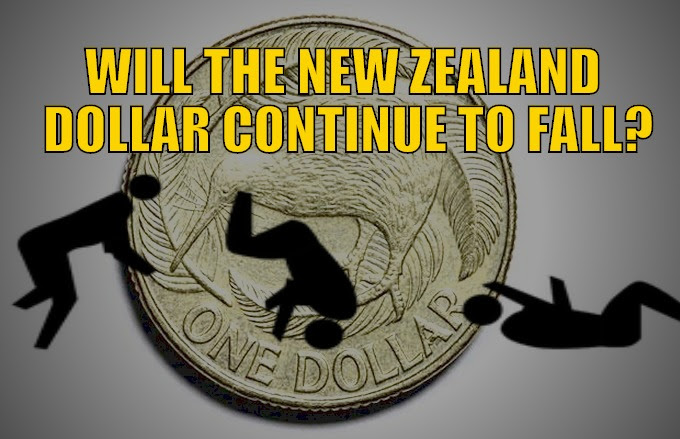 Unsure About Any Terms We Use When Discussing the Charts?
Remember to check out this post if any of the terms we use when discussing the gold, silver and NZ Dollar charts are unknown to you:
---
3 Theories on Why Inflation May Surprise Us
This week the idea that inflation may surprise is the common theme.
First we have a surprising article from a Deutsche Bank analyst. He is worried that the deflationary factors of the past couple of decades may be coming to an end, and once it does, central banks won't be able to use their usual tricks. And if that happens, the age of fiat money will be in trouble.
Continues below
—– OFFER FROM OUR SISTER COMPANY: Emergency Food NZ —– 
Do you have all the essentials on hand if you need to leave home in a hurry?
Get Your Own Emergency Survival Kit
 Now Available. In Stock. Ready to Ship.
Interestingly another Analyst from a different bank had similar thoughts recently. Adrian Ash notes:
"In the 1970s and 80s," writes currency strategist Steven Barrow at ICBC Standard Bank…also pondering the real meaning of Salvator Mundi today [referring to the record price for a Da Vinci painting]…"the inflation unleashed by rampant liquidity growth was primarily in goods and services prices, not asset prices.
"Globalisation has [now] managed to suppress inflationary pressure in those countries that have conducted QE, and everywhere else for that matter.
"[So] all the inflation these days is in asset prices."
This could change, Barrow warns. First because asset bubbles always pop in the end. But second, moves to roll back globalization…such as Trump's protectionist policies, or the UK vote for Brexit…"will eventually cause goods and services inflation to reassert itself in a more significant way."
Gold, silver and especially platinum have so far sat out this latest round in the world's multi-decade asset-price bubble.
Precious metals could well offer some kind of salvation amid a financial crash or surge of inflation."
Then finally the advisory board at Incrementum discussed how inflation could surprise people in depth including:
► Quantitative Tightening is deflationary in theory, but will be inflationary in practice
► The narrative around inflation is about to change, which in turn will
lead to higher inflation
► It's the market narrative that's important, not the underlying reality of markets
We summarise the pain points below or you can watch the video highlights if you prefer…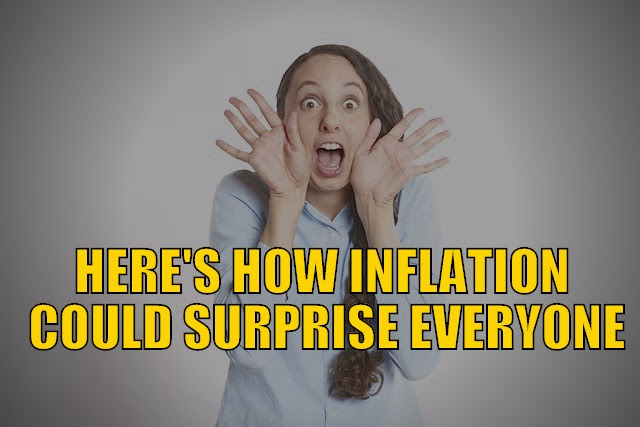 Download Our New Android App
If you're on an Android phone then be sure to check out our new Gold Survival Guide App (Apple version coming soon too).
Tell Jim Rickards – Gold Has Already Broken Out
We also posted an article from Jim Rickards looking at a number of catalysts for gold.
One of the points Rickards makes is that gold is trading in a multi-year wedge formation. A formation he notes it will have to break out of soon.
But to us it looks like Rickards needs to update his chart. As this breakout has already happened in recent months. We just are yet to see much of a move higher in US Dollar gold.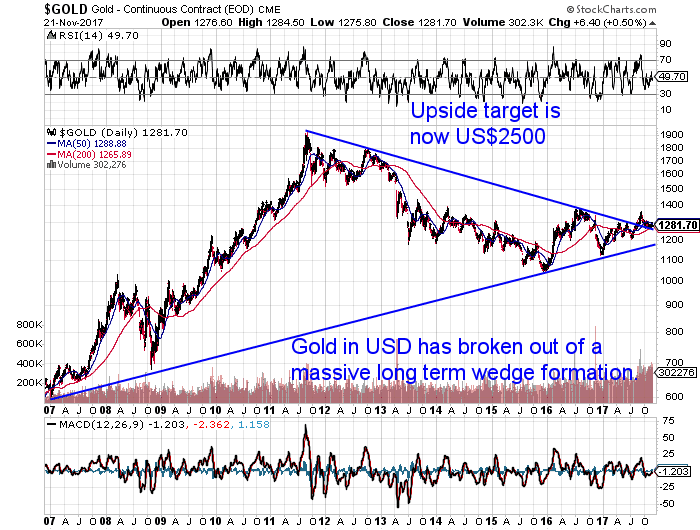 Your Questions Wanted
Finally Remember, if you've got specific question, be sure to send it in to be in the running for a 1oz silver coin.
Call David to discuss any of today's deals on 0800 888 465. Or just reply to this email.
Phone: 0800 888 GOLD ( 0800 888 465 ) (or +64 9 2813898)
or Online order form with indicative pricing
— Prepared for Power Cuts? —
[BACK IN STOCK] New & Improved Inflatable Solar Air Lantern
Check out this cool new survival gadget.
It's easy to use. Just charge it in the sun. Inflate it. And light up a room.
6-12 hours of backup light from a single charge! No batteries, no wires, no hassle. And at only 1 inch tall when deflated, it stores easily in your car or survival kit.
Plus, it's waterproof so you can use it in the water.
See 6 more uses for the amazing Solar Air Lantern.
—–
This Weeks Articles:
Tue, 21 Nov 2017 9:08 PM NZST
Back on the 1st November we asked the question: "Is the New Zealand Dollar Now in a Longer Term Downtrend?" Let's revisit what we said then. Then we'll consider will the New Zealand dollar continue to fall? Is the NZ Dollar Now in a Longer Term Downtrend? As noted already the NZ Dollar is still oversold. […]
Tue, 21 Nov 2017 4:44 PM NZST
Recently we've shared the idea that money velocity could turn up. As a result inflation could surprise many people by finally increasing. Gold expert Pierre Lassonde recently stated: "The Federal Reserve and other central banks have piled up huge reserves. But there is no inflation because the money is sitting within the banks and they […]
Mon, 20 Nov 2017 4:31 PM NZST
Jim Rickards covers a variety of topics that may impact the gold price in the coming months. These include: Deteriorating relations between the U.S. and Russia Geopolitical risks from North Korea, to Saudi Arabia, to the South China Sea Whether the Fed will raise interest rates next month? Why the key data is the disinflation […]
Mon, 20 Nov 2017 12:51 PM NZST
Here's the summary of a surprising report from one of Europe's largest banks. It provides a good rationale as to why there has appeared to be very little price inflation in recent years. Plus it explains how this low inflation period could be soon coming to an end…     Deutsche Bank: The Fiat Money […]
Thu, 16 Nov 2017 12:52 PM NZST
This Week: Gold Survival Guide App: Download Our Free Mobile App Today Lord, What Fools These Mortals Be… Gold And The Big Four: Slam Dunk Gold And Silver: Something Different Is Occurring Prices and Charts Looking to sell your gold and silver?Visit this page for more information Buying Back 1oz NZ Gold 9999 Purity $1791 […]
As always we are happy to answer any questions you have about buying gold or silver. In fact, we encourage them, as it often gives us something to write about. So if you have any get in touch.
Phone: 0800 888 GOLD ( 0800 888 465 ) (or +64 9 2813898)
or Online order form with indicative pricing
---
---
---
Note:
Prices are excluding delivery
1 Troy ounce = 31.1 grams
1 Kg = 32.15 Troy ounces
Request special pricing for larger orders such as monster box of Canadian maple silver coins
Lower pricing for local gold orders of 10 to 29ozs and best pricing for 30 ozs or more.
Foreign currency options available so you can purchase from USD, AUD, EURO, GBP
Note: For local gold and silver orders your funds are deposited into our suppliers bank account. We receive a finders fee direct from them. Pricing is as good or sometimes even better than if you went direct.


---
Can't Get Enough of Gold Survival Guide?
If once a week isn't enough sign up to get daily price alerts every weekday around 

9am

Click here for more info
---
Our Mission
To demystify the concept of protecting and increasing ones wealth through owning gold and silver in the current turbulent economic environment.
To simplify the process of purchasing physical gold and silver bullion in NZ – particularly for first time buyers.
---
---
The Legal stuff – Disclaimer:
We are not financial advisors, accountants or lawyers. Any information we provide is not intended as investment or financial advice. It is merely information based upon our own experiences. The information we discuss is of a general nature and should merely be used as a place to start your own research and you definitely should conduct your own due diligence. You should seek professional investment or financial advice before making any decisions.