Prices and Charts

---
Looking to sell your gold and silver?
Buying Back 1oz NZ Gold 9999 Purity
$1854
Buying Back 1kg NZ Silver 999 Purity
$703
---
Gold Holding Near 6 Year Highs – Looking Positive
Gold in NZ dollars continues to bounce around near recent 6 year highs above $1950. Gold is holding up surprisingly well.
The RSI overbought/oversold indicator has moved back down to neutral territory (50). But the price has not pulled back too far and remains above the 50 day moving average (MA).
The 50 day MA is also well above the 200 day MA having undergone the "bullish cross" in January. This simply means the 50 day MA turned up above the 200 day MA. Generally a bullish signal of rising prices.
So all this looks very positive for the gold price moving higher still. The NZD gold price is one of many currencies now at multi year or even all time highs in gold.
The US dollar price (lower half of the below chart) has yet to achieve a multiyear high. However it is getting close. The overhead resistance line around US$1375 is not far above us now. That is the "line in the sand" that once crossed will usher in higher gold prices.
But before then we may yet see a pull back. USD gold could come all the way back to around the 200 day MA at US$1250 and still remain in a healthy uptrend.
Likewise here in New Zealand the local price could move back close to $1850. But given gold has broken through the multiyear overhead resistance line (near $1950) there are no guarantees of a pullback from here.
If looking to buy a good strategy may be to take an initial position here. Then keep some funds in case we see a pull back or a clear and strong breakout.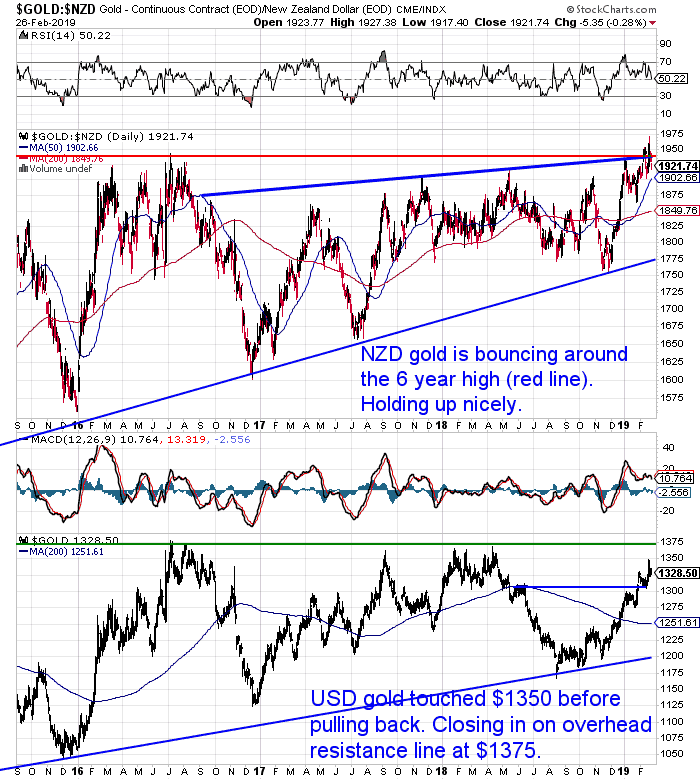 Silver Also Holding Up Nicely
Speaking of a breakout, silver in NZ dollars (and USD for that matter) is very close to breaking higher too. This year we've seen the NZD silver price touch the multiyear downtrend line 4 times, before pulling back slightly.
It continues to bounce between the 200 day MA (thin red line) and the blue downtrend line.
The same advice applies to silver as gold. Consider an initial position now and keep some powder dry to see what happens in the coming days and weeks.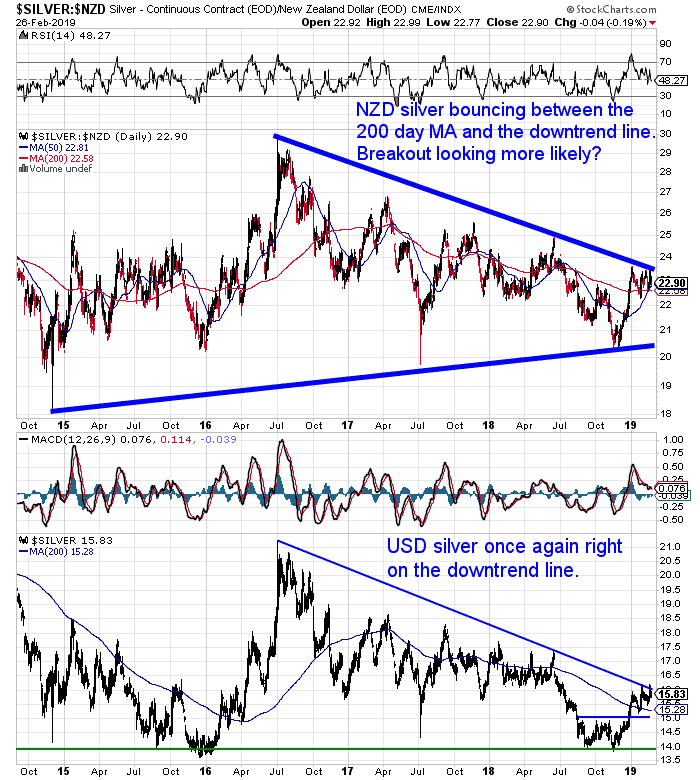 The Kiwi dollar continues to be range bound between 0.67 and 0.70. The RSI is close to overbought again. We'd say as the price approaches the overhead resistance line at 0.70, we'll see it turn lower.
This should help give local gold and silver prices a boost.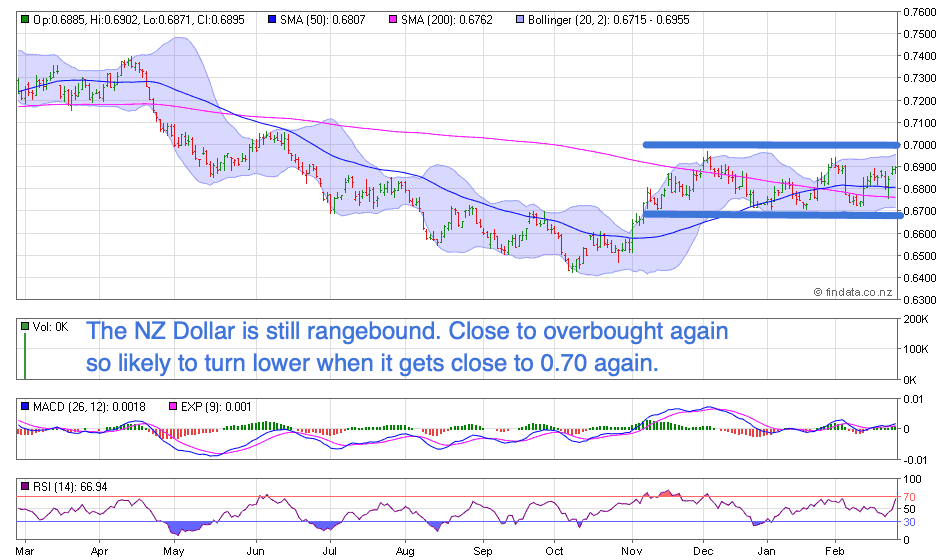 Need Help Understanding the Charts?
Check out this post if any of the terms we use when discussing the gold, silver and NZ Dollar charts are unknown to you:
Continues below
—– OFFER FROM OUR SISTER COMPANY: Emergency Food NZ —–
Preparation also means having basic supplies on hand.
Are you prepared for when the shelves are bare?
For just $190 you can have 4 weeks emergency food supply.
Free Shipping NZ Wide.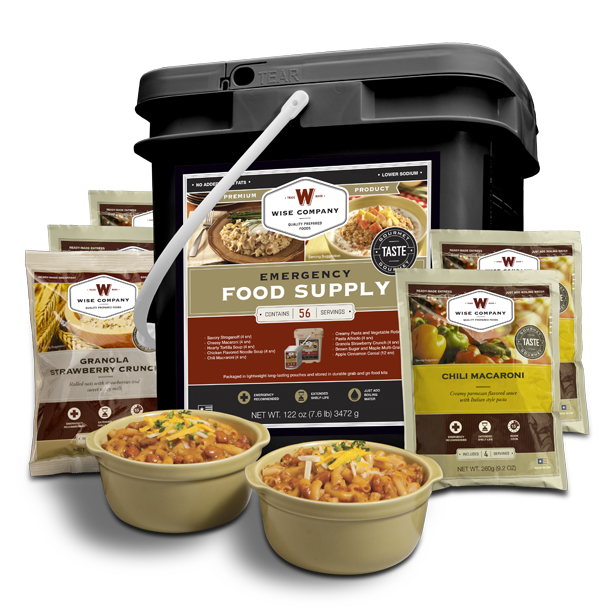 Smaller Emergency Food Packs Now Available.
Big Gold Company Mergers Are a Positive Indicator
Things are looking quite buoyant in the precious metals sector. With mergers of some of the largest gold miners. This week Barrick Gold announced a hostile takeover attempt for fellow heavyweight Newmont.
With both these companies having already launched takeovers of Randgold and Goldcorp respectively.
Also Tahoe Resources, a big silver miner recently went to Pan American Silver and also made a deal to combine.
This merger activity highlights the lack of gold and silver discoveries in recent years. It also indicates that a number of these companies had been struggling to survive. The mergers did not involve purchases at a massive premium to the share price – something that happens at the top of a market.
Rather they were done out of survival after lots of cost cutting (gold companies have been slashing costs for years to improve margins in a down market) and no investment in finding new gold and silver resources.
Simply put they're merging to try to further cut redundant costs and bolster reserves.
On top of that there is still not much publicity towards gold or silver. Which is often a positive thing. As the old saying goes, bull markets like to take as few people along for the ride as possible.

The Real Hunt Brothers Silver Story
Have you heard about the Hunt brothers and their attempt to "corner" the silver market in the 1970's? There's more to this story than the simple analysis of two speculators trying to buy so much silver they controlled the price.
Check out the Real Hunter Brothers Silver Story for the full run down. As a silver buyer there are also some important lessons you can learn from the Hunt Brothers mistakes…
Your Questions Wanted
Remember, if you've got a specific question, be sure to send it in to be in the running for a 1oz silver coin.
Has the Fed Balance Sheet Reduction (Quantitative Tightening) Finished Already?
Back in Mid January we updated the Federal Reserve Balance sheet numbers…
The gist of that article was that the Fed's balance sheet had been built up massively due to the post financial crisis money printing. But that the Fed balance sheet has been reduced by US$375 billion in the past 14 months.
That balance sheet is scheduled to fall by another US$600 billion in 2019 and US$600 billion the following year, until the balance sheet reaches a level of US$2.9 trillion by the end of 2020.
We concluded that article by saying:
"The damage may have already been done by the Feds Q.T. But so far in 2019 they are continuing to tighten, to the tune of $27 billion in the first 2 weeks. This puts them on track to tighten by the promised $50 Billion per month reduction in their balance sheet.
So even while the Fed president may be indicating a ceasing of interest rate rises, their balance sheet reduction continues.
Now before too long the central bankers will likely have to reverse course and reopen the money spigots. Perhaps come up with even more new ways to interfere and prop up markets. As Rickards points out, this is the sort of environment that will likely be gold positive."
Has this reversal happened already?
Our favourite financial newsletter writer and secret investment advisor Chris Weberpointed out in his latest newsletter:
Fed Balance Sheet Actually Grows In Latest Report
"As we go to press, the most recent Fed balance sheet shows that the recent regular declines [in the Fed balance sheet] have stopped, after getting smaller. The latest report, out yesterday, shows a small $2.1 billion increase. It doesn't look like this Fed is going to do anything but inflate more. And this can only have positive long term effects on the precious metals."
So as a financial reporter might say, "Have you got some exposure to the current upside risk in gold currently?"
Or said like a normal human being – "Do you own some gold as it might be worth more in the future?"
If you need to add to or start your store of wealth then please get in touch.
Phone: 0800 888 GOLD ( 0800 888 465 ) (or +64 9 2813898)
or Shop Online with indicative pricing
— Prepared for the unexpected? —

Never worry about safe drinking water for you or your family again…

The Big Berkey Gravity Water Filter has been tried and tested in the harshest conditions. Time and again proven to be effective in providing safe drinking water all over the globe.
This filter will provide you and your family with over 22,700 litres of safe drinking water. It's simple, lightweight, easy to use, and very cost effective.
Royal Berkey Water Filter
New Stock Just Arrived – Shop the Range…
—–
This Weeks Articles:
Sat, 23 Feb 2019 11:37 AM NZST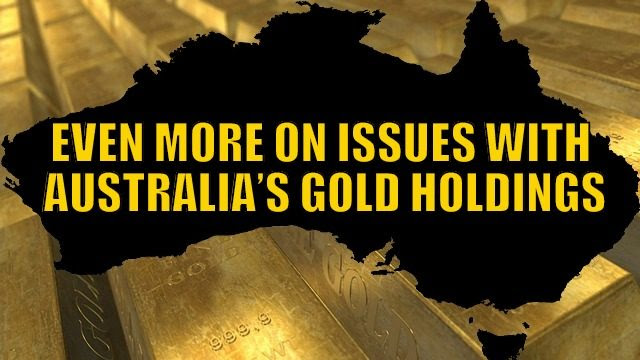 Prices and Charts Looking to sell your gold and silver? Visit this page for more information Buying Back 1oz NZ Gold 9999 Purity $1872 Buying Back 1kg NZ Silver 999 Purity $708 NZD Gold Back Near Recent High Gold in NZ dollars is once again back near the recent almost 6 year high. Gold is proving to be very resilient. Since the run higher […]
The post Even More on Issues With Australia's Gold Holdings appeared first on Gold Survival Guide.
Fri, 22 Feb 2019 2:42 PM NZST
You may have read about the Hunt Brothers and how they supposedly cornered the silver market in the 1970's. Thus causing the silver price to rise astronomically. We've read a fair bit about this episode in the past. The below video does a pretty good job of presenting a different take on the mainstream […]
The post The Real Hunt Brothers Silver Story appeared first on Gold Survival Guide.
Sat, 16 Feb 2019 12:13 PM NZST
This Week: NZD Gold at Almost 6 Year High Should I Buy Legal Tender (Face Value) Gold and Silver Coins? What Percentage of Gold and Silver Should Be in My Portfolio? Why the Ultra-Wealthy Love New Zealand So Much Limited Stock & Subscriber Only Deals 1oz Perth Mint Gold Kangaroo Coins (Year 2000) 1oz coins […]
The post Gold in NZ Dollars at Close to 6 Year High appeared first on Gold Survival Guide.
As always we are happy to answer any questions you have about buying gold or silver. In fact, we encourage them, as it often gives us something to write about. So if you have any get in touch.
Phone: 0800 888 GOLD ( 0800 888 465 ) (or +64 9 2813898)
or Online order form with indicative pricing
---
---
7 Reasons to Buy Gold & Silver via GoldSurvivalGuide

Today's Prices to Buy
1oz NZ 99.99% pure gold bar
$2009
1kg NZ 99.9% pure silver bar
$810
(price is per kilo for orders of 1-24 kgs)
$805 (price is per kilo only for orders of 25 kgs or more)
1oz PAMP Suisse 99.99% pure gold bar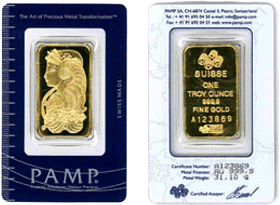 $2039
1kg PAMP 99.9% pure silver bar
$860
---
Note:
Prices are excluding delivery
1 Troy ounce = 31.1 grams
1 Kg = 32.15 Troy ounces
Request special pricing for larger orders such as monster box of Canadian maple silver coins
Lower pricing for local gold orders of 10 to 29ozs and best pricing for 30 ozs or more.
Foreign currency options available so you can purchase from USD, AUD, EURO, GBP
Plus we accept BTC, BCH, Visa and Mastercard
Note: For local gold and silver orders your funds are deposited into our suppliers bank account. We receive a finders fee direct from them. Pricing is as good or sometimes even better than if you went direct.

---
Can't Get Enough of Gold Survival Guide?
If once a week isn't enough sign up to get daily price alerts every weekday around 9am Click here for more info
---
---
The Legal stuff – Disclaimer:
We are not financial advisors, accountants or lawyers. Any information we provide is not intended as investment or financial advice. It is merely information based upon our own experiences. The information we discuss is of a general nature and should merely be used as a place to start your own research and you definitely should conduct your own due diligence. You should seek professional investment or financial advice before making any decisions.
Copyright © 2018 Gold Survival Guide.
All Rights Reserved.