This Week:
Next Crisis Cause: Deutsche Bank and EM Debt or Pensions?
Bonds Are Super Risky
Sell Stocks and Buy Gold
RBNZ Considers New Banks "Dashboard" But Biggest Risk Is NZ Offshore Funding
Prices and Charts
| | Spot Price Today / oz | Weekly Change ($) | Weekly Change (%) |
| --- | --- | --- | --- |
| NZD Gold | $1817.70 | – $3.80 | – 0.20% |
| USD Gold | $1321.65 | – $12.60 | – 0.94% |
| NZD Silver | $26.41 | – $0.65 | – 2.40% |
| USD Silver | $19.20 | – $0.62 | – 3.12% |
| NZD/USD | 0.7271 | – 0.0054 | – 0.73% |
Gold in NZ dollars is down just a smidgen on last week. After darting higher it bounced down off the 50 day moving average. It now looks to be coming back to once again test the 200 day moving average.
A level which has held 4 times already. So this could again prove a good place to take a position.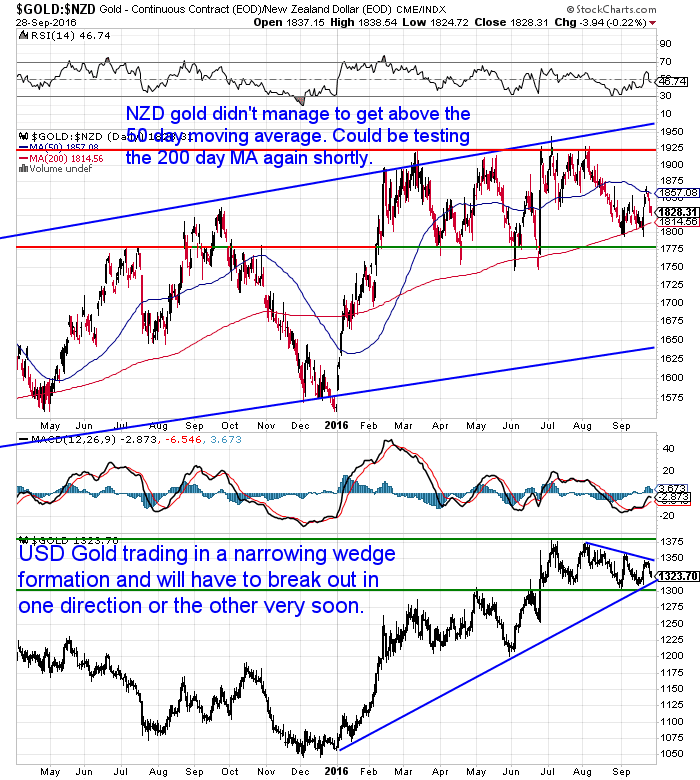 While silver in NZ dollars is down almost 2.5% on a week ago. It has been making a series of higher lows since late August. So the question is whether it can again move higher now from the current level?
The NZ dollar likely won't give either metal's local price a boost in the coming days though. The dollar has dipped down to the 50 day moving average which has proven to be good support most of this year. Also getting close to the lower Bollinger band (the blue shaded area), which it generally bounces higher from.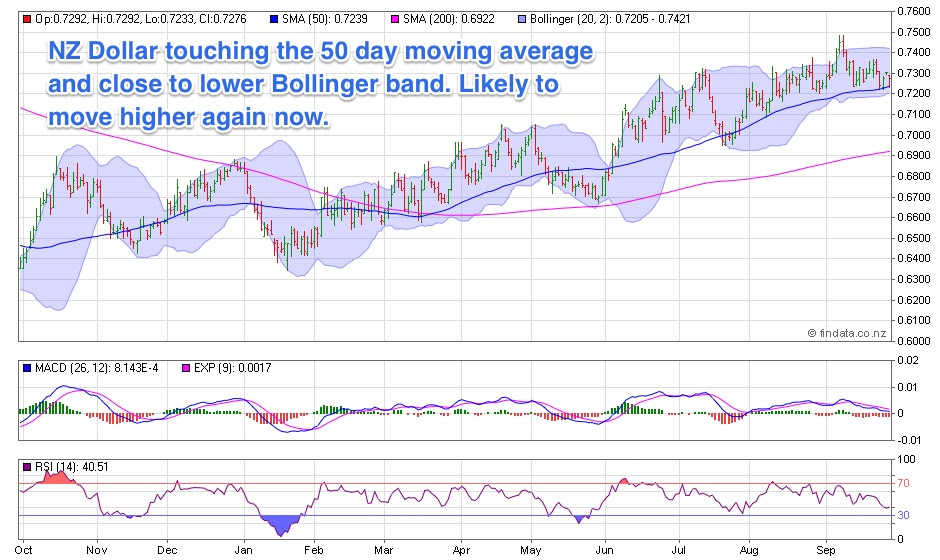 The Biggest Monetary Transformation Since WWII
In recent weeks we've been discussing the potential for long term interest rates to rise.
Our feature article this week looks at the recent issuance of SDR bonds in China and how these might cause long term US treasury bond rates to rise. Chiefly because this will cause a lessening in demand for US Bonds and so their interest rates will need to rise to attract purchasers.
The Biggest Monetary Transformation Since WWII
Why Bonds Are Super Risky
With interest rates having been so low for so long any rise is likely to take many investors by surprise.
Jared Dillian in his "The 10th Man" newsletter this week laid out a brilliant "rule of thumb" technique to show just how much "no risk" bonds could fall if interest rates rise.
The 10th Man – Bond Math Class
"There is a thumb rule in bond mathematics:
If interest rates go up one percent, the price of the bond will decline approximately (duration) percent.
It's a thumb rule, it's not exact. So yes, if the duration of a 10-year note is 9, and interest rates rise from 1.6% to 2.6%, the bond will lose approximately 9% of its value.
So rates go up 1% and a bond goes down 9%. Is that risky?
You mean bonds lose value?
That will come as news to most people, because bonds are safe, you always get paid the par value in the end.
Actually, bonds can lose a lot of value. And my guess is that people have been lengthening their duration in order to get a little extra yield. By moving into long-dated bonds, people have massively increased their interest rate risk.
Lots of people are in long-term government bond funds. Okay, so what is the duration of the on-the-run 30-year bond?
About 21 and change. So if long-term rates rise from 2.4% to 3.4%, the value of the long bond will decline by…
About 21%.
Are bonds risky? You bet.
What happens if interest rates rise by two percent? Certainly not unheard of.
The price of the bond will decline by 35-40%.
My guess is that people don't know that their government bond funds could decline by 35-40%."
…Interest rates have been going down for so many years, I think people have forgotten that they can go up. And that bad things can happen when they do.
I've been pretty noisy about calling for higher interest rates, which has been the wrong call, but I will say this at least: when it happens, it is going to be ugly. People are completely unprepared.
…When interest rates go up, stuff blows up.
That's all you need to know."
Next Crisis Cause: Deutsche Bank and EM Debt or Pensions?
No doubt you've heard a bit about Deutsche Bank and their troubles lately. Germany's biggest bank is also the holder of one motherlode of derivatives. Bill Bonner runs through just how significant this may be:
Another Crisis Coming

"Yesterday, shares in "too-big-to-fail" German bank Deutsche Bank fell another 7%.
Its share price has been cut in half over the last year, as investors wonder whether it will survive.
Chris Mayer – Chief Investment Strategist, Bonner Private Portfolio – comments:
"It's scary. The largest pile of derivatives in the world. And the bank is already leveraged more than 25 to 1. That means if asset values decline 4%, the equity is wiped out… along with over 2,000 unsecured bonds."
It was a small Austrian bank failure that set off the crash of 1929 and the Great Depression. Deutsche Bank is bigger than Lehman. Its book of derivatives is 20 times German GDP.
Another crisis is coming. We can be sure of it. Because the problem behind the crisis of 2008 – fake money, fake interest rates, fake economy – was not corrected.
Instead, the Feds made it worse. Excess debt in the mortgage sector moved to the corporate sector – especially in emerging markets.
…The post-1971 dollar allowed Americans to buy on credit as they had never been able to do before.
The new dollar was no longer tied to gold. So, dollar credit could be almost infinitely increased. And so could the output capacity of "export-led" economies.
This has led to too much debt and too much capacity.
It has also caused one boom and bubble after another – in Japanese stocks and real estate in 1989, in Asian and then Russian debt in 1997 and 1998, in dot-com stocks in 2000, and in subprime mortgage debt in 2008.
And now… it looks as though emerging market debt could be next.
Banks own much of that debt… and the derivatives connected to it. And as Chris Mayer mentioned above, it doesn't take much of a drop in value in this paper pile to put Europe's biggest bank, Deutsche Bank, out of business.
That could drag down the rest of the banking system… the financial industry… the markets… and the world's economies, too."
Meanwhile Martin Armstrong makes a strong case for the lack of return to pension and retirement funds due to negative interest rates, being the cause of the next financial crisis.
"The negative interest rates implemented to bailout the banks post-2007.15 have set the stage for the next crisis — the Pension Crisis. With Public and Private pension funds unable to make ends meet, we are now looking at the collapse of socialism post-2015.75 going into 2020.05, which was clearly the peak in government.
Historically, families and marriage provided the security needed to support the elderly prior to the proliferation of pensions. As the population became more industrialized, private annuities rose in popularity with pensions resembling disability insurance. With the rise of socialism, pensions not only grew in popularity but replaced the family as support for the elderly. Unfunded pensions combined with poor demographics in which the elderly comprise a greater portion of the global population are leading to a situation that could cause the collapse of governments globally. The future for retirement is seriously in danger. The central banks are trapped and are unable to reverse course without admitting they have been dead wrong."
It will be tough to call in advance the cause of the next crisis. Of course it's also possible that the world continues to – coin a phrase of John Mauldin's – "muddle through" for quite some time yet.
The odds are the powers that be won't let Deutsche Bank fail since there is so much riding on it. The head of massive German insurance group Allianz said he believes the German government will step in if it has to regardless of what it may be saying publicly.
"I don't buy at all what's coming out of Germany in terms of Germany not wanting to step in ultimately if Deutsche Bank was really in trouble ," Utermann said Monday in a Bloomberg Television interview with Francine Lacqua and Tom Keene. "It's too important for the German economy."
But there are certainly no shortage of "white swans" already flapping
Continues below
—– OFFER FROM OUR SISTER COMPANY: Emergency Food NZ —–
Preparation also means having basic supplies on hand.
Are you prepared for when the shelves are bare?

1 day left to get 20% off a 240 serve emergency food supply.
Sell Stocks Buy Gold
Last week we posted an article from Stewart Thomson that looked at potential implications for both stocks and gold from an eventual Fed rate hike.
Rate Hike Implications For Gold Stocks And Dow
Bill Bonner also thinks that now might be a better time to sell stocks and buy gold.
"When the Dow is worth less than 5 ounces of gold, buy stocks and sell gold. When the Dow is worth more than 10 ounces of gold, sell stocks and buy gold."
Right now looks like a similar bounce higher in stocks to that which ended in 1976, before a further drop in the Gold vs Dow ratio.
So if history rhymes we may see gold continue to rise in comparison to the Dow now again. This doesn't mean the stock market has to fall in dollar terms though. Just that gold rises in comparison to stocks.
RBNZ Considers New Banks "Dashboard" But Biggest Risk Is NZ Offshore Funding
The Reserve Bank of New Zealand is consulting on a new "Dashboard" which involves publishing quarterly information from locally incorporated banks on the Reserve Bank's website in a standardised and easily comparable manner. This would replace the requirement for locally incorporated banks to prepare off-quarter disclosure statements.
"The Dashboard will enhance market discipline by bringing key information about different banks together in one place, and presenting that information in a standardised manner. This will help depositors, investors and analysts to compare the risks and financial positions of locally incorporated banks," Mr Spencer said.
While it would be useful to have information on all NZ banks in one place to make it somewhat easier to compare them, the biggest risk bank deposit holders in New Zealand face is likely not from any one individual bank.
Rather it is systemic risk caused by New Zealand's large net foreign debt position and the still significant offshore funding that this necessitates.
This very point was brought up in an article today by economist Geoff Simmons of the Morgan Foundation which was critiquing this week's TV episode of Nigel Latta on the low productivity NZ economy.
"More than half of our national wealth is tied up in housing, which is relatively high internationally. And of course this investment in housing has largely been funded by debt. As a result our privately held net foreign debt is also relatively high, which opens our economy to risks if international lenders decide they don't want to lend their money to New Zealand any more."
 
This offshore funding could dry up overnight due to a global problem.
Like say maybe a derivative collapse in a major German bank perhaps?
The resulting lack of counterparty trust between banks could cause an abrupt stop to interbank lending. And therefore major issues for New Zealand banks and by extension New Zealand deposit holders.
This counterparty risk is of course something that gold and silver lacks. If you have some money in the bank, it's a good idea to hold some gold or silver as a counterbalance.
Just reply to this email for a quote or phone David on 0800 888 465 if you have any questions.
** Urgent Message for All Car Owners **A compact, revolutionary tool can save your life.
We believe everyone who drives or rides in a vehicle must carry this tool.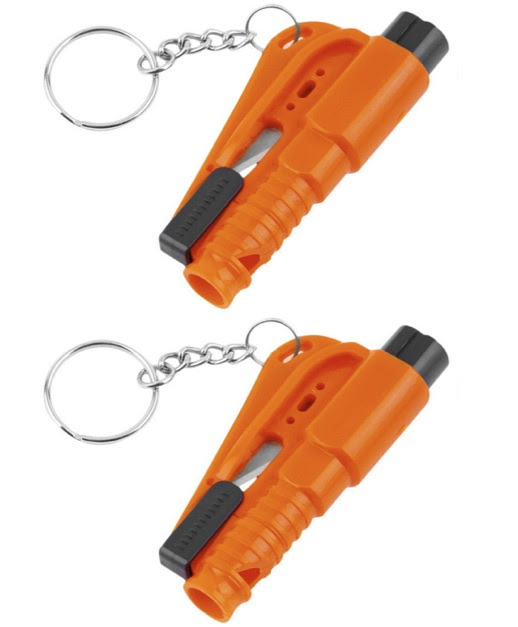 The Keychain Car Escape Tool can save lives.
For less than the price of 2 movie tickets you can get 2 of these.
One for each car in your family or give one to someone you care about.
—–
This Weeks Articles:
Wed, 28 Sep 2016 12:37 PM NZST
Mike Maloney explains that every 30 to 40 years the world has a new monetary system. And the global dollar standard is the worst design of all these systems — yet it's 45 years old. So it's way overdue for its own demise. And when this one crumbles, everyone is going to feel it. Earlier […]
Tue, 27 Sep 2016 4:14 PM NZST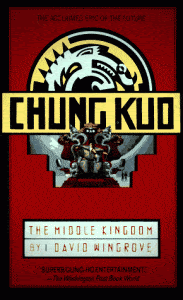 The Chung Kuo futuristic epic novels are meant to be a good read. Doug Casey gives his as always non-conformist, non-pc view on a comparison between China and America, by the sounds of it taking some inspiration from the books.  Check out his view of how the world turns out with respect to the steady […]
Tue, 27 Sep 2016 3:34 PM NZST
Here's an interesting comparison between ancient Rome and the current global empire. There are many parallels and therefore lessons that can be learnt… Going the Way of the Denarius By Jeff Thomas History repeats. (Or it rhymes, depending on your choice of words.) Throughout history, there has been an extraordinary tendency for governments (and cultures) […]
Tue, 27 Sep 2016 3:06 PM NZST
We referenced a line from this Bill Bonner article a few weeks ago. But it's worth checking out the whole PIECE for his theory as to how a ban on cash might be rolled out. Including what the cause may be and how the central planners will react… This Is How the Feds Will Ban […]
Thu, 22 Sep 2016 5:20 PM NZST
This Week: Silver's Relationship to Interest Rates Monetary Forum's 'Seven Ages of Gold' Report Sees Metal Regaining Status Free 10 oz Silver Bar or a Candy Bar? Gold Silver Ratio. How high might silver go? Prices and Charts Spot Price Today / oz Weekly Change ($) Weekly Change (%) NZD Gold $1821.50 + $3.82 + […]
As always we are happy to answer any questions you have about buying gold or silver. In fact, we encourage them, as it often gives us something to write about. So if you have any get in touch.
Email:

[email protected]

Phone: 0800 888 GOLD ( 0800 888 465 ) (or +64 9 2813898)
or Online order form with indicative pricing
---
---
---
Note:
Prices are excluding delivery
1 Troy ounce = 31.1 grams
1 Kg = 32.15 Troy ounces
Request special pricing for larger orders such as monster box of Canadian maple silver coins
Lower pricing for local gold orders of 10 to 29ozs and best pricing for 30 ozs or more.
Foreign currency options available so you can purchase from USD, AUD, EURO, GBP
Note: Your funds are deposited into our suppliers bank account only. We receive a finders fee direct from them only.
---
Can't Get Enough of Gold Survival Guide?
If once a week isn't enough sign up to get daily price alerts every weekday around 9amClick here for more info
---
Our Mission
To demystify the concept of protecting and increasing ones wealth through owning gold and silver in the current turbulent economic environment.
To simplify the process of purchasing physical gold and silver bullion in NZ – particularly for first time buyers.
---
---
The Legal stuff – Disclaimer:
We are not financial advisors, accountants or lawyers. Any information we provide is not intended as investment or financial advice. It is merely information based upon our own experiences. The information we discuss is of a general nature and should merely be used as a place to start your own research and you definitely should conduct your own due diligence. You should seek professional investment or financial advice before making any decisions.
Copyright © 2016 Gold Survival Guide.
All Rights Reserved.