This Week:
RBNZ Prepared to Print Money and Implement Negative Interest Rates in a Crisis
BNZ Failure Highlights the Need to Keep Some Cash on Hand
Larger Range of Gold and Silver Products and Website Shop Update
Prices and Charts
---
---
NZD Gold Back Near Recent Highs
Gold bounced back this week. In NZD terms gold is back near the recent highs above $1900. Today NZD gold sits just below the red downtrend line. With the RSI still neutral it could well launch an attack on the highs above $1900 shortly.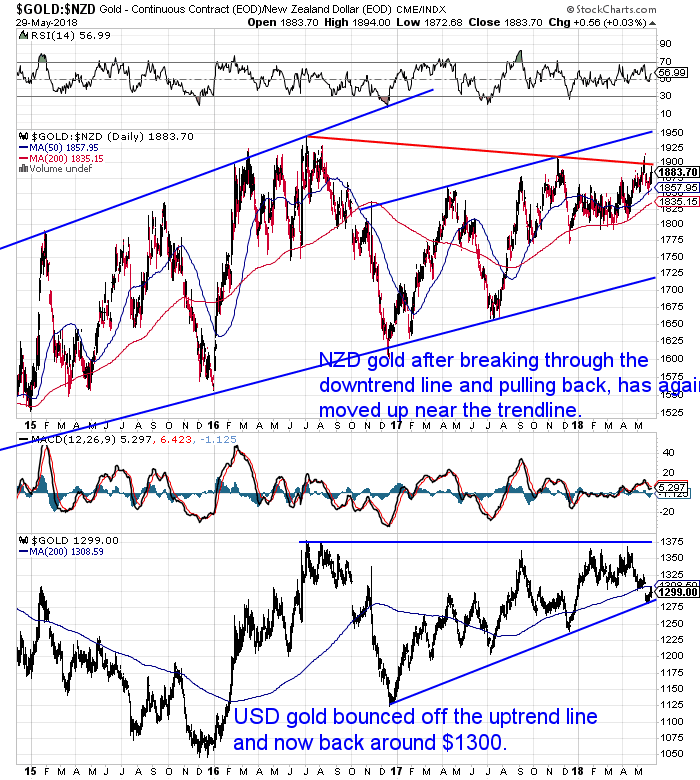 Silver Still Stuck in the Wedge
However silver has struggled a bit this past week. Although in NZD terms silver is still above the key 200 day moving average line. Also close to the downtrend line of the wedge formation.
Looking at the lower part of the silver chart we see silver in USD. This multi-year wedge formation continues to get even more compressed. A breakout is getting closer and closer.
NZ Dollar Dips Again
The New Zealand Dollar is back down near the recent lows below 0.69 (although this is not shown on the closing price of the below chart).
Unsure About Any Terms We Use When Discussing the Charts?
Check out this post if any of the terms we use when discussing the gold, silver and NZ Dollar charts are unknown to you:
It's All About the Banks
The local news this week is all about the banks and the banking system.
RBNZ Prepared to Print Money and Implement Negative Interest Rates in a Crisis
First up somewhat of a "sounding board" report out from the Reserve Bank of New Zealand (RBNZ) this week.
The bulletin entitled "Aspects of implementing unconventional monetary policy in New Zealand" outlined 5 potential tools that the central bank could implement in a crisis. These included negative interest rates and large scale direct bond purchases (a.k.a. money printing).
The RBNZ Assistant Governor John McDermott made some surprising statements in an interview with Bloomberg saying:
"This is all about planning for the future," McDermott said. While there's "no imminent prospect" of using such measures, "the probability of needing them at this point in the cycle is higher than it ever was in history" and "it would be silly of us not to be ready just in case."
In response Finance Minister Grant Robertson said:
"…he sees no need for any unconventional monetary policy in the "foreseeable future."
"They haven't been part of New Zealand's monetary policy to this point, but this is one of the obligations that the [Reserve] Bank has, to look at all of the tools that are around," says Robertson.
He says New Zealand won't be at a point where the Reserve Bank needs to implement QE in the "immediate future."
How likely are such policies in New Zealand? Read this weeks feature article for more…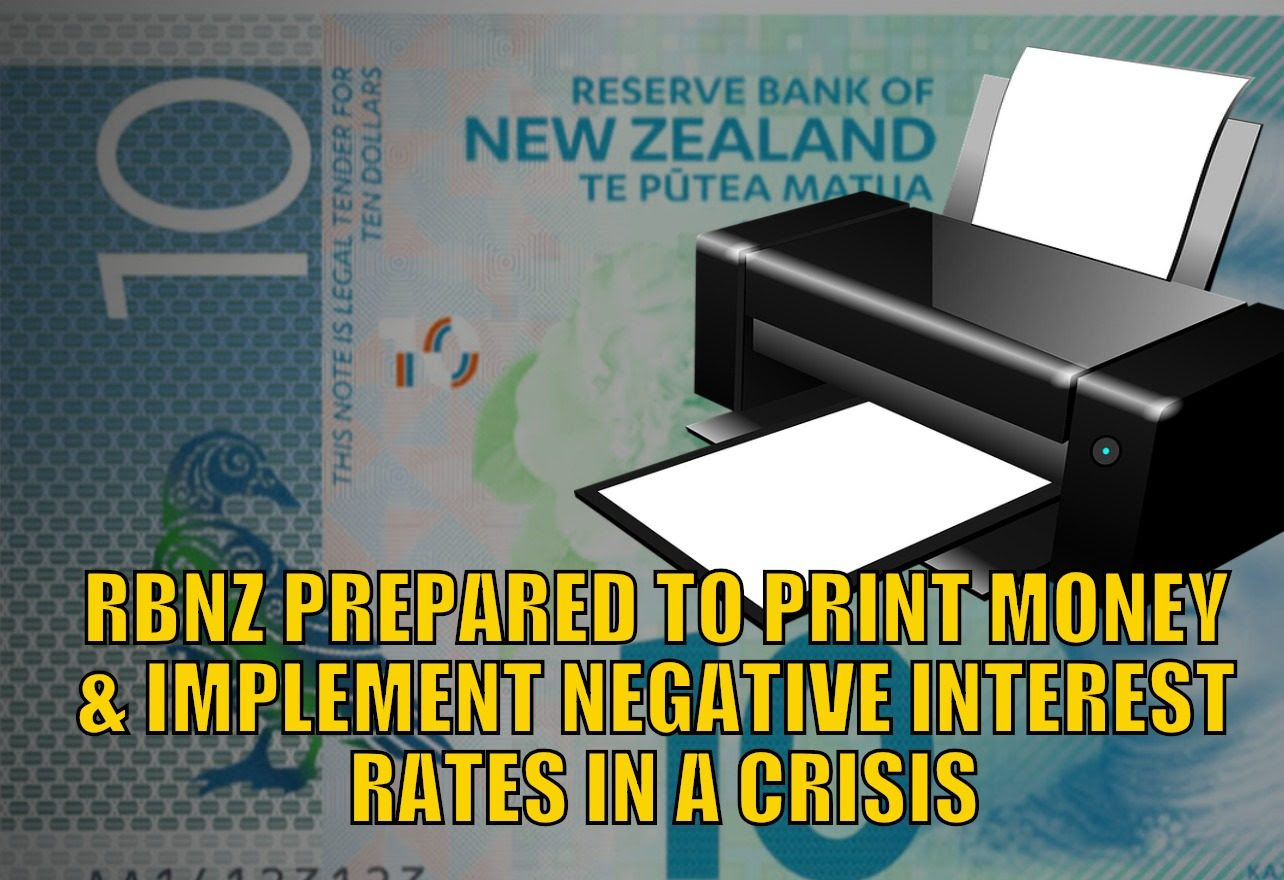 Continues below
—– OFFER FROM OUR SISTER COMPANY: Emergency Food NZ —– 
Do you have all the essentials on hand if you need to leave home in a hurry?
Get Your Own Emergency Survival Kit
Now Available. In Stock. Ready to Ship.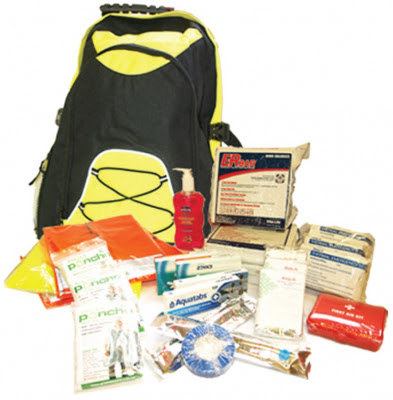 Grab Your Own Grab 'n' Go Bag NOW….

—–
Bank of New Zealand System Failure Highlights the Need to Keep Some Cash on Hand
A power failure in Melbourne meant that BNZ customers couldn't use ATMs, Eftpos, internet banking, or physical bank branches for several hours over the weekend.
This news report highlights how many people had no backup means to make payment.
The outage was only for a few hours. Imagine the disorder if it lasted days or even a week?
Being "ashamed" of a declined transaction would be the least of people's worries in this case!
This reinforces the need to keep some cash on hand. At the very least, enough for at least a week or two's daily needs.
A week ago we gave an update on the war on cash and moves towards a cashless society down under. See: Update on the War on Cash: Australia Moving to Cashless Society? + RBNZ on Digital Currency.
We warned:
The war on cash is being waged because it allows the government to do a number of things:
Track and tax every payment you make or receive – there is no "cash economy", no "cash jobs"
Freeze deposits and then bail-in deposits in case of a failing bank – see here for more on what happens to your deposits in a bank failure in New Zealand
Enact negative interest rates without people escaping to cash
No bank runs – Once all money is digital, there can't be a run on a bank anymore. You won't be able to remove your money if you see it coming in advance.

Going cashless might seem user friendly. Hey, if it were left up to the free market it's also likely that cashless payment systems would be the norm.
The problem is when the government controls money and gives you no other options. So beware of the "simplicity" and "ease of use" of only having credit cards or Apple pay. It is on the horizon.
So we were interested to read this take on the BNZ outage at stuff.co.nz.
BNZ systems collapse a reminder why cash is still around
"But one really good shaming at the checkout could result in more people keeping their wallets and purses stocked.
It wouldn't be the first push back to the cashless society project.
Many people are already demonstrating they not on board with the cashless society project.
Every year cash in the hands of the public increases, but it's the big notes $50s and $100s where the biggest increases have been.
That's funny, because I don't have much day-to-day use for either denomination, and not just because I try to buy as little as possible.
We know that some cash is used for spending. Some is hoarded against fears of a banking collapse. Some is used by people playing in the grey economy of cash trade jobs. Some is used by criminals. Some is probably being used by parents to teach children about money. Poorer people are more likely to use cash to manage their budgets than wealthier ones.
Low interest rates mean the cost of not keeping money in the banks has also reduced.
Some cash use may even be political. In a cashless society, even negative interest rates on bank deposits become possible.
Some people actually invest in gold, or crypto-currencies specifically to get some money out of the banking system, a hedge against it running into trouble.
BNZ's outage has demonstrated that there are still times when having a bit of cash is handy.
The other banks won't be too pleased. In the cashless society project, the failure of one is the failure of all."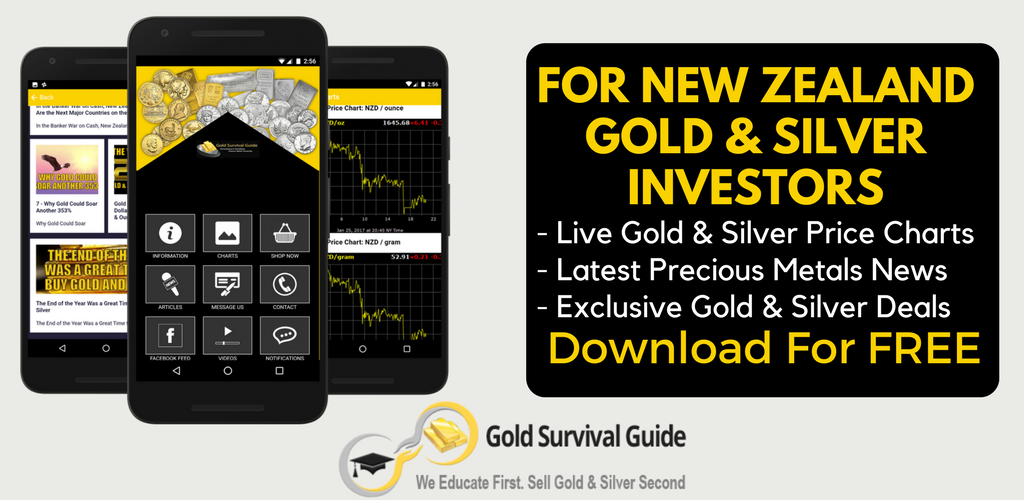 Your Questions Wanted
Remember, if you've got a specific question, be sure to send it in to be in the running for a 1oz silver coin.
Larger Range of Gold and Silver Products and Website Shop Update
This week we have a much needed addition on the Gold Survival Guide website with a new "Shop" page.
As a result we have a much larger range of gold and silver products on display. 16 at current count. These include some "Bulk Price Deals" on gold when you order 10 ozs or more.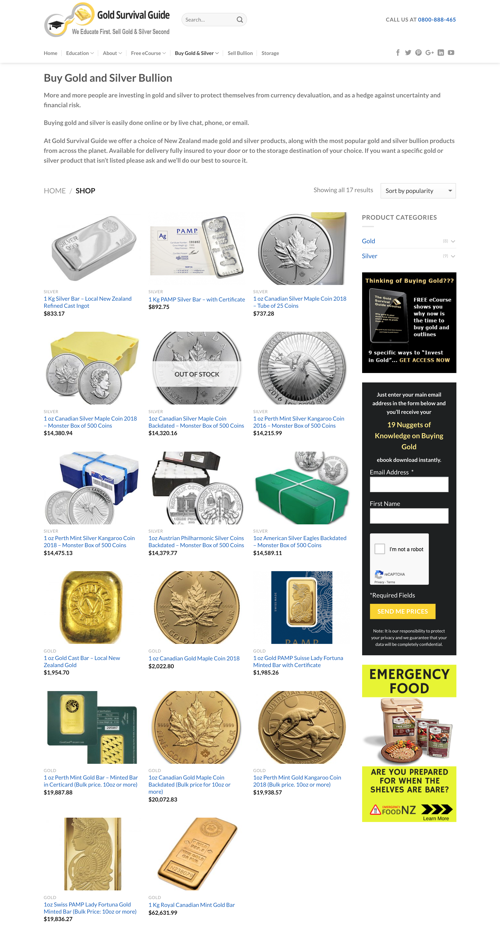 You can also view products listed by category such as gold bars or silver coins.
Each product has live indicative pricing.
You just click "Add to Quote" on any product to get a quote. You can "Return to Shop" and add other products to your "Get a Quote Cart".
So head over and see all the products available today. With gold and silver in NZ dollars both close to breakout levels this could be an opportune time to "Request a Quote".
Phone: 0800 888 GOLD ( 0800 888 465 ) (or +64 9 2813898)
or Shop Online with indicative pricing
— Prepared for Power Cuts? —
[BACK IN STOCK] New & Improved Inflatable Solar Air Lantern
Check out this cool new survival gadget.
It's easy to use. Just charge it in the sun. Inflate it. And light up a room.
6-12 hours of backup light from a single charge! No batteries, no wires, no hassle. And at only 1 inch tall when deflated, it stores easily in your car or survival kit.
Plus, it's waterproof so you can use it in the water.
See 6 more uses for the amazing Solar Air Lantern.
—–
This Weeks Articles:
Mon, 28 May 2018 10:57 PM NZST
The Reserve Bank of New Zealand (RBNZ), this week issued a bulletin outlining 5 unconventional monetary policy plans they could implement in case of a crisis. The bulletin entitled "Aspects of implementing unconventional monetary policy in New Zealand" outlined these 5 potential tools: Negative interest rates: the OCR could be cut to as low as […]
The post RBNZ Prepared to Print Money and Implement Negative Interest Rates in a Crisis appeared first on Gold Survival Guide.
Thu, 24 May 2018 12:02 PM NZST
  This Week: Update on the War on Cash Australia Moving to Cashless Society? + RBNZ on Digital Currency Gold Price: Roadmap To $1,750 Slow Burn or Collapse? Prices and Charts Looking to sell your gold and silver?Visit this page for more information Buying Back 1oz NZ Gold 9999 Purity $1792 Buying Back 1kg NZ […]
The post Slow Burn Or Collapse? appeared first on Gold Survival Guide.
Wed, 23 May 2018 11:01 AM NZST
Gold continues to consolidate as it has done since the sharp gains in December and January. This sideways consolidation is likely necessary in order to build support for future price rises. However we may now be getting close to the point where we see a gold breakout. Below Stewart Thomson outlines the next levels to […]
The post Gold Price: Roadmap To $1,750 appeared first on Gold Survival Guide.
As always we are happy to answer any questions you have about buying gold or silver. In fact, we encourage them, as it often gives us something to write about. So if you have any get in touch.
Phone: 0800 888 GOLD ( 0800 888 465 ) (or +64 9 2813898)
or Online order form with indicative pricing
---
---
---
Note:
Prices are excluding delivery
1 Troy ounce = 31.1 grams
1 Kg = 32.15 Troy ounces
Request special pricing for larger orders such as monster box of Canadian maple silver coins
Lower pricing for local gold orders of 10 to 29ozs and best pricing for 30 ozs or more.
Foreign currency options available so you can purchase from USD, AUD, EURO, GBP
Plus we accept Bitcoin, Bitcoin Cash, Visa and Mastercard
Note: For local gold and silver orders your funds are deposited into our suppliers bank account. We receive a finders fee direct from them. Pricing is as good or sometimes even better than if you went direct.

---
Can't Get Enough of Gold Survival Guide?
If once a week isn't enough sign up to get daily price alerts every weekday around 

9am

Click here for more info
---
---
The Legal stuff – Disclaimer:
We are not financial advisors, accountants or lawyers. Any information we provide is not intended as investment or financial advice. It is merely information based upon our own experiences. The information we discuss is of a general nature and should merely be used as a place to start your own research and you definitely should conduct your own due diligence. You should seek professional investment or financial advice before making any decisions.