Prices and Charts

---
---
NZD Gold Up for the Week But Could Be Heading a Bit Lower Yet?
Gold in New Zealand dollars was up just over 1.5% this week. It has turned down after touching overhead resistance just above $2700. We could yet see a further fall towards the 200 day moving average (MA) around $2500. But as always, nothing is a given. So also to repeat ourselves, consider buying in tranches in case these lower levels don't eventuate.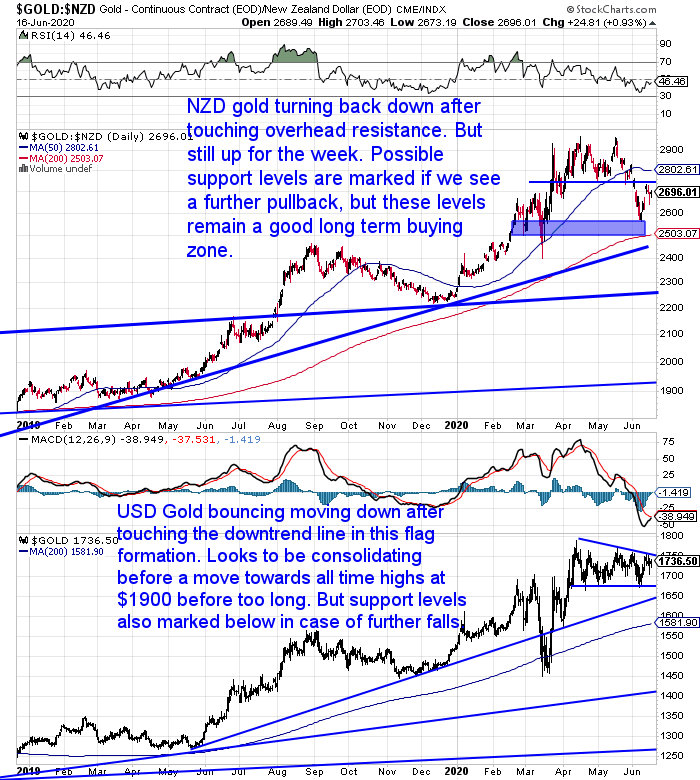 NZD Silver Up Slightly
Silver in NZ dollars is up a tad from last week. Sitting a little above the 200 day moving average. We could yet see silver also continue to oscillate between the two blue trendline in this flag formation. But silver has been looking surprisingly strong in this correction. So no guarantees of lower levels.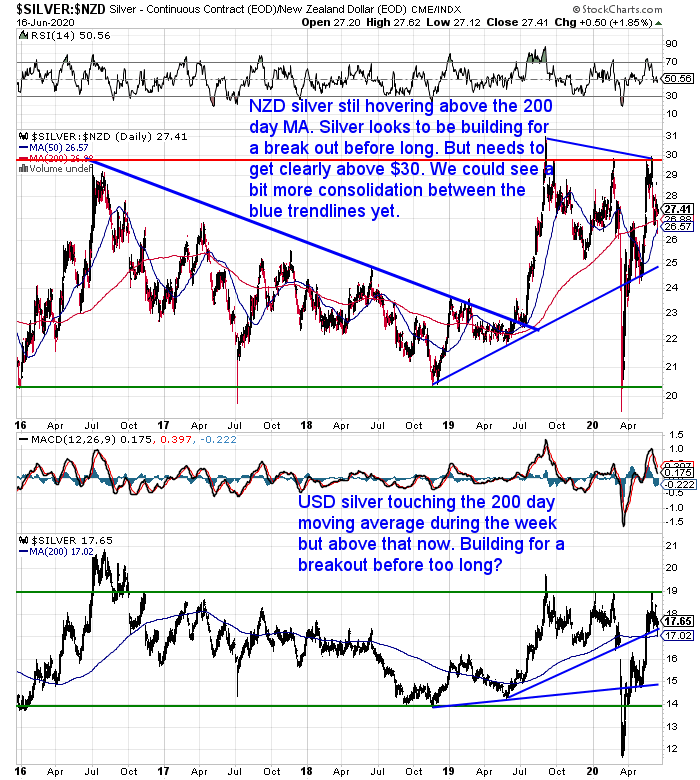 NZ Dollar Down Almost 1%
After a screaming run higher, the Kiwi dollar is down almost 1% from a week ago. We could see more of a retracement yet. Down towards the 200 day MA, which would be about half the recent gains percentage wise. Despite this run higher the Kiwi is clearly still in a long term downtrend.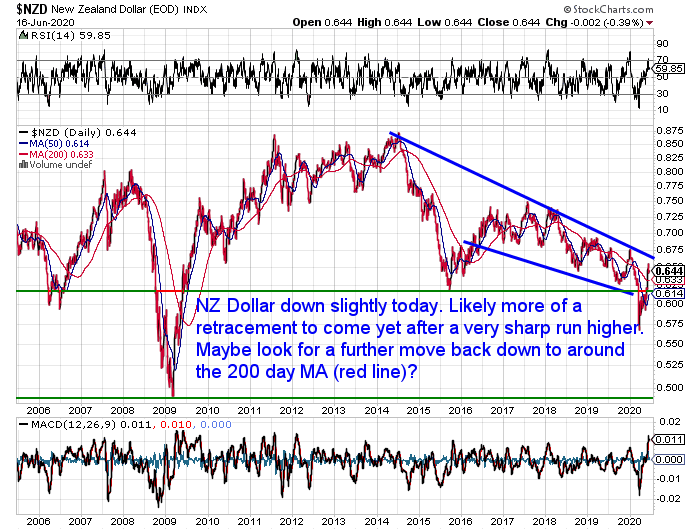 Need Help Understanding the Charts?
Check out this post if any of the terms we use when discussing the gold, silver and NZ Dollar charts are unknown to you: Continues below

—– OFFER FROM OUR SISTER COMPANY: Emergency Food NZ —–
NEW: Certified Organic Long Life Emergency Food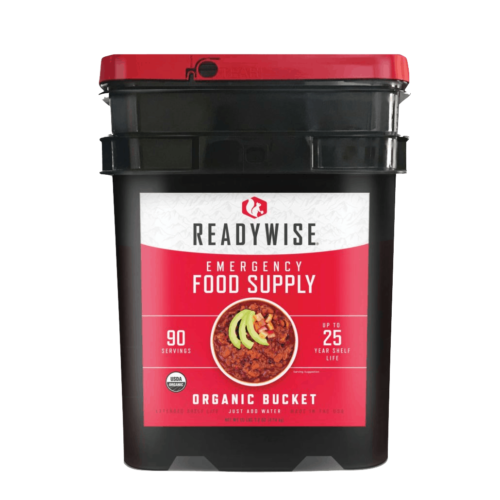 This easy to carry bucket has 90 servings of organic breakfasts and mains Free Shipping NZ Wide
Get Peace of Mind For Your Family NOW….
—–
Societal Breakdown: Are Gold and Silver Coins Better Than Tradable Items Like Tools, Water and Wine?
The COVID-19 scare has also shown us how under-prepared most people are. It also highlighted how quickly stocks of various items can be depleted in a crisis. Getting hold of flour during the lockdown was close to impossible for many people. Toilet paper disappeared – not so sure why on that one? So does this prove that these must have everyday necessities are more important than gold and silver? Yes. And no. See why our contradiction is true in this post: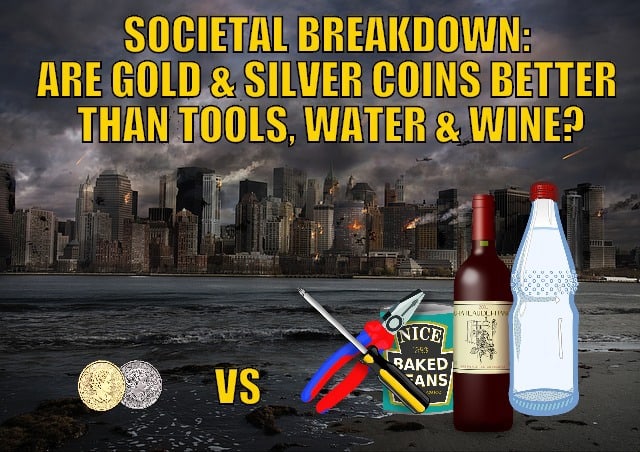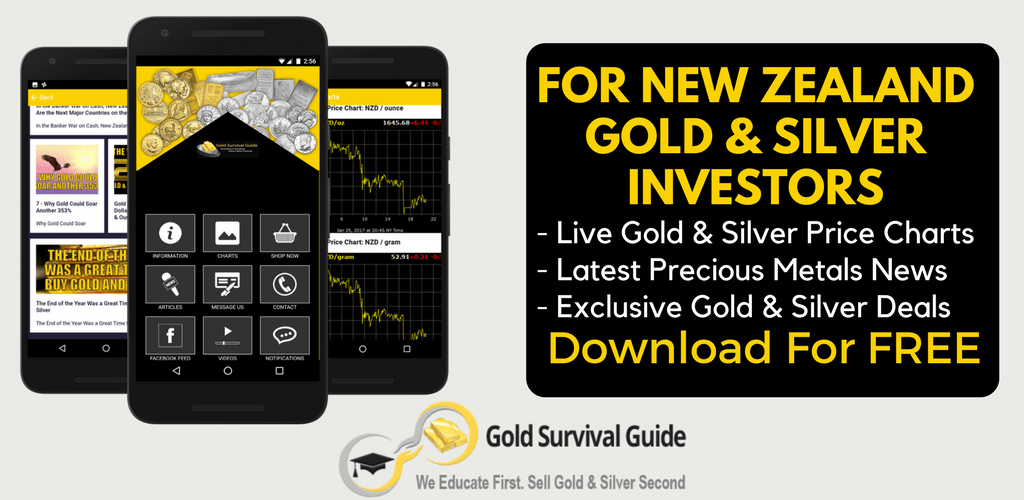 Cash – a Casualty of Coronavirus
We've spilled plenty of digital ink on the topic of the central planners war on cash worldwide and downunder. See: War on Cash Archives The Wuhan virus is also being used as an excuse for getting rid of cash. Due to the supposed risk of transmission. Interestingly we read a press release today, from an ATM terminal company no less, stating:

"Mastercard Is Wrong: Cash Is NOT Dirty, 95% [of NZers] Want To Keep Cash" "Mastercard, Visa, American Express, Apple, Google, the banks and merchants are surcharging cashless transactions and profiting from a misplaced fear of cash," said Tim Wildash, Chief Executive Officer of Next Payments, Australia and New Zealand's leading independent ATM supplier. Contrary to Mastercard's survey results, recent market research from Next Payments shows more than 95% of consumers want to keep the right to pay with cash. More than 84% say cash-bans by retailers are unfair and 59% of consumers say they are discouraged from shopping at retailers that do not accept cash. 76 per cent say they are concerned about hidden card fees while 74 per cent say cash is the most reliable form of payment according to the ongoing survey of over 600 people conducted in April, May and June in all states. "Mastercard is profiting from encouraging people to choose card payments while cash remains surcharge-free, private and reliable," said Tim Wildash. "Consumers don't want their right to pay with cash taken away. Cash is reliable, free, private and flexible. Cash is used by the old, the young and the 500,000 Australians who do not even have a debit card. "New Zealanders rushed back to cash when social distancing restrictions were partially lifted two weeks ago." Source.
Your Questions Wanted
Remember, if you've got a specific question, be sure to send it in to be in the running for a 1oz silver coin.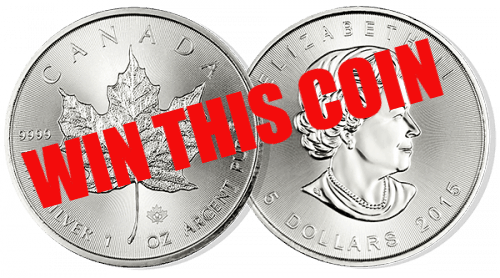 The Debt Continues to Pile Up… New Record NZ Government Bond Issue of $7 Billion – Double Previous High
We have been saying in recent weeks that there is likely more QE to come from the RBNZ. The latest massive NZ government bond issue points to this being sooner rather than later. However they currently do seem to have plenty of buyers for this debt…

"The New Zealand Debt Management Office (NZDMO), a unit of Treasury, has issued a whopper $7 billion government bond which received $14 billion worth of bids.

Both are record figures for a NZ government bond, exceeding the previous high which was the $3.5 billion tap of an existing bond due to mature in 2031, which received $5 billion of bids in April this year. "For New Zealand, the deal is enormous. It is twice as big as the previous largest syndication, the $3.5 billion syndicated tap of the May-2031 in early April this year. For context, the $7 billion size is as large as the entire 2017/18 bond programme was," BNZ interest rate strategist Nick Smyth says."

Source.

So even though the RBNZ recently said they'll "not be expanding quantitative easing programme any time soon", don't count on that as being gospel. There is a huge amount of debt to be issued. And the easiest way to mop up an excess that is not bought is for the central bank to print and buy it. Once you print – it's hard to go back. In a note out today ASB commented:

"RBNZ QE has worked well so far [insofar as it has kept retail interest rates low], but the true test will be how long-lasting its impacts will be. NZ Retail lending and deposit interest rates remain on the RBNZ's watchlist and ours as well."
How Much Gold Should a Medium Wage Earner Own to Secure His Family, Himself and Home?
A question in last week from a reader was:

"I believe an economic event will happen soon (debt bubble burst). What is the correct amount of gold to own for a medium wage earner to secure his family, himself and home."

This is a very difficult question for anyone to answer without a lot more information. Also we are not financial advisors so we can't really tell you that. However there are a number of studies which outline what percentage of gold is a good idea to hold. Along with a number of other factors to consider when deciding just how much gold to purchase. See what they are in this must read post: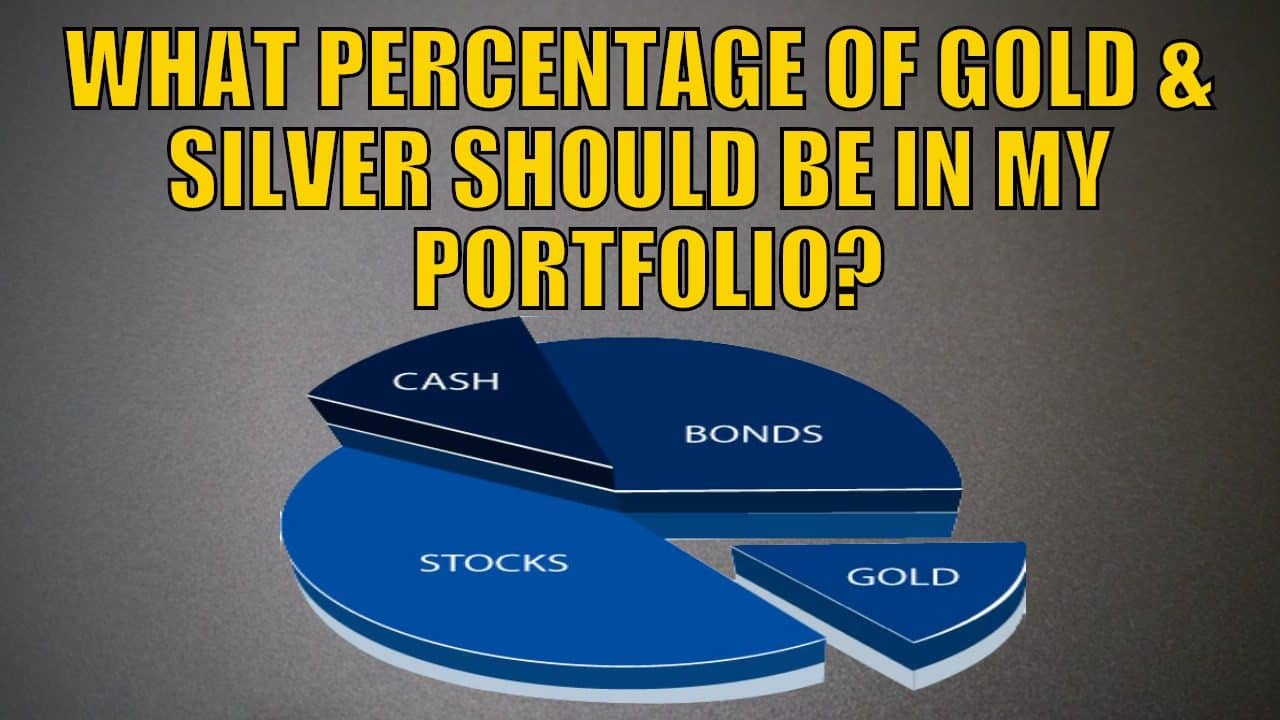 Both metals remain down from recent highs and in decent long term buy zones. Please get in touch if you have any questions about buying gold or silver.
Phone: 0800 888 GOLD ( 0800 888 465 ) (or +64 9 2813898)
or Shop Online with indicative pricing
— Prepared for the unexpected? —
Here's how to always have clean fresh drinking water on hand.
The Sport Berkey Water Filter Bottle – $69 Delivered
Ideal for travel. Driving, camping, backpacking.
Free Shipping NZ Wide.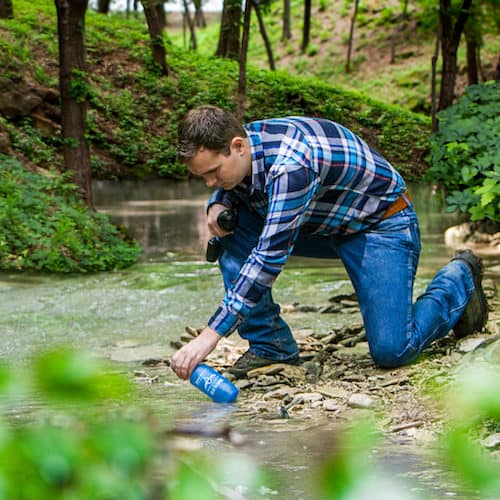 —–
This Weeks Articles:
Wed, 10 Jun 2020 12:36 PM NZST
Prices and Charts Looking to sell your gold and silver? Visit this page for more information Buying Back 1oz NZ Gold 9999 Purity $2531 Buying Back 1kg NZ Silver 999 Purity $838 NZD Gold Close to 200 Day MA – Long Term Buying Opportunity The correction in NZ Dollar gold continued this week with a […] The post
RBNZ QE Ahead of Plan – Chart Proves There's More to Come
appeared first on
Gold Survival Guide
.
Tue, 9 Jun 2020 1:35 PM NZST
If you've been around the gold sector for a little while you've no doubt come across talk of "gold seasonality". What is Gold Seasonality? Gold seasonality generally refers to the northern hemisphere mid summer lull in precious metals markets. A lull which often seems to match the share market lull at this time of year. […] The post
Does Gold Seasonality Affect the NZ Dollar Gold Price?
appeared first on
Gold Survival Guide
.
As always we are happy to answer any questions you have about buying gold or silver. In fact, we encourage them, as it often gives us something to write about. So if you have any get in touch.
Phone: 0800 888 GOLD ( 0800 888 465 ) (or +64 9 2813898)
or Online order form with indicative pricing
---
---
---
Note:
Prices are excluding delivery
1 Troy ounce = 31.1 grams
1 Kg = 32.15 Troy ounces
Request special pricing for larger orders such as monster box of Canadian maple silver coins
Lower pricing for local gold orders of 10 to 29ozs and best pricing for 30 ozs or more.
Foreign currency options available so you can purchase from USD, AUD, EURO, GBP
Plus we accept BTC, BCH, Visa and Mastercard
Note: For local gold and silver orders your funds are deposited into our suppliers bank account. We receive a finders fee direct from them. Pricing is as good or sometimes even better than if you went direct.

---
Can't Get Enough of Gold Survival Guide? If once a week isn't enough sign up to get daily price alerts every weekday around 9am Click here for more info
---
---
The Legal stuff – Disclaimer: We are not financial advisors, accountants or lawyers. Any information we provide is not intended as investment or financial advice. It is merely information based upon our own experiences. The information we discuss is of a general nature and should merely be used as a place to start your own research and you definitely should conduct your own due diligence. You should seek professional investment or financial advice before making any decisions.
Copyright © 2019 Gold Survival Guide. All Rights Reserved.