Prices and Charts

---
Looking to sell your gold and silver?
Buying Back 1oz NZ Gold 9999 Purity
$2655
Buying Back 1kg NZ Silver 999 Purity
$857
---
Gold Pullback Underway
The pullback we've been looking out for looks to be underway this week.
NZD gold has dipped below the 50 day moving average for the first time since March. It's not far off the rising trendline at $2700. $2700 would also be horizontal support. So it's possible this will only be a fairly shallow correction. But we've drawn on a couple of other support lines to watch for should it go any lower.
The interest in gold is far from widespread. Therefore we'd be surprised if it went below the 200 day MA at $2480.
Gold in USD has pulled back to retest the breakout from the wedge formation. It looks to be building for a move towards all time highs. This seems inevitable as the US dollar is the only currency which hasn't seen new highs in gold.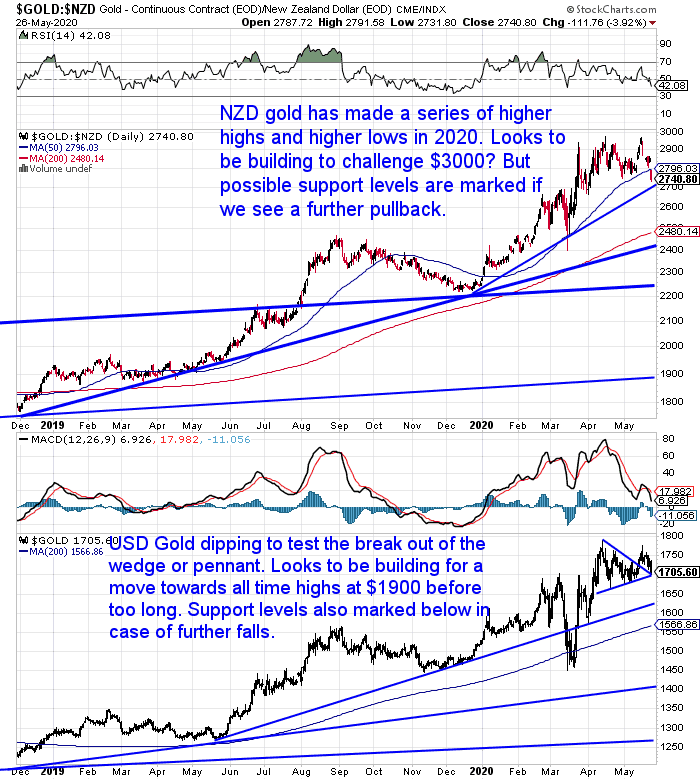 Silver Holding Up Better Than Gold
Somewhat out of the norm in a correction, silver is holding up better than gold this week.
In NZ dollars silver has pulled back after touching overhead resistance. Watch for a possible move down towards the 200 day MA at $26.80. But a break out looks to be on the cards before long. Likewise in US dollar terms.
There is a lot of potential upside in silver. Read on for some projections in this week's feature article.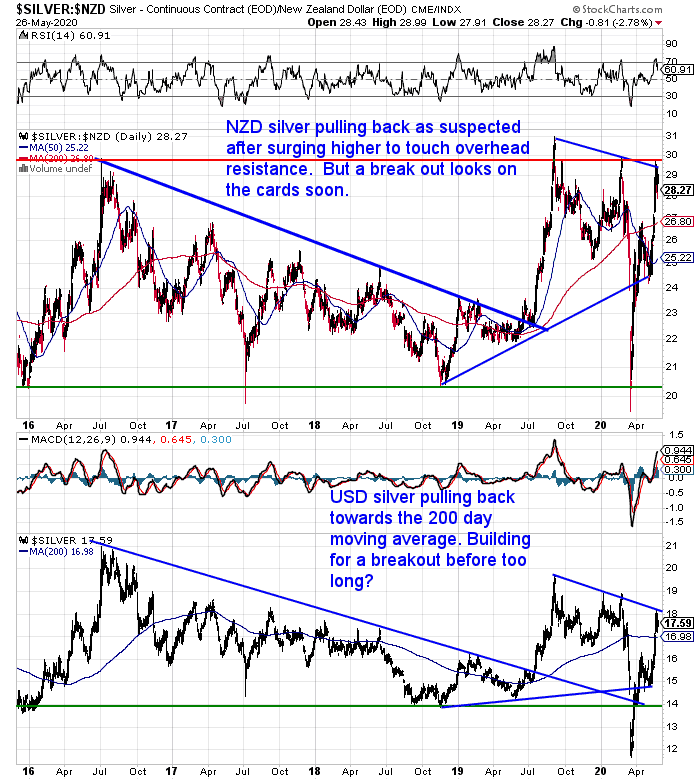 NZD Still Range-Bound Around 0.62
The Kiwi dollar is up a hefty 2% this week. Yet again hovering around the 0.6200 mark. Up to now this has proven tough resistance. So we'll see if it can get any higher this time.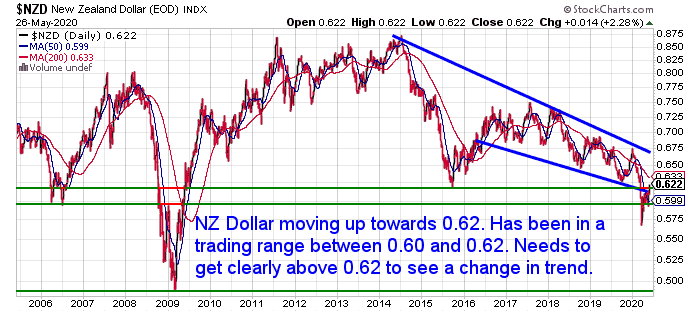 Need Help Understanding the Charts?
Check out this post if any of the terms we use when discussing the gold, silver and NZ Dollar charts are unknown to you:
Continues below
—– OFFER FROM OUR SISTER COMPANY: Emergency Food NZ —–
Here's how to always have clean fresh drinking water on hand.
The Sport Berkey Water Filter Bottle – $69 Delivered
Ideal for travel. Driving, camping, backpacking.

Free Shipping NZ Wide.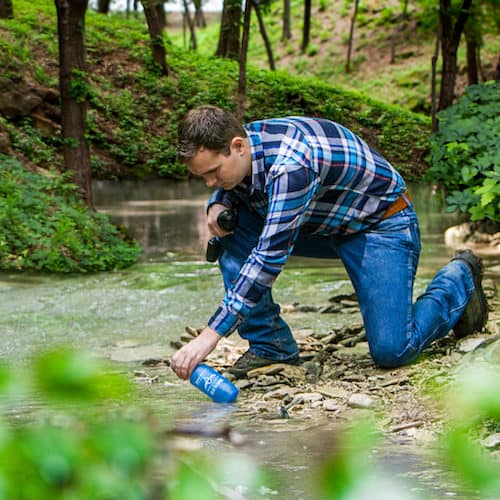 Clarification on Negative Interest Rates
Here's a question about negative interest rates after our article and video last week. Just in case you were also confused… What Would Negative Interest Rates Mean for New Zealand?
Question:
Not sure I quite understand your theory on: Retail banks are charged for holding assets with the RBNZ and if negative interest rates were introduced the banks would want to lend out these assets (funds) rather than lose money.
If the Banks were being charged interest and rates went to zero they wouldn't be charged anything.
And if they went to negative they would receive interest from the RBNZ on the assets  being held.
Have I misinterpreted something?
Answer:

Thanks for the question. Yes you have slightly misinterpreted there or maybe our explanation wasn't up to it!
If the OCR went negative then the banks are charged that negative rate from the RBNZ.
Currently excess reserves they hold with the RBNZ they receive interest on. They are not borrowing from the RBNZ in this case, but holding their excess reserves kind of like a cheque account with the central bank.
So if this rate goes negative then they lose money by holding it with the RBNZ. Although they may still choose to do so anyway. Negative interest rates don't guarantee higher lending from banks as some countries overseas have found. But that is the theory these "wise men" are following.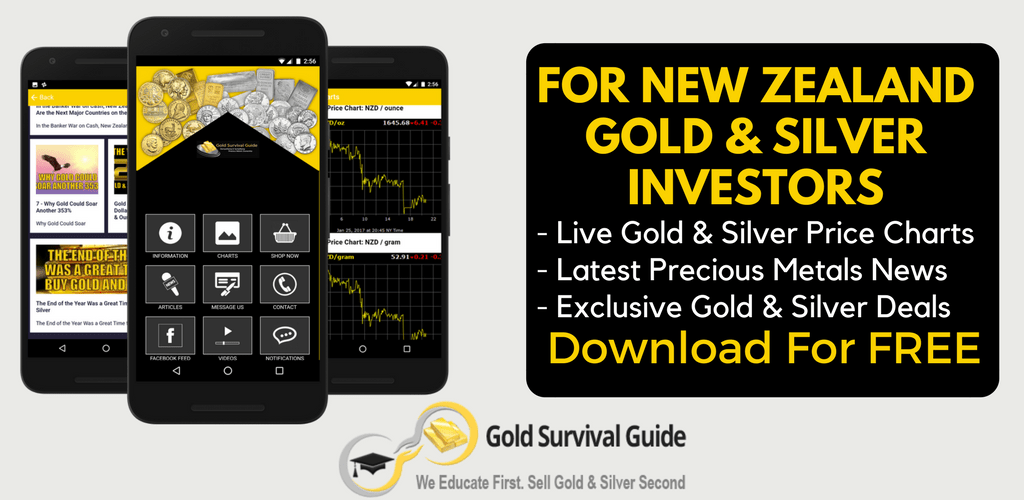 When Will Gold Reach Peak Valuation?
A recent video of ours looked at the question – Is it Too Late to Buy Gold?
We reviewed a number of ways to project a possible gold price based upon various valuation methodologies.
One of these was the Gold Backing to Debt Ratio.
This method looked at the total US debt versus US national gold holdings. It suggested that if history reports, we could see a US$25,000 gold price.
Read more: Gold Backing to Debt Ratio: A Reset Like in 1934 and 1980 Would Mean $25,000 Gold
We've received a number of questions as a result of this gold price projection. Such as…
"When would we likely see 25000 USD per ounce of gold?"
The "when" is very difficult to even guess at. Coming up with projected prices is much easier than picking a timeline for them to occur. It's a fool's errand to even try…
But why not be foolish every now and then!
So in this article we make an argument for somewhere around 2026-2030 is when gold could reach full valuation: Gold Cycles vs Property Cycles: When Will Gold Reach Peak Valuation?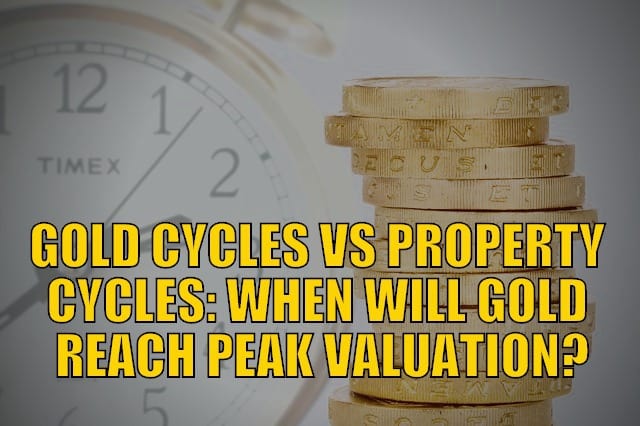 Your Questions Wanted
Remember, if you've got a specific question, be sure to send it in to be in the running for a 1oz silver coin.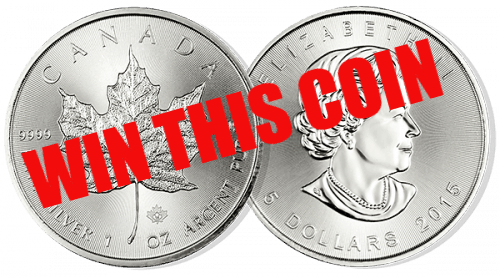 What Price Could Silver Reach?
We also have received a number of questions on possible silver prices in the future. As we've never covered this in full before, it's time we did.
So our feature article this week covers a number of methods to reach a potential valuation for silver in the coming years including:
Extrapolating out a price using the gold to silver ratio
Inflation adjusted silver price
A projected price of silver using the Dow to silver ratio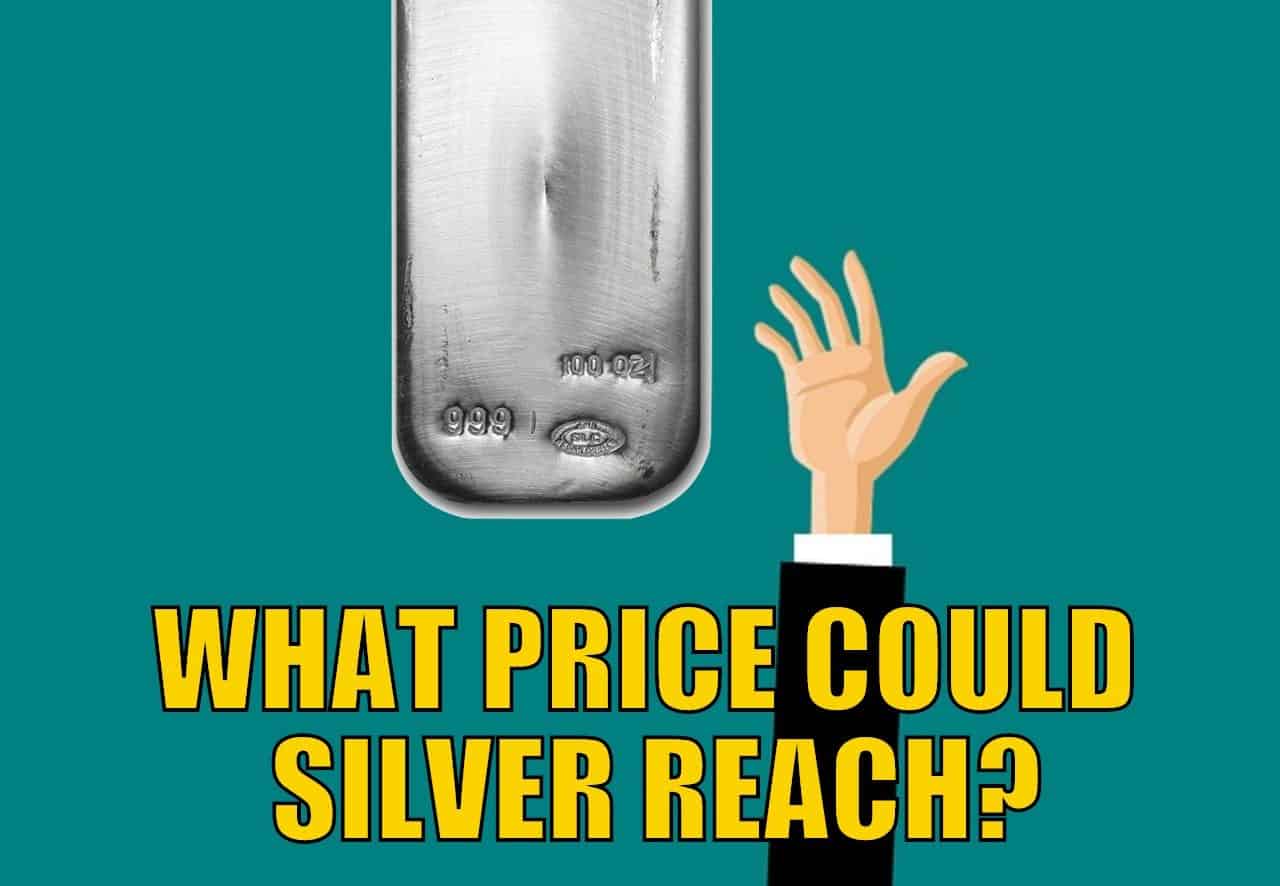 Both metals likely have much higher to go yet. Take this latest news item quoting the head of the NZ central bank:
"Adrian Orr: More QE would be the 'simple' way for the Reserve Bank to boost the economy; Going further and getting the Bank to directly finance government initiatives would be 'achievable'."
There's likely to be much more intervention to come yet from central banks the world over. More people will move into gold and silver in the coming months and years.
If you're one of them, keep a close eye on what prices do in the coming days as this current dip may be a great opportunity to get onboard the gold and silver train.
Please get in touch if you have any questions about buying gold or silver.
Phone: 0800 888 GOLD ( 0800 888 465 ) (or +64 9 2813898)
or Shop Online with indicative pricing
— Prepared for the unexpected? —

Never worry about safe drinking water for you or your family again…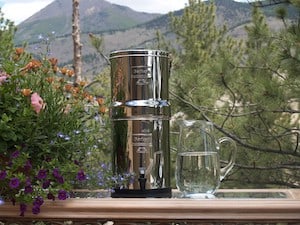 The Berkey Gravity Water Filter has been tried and tested in the harshest conditions. Time and again proven to be effective in providing safe drinking water all over the globe.
This filter will provide you and your family with over 22,700 litres of safe drinking water. It's simple, lightweight, easy to use, and very cost effective.
Royal Berkey Water Filter
—–
This Weeks Articles:
Wed, 27 May 2020 2:26 PM NZST
See how high the silver price could go. You'll discover a number of methods to reach a potential valuation for silver in the coming years including: Extrapolating out using the gold to silver ratio Inflation adjusted silver price A projected price of silver using the Dow to silver ratio A recent video of ours looked […]
The post What Price Could Silver Reach? appeared first on Gold Survival Guide.
Wed, 20 May 2020 12:29 PM NZST
Prices and Charts Looking to sell your gold and silver? Visit this page for more information Buying Back 1oz NZ Gold 9999 Purity $2689 Buying Back 1kg NZ Silver 999 Purity $786 NZD Gold Dipping Down From Near New All Time High Gold in New Zealand Dollars is up 2.4% this week. It bounced off […]
The post RBNZ Nearly Doubles QE to $60 Billion – More to Come? appeared first on Gold Survival Guide.
Wed, 20 May 2020 11:17 AM NZST
A couple of weeks ago we reported on the prospect of negative interest rates arriving in New Zealand as soon as November.  The Westpac chief economist expected the RBNZ to signal its change of plan in its August Monetary Policy Statement, and make a 75-point cut to -0.5% in November. Since then we've had a […]
The post What Would Negative Interest Rates Mean for New Zealand? appeared first on Gold Survival Guide.
As always we are happy to answer any questions you have about buying gold or silver. In fact, we encourage them, as it often gives us something to write about. So if you have any get in touch.
Phone: 0800 888 GOLD ( 0800 888 465 ) (or +64 9 2813898)
or Online order form with indicative pricing
---
---
---
Note:
Prices are excluding delivery
1 Troy ounce = 31.1 grams
1 Kg = 32.15 Troy ounces
Request special pricing for larger orders such as monster box of Canadian maple silver coins
Lower pricing for local gold orders of 10 to 29ozs and best pricing for 30 ozs or more.
Foreign currency options available so you can purchase from USD, AUD, EURO, GBP
Plus we accept BTC, BCH, Visa and Mastercard
Note: For local gold and silver orders your funds are deposited into our suppliers bank account. We receive a finders fee direct from them. Pricing is as good or sometimes even better than if you went direct.


---
Can't Get Enough of Gold Survival Guide?
If once a week isn't enough sign up to get daily price alerts every weekday around 9am Click here for more info
---
---
The Legal stuff – Disclaimer:
We are not financial advisors, accountants or lawyers. Any information we provide is not intended as investment or financial advice. It is merely information based upon our own experiences. The information we discuss is of a general nature and should merely be used as a place to start your own research and you definitely should conduct your own due diligence. You should seek professional investment or financial advice before making any decisions.
Copyright © 2019 Gold Survival Guide.
All Rights Reserved.