This Week:
Coming Soon: New Features and Improvements at GoldSurvivalGuide
GoldSurvivalGuide's Mission Explained
Update on the War on Cash Down Under
Silver Cycles and War Cycles
Prices and Charts

Looking to sell your gold and silver?
Buying Back 1oz NZ Gold 9999 Purity
$1699
Buying Back 1kg NZ Silver 999 Purity
$714
Gold Up, Silver Up More
Both metals moving higher this week.
Significantly the US Dollar price of gold got briefly above the $1300 level during the week (see the lower half of the below chart). Although USD gold didn't manage to close above this level, this does point to their being some momentum for gold currently.
The local gold price remains close to recent highs. Up around 0.5% on a week ago. It has pulled back slightly from overbought last week, but the price has not. So we could see it run a bit higher yet perhaps.
The fact there is not much interest in gold this week could add a bit of weight to this theory.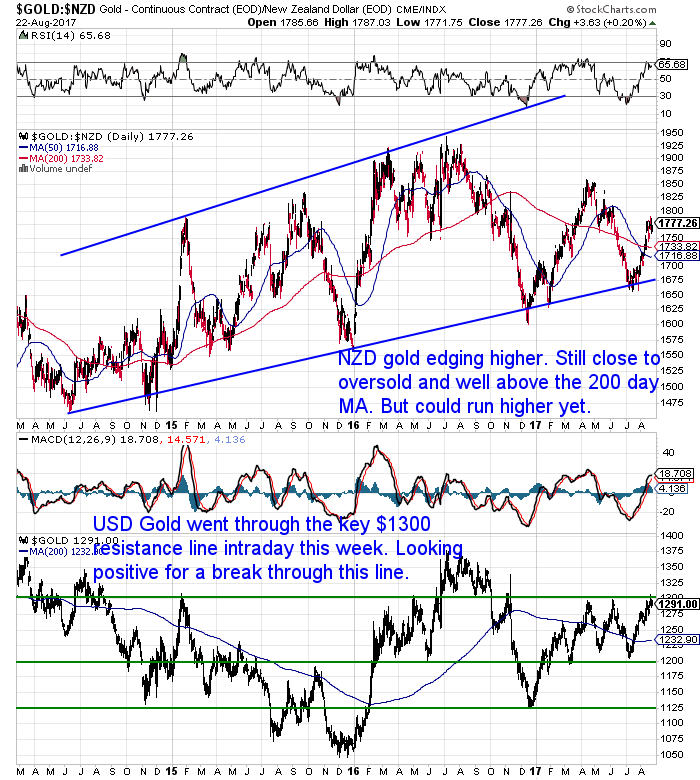 NZD silver is up 1.5% from a week prior. It dipped earlier in the week but is now near recent highs and slowly closing in on the key 200 day moving average (MA) level.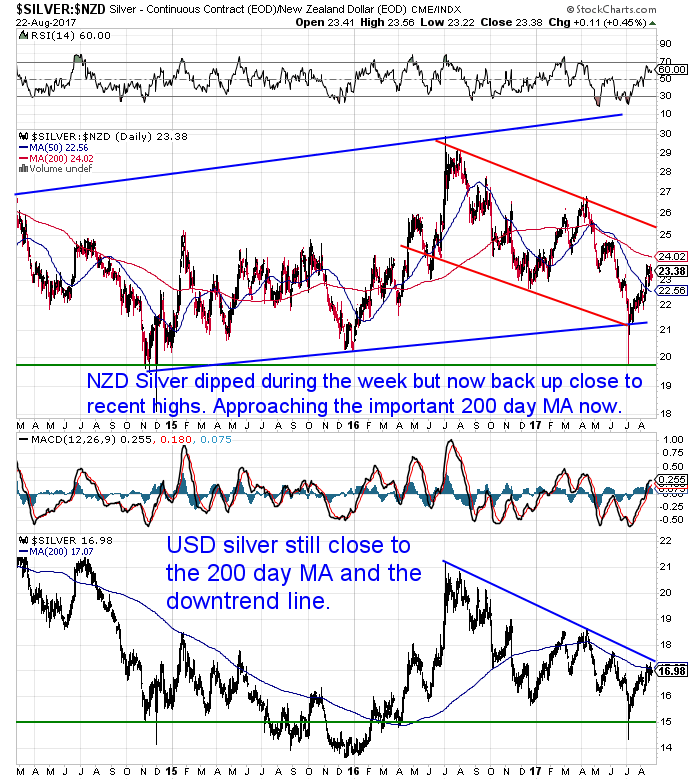 The kiwi dollar is up around 0.5% on a week ago, but still below the 50 day MA. We could yet see it test the 0.72 mark or even dip to the 200 day moving average just above 0.71.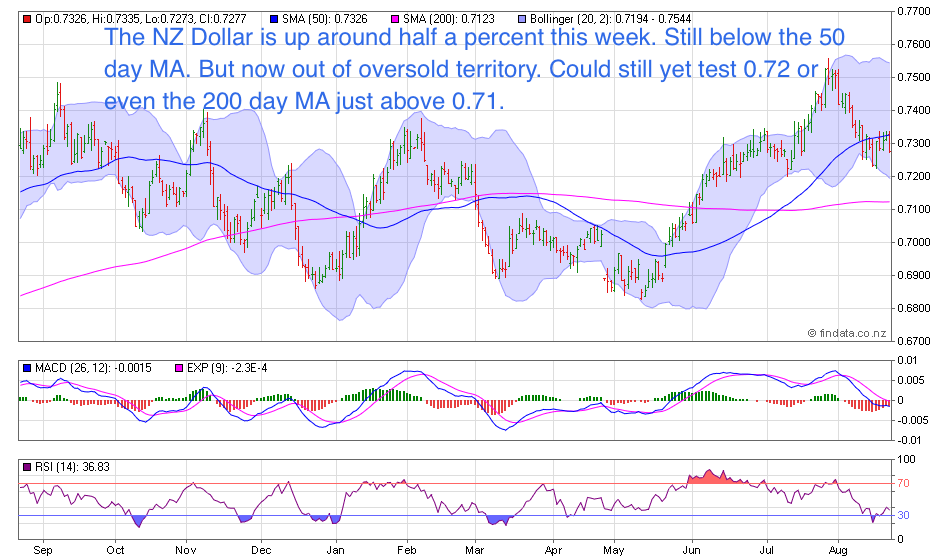 Update on the War on Cash Down Under
Across the ditch there have been more developments recently in the War on Cash.
At a technology conference in June Commonwealth Bank of Australia's top technology executive said a cashless society is coming:
"Mr Whiteing suggested the switch to a cashless society would be unlikely to occur right away, and couldn't be imposed on citizens without consultation.
"At the moment it is OK, but there is probably a conversation that we need to have in a few years with our customers, about if you really, really want that [cash], then you are going to have to pay," he said."
But in the last couple of weeks more news concerning Commonwealth Bank could well result in speeding this process up.
You see Commonwealth Bank has been identified as having breached anti money laundering rules on 1000's of occasions. "Crims" have been able to deposit up to 200 notes at a time into Commonwealth Bank "smart" ATM's. Then as long as the total amount was under $10,000 this was not reported. The result being that the bank launders the cash for these people.
'Is the root of the problem the outdated high denomination cash notes? Should Australia move to phase out cash given its role in the black economy (including: proceeds of crime, money laundering, tax avoidance, welfare fraud)?
'Benefits may include reduced crime (difficult to monetise; increased tax revenue (fewer cash transactions) and reduced welfare fraud (claiming welfare while earning and hoarding cash).
'From the banks' perspective there would likely be a spike in deposits — if all the A$100 notes were deposited into banks (ignoring hoarded A$50s), household deposits would rise 4%. This would likely fill the banks Net Stable Funding Ratio (NSFR) gap and reduce reliance on offshore funding.'
So far we haven't heard too much more on this discussion about outlawing cash here in New Zealand. But we imagine it is only a matter of time.
Continues below
—– OFFER FROM OUR SISTER COMPANY: Emergency Food NZ —–
Do you have all the essentials on hand if you need to leave home in a hurry?
Get Your Own Emergency Survival Kit
Now Available. In Stock. Ready to Ship.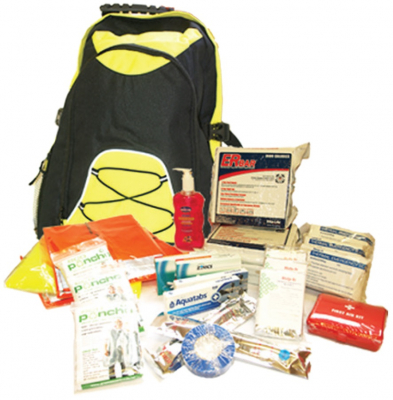 Grab Your Own Grab 'n' Go Bag NOW….
—–
More Reader Questions
We received 3 questions from one person last week that we've answered previously. But given they are somewhat common questions we thought it worth sharing them with everyone.
Remember to send us your question if you've got one too.
(a) If gold & silver price were to head to astronomical values, who would actually buy my precious metals? And would they have enough cash to pay for it?
We've answered a very similar question here:
How can I be sure there will be buyers for my gold and silver when I want to sell?
All the suppliers we use will buy their products (and in fact even some of each others) back. There is also a ready market on the likes of Trademe for gold and silver bars and coins.
Also our guess is also that if the precious metals bull market continues the likelihood is that there will be more buyers of gold and silver in the future coming to the party a bit late in the piece. So you could make an argument that as the precious metals bull market proceeds it will also be easier to sell your gold and silver than it is now, as there will be more buyers.
(b) What is a good indicator to sell gold/silver?
We can do better than that – here's 7 of them:
When Will You Know It's Time to Sell Gold?
Also on a related note:
Exit Strategies For When the Time Comes to Sell Gold and Silver
And here's the full low down on the process of selling:
How to Sell Gold and Silver Bullion
(c) Should I also be buying Cryptocurrency as insurance against a financial collapse?
We'll sign off there as we also have plenty of reading on the website for you below.
Including:
It remains a decent time to be purchasing gold and silver as long term "financial insurance".
Call David on 0800 888 465 for a quote or with any questions.
Phone: 0800 888 GOLD ( 0800 888 465 ) (or +64 9 2813898)
or Online order form with indicative pricing
— Prepared for Power Cuts? —
[BACK IN STOCK] New & Improved Inflatable Solar Air Lantern
It's easy to use. Just charge it in the sun. Inflate it. And light up a room.
6-12 hours of backup light from a single charge! No batteries, no wires, no hassle. And at only 1 inch tall when deflated, it stores easily in your car or survival kit.
Plus, it's waterproof so you can use it in the water.
—–
This Weeks Articles:
Wed, 23 Aug 2017 10:45 AM NZST
Our favourite billionaire Hugo Salinas Price is a student of history. He summarises what the cause of the imbalances of the world are today, while also giving a quick run down on monetary history for the last 80 or so years, including the Bretton Woods agreement after World War II… There Is No Cure […]
Tue, 22 Aug 2017 12:49 PM NZST
Last week a reader question prompted us to look into the impact of war on gold and silver prices. We stumbled across this excellent article today which looks specifically at silver and war cycles. We wrote mainly about gold and war, so this is an excellent follow on. Interestingly their overall conclusion on the impact […]
Tue, 22 Aug 2017 12:20 PM NZST
We first met Darryl Schoon a couple of years after the gathering he mentions below in 2007 – he is a passionate and enthusiastic guy! It has been 10 years since the beginnings of the financial crisis that he witnessed back then. He – and others – argue that we are due for Part 2 […]
Mon, 21 Aug 2017 7:51 PM NZST
What We Stand For and Why Last week we announced some planned improvements and new services here at GoldSurvivalGuide. Many of these new features have come about as a result of feedback from you. This feedback included many compliments on our research and articles. So this has lead us to get clearer on exactly what we […]
Fri, 18 Aug 2017 4:21 PM NZST
We've been paying attention to your feedback in recent months. As a result we have a number of improvements and new services and features coming out soon. So today we thought we'd share the first of these with with you. We'd love to hear your feedback on these and we also invite you to send […]
Tue, 8 Aug 2017 6:22 PM NZST
Interesting to see a mainstream news organisation in Australia reporting on the state of the Reserve Bank of Australia's gold reserves. The Wentworth Report's David Evan summarised and commented on an article published by "The Australia" last week. Check out David's thoughts, then we'll have some comments of our own at the end about New Zealand's […]
As always we are happy to answer any questions you have about buying gold or silver. In fact, we encourage them, as it often gives us something to write about. So if you have any get in touch.
Phone: 0800 888 GOLD ( 0800 888 465 ) (or +64 9 2813898)
or Online order form with indicative pricing
---
---
---
Note:
Prices are excluding delivery
1 Troy ounce = 31.1 grams
1 Kg = 32.15 Troy ounces
Request special pricing for larger orders such as monster box of Canadian maple silver coins
Lower pricing for local gold orders of 10 to 29ozs and best pricing for 30 ozs or more.
Foreign currency options available so you can purchase from USD, AUD, EURO, GBP
Note: For local gold and silver orders your funds are deposited into our suppliers bank account. We receive a finders fee direct from them. Pricing is as good or sometimes even better than if you went direct.

---
Can't Get Enough of Gold Survival Guide? If once a week isn't enough sign up to get daily price alerts every weekday around 9am Click here for more info
---
Our Mission
To demystify the concept of protecting and increasing ones wealth through owning gold and silver in the current turbulent economic environment.
To simplify the process of purchasing physical gold and silver bullion in NZ – particularly for first time buyers.
---
---
The Legal stuff – Disclaimer: We are not financial advisors, accountants or lawyers. Any information we provide is not intended as investment or financial advice. It is merely information based upon our own experiences. The information we discuss is of a general nature and should merely be used as a place to start your own research and you definitely should conduct your own due diligence. You should seek professional investment or financial advice before making any decisions.
Copyright © 2017 Gold Survival Guide. All Rights Reserved.