Prices and Charts

---
Looking to sell your gold and silver?
Buying Back 1oz NZ Gold 9999 Purity
$2502
Buying Back 1kg NZ Silver 999 Purity
$876
---
NZD Gold Up 3% to (Another) New All Time High
After setting a new all time high just above $2500 last week, NZD gold this week boosted sharply higher. New highs have been set almost every day this week. With the price breaking above the rising blue trendline and yesterday getting briefly to $2650.
Today NZD gold is back down just under $2600. We could see it now return to test the breakout above the rising blue trendline just above $2500.
But with what is going on in the world at the moment it is anyone's guess as to what happens next.
With the USD price getting up close to $1700 this week, our guess is that new all time highs for gold in USD are likely not that far off. That would place the USD price above $1900.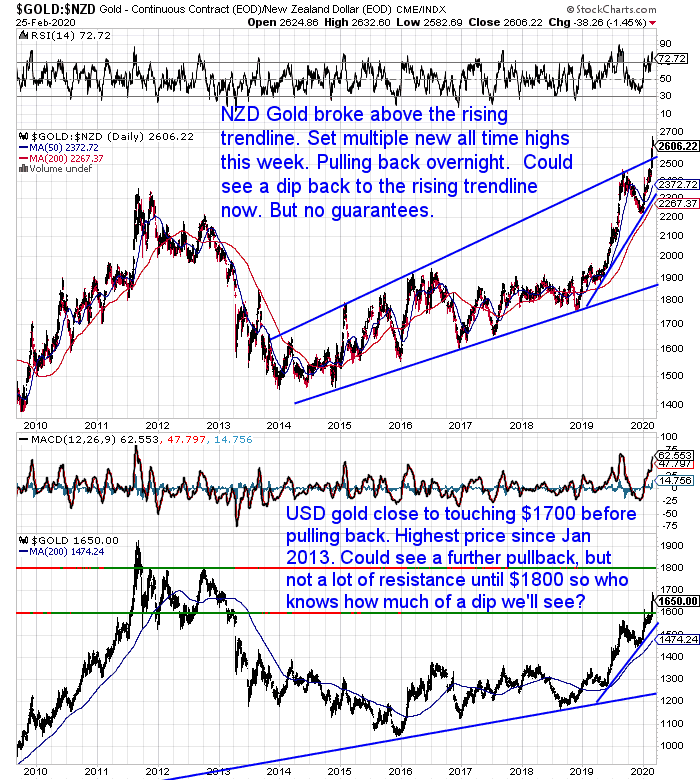 Silver Up – and Down – Sharply
Silver also jumped sharply this week, but then over the past 2 days has given back all these gains to return to the same price as a week ago.
It still looks to us like silver is building for a challenge of the 2019 high at NZ$31. It's just that silver's industrial properties look to be putting a drag on it currently – compared to gold.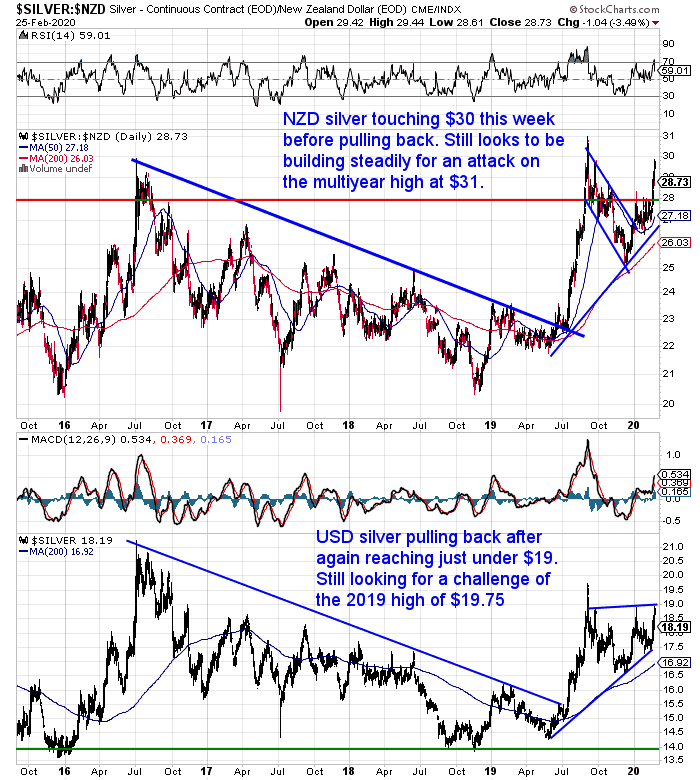 NZ Dollar Down 1%
The New Zealand Dollar also headed lower this week. Down 1%. It looks like the Kiwi could well be close to testing the lower trend line below 0.6300.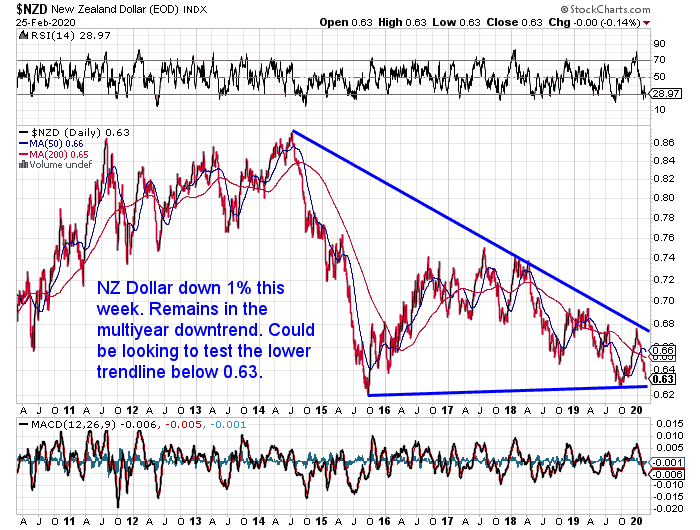 Need Help Understanding the Charts?
Check out this post if any of the terms we use when discussing the gold, silver and NZ Dollar charts are unknown to you:
Continues below
—– OFFER FROM OUR SISTER COMPANY: Emergency Food NZ —–
Here's how to always have clean fresh drinking water on hand.
The Sport Berkey Water Filter Bottle – $69 Delivered
Ideal for travel. Driving, camping, backpacking.

Free Shipping NZ Wide.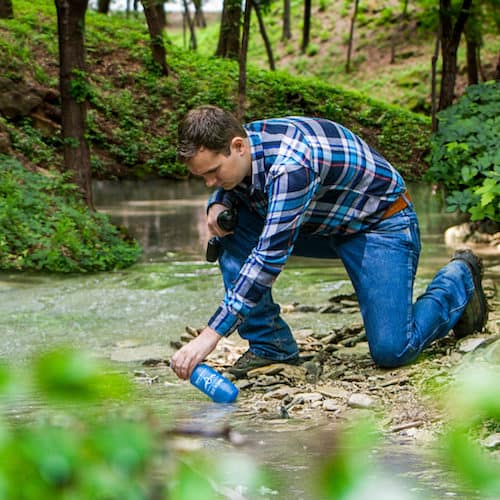 CoronaVirus Spreads Into Italy – Sharemarkets Plunge
Global sharemarkets have been taking a pounding the past few days. The spread of the CoronaVirus into Italy seems to have really spooked people.
So why is gold falling today too?
Jim Rickards in the Daily Reckoning points out that gold is likely down today due to margin calls in the stock markets:
"Gold was down big today, losing $45.20. But that's not because of gold itself. It's all about the falling stock market.
When you think about it, it doesn't make sense.
After all, if investors are fleeing for safety, which we're seeing in the Treasury market, why wouldn't they be buying up gold as well?
Gold was up close to $30 yesterday, before the price began dropping late in the day.
Here's the likely reason why gold is falling right now when it should be rising…
With the stock market plummeting, hedge funds and other institutional investors have had to suddenly raise cash to meet margin calls on their positions in the equity markets. And they had to get the cash from somewhere.
Gold is a very liquid asset that can quickly be traded for cash.
They can either sell the actual gold bullion they own or they can unload their positions in gold ETFs (like GLD).
So my estimate is that they dumped their gold positions to raise the money. And that's been driving the listed gold price lower.
It has nothing to do with gold's fundamentals, which are actually very strong. Demand is increasing, central banks are hoarding record amounts of gold and new supplies are dwindling.
That's a recipe for skyrocketing prices, and the bull market in gold is still very much intact.
The latest selling is just a quirk of the market, in which institutions have to raise cash in order to cover their positions when the market's dropping.
Again, it has really nothing to do with gold itself. This is just a temporary blip.
If you haven't bought gold yet, this is an ideal opportunity to scoop up gold at a bargain-basement price. Or, if you already own gold, to stock up on more.
For gold at least, it's an ideal opportunity to "buy the dip."
Gold is going much, much higher.
I'm not sure how many more opportunities like this we're going to see. I urge you to take advantage of it while you can."
We'd agree gold is going higher. So far it has risen without many people even noticing. This is what happens in the earlier stages of a bull market. Although we did spot an article in the mainstream NZ press yesterday. That could likely prove a good indicator of a short term top for gold here.
But when first looking to buy gold, there are often many obstacles and doubts in front of you. A common one is…
Won't the Powers That Be Just Confiscate Your Gold?
Here's our answer to that question.
What's covered in this post:
Gold Confiscation: A (Very) Short History Lesson
Where Does New Zealand Stand on Gold Confiscation?
The Difference Between Today and the US Confiscation of the 1930's
What Else Might the G-Man Resort To?
What About Silver Confiscation?
Other Options to Hedge Against Gold Confiscation?
What are the Odds of a New Zealand Government Gold Confiscation?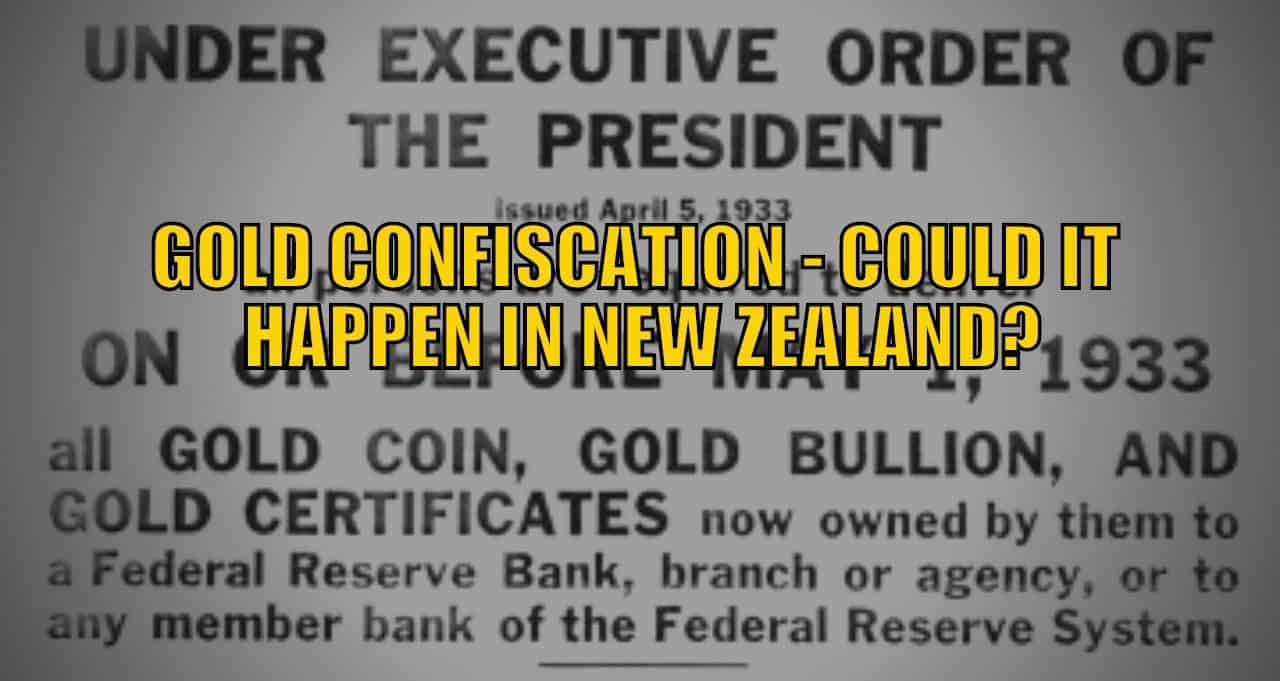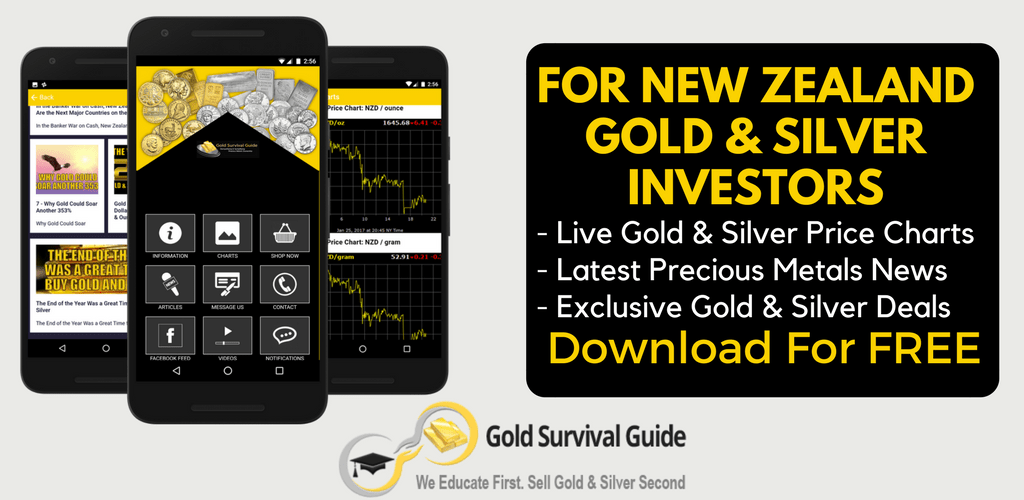 Your Questions Wanted
Remember, if you've got a specific question, be sure to send it in to be in the running for a 1oz silver coin.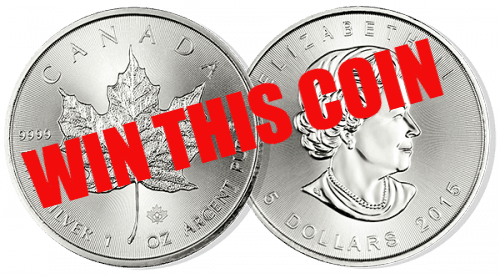 What Type of Silver Bar Should You Buy in 2020?
As we pointed out last week, silver remains very cheap compared to gold. The virus scare has pushed up gold more than silver.
A reader noticed this too:
"I see that gold had a big leg up overnight and yet silver seems not to have followed suit.  The ratio now sits at 89+ so it seems to me that silver must be the better investment at the moment.  What do you think?"
We replied:
"Our guess is that in the long run silver will outperform gold. However we have been saying that for the last couple of years and it hasn't happened yet!
So yes that would make silver the better bet. However personally we like to have a bit of both for times like now when gold outperforms silver. With silver it may take a fair helping of patience is all."
So to carry on the silver theme, here's our newly updated for 2020, Ultimate Guide to Silver Bars.
It includes:
Why Buy Silver Bars?
What Size Silver Bar Should I Buy?
What Weight Silver Bar is Best?
What is the Most Common Silver Bar Size That is Bought?
Different Brands of Silver Bars
Cast Bars vs Minted Bars
When Are Silver Coins Not More Expensive Than Silver Bars?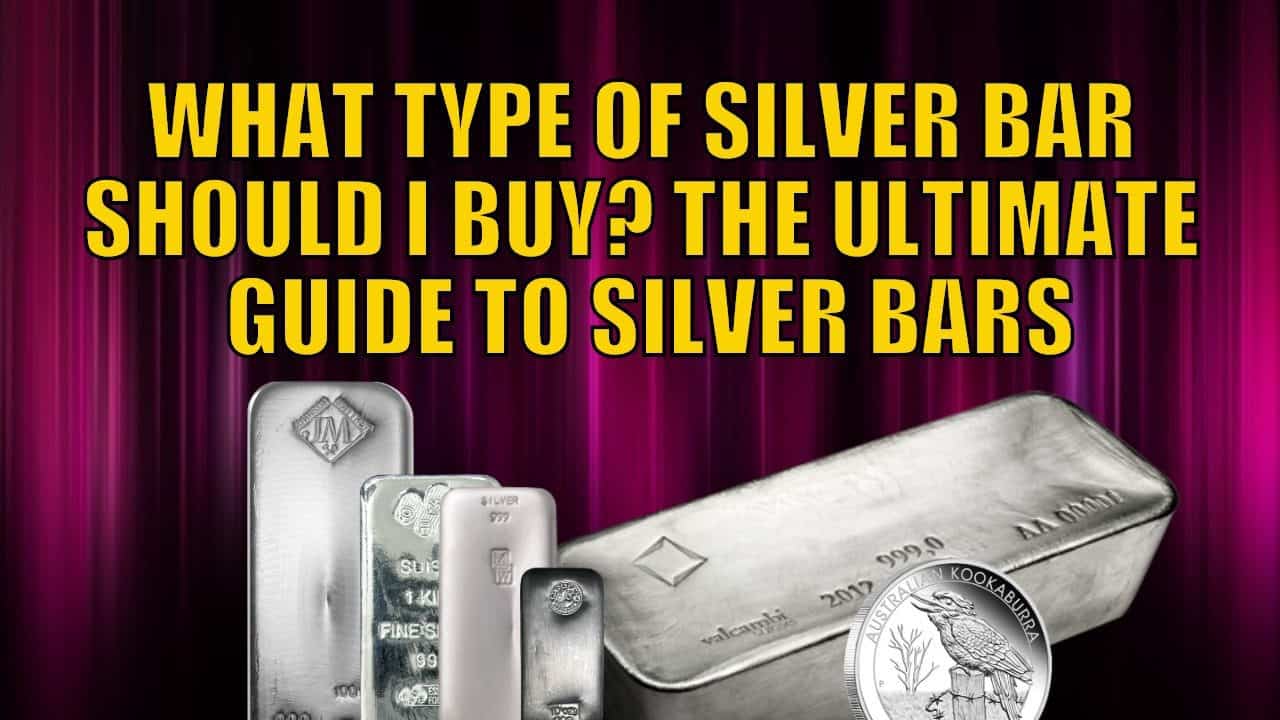 A reminder that we have 3 great silver bar deals running while stocks last:
100 oz Perth Mint Cast Silver Bars (serial numbered)
1 Kg PAMP Cast Silver Bar (serial numbered)
10 oz NTR (Texas) Minted Silver Bars
These are all selling for below their locally refined silver equivalents. So quite a steal that won't last long. Get in touch for a quote today.
Email: 

[email protected]

Phone: 0800 888 GOLD ( 0800 888 465 ) (or +64 9 2813898)
or Shop Online with indicative pricing
— Prepared for the unexpected? —

Never worry about safe drinking water for you or your family again…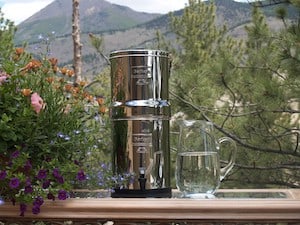 The Berkey Gravity Water Filter has been tried and tested in the harshest conditions. Time and again proven to be effective in providing safe drinking water all over the globe.
This filter will provide you and your family with over 22,700 litres of safe drinking water. It's simple, lightweight, easy to use, and very cost effective.
Royal Berkey Water Filter
—–
This Weeks Articles:
Tue, 25 Feb 2020 3:45 PM NZST
Lately in various gold and silver newsletters we read, we've seen a few queries on the topic of confiscation of gold in the USA. A reader of ours also posed the question about the confiscation of gold in New Zealand. From J.M… "I just wanted to know if you had any info on if the […]
The post Gold Confiscation | Could it Happen in New Zealand Today? appeared first on Gold Survival Guide.
Tue, 18 Feb 2020 6:01 PM NZST
Could Silver Be Worth More Than Gold? You may have heard about the increasing uses for silver in industrial applications. The rise in industrial use is often used to argue that the price of silver will rise significantly. Thus equaling or even overtaking gold. But could this really happen? A reader posed just such a […]
The post Could Silver Be Worth More Than Gold? appeared first on Gold Survival Guide.
Wed, 12 Feb 2020 11:47 AM NZST
Prices and Charts   Looking to sell your gold and silver?   Visit this page for more information Buying Back 1oz NZ Gold 9999 Purity $2355 Buying Back 1kg NZ Silver 999 Purity $838 Sharply Weaker NZD Pushes NZD Gold Up The New Zealand dollar dropped over 1% this week. That helped bump the NZD […]
The post Could the Virus Cause a Financial Panic? appeared first on Gold Survival Guide.
As always we are happy to answer any questions you have about buying gold or silver. In fact, we encourage them, as it often gives us something to write about. So if you have any get in touch.
Email: 

[email protected]

Phone: 0800 888 GOLD ( 0800 888 465 ) (or +64 9 2813898)
or Online order form with indicative pricing
---
---
7 Reasons to Buy Gold & Silver via GoldSurvivalGuide

Today's Prices to Buy
1oz NZ 99.99% pure gold bar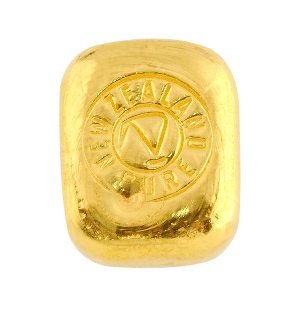 $2701
1kg NZ 99.9% pure silver bar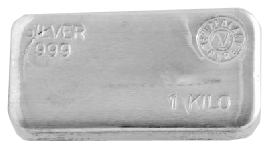 $1008
 (price is per kilo for orders of 1-24 kgs)
$1003 (price is per kilo only for orders of 25 kgs or more)
1oz PAMP Suisse 99.99% pure gold bar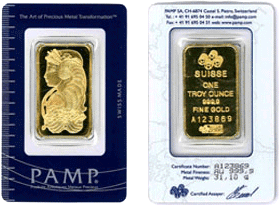 $2735
1kg PAMP 99.9% pure silver bar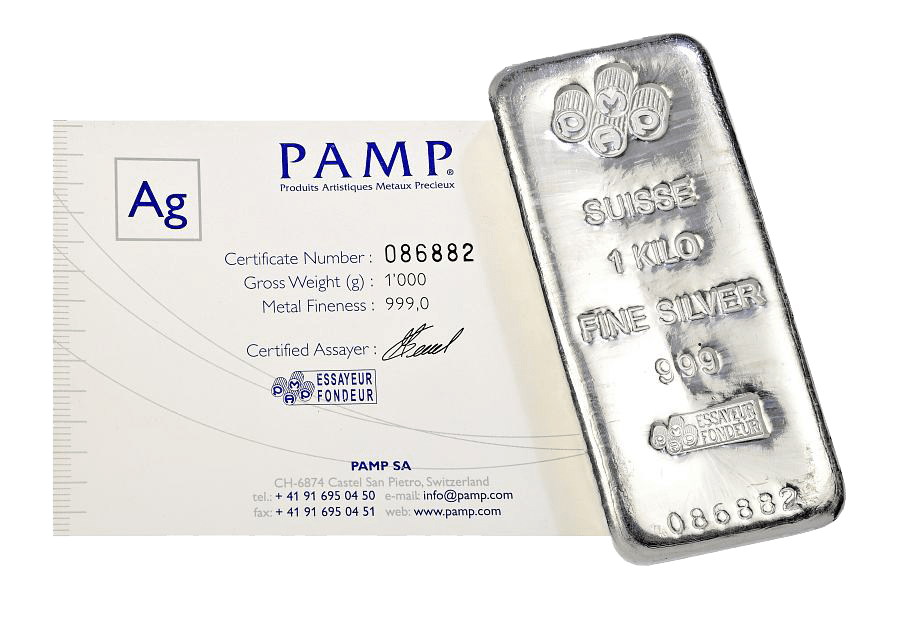 $1068
1oz Canadian Gold Maple 99.99% pure gold coin (2019)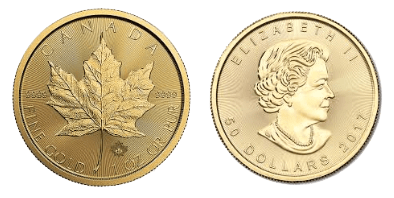 $2750
---
Note:
Prices are excluding delivery
1 Troy ounce = 31.1 grams
1 Kg = 32.15 Troy ounces
Request special pricing for larger orders such as monster box of Canadian maple silver coins
Lower pricing for local gold orders of 10 to 29ozs and best pricing for 30 ozs or more.
Foreign currency options available so you can purchase from USD, AUD, EURO, GBP
Plus we accept BTC, BCH, Visa and Mastercard
Note: For local gold and silver orders your funds are deposited into our suppliers bank account. We receive a finders fee direct from them. Pricing is as good or sometimes even better than if you went direct.


---
Can't Get Enough of Gold Survival Guide?
If once a week isn't enough sign up to get daily price alerts every weekday around 9am Click here for more info
---
---
The Legal stuff – Disclaimer:
We are not financial advisors, accountants or lawyers. Any information we provide is not intended as investment or financial advice. It is merely information based upon our own experiences. The information we discuss is of a general nature and should merely be used as a place to start your own research and you definitely should conduct your own due diligence. You should seek professional investment or financial advice before making any decisions.
Copyright © 2019 Gold Survival Guide.
All Rights Reserved.