Prices and Charts
---
Looking to sell your gold and silver?
Buying Back 1oz NZ Gold 9999 Purity
$2399
Buying Back 1kg NZ Silver 999 Purity
$1169
---
NZD Gold Down Due to Stronger NZ Dollar
Gold priced in New Zealand dollars was down on a week ago solely due to the strengthening Kiwi dollar.
During the week NZD gold got down into the low $2400's before bouncing back up off the horizontal support line from March last year. Has a bottom been put in there for this correction?
There's no way to know until after the fact. What we can say is that this current area of support/resistance on the chart (blue shaded area) would certainly be a good place to see gold bottom out. As it is the high from 2019 and the low in the sharp correction during the Covid panic.
Then a little lower is the red/green horizontal support resistance line. This dates all the way back to the high in 2011. So we are not too far from that level.
The upshot is that there is probably not too much downside in gold right here. So it should make for a fairly low risk entry point currently.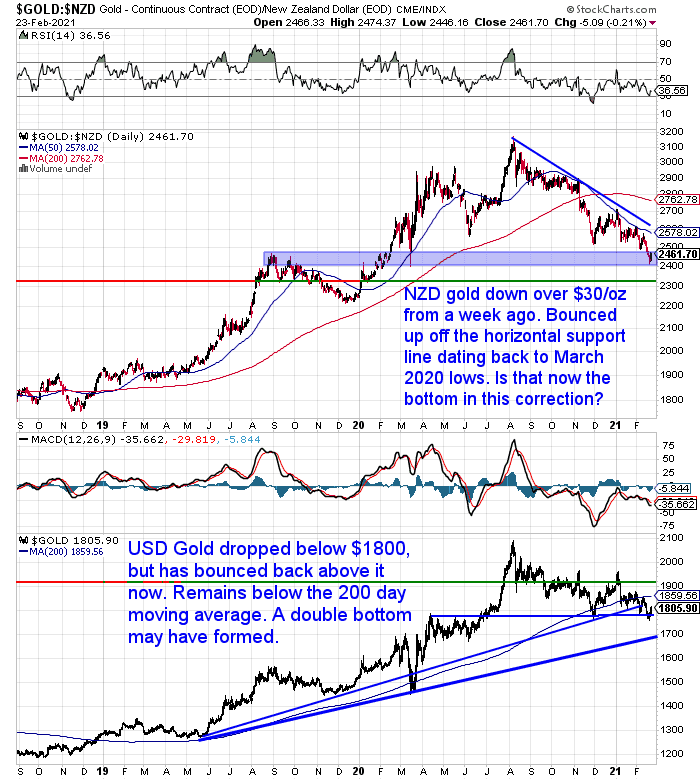 Silver Down, But Less Than Gold
Silver was also down this week. But by just half a percent versus gold's one and half percent. So silver continues to outperform gold.
Silver has been in an uptrend for the past few months whereas gold has been locked in a downtrend (albeit a trend that might be coming to an end).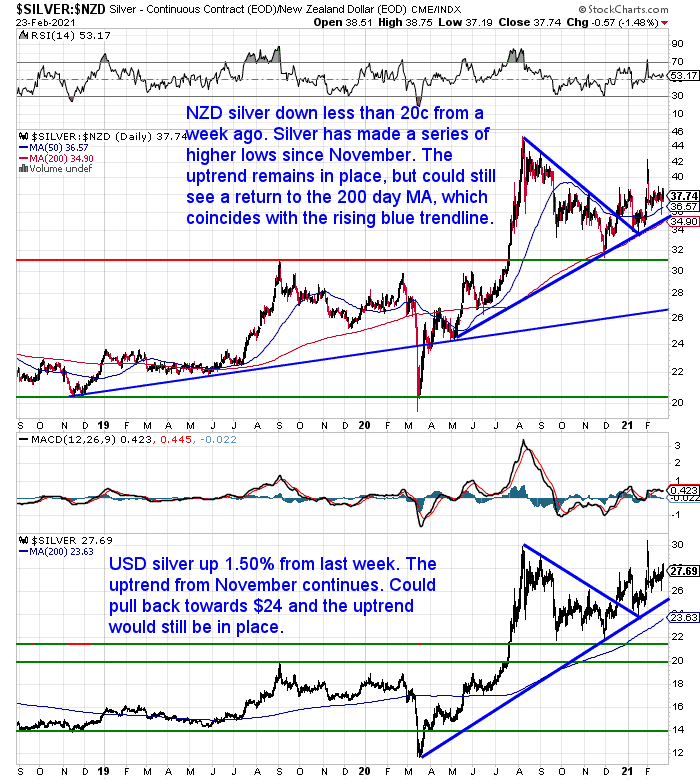 New Zealand Dollar Up by Almost 2%
Local precious metals prices were down solely due to the 2% rise in the kiwi dollar this past 7 days. The NZ dollar has gotten above 0.73 for the first time since early 2018. It looks like it might be heading for the 0.74-0.75 area yet too.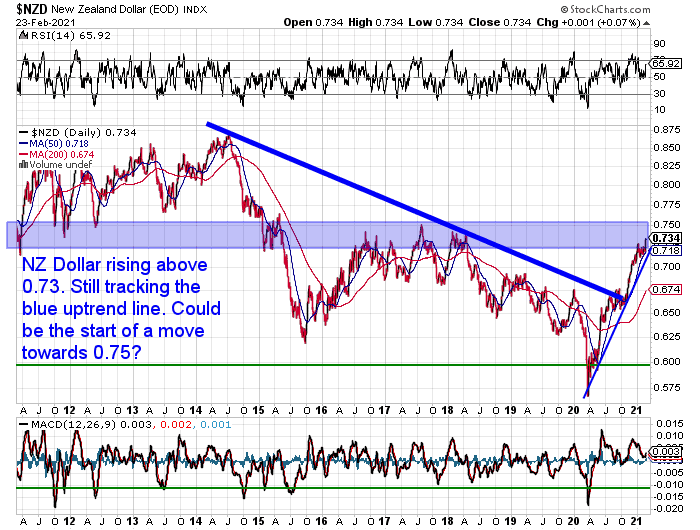 Need Help Understanding the Charts?
Check out this post if any of the terms we use when discussing the gold, silver and NZ Dollar charts are unknown to you:
Continues below
Gold Silver Ratio Back Close to 7 Year Low
As noted already, silver continues to outperform gold. This is clearly shown by the gold silver ratio chart below. The ratio (how many ounces of silver one ounce of gold buys) is back very close to the 7 year low from 3 weeks ago.
At 65 the ratio has pretty much halved where it was last March. So it is now in much more neutral territory. Our guess is that it may move back up again before too long with gold perhaps reversing its current downtrend.
But we are looking for a return to at least as low as 30 in the long run. Signaling much higher silver prices than where we sit currently.
Learn more: What is the Gold Silver Ratio?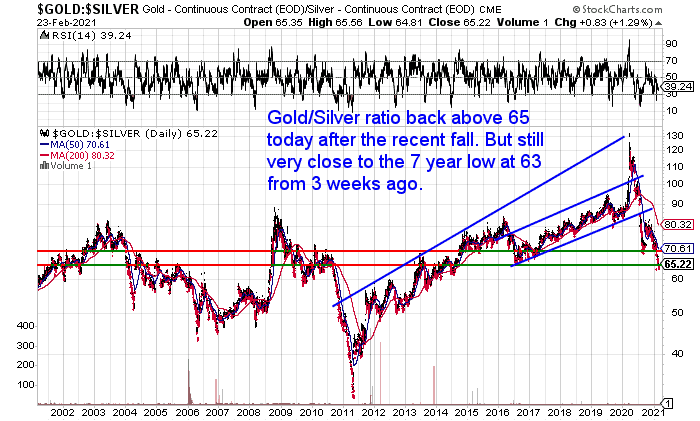 Your Questions Wanted
Remember, if you've got a specific question, be sure to send it in to be in the running for a 1oz silver coin.
Inflation in 2021 and Beyond: What's Different to 2009?
The official government inflation numbers show that consumer price inflation remains pretty benign.
However we think there is enough data floating around currently to give pause to the idea that inflation will remain as low as it has done in recent years.
This may not happen overnight, but we think there is a heightened and underestimated risk of significantly higher inflation in the coming years due to central planners' responses to the COVID19 lockdowns globally.
So this week we have taken an in depth look at inflation. Including:
Inflation: What's Different Between 2009 and 2021?
How Headline Inflation Rates Remain Low
But Why Food Price Inflation is the Best Predictor
How Inflation Expectations Are Also Rising Here in New Zealand
If Consumer Price Inflation is Starting to Heat Up, Will Central Banks Raise Interest Rates Soon?
Why Central Banks Might Move to Average Inflation Targeting
What is Average Inflation Targeting?
Views From Other Analysts on Why Inflation is Coming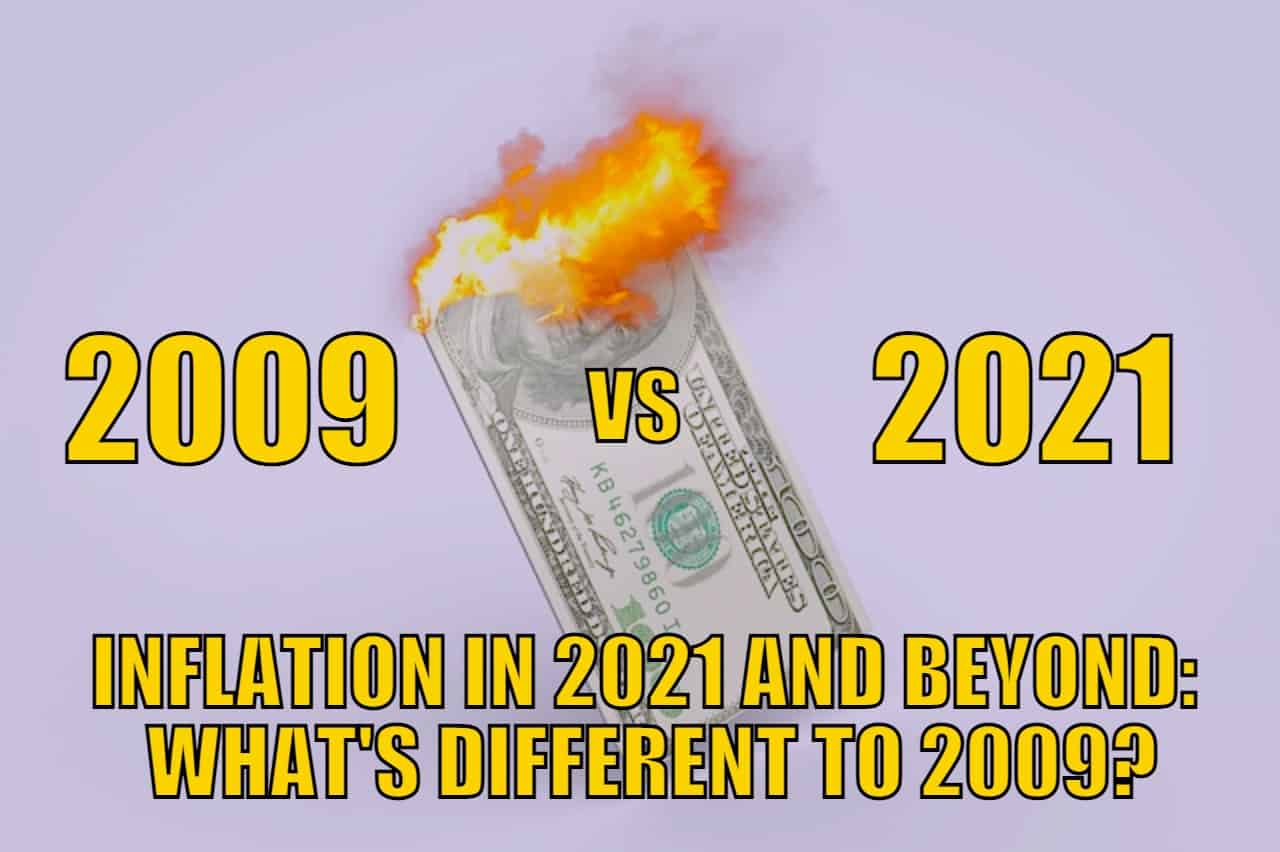 Current Stock Levels Update
Silver still remains the most popular of the two precious metals for buyers.
We still have some silver coins available to order where the premiums have hardly changed since this recent surge in demand began. See the deal at the top of this email on the limited mintage 2021 Cayman Islands Marlin 1 oz Silver Coins, if you want to avoid paying higher premiums.
Otherwise in silver coins we only have Royal Mint Britannia available (see below). We now also have South African Krugerrand's on back order. Along with Silver Maple monster boxes once again available on back order with a 4 week estimated ship time.
Silver bars can be locked in but there is a 4 week wait on ABC bars and a 2 week wait on local silver bars.
There are a lot more options available in gold.
Get in touch if you have any questions about buying…
Phone: 0800 888 GOLD ( 0800 888 465 ) (or +64 9 2813898)
or Shop Online with indicative pricing
This Weeks Articles:
Wed, 24 Feb 2021 9:40 AM NZST
Consumer Price Inflation didn't arrive after 2009 but this time around we also have a Government spending storm worldwide… There was much talk in the 2008 financial crisis of the coming inflation. With so much currency being created we expected consumer price inflation (the price of everyday common goods) to increase too. However inflation (as […]
The post Inflation in 2021 and Beyond: What's Different to 2009? appeared first on Gold Survival Guide.
Wed, 3 Feb 2021 1:26 PM NZST
Prices and Charts Looking to sell your gold and silver? Visit this page for more information Buying Back 1oz NZ Gold 9999 Purity $2464 Buying Back 1kg NZ Silver 999 Purity $1092 A Week of Action But Gold is Flat from Last Week Well, what a week of action in the world of precious metals! […]
The post Silver Plunges 8% Overnight But Still Up 5% on a Week Ago appeared first on Gold Survival Guide.
As always we are happy to answer any questions you have about buying gold or silver. In fact, we encourage them, as it often gives us something to write about. So if you have any get in touch.
Phone: 0800 888 GOLD ( 0800 888 465 ) (or +64 9 2813898)
or Online order form with indicative pricing
---
---
---
Note:
Prices are excluding delivery
1 Troy ounce = 31.1 grams
1 Kg = 32.15 Troy ounces
Request special pricing for larger orders such as monster box of Canadian maple silver coins
Lower pricing for local gold orders of 10 to 29ozs and best pricing for 30 ozs or more.
Foreign currency options available so you can purchase from USD, AUD, EURO, GBP
Plus we accept BTC, BCH, Visa and Mastercard
Note: For local gold and silver orders your funds are deposited into our suppliers bank account. We receive a finders fee direct from them. Pricing is as good or sometimes even better than if you went direct.


---
Can't Get Enough of Gold Survival Guide?
If once a week isn't enough sign up to get daily price alerts every weekday around 9am Click here for more info
---
---
The Legal stuff – Disclaimer:
We are not financial advisors, accountants or lawyers. Any information we provide is not intended as investment or financial advice. It is merely information based upon our own experiences. The information we discuss is of a general nature and should merely be used as a place to start your own research and you definitely should conduct your own due diligence. You should seek professional investment or financial advice before making any decisions.
Copyright © 2020 Gold Survival Guide.
All Rights Reserved.