This Week:
Gold and silver look to have bottomed out
What happens next?
Prices and Charts
| | Spot Price Today / oz | Weekly Change ($) | Weekly Change (%) |
| --- | --- | --- | --- |
| NZD Gold | $1693.48 | + $52.31 | + 3.18% |
| USD Gold | $1191.70 | + $59.95 | + 5.29% |
| NZD Silver | $23.80 | + $0.65 | + 2.80% |
| USD Silver | $16.75 | + $0.79 | + 4.94% |
| NZD/USD | 0.7037 | + 0.0141 | + 2.04% |
Happy New Year! Welcome to 2017.
We hope work isn't too tough if you're back at it or that the weather is good if you're still holidaying. We're writing today from the very hot Hawkes bay where the mercury is above 30 degrees again today.
In our last Newsletter we stated that we thought it likely there could be a further downdraft in the metals over the holiday period with a retest of the December lows. We envisaged a repeat of the previous couple of years where the low volume time of year saw the prices pushed lower.
This didn't happen at all. Quite the opposite in fact. Silver and gold have moved steadily higher just about every day for the past few weeks.
While NZ gold is down today it is still up over 3% since we last wrote on 22nd December. For the third December in a row gold looks to have bottomed out right when the RSI overbought/oversold indicator reached extreme lows (see the blue circles in the chart below).
So as per one of the items we shared last month http://goldsurvivalguide.co.nz/history-shows-end-year-great-time-buy-gold-silver/, December does look to have been a great time to buy. Which was exactly why most people didn't!
Gold also looks to be following a similar script to December 2015 when the US Fed last raised interest rates. That is, by falling immediately after the rate rise, before then steadily moving higher.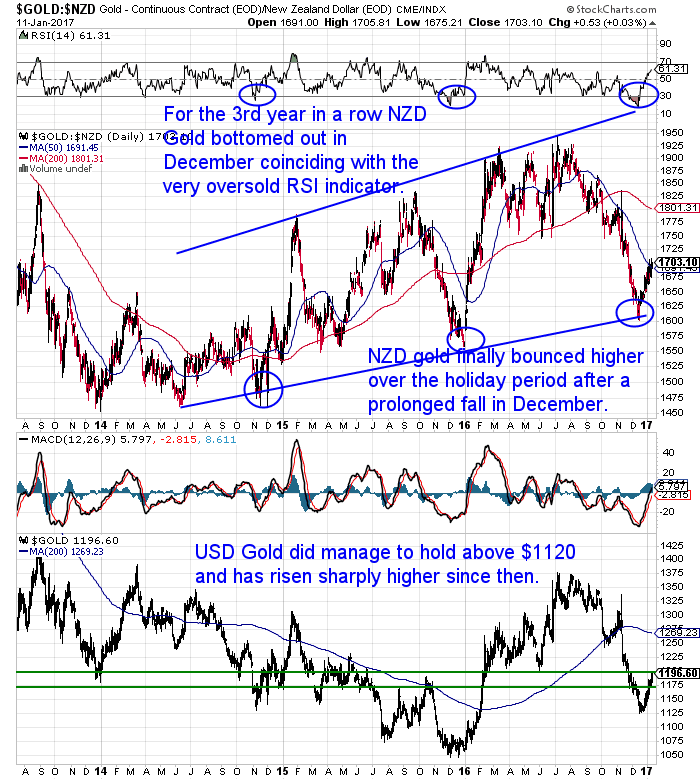 Silver has been rising too although lagging gold slightly, up 2.80% since 22nd December. As noted in one of this week's articles this is not a huge surprise, as silver generally does lag gold in the early stages of rising trends.
As can be seen in the below chart, NZD silver also looks like it might have bottomed out in December. It too remains in a longer term rising trend as shown by the lower rising trendline.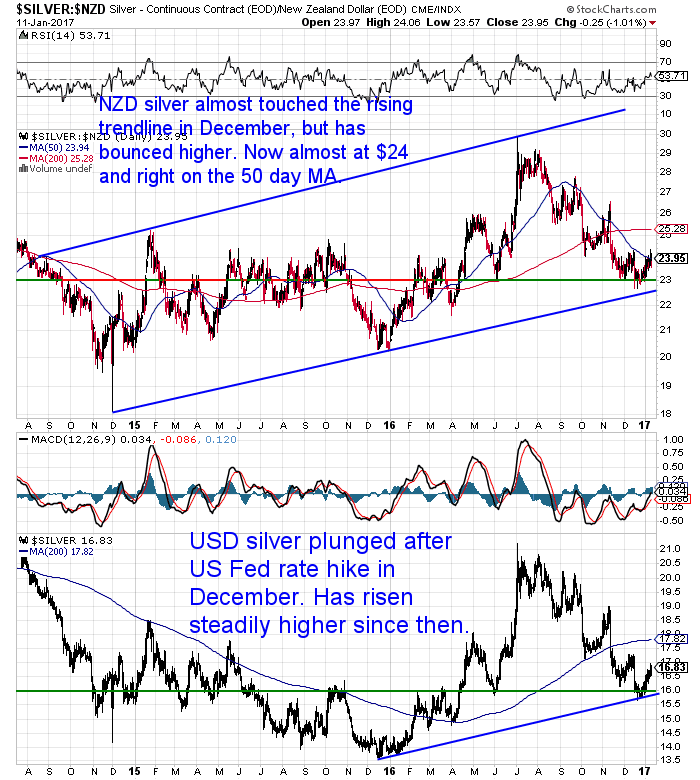 The NZ Dollar has also been rising over the holiday period. It is now bumping up against both the 50 and 200 day moving averages (MA), so it will be interesting to see if it can get any stronger than this. Also of note is that the 50 day MA has just crossed below the 200 day moving average which can signal a change in medium term trend – to falling.
Continues below
—– OFFER FROM OUR SISTER COMPANY: Emergency Food NZ —–
Preparation also means having basic supplies on hand.
Are you prepared for when the shelves are bare?
For just $290 you can have 4 weeks emergency food supply.
—–
Where to From Here?
Next week we'll have our usual yearly review of gold and silver performance, along with a look back at our predictions from a year ago and a few guesses for 2017 too.
But for now we'll say, looking at the charts it wouldn't be surprising to see a pull back pretty soon in both metals after pretty solid rises since Christmas. Both silver and gold are touching their respective 50 day moving averages. Plus the RSI indicators are getting up there too, although not in overbought territory yet.
Our guess is that both gold and silver have bottomed out with the high levels of pessimism that surrounded them before the holidays. So any pullback from here could be a very handy place to make a purchase.
Steve Sjuggerud who timed the high in gold last July almost perfectly, also believes now is once again the time to buy.
"Since gold peaked over the summer, people have been bugging me to tell them when to get back in. Now, FINALLY, gold is a buy again… We just had to wait for the right timing.
Let me explain…
Back in July, I told the crowd that I personally took my biggest position in gold and gold stocks – ever – in January 2016.
Gold stocks were more hated than they'd ever been – seriously – so I urged my True Wealth subscribers to buy them. We sold half of our position over the summer for a 95% gain.
Again, we got the timing exactly right. We bought near the bottom, and sold near the top.
So when people asked me to tell them when to get back in, I said I was waiting for investors to give up on gold. But darn it, gold investors were stubborn… It took them many months to give up.
If you've been a DailyWealth reader for a while, you know what I look for… I want gold to be HATED and in the start of an UPTREND.
In the latest issue of my True Wealth newsletter, I told my subscribers:
We will be gold buyers when two things happen: 1) Gold becomes a bit more hated, and 2) the uptrend returns. That may take a few months.

My friends, here at the beginning of 2017, we finally have what we're looking for… Gold is no longer as loved as it was… AND we have the start of an uptrend.
We nailed the buy in early 2016. We nailed the sell in the summer of 2016. And now, here in early 2017, I'm saying the coast is finally clear…
If you've been waiting since this summer for my "permission" to buy gold… you did the right thing. Gold went nowhere but down for months.
However, things have changed in 2017… So my opinion has to change…
If you were waiting for my permission, now you have it!"
If you'd like a quote to buy then get in touch.
If you buy you certainly won't be following the crowd at all as it remains very quiet in terms of purchasers. Although probably many people are still on Holiday. Enjoy it if you're one of them!
— Prepared for Power Cuts? —
[BACK IN STOCK] New & Improved Inflatable Solar Air Lantern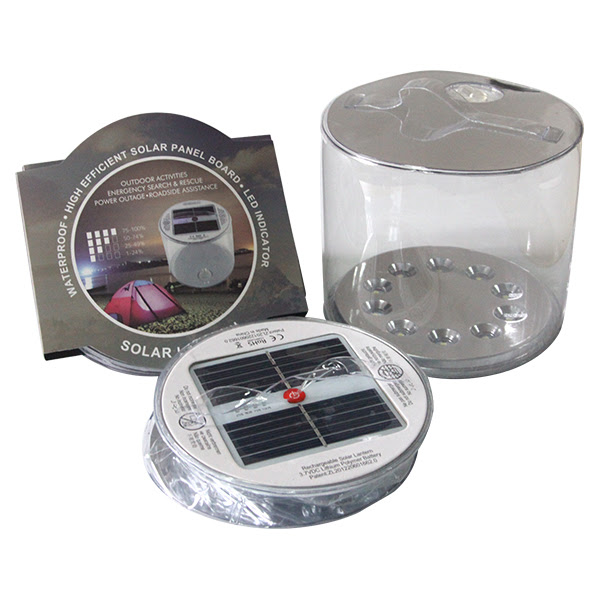 Check out this cool new survival gadget.
It's easy to use. Just charge it in the sun. Inflate it. And light up a room.
6-12 hours of backup light from a single charge! No batteries, no wires, no hassle. And at only 1 inch tall when deflated, it stores easily in your car or survival kit.
Plus, it's waterproof so you can use it in the water.
See 6 more uses for the amazing Solar Air Lantern.
—–
This Weeks Articles:
Thu, 12 Jan 2017 8:38 AM NZST
The US Federal Reserve Rate hike in December looks to have had a similar effect to the first rate hike in December 2015. With gold falling initially but then surprising most and rising. Stewart Thomson comments on this and also on why silver may be lagging gold currently and not moving much higher… Gold: The […]
Mon, 9 Jan 2017 4:17 PM NZST
JS Kim outlines how the war on cash has nothing to do with clamping down on criminals or corruption. He also explains how banker actions in 2016 demonstrate they have been buying physical gold and silver, while trying to scare the average global citizen from doing the same…   2017 Update on Gold, Silver and […]
Mon, 9 Jan 2017 3:07 PM NZST
See why Darryl Schoon believes the high number of Goldman Sachs bankers in Trump's team means that it is highly likely that the next crisis will come on Trump's watch. THE ENDGAME, TRUMP & GOLD Donald Trump is an accelerant in a burning house of cards In the bankers' endgame, slowing economic growth and excessive […]
Thu, 22 Dec 2016 2:54 PM NZST
This Week: Incrementum: End of Zero Interest Rates Will Lead to Inflation Gold Rose Last Time Fed Hiked Rates History Shows the End of the Year Great Time to Buy Gold and Silver Is It Possible to Take Advantage of a Price Dip Over the Holidays? Prices and Charts Spot Price Today / oz Weekly […]
As always we are happy to answer any questions you have about buying gold or silver. In fact, we encourage them, as it often gives us something to write about. So if you have any get in touch.
Phone: 0800 888 GOLD ( 0800 888 465 ) (or +64 9 2813898)
or Online order form with indicative pricing
---
---
---
Note:
Prices are excluding delivery
1 Troy ounce = 31.1 grams
1 Kg = 32.15 Troy ounces
Request special pricing for larger orders such as monster box of Canadian maple silver coins
Lower pricing for local gold orders of 10 to 29ozs and best pricing for 30 ozs or more.
Foreign currency options available so you can purchase from USD, AUD, EURO, GBP
Note: Your funds are deposited into our suppliers bank account only. We receive a finders fee direct from them only.
---
Can't Get Enough of Gold Survival Guide?
If once a week isn't enough sign up to get daily price alerts every weekday around 9am Click here for more info
---
Our Mission
To demystify the concept of protecting and increasing ones wealth through owning gold and silver in the current turbulent economic environment.
To simplify the process of purchasing physical gold and silver bullion in NZ – particularly for first time buyers.
---
---
The Legal stuff – Disclaimer:
We are not financial advisors, accountants or lawyers. Any information we provide is not intended as investment or financial advice. It is merely information based upon our own experiences. The information we discuss is of a general nature and should merely be used as a place to start your own research and you definitely should conduct your own due diligence. You should seek professional investment or financial advice before making any decisions.
Copyright © 2016 Gold Survival Guide.
All Rights Reserved.