Bears are by nature cautious and while caution can be an ally, it can also be fatal where bold action is required.
It is understandable that investors who believe in paper money and paper-denominated assets do not understand gold. Gold, after all, is the natural refuge of disbelievers in the current financial paradigm; and, as today's credit and debt-based paper markets come under increasing pressure and gold moves increasingly higher, most "paper bulls" remain increasingly perplexed.
In October 2009, when gold had again breached the $1,000 level, investment advisor Chad Brand warned investors not to jump onto "the gold bandwagon". Unfortunately, for Mr. Brand's clients, it was the time to jump—and still is today.
From Chad Brand, Seeking Alpha, October 7, 2009: http://seekingalpha.com/article/165317-gold-prices-a-familiar-trend
Here is a 35-year chart of gold prices. Based on what you see, would you want to jump onto the gold bandwagon?…I am bearish on gold over $1,000 per ounce and this chart is a good reason to at least be careful with the current precious metal of choice. The latest trend looks very familiar…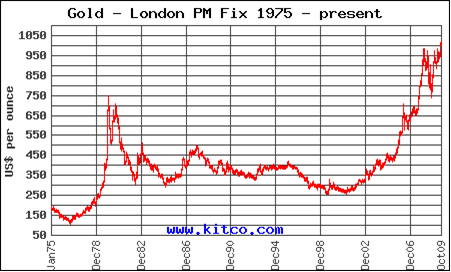 Chad Brand is the President of Peridot Capital Management LLC, a paper money advisory firm; and fifteen months after Mr. Brand cautioned investors to avoid the gold "bandwagon" gold is now $1,400, a 40 % gain.
My advice: Avoid gold bears. They're dangerous, especially now.
THE NADLER KEY TO PREDICTING GOLD
Because gold bears have consistently cried "bear" during gold's 10 year ascent, it is logical to assume their predictions are of little value. But this is erroneous. To the contrary, I believe that the predictions of at least one gold bear, Jon Nadler, can be used to accurately predict the future price of gold.
Kitco's Jon Nadler is today's most notorious gold bear; and, although Mr. Nadler's predictions are remarkably consistent, they also have been consistently wrong; but within this consistency lies a clue to tomorrow's price of gold.
The website www.buygoldco.com kept track of Mr. Nadler's predictions regarding the future price of gold in 2010.
In November 2006, he predicted in 2010 gold would average $800.
In October 2008, he predicted gold would be in the low $500 an ounce range in 2010.
In January 2010: he predicted "With a view to the three-year average gold price still near $845…
In May 2010 (with gold at $1200), He predicted the 2010 price would end [lower]…gold at the $800 per ounce figure.  I am not alone in computing such figures. I still think..between $680 and $880.
From 2006 to 2010, Nadler predicted the price of gold would be in the low $500s to the high $800s today, a spread of approximately $400, the mean being approximately $700.
Based on this data, the apparently unerringly accurate Nadler Gold Predict-O-Meter is as follows:
To accurately predict the future price of gold, investors can take the arithmetic mean of Mr. Nadler's predictions—then simply double it, i.e. $700 x2 = $1400, a number which, astoundingly, is almost exactly today's gold price, i.e. $1405, at the end of 2010.
There is indeed gold in the droppings of bears, at least one of them; but be forewarned, you will have to look long and hard to find it.
BURYING THE TRUTH IN A TIME OF LIES
In August, theaters in the US began showing the trailer of Inside Job, a movie that promised to explore the truths behind the economic collapse that has leveled much of the world's economies and banks since 2008.
A $20 million effort written, produced and directed by MIT grad Charles Ferguson was scheduled for theatrical release in early October 2010 by Sony Classics; and a great number, including myself, anticipated its release—a release, however, that was to be far different than expected.
Two weeks ago, I wondered what had happened. The movie had not opened here as scheduled and the trailer was no longer being shown in theaters. I then discovered Inside Job was playing at a local independent theater with virtually no publicity.
The film is as riveting as its trailer promised, see http://www.sonyclassics.com/insidejob/. Ferguson's pointed questioning of bankers, government officials and business school professors exposes his subjects for what they are, i.e. educated, overly-confident, smarmy, self-excusing promoters of Wall Street's greed who had sold themselves to mammon in order to further their own ambitions.
Inside Job narrated by Matt Daemon delivers its message so effectively that those who control what America sees—and does not see—have made sure that most Americans will never see it, a movie that clearly indicts those responsible for America's ills, i.e. themselves.
To understand how Inside Job was silenced (yes, it was "an inside job"), a comparison can made to other movies released in 2010
Leap Year budget: $19 millionopening screens: 2,511
Legionbudget: $26 millionopening screens: 2,476
The Tooth Hurts budget: $48 millionopening screens: 3,344
Edge of Darkness budget: $60 millionopening screens: 3,066
Inside Job budget: $20 millionopening screens: 2
Of Inside Job, Richard and Mary Corliss of Time Magazine wrote: If you're not enraged by the end of the movie, you weren't paying attention.
If you don't see the movie you won't be enraged—and that's exactly what they're counting on.
Go see Inside Job. You owe it to yourself. You owe it to America.
ANOTHER MOVIE, ANOTHER SCANDAL
On June 17, 2004, Martha and I attended a private showing of Dodgeball, a movie written and directed by Rawson Marshall Thurber, the son of my friend Marshall Thurber. The movie was to open the next day (on 2,694 screens) and was to become the largest grossing film of any new writer/director.
The showing in Hollywood was memorable for another reason. After the movie, I was to meet a figure in a scandal revealed to me years before by Dr. Norman Bernard Thirion, formerly Howard Hughes' private banker.
That person was Dr. Nake Kamrany, a professor at USC. In 1987, Norman Bernard Thirion told me that Dr. Kamrany had been an innocent bystander in a plot run out of the Reagan White House to embezzle, i.e. skim, millions of Saudi dollars intended to help the Afghan freedom fighters in their fight against Soviet aggression.
Thirion (who had raised the funds) had been cut out of the deal when he threatened to tell the Saudis their money was going to be used to pay Israel for Soviet arms captured during the six-day Syrian war. The Saudis were Thirion's clients and Thirion rightfully believed the Saudis would feel betrayed if their money ended up in Israeli banks.
Members of the Reagan White House intended to profit as the arms deal was being run through Transglobal Movie Productions, a front company set up by its chairman, General Robert E. Cushman, former Commandant of the US Marine Corp, former Deputy Director of the CIA and Reagan White House confidant.
The Reagan White House had set up the deal as a "private venture"; believing they could profit as private citizens instead of the public servants they were. But when Thirion threatened to tell the Saudis about the pending deal with Israel, General Cushman immediately dismissed Thirion as Transglobal's representative.
Within the year Thirion was indicted on bogus charges of soliciting loan fees and extradited from Monaco where he lived; and Thirion's life as a private banker to financial luminaries such as Howard Hughes and Adnan Kashogghi came to an abrupt halt after his extradition and conviction in US courts.
Thirion believed the trumped up charges originated from the White House in order to discredit him and to prevent any attempt on his part to recover funds due him from Transglobal Productions.
Thirion also believed his appeal would be granted and that he soon would be released. But on March 5, 1987, the 8th Circuit of the US Court of Appeals denied Thirion's petition and that evening Thirion asked me to write down his story, a story that no one ever expected would be told.
After hearing Norman's story, it was clear that both Dr. Kamrany and Dr. Thirion had been used by the White House as pawns to embezzle Saudi funds meant assist the Afghany's fight against Soviet aggression. My talk with Professor Kamrany confirmed that Norman Bernard Thirion's tale was indeed true.
Dr. Kamrany said he knew the other principals in Cushman's Transglobal Movie Production Company (known to him only as a "private venture"), that the Afghan resistance had never received any of the Saudi money raised on their behalf, and that he himself had seen Soviet weapons in the hands of the Afghan resistance and wondered how they had come by them.
Thirion had told me about the White House embezzlement in an attempt to gain his release from prison and wanted his story in the hands of an unidentified 3rd party in case the Reagan White House decided to take a more direct course of action to silence him.
That is how I came to know the details of a story that few know about and that fewer still want known. The media avoids any story that implicates those that pay their bills. This certainly applied to my attempts to tell Thirion's story to the media.
I was learning a cold hard lesson in modern American politics that I had not been taught when getting my degree in political science at UC Davis years earlier, to wit, when it comes to the powerful, no one wants to point fingers. I thought because the story included politically powerful figures such as President Ronald Reagan, retired Marine General and former CIA Deputy Director Robert E. Cushman, and Ambassador William Wilson, and countries such as Saudi Arabia and Afghanistan and covert agencies such as the Central Intelligence Agency and the National Security Council, there would be a great deal of interest in the story.
I was wrong. Just the opposite is true. In America, as elsewhere in the world, everyone is afraid to accuse the powerful of wrongdoing. If the culprit had been a poor black women selling crack to fund a black women's uprising, the outcry would have been deafening. As it was, I couldn't get a response.
DRS, Light In A Dark Place, Bolinas Press, 2006
Later, I submitted a Freedom of Information request to the US government requesting information held by the Reagan Library pertaining to Thirion's story. The statutory limit for a response passed years ago and while I don't expect an answer, if I did, I doubt it would be the truth.
My generation came of age during the rebellious 1960s and some, including myself, broke away from the parent culture that was even then headed in the direction in which it finds itself today, i.e. bloated, bankrupt and without a compass on increasingly stormy seas.
Unfortunately, America doesn't grasp the magnitude of its present troubles. This is the great tragedy of this once great nation and its once great people. Today, Americans are still futilely hoping against hope that more credit and more liquidity will restore a dream they once had. It won't.
America's dream of power based on credit-based wealth was not the dream of the Founding Fathers. The Founding Fathers wanted freedom and justice; not the indentured servitude of the many to the few for which Americans unwittingly traded their freedom.
Today in America, movies—as well as political candidates—are approved by the powers that be before being offered up for America's consumption. Unfortunately, Americans no longer have the capacity to critically think and consequently haven't the means by which to understand the enormity of what is about to happen, either to them or to the nation.
Enjoy the fruits of your ambitions, America. You earned them—or, rather you bought them on time with credit, the bill for which is now due and owing.
Cry not America
For the loss
Of your freedoms
And dreams
Why mourn them now
You who did not notice
Their absence before
From Light In A Dark Place
DRS, Bolinas Press, 2006
Two years after meeting Dr. Kamrany, I included Norman's story in my book, Light In A Dark Place, which Martha and I presented to fellow members at Marshall Thurber's Positive Deviant Network, the PDN, in 2006. For those interested in the details of Norman's story my book, Light In A Dark Place, is available at amazon.com (US and UK).
The following year we presented How To Survive The Crisis and Prosper In The Process, to the PDN and my writing on economic issues took precedence over Norman Thirion's tale of what actually transpires behind the US government's self-proclaimed need for secrecy.
It was perhaps my rage after seeing Inside Job that caused me to re-tell Norman's tale at this time. The movie reminded me of the arrogance of those who rule, immune to the rule of law and who have usurped the nation for their own ends.
Norman's story about how the Reagan White House so callously used the plight of a people in distress to plunder and profit is little different than the story told in Inside Job. The names and circumstances may be different, but the motives are the same and so is the nation.
As 2010 draws to a close, we as a nation and a people are now closer to the economic and political rendering that awaits us. Those who pillaged this nation and its ideals for profit and power have all but destroyed this once great country; and the rest of us must now prepare to survive its inevitable collapse.
On December 18th, I began Dollars & Sense a call-in show on local Tucson TV now available on Youtube as seen below. The next show will be Saturday, January 8th at 8 pm MST and can be viewed live on the internet at www.accesstucson.org.
Access Tucson TV, being community-based, does not accept advertising and I have donated five one-year subscriptions to Moving Through The Maelstrom including a download of How To Survive The Crisis and Prosper In The Process for their silent auction which ends on January 1st at 5 pm.
Those who wish to bid may do so at Access Tucson Online Auction. Community is what will get us through this crisis and this is an opportunity to participate in the process. For those not used to the concept of community, try it; it's not as bad as you fear.
These are dark days. Better days are coming.
Buy gold, buy silver, have faith.
Darryl Robert Schoon
Blog www.posdev.net/pdn/index.php?option=com_myblog&blogger=drs&Itemid=81