This Week:
Gold Near All Time Lows? Huh?
All Golden Eyes On The Fed
An Empire Self-Destructs
Doug Casey on Nuclear War With North Korea
Got a gold or silver related question?
Prices and Charts

Looking to sell your gold and silver?
Buying Back 1oz NZ Gold 9999 Purity
$1660
Buying Back 1kg NZ Silver 999 Purity
$695
Both metals have continued their falls this week
Gold in NZ Dollars dropped just under 1%. It is now well below the 200 day moving average, but still well above the uptrend line from 2014.
The RSI indicator (top of the chart below) is now into oversold territory – a reading below 30.
So we could be pretty close to seeing NZD gold move higher again.
If we also cast our eye over the USD gold chart (the lower part of the chart), this is also close to touching the short term uptrend line. So may be close to moving higher again.
The NZ Dollar may also play its part given how much it has risen of late. More on that soon.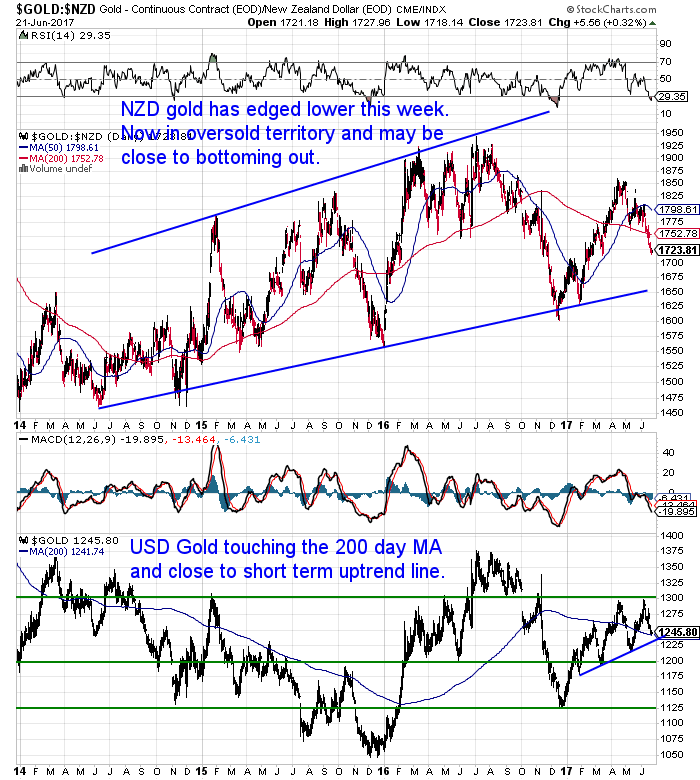 Silver is Struggling
NZD silver has fallen almost 2.5% this past week. It has now clearly dropped below the blue uptrend line from 2014. Intraday today NZD silver also dipped below the lows from December.
So we've added some further trend lines in red to the chart below. These show that NZD silver could yet drop down close to the $21 mark. $21 is where the short term downtrend line and the new longer term uptrend line meet.
However NZD silver is also oversold on the RSI indicator.
USD silver (lower half of the chart) is close to touching the uptrend line, so may well bounce from here. This combined with the fact the the NZ Dollar is still ripe for a correction could mean we see a bounce higher in NZD silver very soon. See below.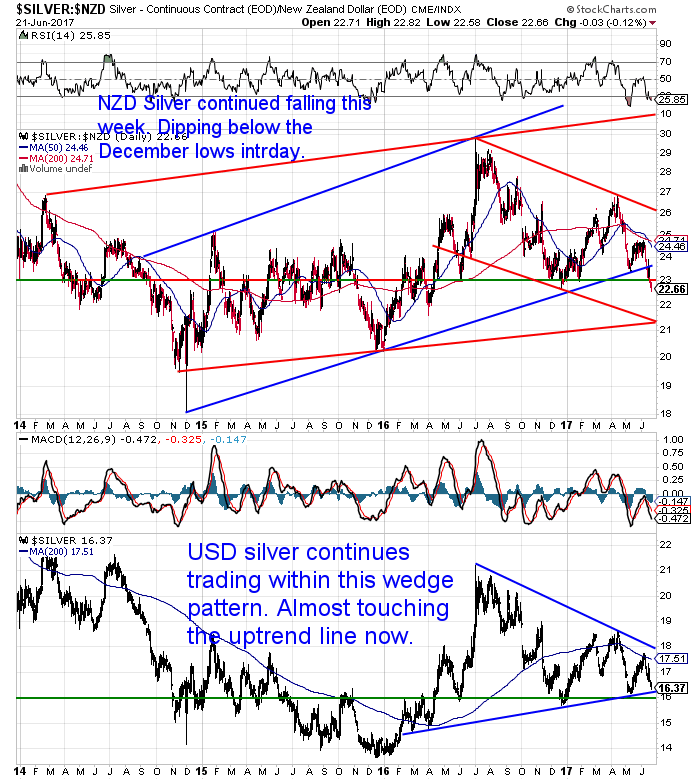 As noted already the Kiwi dollar has been pushing higher, but may struggle to get too much higher in the short term. It did bounce higher after the RBNZ left interest rates on hold this morning, but then pulled back a little. The talk was the RBNZ did not do enough to talk down the recent strength Kiwi dollar so therefore it jumped higher. And could go higher yet.
However the chart below shows the NZ dollar is near the top of the downtrend channel it has been in for the past year.
Other technical indicators are against it too. The RSI overbought/oversold indicator, while down a little, is still above 70 in overbought territory. The MACD also looks to be turning down.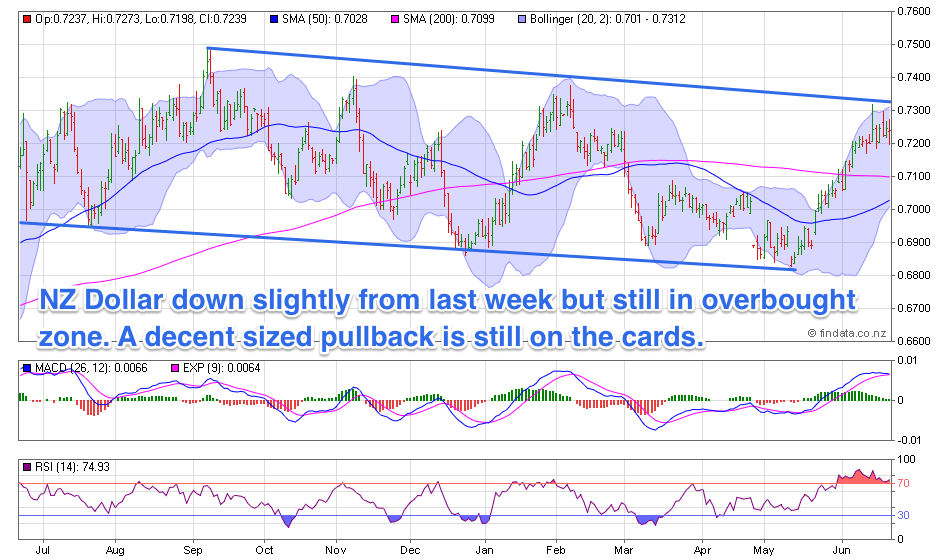 And of course a weaker NZ Dollar translates into higher NZ gold and silver prices.
That combined with US Dollar gold and silver both getting close to touching their respective uptrend lines, means local precious metals prices could be close to a boost higher.
But all these technical indicators are just that – indicators. They only let us make educated guesses on what might happen. Some might argue not even very educated!
However the longer term charts of both metals in NZ dollars (taken from our daily price alert email) clearly show them in uptrends.
NZD Gold pushing higher for over 3 years.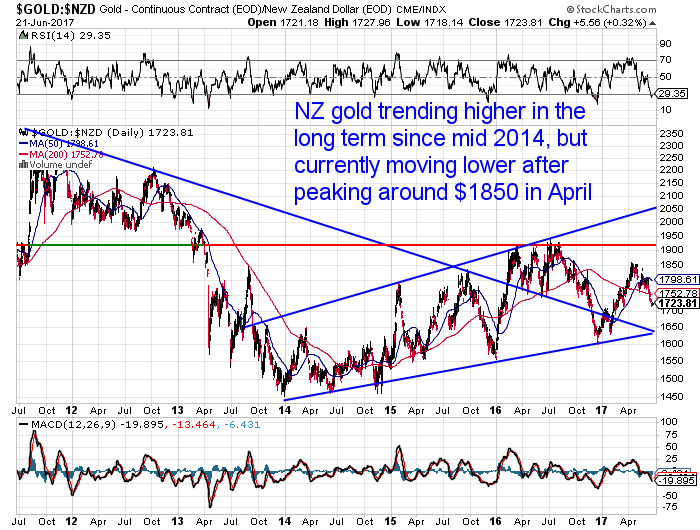 While NZD Silver has been trending up for over 2 years.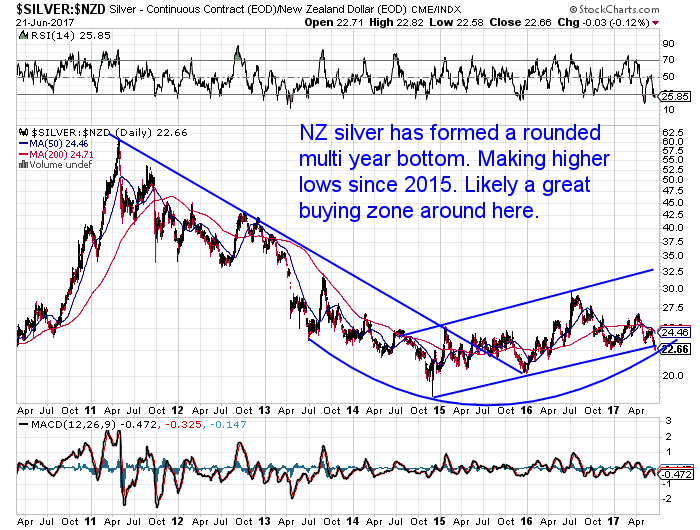 So could they head lower from here?
Of course anything is possible. There sure doesn't seem to be much positivity towards the metals from what we can see (which actually may well be a contrarian sign).
But given all the indicators outlined above these would seem to be fairly low risk and higher reward entry points for the metals right now.
Gold Near All Time Lows? Huh?
So given we've just shown charts of NZD gold trending higher how can gold be nearing all time lows?
Jeff Clark outlines how when adjusted for inflation, or rather real inflation, gold is actually near the lows from 1970 and the early 2000's.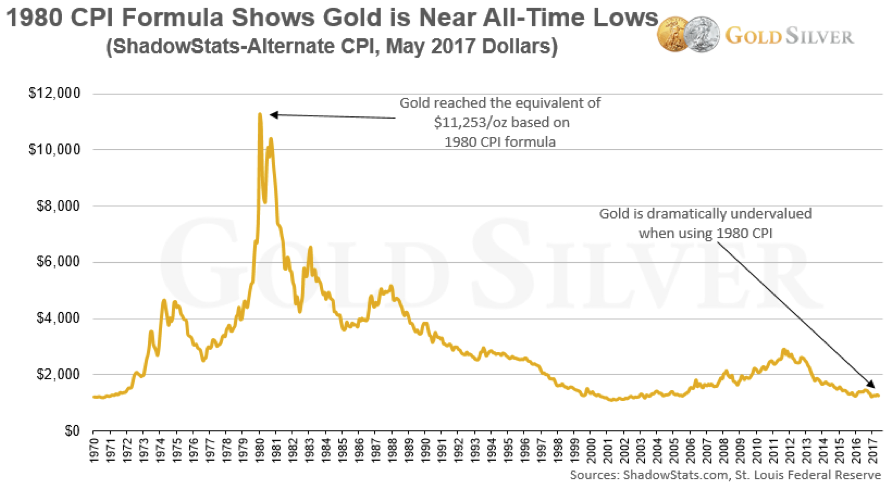 "If we use the 1980 formula to measure inflation—the year gold peaked—you can see the current price is near all-time inflation-adjusted lows. In fact, gold is selling at roughly the same level as the early 1970s, when it was illegal to own in the US!
You can also see that the inflation-adjusted high would be a whopping $11,253 per ounce. Gold may or may not get to 5 figures, but this shows it certainly could if it repeated the performance from the 1970s.
This data tells us that not only is gold dramatically undervalued at current prices, but the potential upside is enormous. If the gold price were to match the return from the past mania, it would have to rise 9 times from current levels!
This paints a completely different picture than looking at the government-tinkered CPI. The current formula grossly dilutes how much inflation has really occurred over the past 37 years. It's so misleading, in fact, that it could easily lead investors to make flawed decisions, including whether to buy gold."
There's a number of other articles on the website for your perusal as always. So check them out below.
Got a gold or silver related question?
We've been a bit stumped on what to write about lately. Call it writers block or winter doldrums. Who knows?
So we're after your help.
Please just hit reply with any queries or questions on gold or silver related topics and we might just write something about it.
Or call David on 0800 888 465 for a quote or with any questions.
Phone: 0800 888 GOLD ( 0800 888 465 ) (or +64 9 2813898)
or Online order form with indicative pricing
— Prepared for Power Cuts? —
[BACK IN STOCK] New & Improved Inflatable Solar Air Lantern
It's easy to use. Just charge it in the sun. Inflate it. And light up a room.
6-12 hours of backup light from a single charge! No batteries, no wires, no hassle. And at only 1 inch tall when deflated, it stores easily in your car or survival kit.
Plus, it's waterproof so you can use it in the water.
—–
This Weeks Articles:
Thu, 22 Jun 2017 11:38 AM NZST
Unfortunately, most people have no idea what really happens when an economy collapses, let alone how to prepare. This article delves into history for a look at previous empires and the impact a collapse had on them… An Empire Self-Destructs By Jeff Thomas Empires are built through the creation or acquisition of wealth. The Roman […]
Tue, 20 Jun 2017 11:56 AM NZST
We always enjoy Bill Bonner's dry wit and writing style. As he often says he's had his "crash alert" flag flying for some time. Here's his thoughts on "The Donald" and what will likely be coming regardless of anything he – or the US Central Bank – does… Change… Whether You Want It or Not […]
Tue, 20 Jun 2017 11:41 AM NZST
Plenty of sabre rattling has been heard between the USA and North Korea in recent months. Who knows what capabilities the secretive state that is North Korea has or doesn't have? This article outlines why the USA is likely looking at the North Korean threat from completely the wrong angle. Plus what the ramifications could […]
Fri, 16 Jun 2017 1:36 PM NZST
The following was written before the US Federal Reserve Raised interest rates yesterday. However the expectation was they would raise rates and they did. Now we will have to wait and see if gold and silver will rise following this 4th rate hike as they did on the prior 3 interest rate increases by the […]
Fri, 16 Jun 2017 1:35 AM NZST
This Week: What's Happening With Gold? Why the World's Billionaire Investors Buy Precious Metals Will Gold and Silver Again Bottom with the Fed Rate Hike? Prices and Charts Looking to sell your gold and silver?Visit this page for more information Buying Back 1oz NZ Gold 9999 Purity $1666 Buying Back 1kg NZ Silver 999 Purity […]
As always we are happy to answer any questions you have about buying gold or silver. In fact, we encourage them, as it often gives us something to write about. So if you have any get in touch.
Phone: 0800 888 GOLD ( 0800 888 465 ) (or +64 9 2813898)
or Online order form with indicative pricing
---
---
---
Note:
Prices are excluding delivery
1 Troy ounce = 31.1 grams
1 Kg = 32.15 Troy ounces
Request special pricing for larger orders such as monster box of Canadian maple silver coins
Lower pricing for local gold orders of 10 to 29ozs and best pricing for 30 ozs or more.
Foreign currency options available so you can purchase from USD, AUD, EURO, GBP
Note: For local gold and silver orders your funds are deposited into our suppliers bank account. We receive a finders fee direct from them. Pricing is as good or sometimes even better than if you went direct.

---
Can't Get Enough of Gold Survival Guide? If once a week isn't enough sign up to get daily price alerts every weekday around 9am Click here for more info
---
Our Mission
To demystify the concept of protecting and increasing ones wealth through owning gold and silver in the current turbulent economic environment.
To simplify the process of purchasing physical gold and silver bullion in NZ – particularly for first time buyers.
---
---
The Legal stuff – Disclaimer: We are not financial advisors, accountants or lawyers. Any information we provide is not intended as investment or financial advice. It is merely information based upon our own experiences. The information we discuss is of a general nature and should merely be used as a place to start your own research and you definitely should conduct your own due diligence. You should seek professional investment or financial advice before making any decisions.
Copyright © 2017 Gold Survival Guide. All Rights Reserved.