RETURNING SPECIAL WITH PRICES FALLING
1oz Perth Mint Silver Kangaroos 2016 BU (Brilliant Uncirculated)

Minimum order 500 coins
Based on Spot Silver at NZ$23.38 per ounce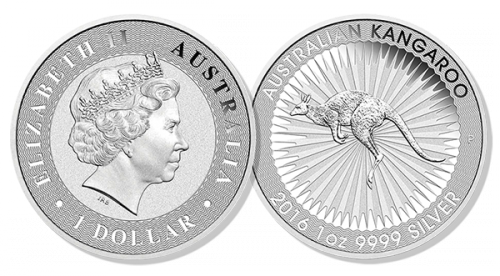 500 x 1oz Perth Mint 2016 Silver Kangaroos are
$13,880
–
$200 cheaper than 500 Silver Maples
1000 x 1oz Perth Mint 2016 Silver Kangaroos are $27,440
– $500 cheaper than 1000 Silver Maples

5000 x 1oz Perth Mint 2016 Silver Kangaroos are $136,500
Bonus for 1000 coins or more – more details further down.
(Price includes fully insured delivery via Fed Ex directly to you anywhere in New Zealand or Australia.)
Get a Huge Vehicle Survival Pack Valued at $304 for Free
Free with any order of 1000 or more 1oz Silver Kangaroo coins.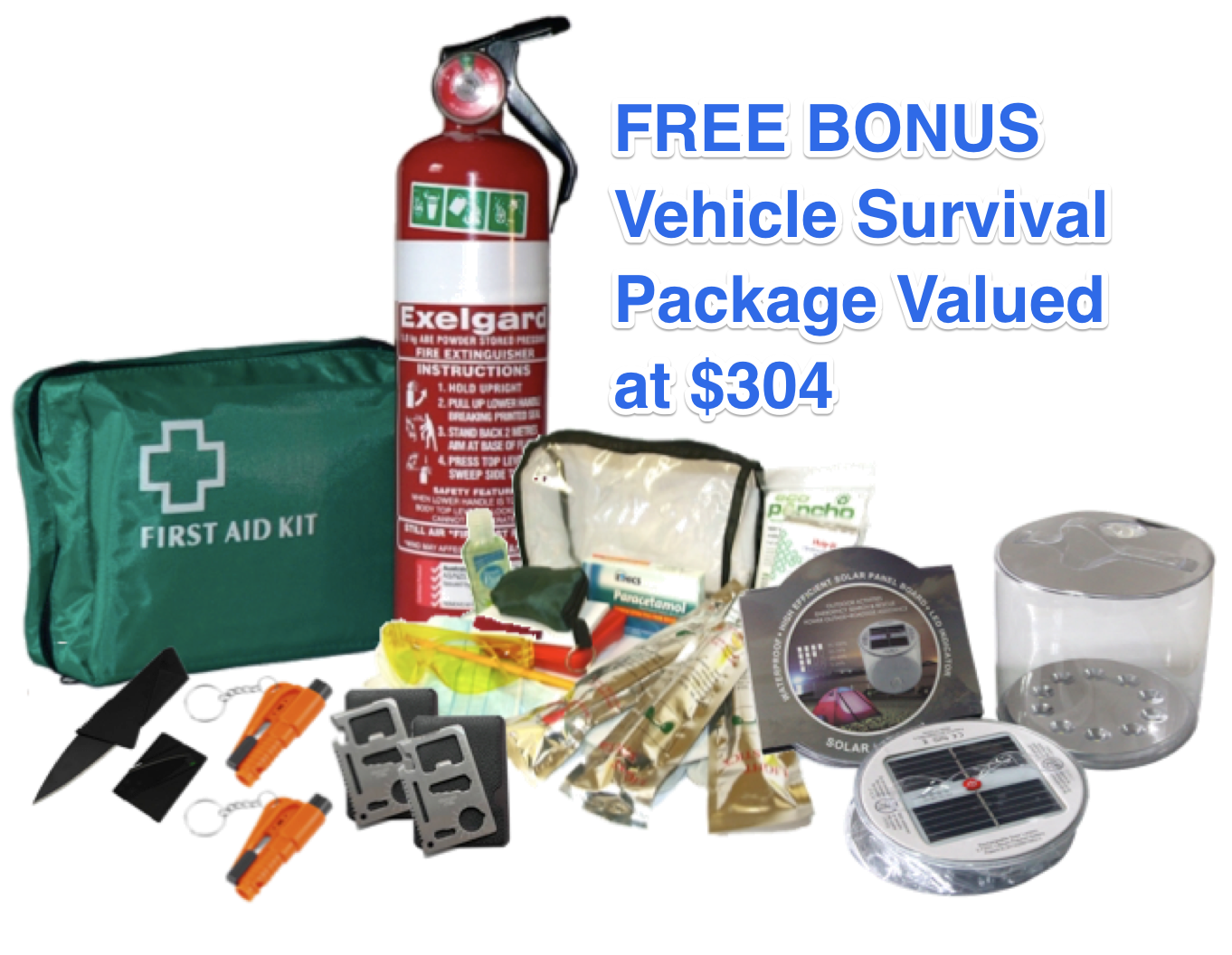 This subscriber only deal (it's not mentioned anywhere on the website) contains enough gear to spread across 2 vehicles. The pack includes:
2 x Inflatable Solar Lanterns
2 x 3-in-1 Car Escape Tools
2 x Credit Card Knives
2 x Credit Card Multi-tools
1 x Car Glove Box Survival Kit
1 x Vehicle First Aid Kit with Fire Extinguisher
Call David on 0800 888 465 to learn more about this deal or just reply to this email. Note: Minimum order is 500 coins.
---
This Week:
Ronni Stoerferle: Gold Break Out and Recession Approaching?
Federal Reserve Balance Sheet Reduction: What Impact Will it Have?
Does a Gold Revaluation to US$10,000 With All Major Countries Make Sense?
Prices and Charts

Looking to sell your gold and silver?
Buying Back 1oz NZ Gold 9999 Purity
$1709
Buying Back 1kg NZ Silver 999 Purity
$710
Gold and Silver Bottoming?
Gold fell further this past week. NZD gold was down 1.30%. It is currently sitting near the 50 day moving average. There still looks a good chance of it dipping down to test the 200 day moving average around $1750.
But perhaps the odds are slimmer of a pullback right the way to the rising blue uptrend line? Although if this did happen, that would be a great place to really load up on bullion, given how strong the support has been over the past 3 years at this trend line.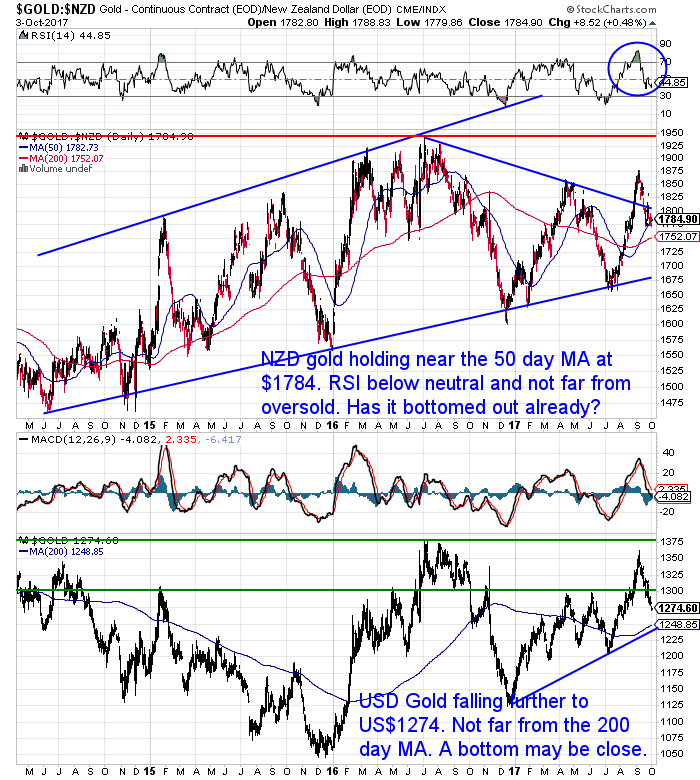 Silver fell less than half as much as gold did this week. It is holding around the 50 day moving average.
The RSI overbought oversold index has pulled back from the massively overbought reading above 70 a month or so ago. In fact, at 40 it is getting close to oversold now.
So silver may not be far from staging a turnaround.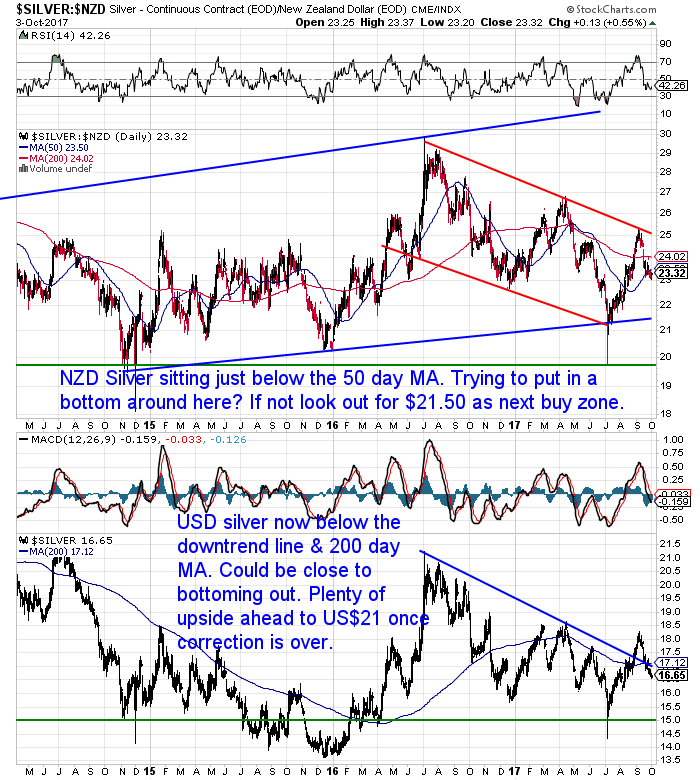 The New Zealand Dollar is down over half a percent this week. Helping to dull the fall in the local prices of gold and silver. We can see it now sits right on the 200 day moving average and also on the lower Bollinger band. So odds favour the Kiwi heading higher from here now.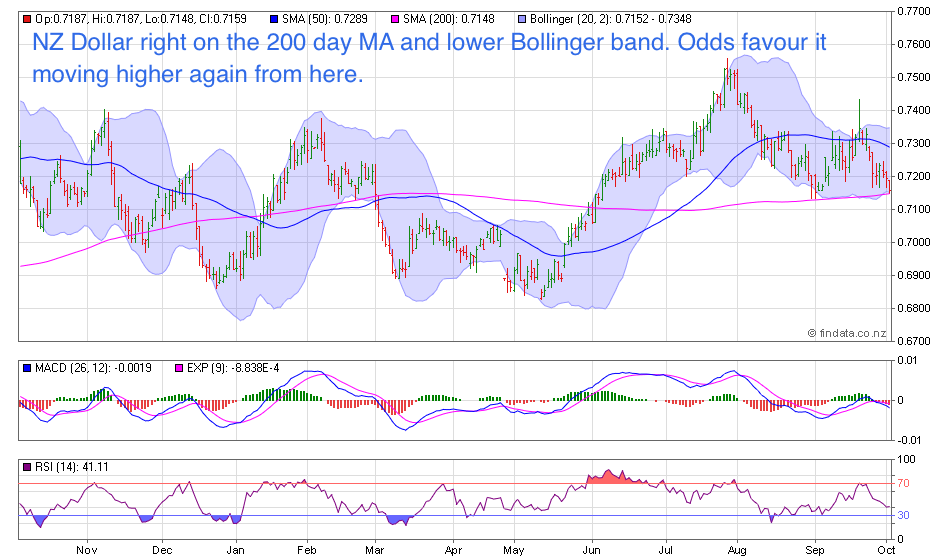 Gold and Silver Technical Analysis: The Ultimate Beginners Guide
Do you think a Bollinger band has something to do with a bottle of champagne? If so you probably need to check out our feature article this week!
In this weekly newsletter we often talk about various technical analysis indicators when we look at the gold and silver charts. Likewise in our
daily price alert email
we also have a crack at "reading the tea leaves" as to where prices may go.
So if any of these terms we use aren't totally clear, you should definitely check out this beginners guide to gold and silver technical analysis.
Once you've read this ultimate guide here's what you'll know:
What is technical analysis?
What are the benefits of technical analysis in gold and silver?
Is technical analysis any use in manipulated markets?
The different types of charts available
Where to get these charts for free
6 different types of technical indicators and how they can be used in gold and silver technical analysis including:
Trend Lines
Horizontal lines of support and resistance
200 day and 50 day moving average
Bollinger bands
Relative Strength Index (RSI)
Moving Average Convergence Divergence (MACD)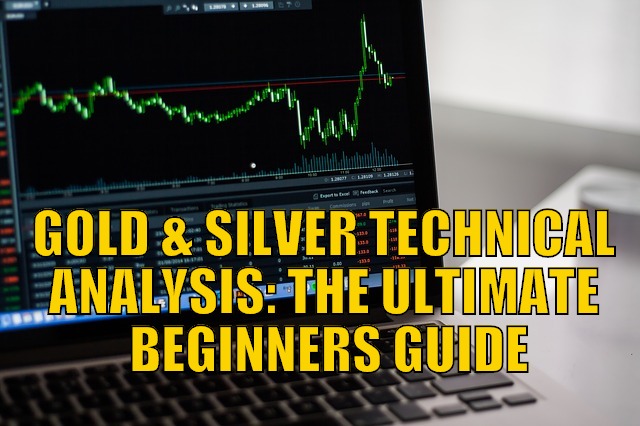 Continues below
—– OFFER FROM OUR SISTER COMPANY: Emergency Food NZ —–
Do you have all the essentials on hand if you need to leave home in a hurry?
Get Your Own Emergency Survival Kit
Now Available. In Stock. Ready to Ship.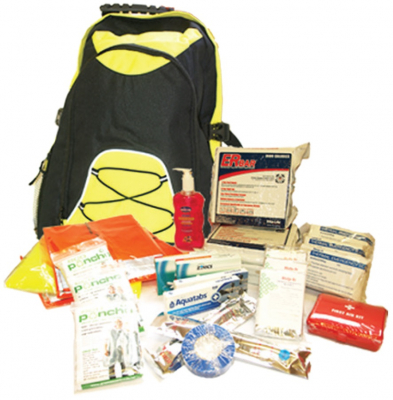 Grab Your Own Grab 'n' Go Bag NOW….
—–
Prospects for Gold if China Issues Oil Futures Backed by Gold
Following on from
an article we posted a month ago
, Hugo Salinas Price looks at the rumoured plan for China to issue an oil futures contract convertible to gold.
We still have our doubts as to whether this is likely to happen in the near future. But undoubtedly the US Dollars reign as solo global reserve currency is in its twilight.
But this article makes some good points about what would have to happen with gold were the Chinese to actually put this in place.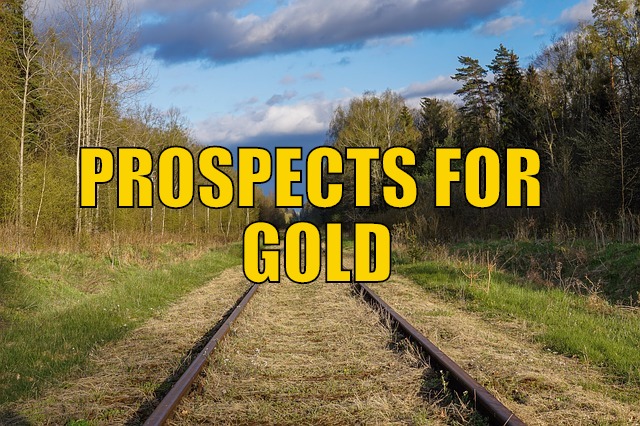 Silver Coin Winner for September
Our winning question this month was about the rules on carrying gold into a foreign country.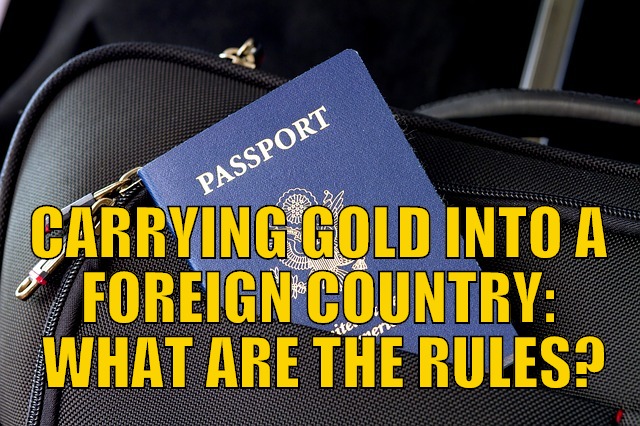 So congrats to reader A.E.a 1 oz silver coin will be winging it's way to you shortly.
A close second were the questions that prompted these two articles:
Be sure to check them out if you haven't already.
Plus if you've got a question, be sure to send it in to be in the running for a 1oz silver coin.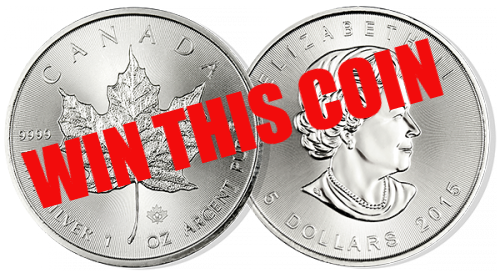 If you have any questions about certain products or the buying process then please get in touch. After the recent pull back we are now at pretty good buying levels.
Call David on 0800 888 465 for a quote or with any questions.
Phone: 0800 888 GOLD ( 0800 888 465 ) (or +64 9 2813898)
or Online order form with indicative pricing
— Prepared for Power Cuts? —
[BACK IN STOCK] New & Improved Inflatable Solar Air Lantern
It's easy to use. Just charge it in the sun. Inflate it. And light up a room.
6-12 hours of backup light from a single charge! No batteries, no wires, no hassle. And at only 1 inch tall when deflated, it stores easily in your car or survival kit.
Plus, it's waterproof so you can use it in the water.
—–
This Weeks Articles:
Tue, 3 Oct 2017 4:16 PM NZST
Gold and silver technical analysis can be a very large and confusing subject. Technical analysis can seem just too difficult to the new gold and silver buyer, so many people just ignore the topic altogether. But it needn't be this complex. We've written this Gold and Silver Technical Analysis Ultimate Beginners Guide to simplify this […]
Mon, 2 Oct 2017 2:59 PM NZST
In Part 2, Hugo Salinas Price gets into the specific calculation of how high gold will have to rise if indeed China do implement a oil futures contract that is convertible into physical gold…. Check out part 1 here first if you haven't read that yet: Prospects for Gold if China Issues Oil Futures Backed by […]
Mon, 2 Oct 2017 2:40 PM NZST
Last month we commented on how China looks to be preparing to release a yuan-denominated oil futures contract that is convertible (backed by) physical gold. Our favourite, Billionaire Hugo Salinas Price, has taken a closer look at this plan – well as much as is known about it anyway. As a result he has arrived at […]
Fri, 29 Sep 2017 2:04 AM NZST
RETURNING SPECIAL WITH PRICES FALLING 1oz Perth Mint Silver Kangaroos 2016 BU (Brilliant Uncirculated) Minimum order 500 coins Based on Spot Silver at NZ$23.38 per ounce 500 x 1oz Perth Mint 2016 Silver Kangaroos are $13,920 – $200 cheaper than 500 Silver Maples 1000 x 1oz Perth Mint 2016 Silver Kangaroos are $27,530 – $500 […]
As always we are happy to answer any questions you have about buying gold or silver. In fact, we encourage them, as it often gives us something to write about. So if you have any get in touch.
Phone: 0800 888 GOLD ( 0800 888 465 ) (or +64 9 2813898)
or Online order form with indicative pricing
---
---
---
Note:
Prices are excluding delivery
1 Troy ounce = 31.1 grams
1 Kg = 32.15 Troy ounces
Request special pricing for larger orders such as monster box of Canadian maple silver coins
Lower pricing for local gold orders of 10 to 29ozs and best pricing for 30 ozs or more.
Foreign currency options available so you can purchase from USD, AUD, EURO, GBP
Note: For local gold and silver orders your funds are deposited into our suppliers bank account. We receive a finders fee direct from them. Pricing is as good or sometimes even better than if you went direct.

---
Can't Get Enough of Gold Survival Guide? If once a week isn't enough sign up to get daily price alerts every weekday around 9am Click here for more info
---
Our Mission
To demystify the concept of protecting and increasing ones wealth through owning gold and silver in the current turbulent economic environment.
To simplify the process of purchasing physical gold and silver bullion in NZ – particularly for first time buyers.
---
---
The Legal stuff – Disclaimer: We are not financial advisors, accountants or lawyers. Any information we provide is not intended as investment or financial advice. It is merely information based upon our own experiences. The information we discuss is of a general nature and should merely be used as a place to start your own research and you definitely should conduct your own due diligence. You should seek professional investment or financial advice before making any decisions.
Copyright © 2017 Gold Survival Guide. All Rights Reserved.