BONUS DEAL STILL GOING
1oz Perth Mint Silver Kangaroos 2016 BU (Brilliant Uncirculated)

Minimum order 500 coins
Based on Spot Silver at NZ$24.28 per ounce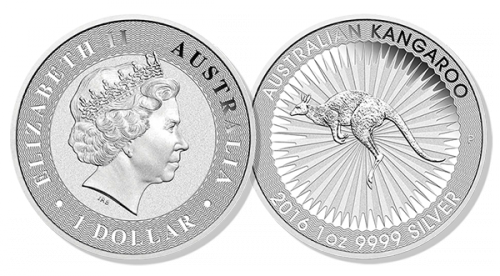 500 x 1oz Perth Mint 2016 Silver Kangaroos are
$14,400
–
$200 cheaper than 500 Silver Maples
1000 x 1oz Perth Mint 2016 Silver Kangaroos are $28,500
– $500 cheaper than 1000 Silver Maples

5000 x 1oz Perth Mint 2016 Silver Kangaroos are $141,900
Bonus for 1000 coins or more – more details further down.
(Price includes fully insured delivery via Fed Ex directly to you anywhere in New Zealand or Australia.)
Get a Huge Vehicle Survival Pack Valued at $304 for Free
Free with any order of 1000 or more 1oz Silver Kangaroo coins.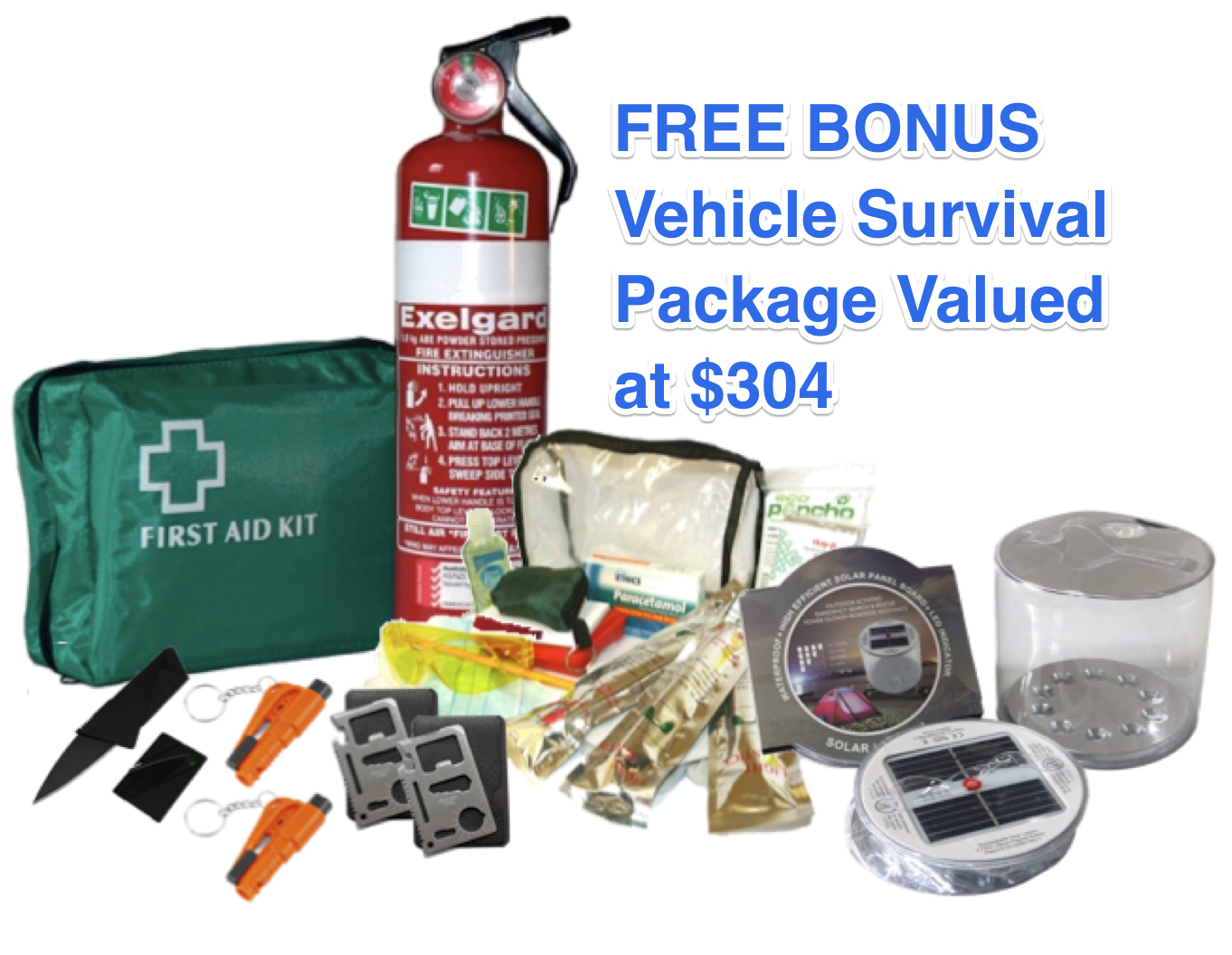 This subscriber only deal (it's not mentioned anywhere on the website) contains enough gear to spread across 2 vehicles. The pack includes:
2 x Inflatable Solar Lanterns
2 x 3-in-1 Car Escape Tools
2 x Credit Card Knives
2 x Credit Card Multi-tools
1 x Car Glove Box Survival Kit
1 x Vehicle First Aid Kit with Fire Extinguisher
Call David on 0800 888 465 to learn more about this deal or just reply to this email. Note: Minimum order is 500 coins.

---
This Week:
Gold and Silver Bounce Back
Why New Zealand Won't Have Any Say in a Global Currency Reset
Here's How to Connect With Other Like-Minded New Zealanders
Yahoo Hacking Highlights Cyber Risk and Increasing Importance of Physical Gold
Prices and Charts

Looking to sell your gold and silver?
Buying Back 1oz NZ Gold 9999 Purity
$1752
Buying Back 1kg NZ Silver 999 Purity
$740
Gold and Silver Bounce Back
Both precious metals have bounced back this week. Gold in NZ Dollars up 2.81% after edging along the 50 day moving average line before jumping sharply higher. NZD gold is now back above the $1800 mark again.
Is that it then as far as the correction goes?
Who knows? That's why we pointed out a month ago that the 50 day moving average was an area to take at least an initial position if you were looking to buy.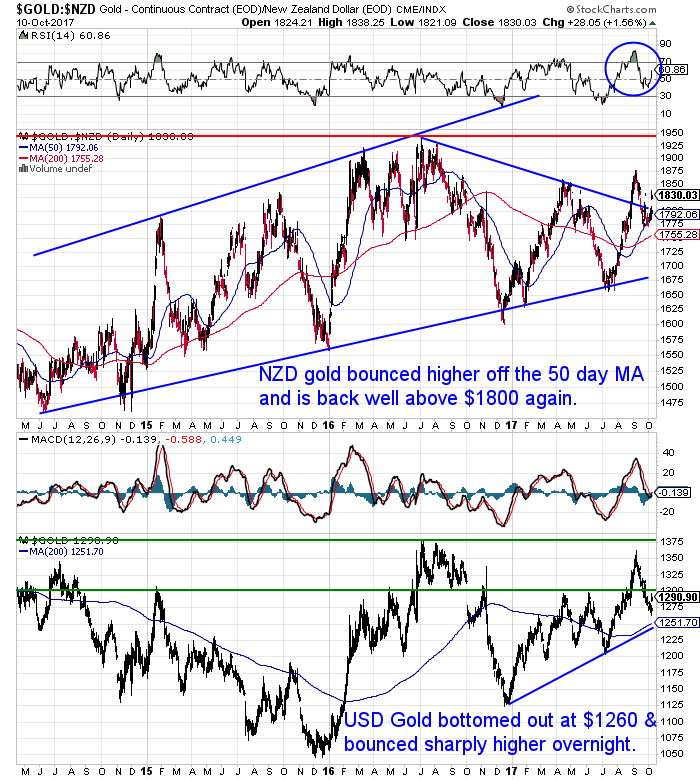 The bounced back we expected last week has happened. NZD silver has really flown this week – up 4.38%! It's now just above the key 200 day moving average and also not far from again touching that red downtrend line.
That remains the main resistance line. So when it is broken (which we think may not be too far away now) there is a far bit of "blue sky" upside ahead to the $30 area.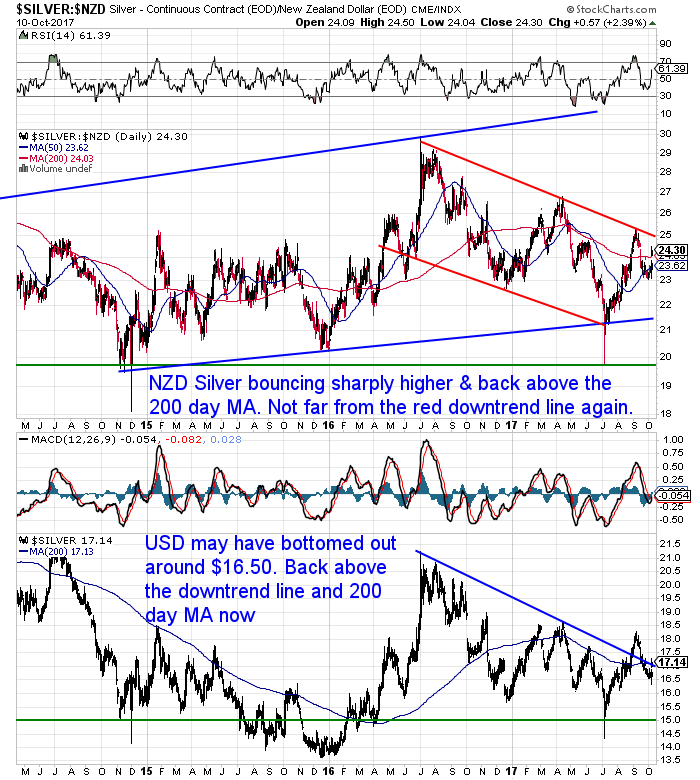 The NZ Dollar surprised us and many others to the downside this past week. It plummeted through the 200 day MA dropping 1.30%. A hefty move in a week.
The Kiwi Dollar may hang around these levels until a new government is finally in place. If it's a National led coalition then we could see a bounce in the dollar. If it's Labour then it may fall further yet. Our view is it may not make a great deal of difference either way in the long run. But that's probably not what forex traders are thinking.
But the NZ Dollar is very oversold now so perhaps a relief rally is on the cards?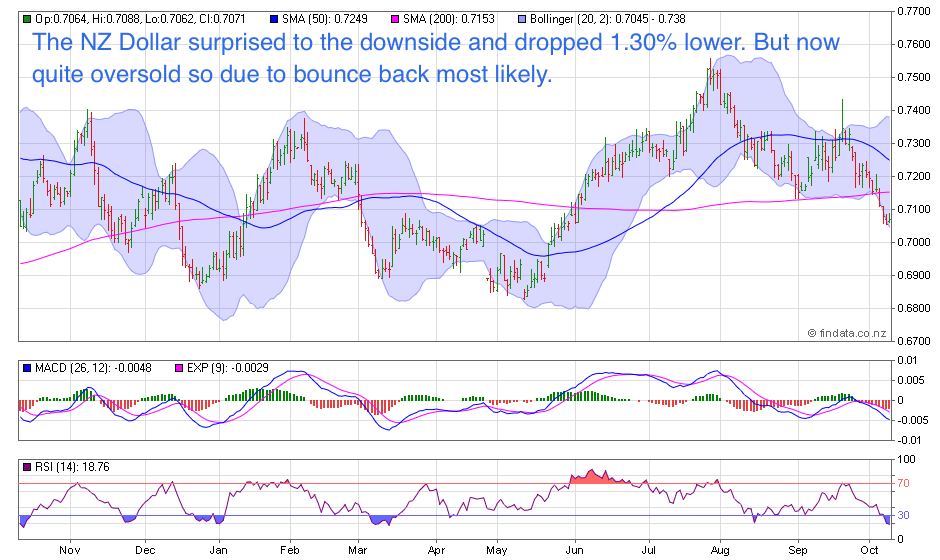 Remember to check out this post if any of the terms we use when discussing the charts are unknown to you: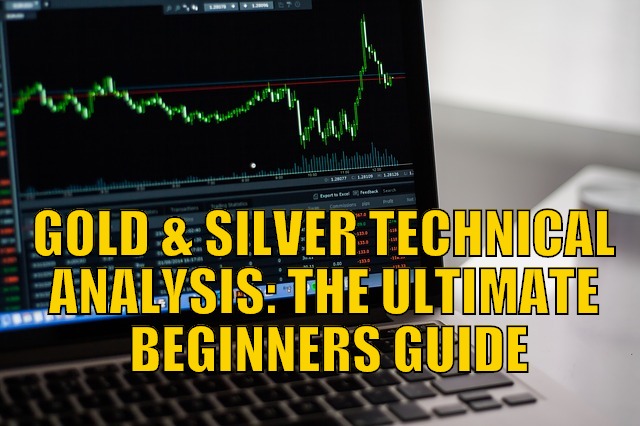 Continues below
—– OFFER FROM OUR SISTER COMPANY: Emergency Food NZ —–
Do you have all the essentials on hand if you need to leave home in a hurry?
Get Your Own Emergency Survival Kit
Now Available. In Stock. Ready to Ship.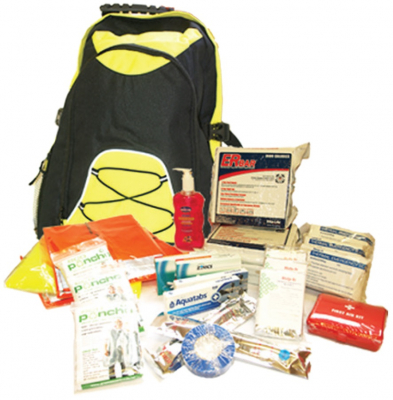 Grab Your Own Grab 'n' Go Bag NOW….
—–
Why New Zealand Won't Have Any Say in a Global Currency Reset
Regardless of which parties are in government here's one thing we don't think it will affect: How many tonnes of gold the Reserve Bank of New Zealand (RBNZ) holds.
This is a topic we cover in our feature article this week, plus a whole lot more. Here's what you'll hear about:
How does New Zealand compare to Australia in terms of gold mining and in ground reserves?
What size are New Zealand's official or central bank gold reserves?
How does New Zealand compare to countries with similar GDP?
Why New Zealand won't have any say in a global currency reset?
Why the RBNZ won't buy any gold?
What should you do about New Zealand's lack of gold reserves?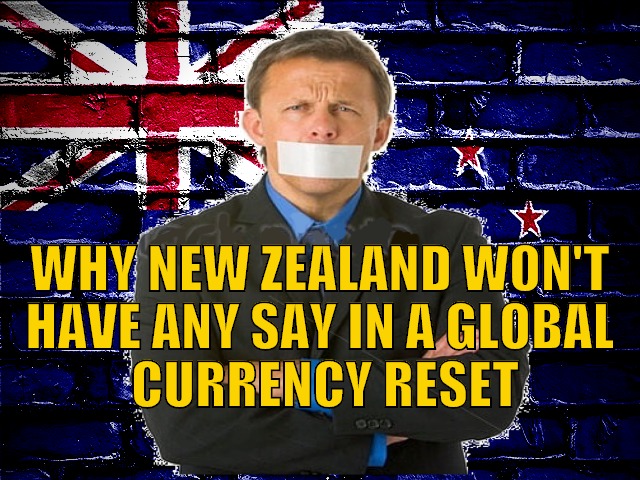 Here's How to Connect With Other Like-Minded New Zealanders
Did you get our email on Monday about how you can connect with like minded New Zealanders?
If you didn't get round to reading it, then make sure you check out this post.
We've come up with a plan to help connect people around the country. People who are free thinking and freedom loving.
We've called these Gold Survival Guide Circles. Which are simply casual meet ups where you can mix and mingle with other like minded people.
It's probably the most common thing we hear: "I've got no one to discuss any of this gold and silver stuff with". These Circles should solve that problem – but only if we get enough people from your area interested!
So far we have plenty of people interested in Auckland. A few from Christchurch, Wellington and Waikato. Plus others dotted around the country in Hawkes Bay, Kerikeri and even Kaiwaka.
If you've at all interested in connecting with others then read this now and express your interest.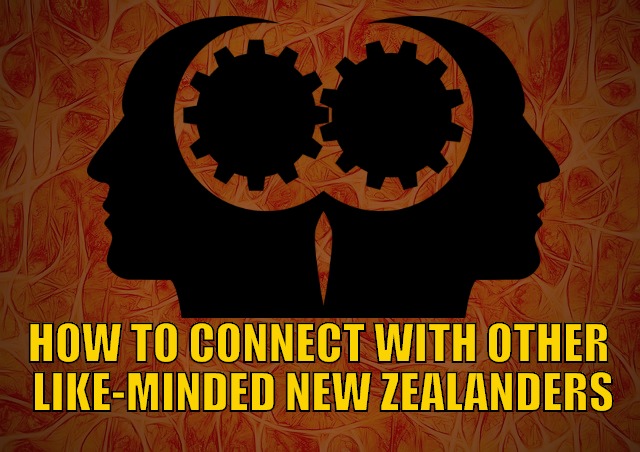 The final article this week highlights the ever increasing risks posed by cybercrime and how a specific type of gold can offer protection from this risk.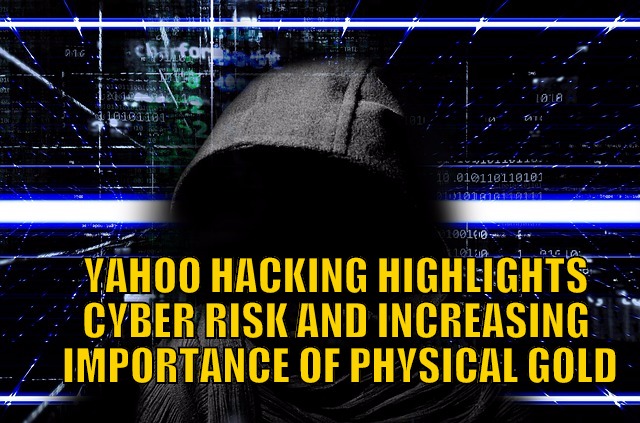 Remember, if you've got specific question, be sure to send it in to be in the running for a 1oz silver coin.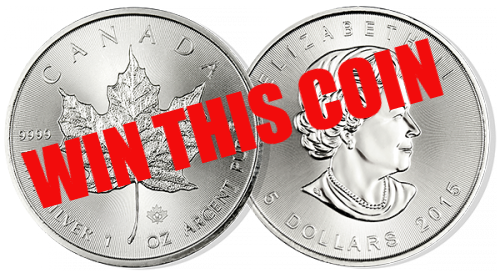 On top of the Silver Kangaroo deal already mentioned, there are also great prices for:
1kg 999 Purity Perth Mint 2016 Year of the Monkey and Koala backdated silver bars
Backdated 1oz 9999 Purity Canadian Gold Maples.
Call David to discuss these deals on 0800 888 465.
Phone: 0800 888 GOLD ( 0800 888 465 ) (or +64 9 2813898)
or Online order form with indicative pricing
— Prepared for Power Cuts? —
[BACK IN STOCK] New & Improved Inflatable Solar Air Lantern
It's easy to use. Just charge it in the sun. Inflate it. And light up a room.
6-12 hours of backup light from a single charge! No batteries, no wires, no hassle. And at only 1 inch tall when deflated, it stores easily in your car or survival kit.
Plus, it's waterproof so you can use it in the water.
—–
This Weeks Articles:
Tue, 10 Oct 2017 5:48 PM NZST
Did you hear about the recent massive hack of the US credit checking agency Equifax that exposed half of the US population? It is just one of the many online breaches in recent years (see the list below). With today's ever increasing technological advances, comes ever increasing risks of cybercrime. Of perhaps even more concern […]
Tue, 10 Oct 2017 11:47 AM NZST
Lately we've discussed the possibility or maybe we should say the inevitability of a change in the global monetary system. Perhaps in the form of a currency reset. Here's more on how that might play out. If the US Dollar Was Again Linked to Gold, How Would This Affect New Zealand? Does a Gold Revaluation […]
Mon, 9 Oct 2017 2:04 PM NZST
Connecting Like Minded People Gold, silver and related ideas remain very much a fringe topic. One of the most common things we hear when talking to people is "I don't have anyone to discuss any of this with. My friends and family think I am nuts!" Odds are that you may have few, if any, […]
Fri, 6 Oct 2017 2:24 AM NZST
RETURNING SPECIAL WITH PRICES FALLING 1oz Perth Mint Silver Kangaroos 2016 BU (Brilliant Uncirculated) Minimum order 500 coins Based on Spot Silver at NZ$23.38 per ounce 500 x 1oz Perth Mint 2016 Silver Kangaroos are $13,880 – $200 cheaper than 500 Silver Maples 1000 x 1oz Perth Mint 2016 Silver Kangaroos are $27,440 – $500 […]
As always we are happy to answer any questions you have about buying gold or silver. In fact, we encourage them, as it often gives us something to write about. So if you have any get in touch.
Phone: 0800 888 GOLD ( 0800 888 465 ) (or +64 9 2813898)
or Online order form with indicative pricing
---
---
---
Note:
Prices are excluding delivery
1 Troy ounce = 31.1 grams
1 Kg = 32.15 Troy ounces
Request special pricing for larger orders such as monster box of Canadian maple silver coins
Lower pricing for local gold orders of 10 to 29ozs and best pricing for 30 ozs or more.
Foreign currency options available so you can purchase from USD, AUD, EURO, GBP
Note: For local gold and silver orders your funds are deposited into our suppliers bank account. We receive a finders fee direct from them. Pricing is as good or sometimes even better than if you went direct.

---
Can't Get Enough of Gold Survival Guide? If once a week isn't enough sign up to get daily price alerts every weekday around 9am Click here for more info
---
Our Mission
To demystify the concept of protecting and increasing ones wealth through owning gold and silver in the current turbulent economic environment.
To simplify the process of purchasing physical gold and silver bullion in NZ – particularly for first time buyers.
---
---
The Legal stuff – Disclaimer: We are not financial advisors, accountants or lawyers. Any information we provide is not intended as investment or financial advice. It is merely information based upon our own experiences. The information we discuss is of a general nature and should merely be used as a place to start your own research and you definitely should conduct your own due diligence. You should seek professional investment or financial advice before making any decisions.
Copyright © 2017 Gold Survival Guide. All Rights Reserved.