Prices and Charts

---
Looking to sell your gold and silver?
Buying Back 1oz NZ Gold 9999 Purity
$2517
Buying Back 1kg NZ Silver 999 Purity
$1073
---
NZD Gold Pulling Back as Expected
Last week we said gold in New Zealand dollars was due a pullback in the short term after such a strong bounce. That proved to be the case this week with NZD gold dipping under $2600.
But today it has bounced back and is again above $2600. We could still see a move down to retest the rising uptrend line.
However to us it is still looking promising for a bottom being now in.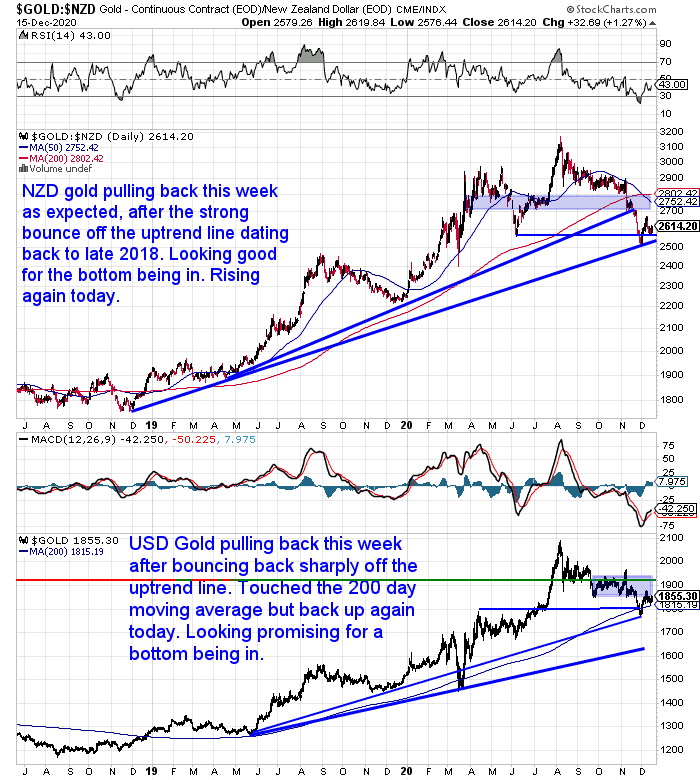 NZD Silver Also Down But Up
Silver in New Zealand dollars was also down for the week but up today. Once again back above the horizontal support/resistance line. Silver is also looking promising for the bottom being in at $31. We could still see it move down to retest the 200 day moving average (MA) line though.
Then we are looking for silver to get back above the 50 day MA which also coincides with the blue downtrend line. But we may have to wait until the New year to see that.
This week's feature article takes a detailed look at why right now is looking like an excellent buy zone for silver. Not just looking at the charts, but also taking into account a couple of contrarian indicators that we have found to be good indicators of a bottom in the past.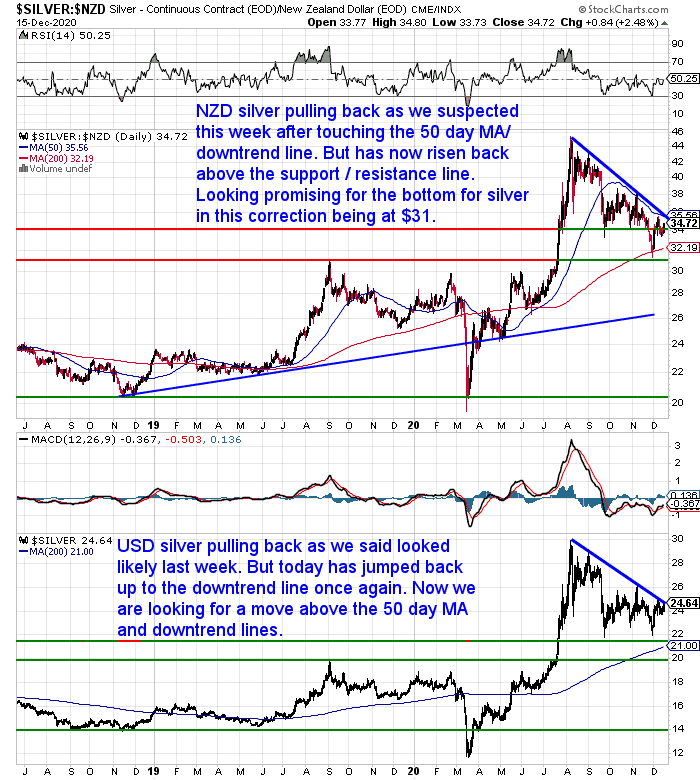 NZ Dollar Still Holding Up
Despite remaining very overbought on the Relative Strength Index (RSI), the Kiwi dollar is holding up well in the 0.70's.
However we are still looking for a further pullback to come before too long. If you look at previous occasions when the RSI was this overbought above 70, each time there has been a pretty hefty pullback. That would of course give a boost to local gold and silver prices.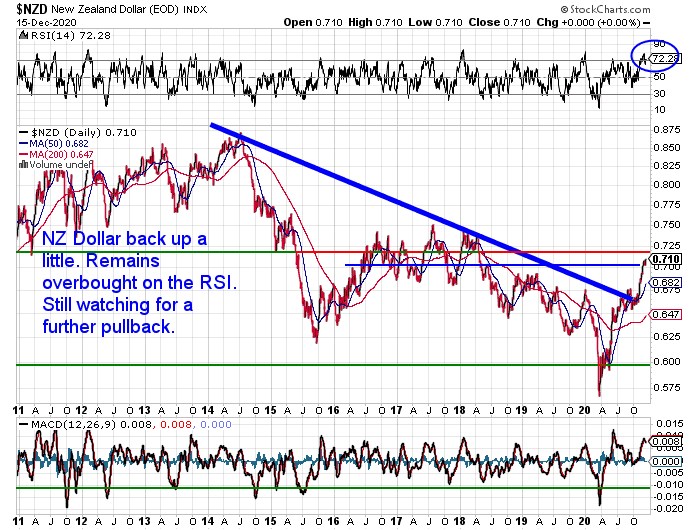 Need Help Understanding the Charts?
Check out this post if any of the terms we use when discussing the gold, silver and NZ Dollar charts are unknown to you:
Continues below
—– OFFER FROM OUR SISTER COMPANY: Emergency Food NZ —–
NEW: Certified Organic Long Life Emergency Food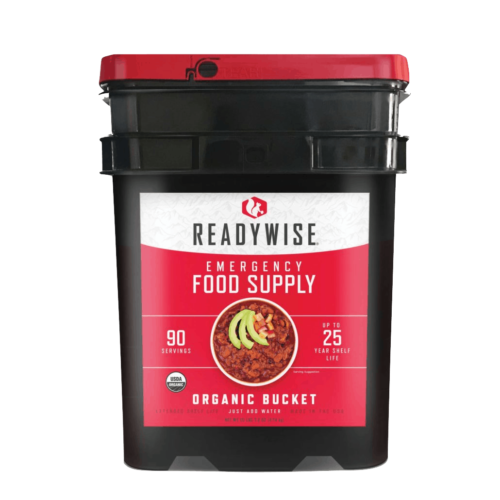 This easy to carry bucket has 90 servings of organic breakfasts and mains
Free Shipping NZ Wide
Get Peace of Mind For Your Family NOW….

  
—–
An Excellent N.Z. Silver Buy Zone is Here – Charts Update Dec 2020
After rising sharply from March to August, silver has fallen sharply in the last few months. As a result, we now have what looks like an excellent silver buy zone. In this week's feature article we look at a few silver charts showing why this might be. Plus we also have a couple of contrarian indicators that in the past have been useful in determining when a bottom may be in…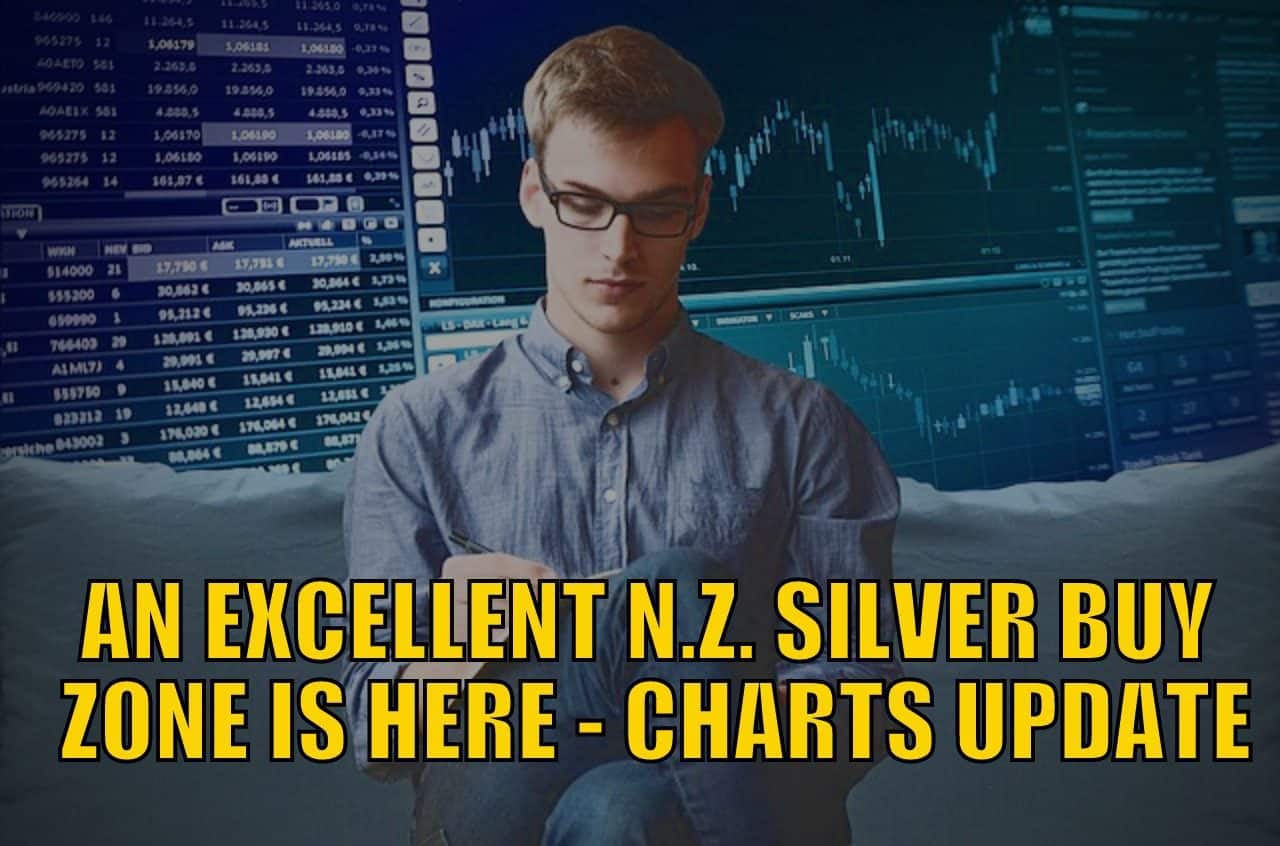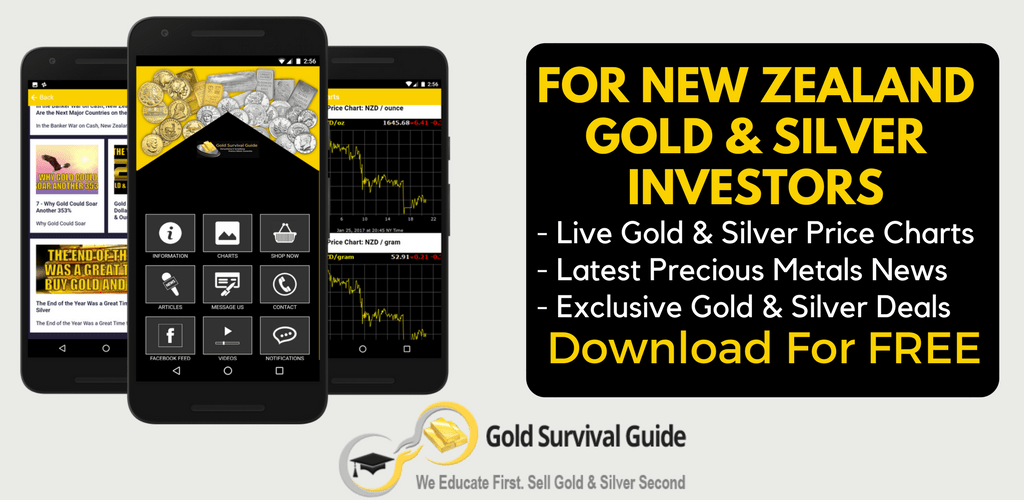 Your Questions Wanted
Remember, if you've got a specific question, be sure to send it in to be in the running for a 1oz silver coin.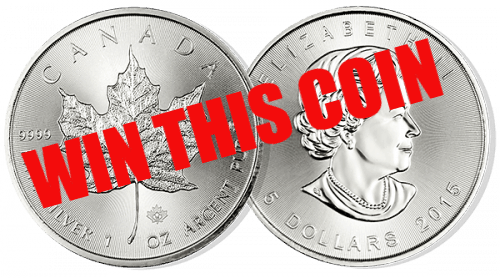 More People Taking Note of the Divergence of Gold from Real Interest Rates
Last week we covered how gold has been falling even while real interest rates (that is after inflation interest rates) have been falling.
See: Do Gold and Real Rates Moving in Tandem Signal a Big Move for Gold?
Usually as real rates fall gold rises and vice versa. Lower returns from bonds mean people move into gold.
More people have been taking notice of this. A post in Zerohedge pointed out this week:
"Real yields, perhaps one of the most reliable macro drivers for gold, are now suggesting a key turn back up in the metal. Even though US 10-year interest rates have been rising since August, inflation expectations have begun to outpace nominal yields once again. Consequently, real yields are turning even more negative. As shown inverted in the chart below, declining real yields tend to drive gold prices upward. These two lines are now diverging significantly and, in our opinion, strongly suggest that the bull market for gold is poised to resume.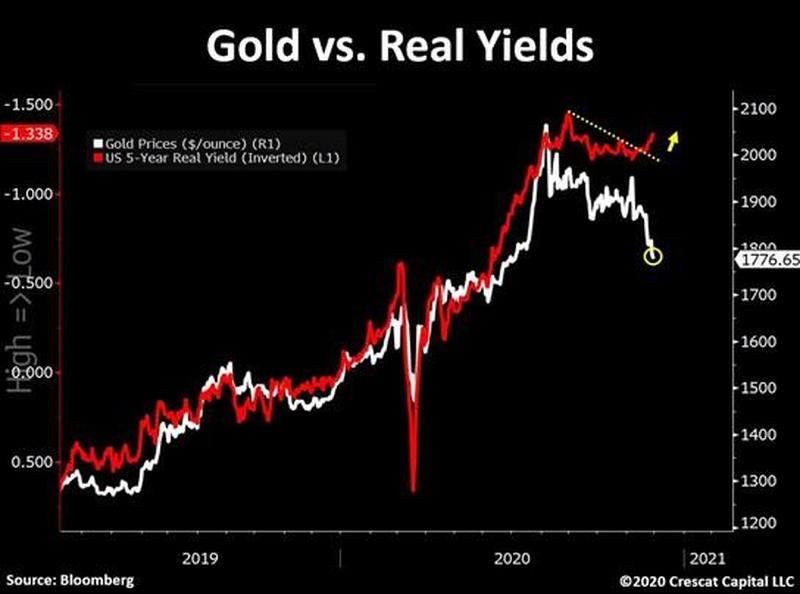 This is adding weight to our notion that gold (and silver, as pointed out in this week's feature post) have likely bottomed.
As we said in that article, the fact that hardly anyone is buying currently is a good contrarian indicator that the bottom is in for silver and gold.
While vaccines might to some mean that the worst of this crisis is behind us, even more negative real interest rates mean your savings will need protection long after the COVID panic has subsided.
History Says: Great Time of the Year to Buy Gold and Silver
In case you missed our recent article: When to Buy Gold or Silver: The Ultimate Guide,  here's an excerpt that is very relevant at this time of the year…
Why Buying This Year is Better Than Waiting Until Next Year
The chart of gold in NZ Dollars below, shows that you'll also want to buy this year and not wait for next year.
As in 9 of the last 10 years buying towards the end of one year saw the gold price higher at the end of the following year (see the green arrows).
Note: We can also likely add this year to those 9 years where gold finishes the year higher than it ended the last year. That is assuming gold doesn't tumble all the way back down below $2300 before the end of December – not very likely we'd say.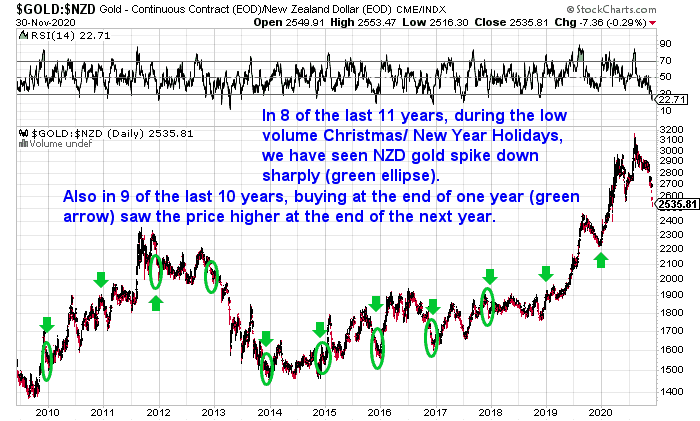 Also keep an eye out for sharp drops in the price of gold and silver over the low volume Christmas and New Year holidays. In 8 of the last 11 years we have seen the gold price fall sharply around this time (see the green ellipses). Therefore also making it a good time to buy gold and silver near the end of the calendar year. Will 2020 prove to be the same?
Refer back to the top of this email for holiday ordering restrictions. We're not closed as such but it depends upon suppliers as to what is available when. So get in touch over the break if you see a dip and are interested in buying.
Phone: 0800 888 GOLD ( 0800 888 465 ) (or +64 9 2813898)
or Shop Online with indicative pricing
— Prepared for the unexpected? —
Here's how to always have clean fresh drinking water on hand.
The Sport Berkey Water Filter Bottle – $69 Delivered
Ideal for travel. Driving, camping, backpacking.
Free Shipping NZ Wide.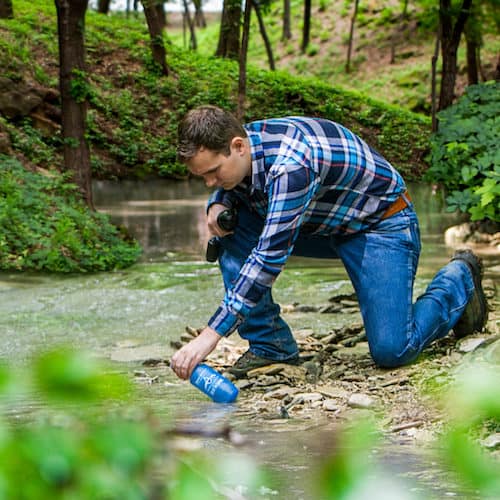 —–
This Weeks Articles:
Tue, 15 Dec 2020 3:05 PM NZST
After rising sharply from March to August, silver has fallen sharply in the last few months. As a result, we now have what looks like an excellent silver buy zone. Here's a look at a few silver charts showing why this might be…   The Big Picture NZD Silver: 4 Major Trends Since 2005 Looking […]
The post An Excellent N.Z. Silver Buy Zone is Here – Charts Update Dec 2020 appeared first on Gold Survival Guide.
Wed, 9 Dec 2020 1:11 PM NZST
Prices and Charts Looking to sell your gold and silver? Visit this page for more information Buying Back 1oz NZ Gold 9999 Purity $2560 Buying Back 1kg NZ Silver 999 Purity $1086 More Confidence a Bottom is in Gold in New Zealand dollars continued to move up sharply this week, after bouncing up from the […]
The post Gold and Real Rates Moving in Tandem, Could Signal a Big Move for Gold appeared first on Gold Survival Guide.
Tue, 8 Dec 2020 3:51 PM NZST
Prior to the Corona-panic, most people probably hadn't given much thought to the potential of a currency collapse in developed world countries, such as New Zealand. But with even the once conservative Reserve Bank of New Zealand this year joining the currency printing/quantitative easing brigade, and potentially the negative interest rate camp in 2021, the […]
The post What is the Best Type of Gold to Buy For Trading in a Currency Collapse? appeared first on Gold Survival Guide.
As always we are happy to answer any questions you have about buying gold or silver. In fact, we encourage them, as it often gives us something to write about. So if you have any get in touch.
Phone: 0800 888 GOLD ( 0800 888 465 ) (or +64 9 2813898)
or Online order form with indicative pricing
---
---
---
Note:
Prices are excluding delivery
1 Troy ounce = 31.1 grams
1 Kg = 32.15 Troy ounces
Request special pricing for larger orders such as monster box of Canadian maple silver coins
Lower pricing for local gold orders of 10 to 29ozs and best pricing for 30 ozs or more.
Foreign currency options available so you can purchase from USD, AUD, EURO, GBP
Plus we accept BTC, BCH, Visa and Mastercard
Note: For local gold and silver orders your funds are deposited into our suppliers bank account. We receive a finders fee direct from them. Pricing is as good or sometimes even better than if you went direct.


---
Can't Get Enough of Gold Survival Guide?
If once a week isn't enough sign up to get daily price alerts every weekday around 9am Click here for more info
---
---
The Legal stuff – Disclaimer:
We are not financial advisors, accountants or lawyers. Any information we provide is not intended as investment or financial advice. It is merely information based upon our own experiences. The information we discuss is of a general nature and should merely be used as a place to start your own research and you definitely should conduct your own due diligence. You should seek professional investment or financial advice before making any decisions.
Copyright © 2020 Gold Survival Guide.
All Rights Reserved.