This Week:
Is Silver Bottoming Out?
IMF Says NZ Needs Bank Depositor Haircut Exemption of $10,000
Silver Versus the World (and Exter's Inverted Liquidity Pyramid)
SPECIAL TODAY
Canadian Silver Maples Monster Box Bonus Deal
Minimum order to buy is 500 silver coins.
Looking like an excellent time to buy today as you can see in the silver chart in New Zealand dollars below.
Also over $1400 cheaper than a few weeks ago.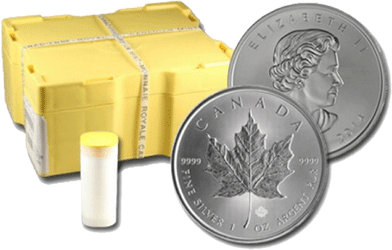 $14,300 for 500 x 1oz Canadian Silver Maples fully insured via Fed Ex directly to you anywhere in New Zealand or Australia.
Special Bonus Offer ends this Friday 12th May at 8pm
Get a free Dictionary Home Diversion Safe valued at up to $69.00 with every Monster Box order.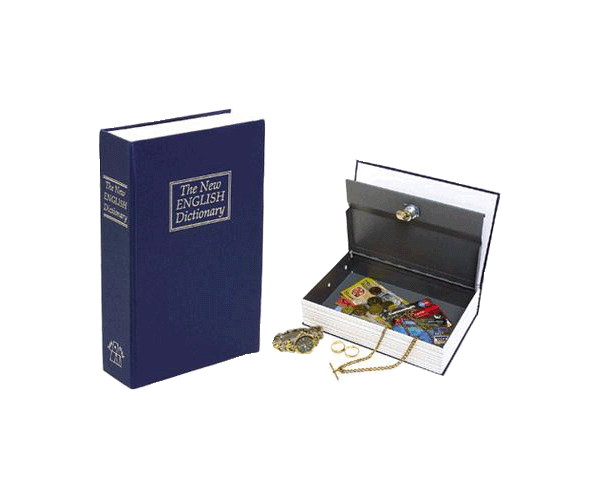 Prices and Charts

Is Silver Bottoming Out?
Both metals have continued to fall this week by quite similar percentages.
NZD gold has continued to pull back from the April highs. It is now touching the 200 day moving average. The RSI overbought/oversold indicator is getting close to 30 – the oversold threshold. So NZD gold could be getting close to a bottom now. But it may have a little further to go yet.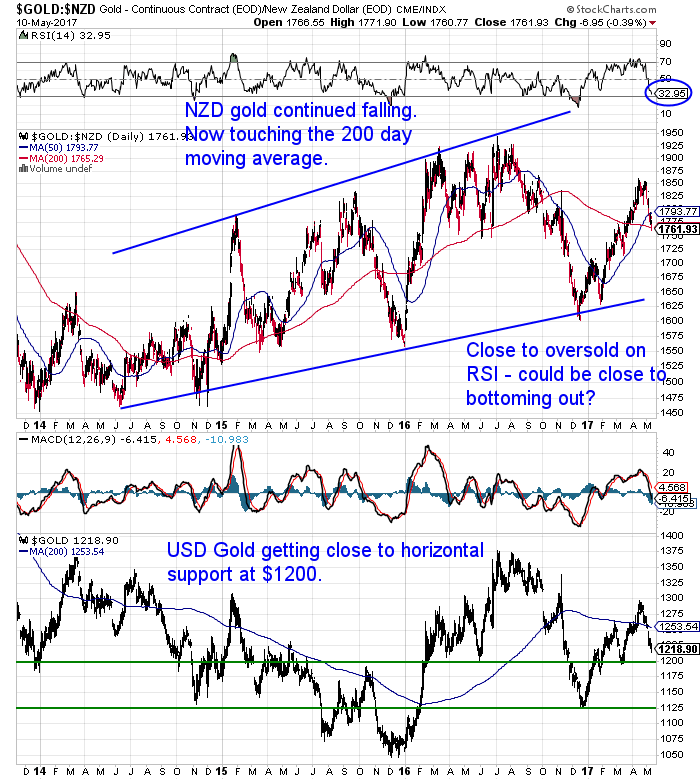 Silver in NZ Dollars continued its plunge lower over the past week. But this morning has bounced back a bit (not shown on the chart). Perhaps not surprisingly given how oversold it had become (circled on the chart).
This bounce has also come off the rising blue trendline. So we may not be sticking our necks out too far and say that a bottom could be in for NZD silver. Of course anything is possible, but this is likely a place where buying with a long term holding view will look good in the coming months and years.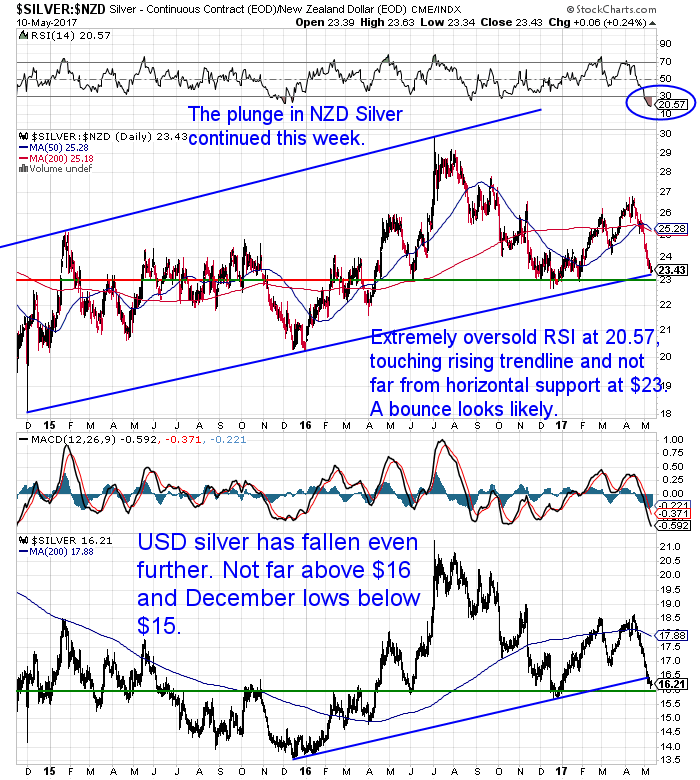 The New Zealand Dollar reacted sharply to the Reserve Bank statement this morning that left the overnight cash rate unchanged. This
DailyFX
article noted that
"recent positive economic news-flow out of New Zealand helped build RBNZ rate hike bets. [But] the central bank practically dismissed those hopes today, mentioning recent CPI gains as temporary."
So the dollar plunged by over 100 basis points to a new 11 month low. The question now is whether it could go lower to test the 0.67 mark from last May?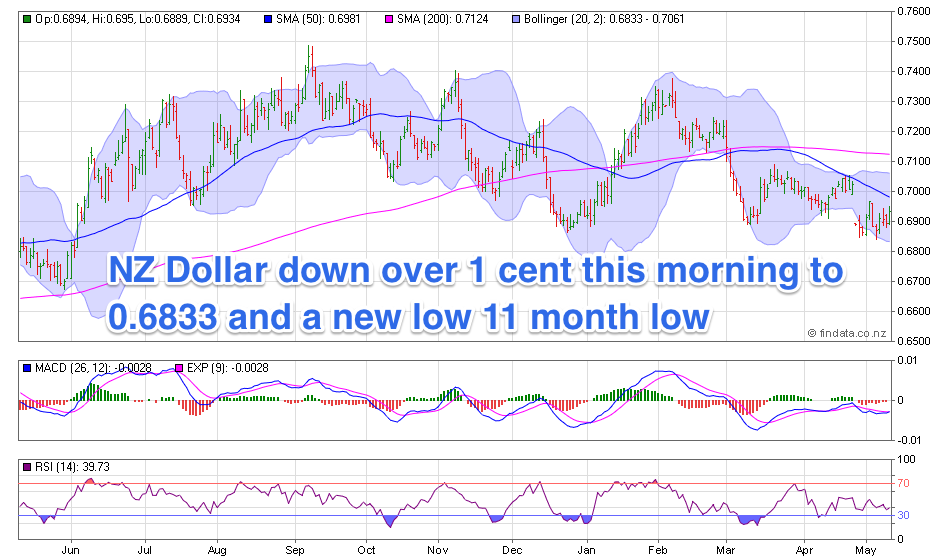 Would you like some assistance with timing your entry into and your eventual exit from gold and silver? Then you may want to
meet our "secret" investment advisor.
You can learn more about who he is… And how you could benefit from his uncanny ability to enter and exit not just the precious metals markets but many other markets too, at just the right time.
So go here to learn more now
.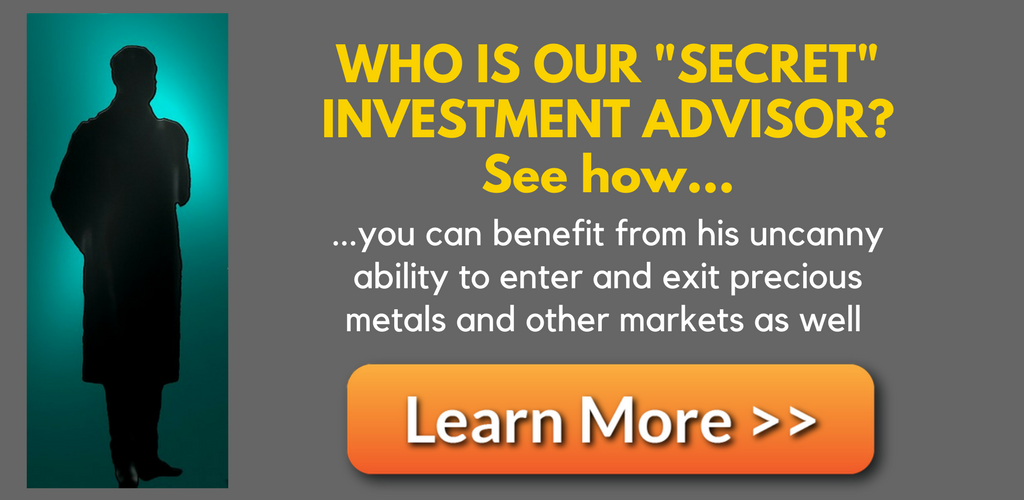 Silver Versus the World (and Exter's Inverted Liquidity Pyramid)
Silver is what we continue to focus on at the moment.
We have a summary of an excellent video from Chris Duane this week. Plus some of our own thoughts in the mix.
Chris, like others, has been discussing the silver futures commitment of traders report. The short position of the commercial hedgers category reached an all time high last month. But this month has come back down significantly.
Bix Weir also made the point this week that silver may be bottoming with many of these short positions being covered this week. So he figured now might be a good time to swap some bitcoin for some silver. See:
Silver or Bitcoin
Check out this article for a run down on the short covering and a look at Exter's Inverse Liquidity Pyramid with silver added to it.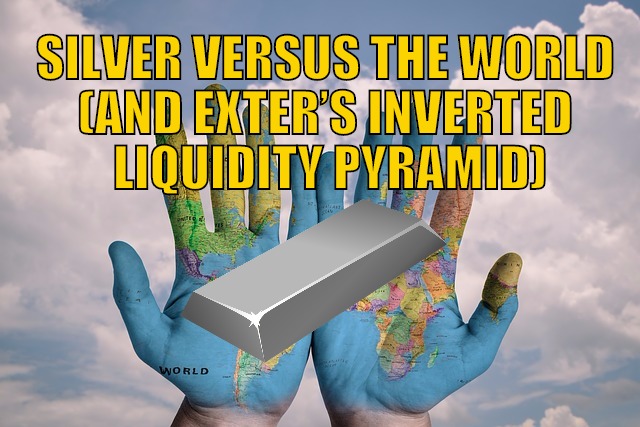 Continues below
—– OFFER FROM OUR SISTER COMPANY: Emergency Food NZ —–
<
Never worry about safe drinking water for yourself or your family again…
The Big Berkey Gravity Water Filter has been tried and tested in the harshest conditions and has time and again proven to be effective in providing safe drinking water all over the globe.
This filter will provide you and your family with over 22,700 litres of safe drinking water. It's simple, lightweight, easy to use, and very cost effective.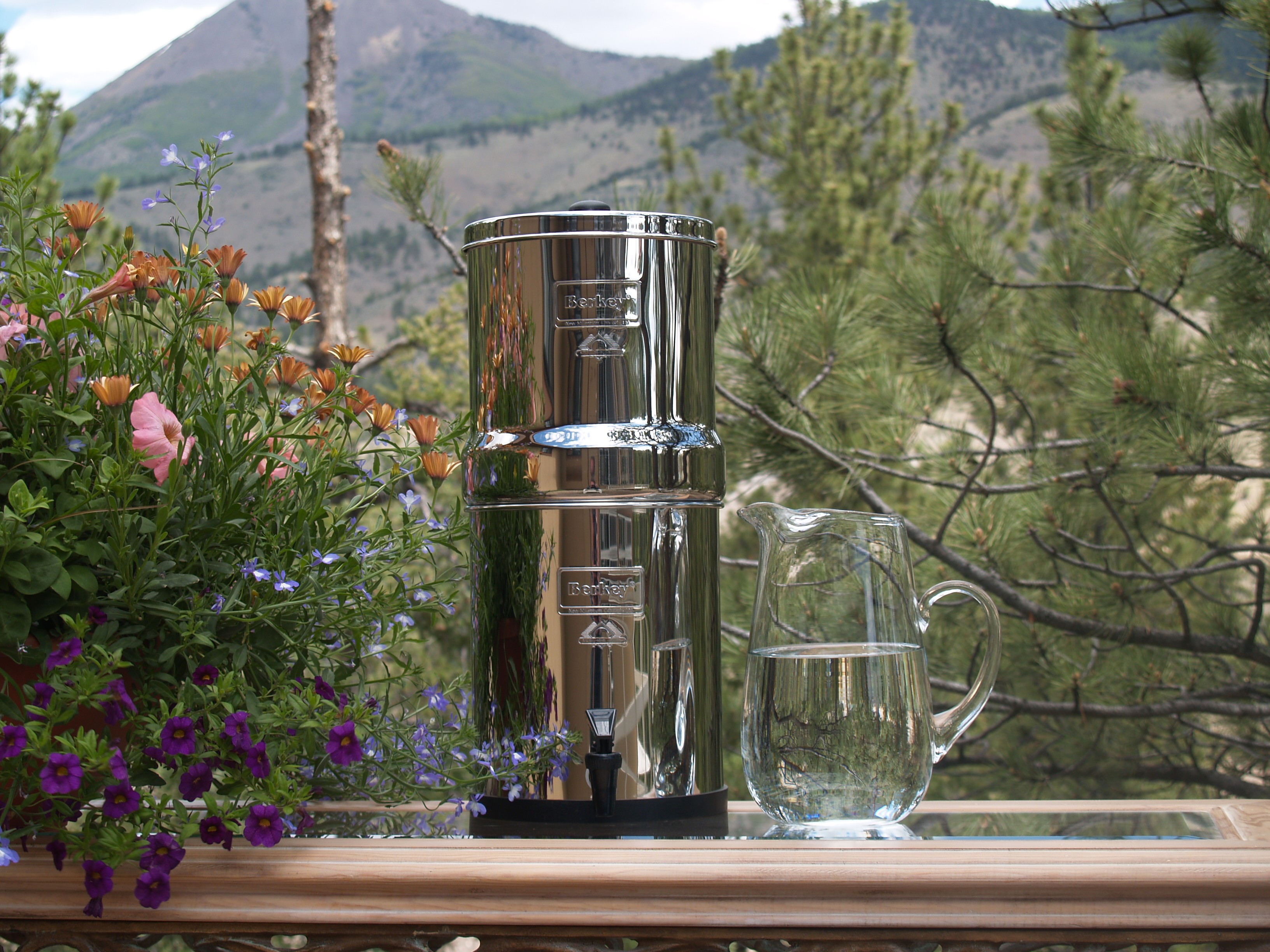 —–
IMF Says NZ Needs Bank Depositor Haircut Exemption of $10,000
The IMF was in town this week, casting their eye over the state of New Zealand's banking system. They had a few recommendations for the government. One of which was the introduction of a bank depositor haircut exemption of $10,000.
Check out our thoughts on how likely that is and how to implement your own personal "deposit insurance".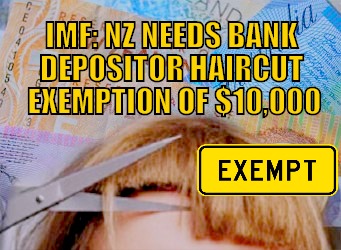 There's a mountain of other articles on the website this week. So we'll sign off here.
With just a final comment that this looks a pretty low risk/high reward entry point for silver especially.
Remember the bonus deal going on every monster box of silver maples ordered expires tomorrow.
— Prepared for Power Cuts? —
[BACK IN STOCK] New & Improved Inflatable Solar Air Lantern
It's easy to use. Just charge it in the sun. Inflate it. And light up a room.
6-12 hours of backup light from a single charge! No batteries, no wires, no hassle. And at only 1 inch tall when deflated, it stores easily in your car or survival kit.
Plus, it's waterproof so you can use it in the water.
—–
This Weeks Articles:
Thu, 11 May 2017 11:57 AM NZST
An IMF report this week on the state of the New Zealand banking system, recommended the government implement a $10,000 "de minimis" exemption to the current Open Bank Resolution (OBR) scheme (a.k.a. bank depositor haircut scheme). This would mean that each bank depositor would get $10,000 exempt from the Reserve Bank of New Zealand's (RBNZ) […]
Wed, 10 May 2017 12:27 PM NZST
When the present debt bubble eventually pops, could governments lose the economic power to continue their advance against economic freedom? The following looks at what we could expect next. Could governments shrink? Will the deep state collapse or grow stronger to protect itself? Read on… When Might the Pillaging End? By Jeff Thomas Recently, I […]
Tue, 9 May 2017 12:22 PM NZST
Discover what was so unique about western civilization that led to the many advances the planet has seen today. But also how we are slowly but steadily backsliding and destroying many of what made western civilization so great… Doug Casey on the End of Western Civilization By Justin Spittler Editor's note: Western Civilization is crumbling… Crisis Investing […]
Tue, 9 May 2017 12:00 PM NZST
What is the value of all the silver in the world versus other assets? Chris Duane demonstrates this using a fantastic infographic. You'll learn about Exter's Inverted liquidity pyramid and why he believes silver should be at the very bottom of this pyramid. To begin with here is a quick summary of Exter's Inverted Liquidity […]
Fri, 5 May 2017 12:57 PM NZST
This article compares preparing for a financial storm with preparing for an actual hurricane of various strengths. It ranks where different countries – from USA, Europe to Australia and NZ – might sit on the financial hurricane spectrum and what life might be like there when a financial storm of various magnitudes hits. Read on […]
Fri, 5 May 2017 12:53 PM NZST
This is a profession open to all. No formal education, credentials, or licenses are required in order to make money as a speculator. But you need to have an understanding of cycles. Here's how to do it… How You Can Make an Absolute Fortune in the Turbulent Years Ahead By Louis James True story: when […]
Thu, 4 May 2017 11:07 PM NZST
This Week: 1930's Gold Sovereign Transaction Shows Gold Undervalued Today Ronni Stoeferle: Retail Bullion Demand is Collapsing – What About in New Zealand? Biggest Bitcoin News No One Is Talking About Insure Your Wealth Against the Fake Valuations! Would you like some assistance with timing your entry into and your eventual exit from gold and […]
As always we are happy to answer any questions you have about buying gold or silver. In fact, we encourage them, as it often gives us something to write about. So if you have any get in touch.
Email:

[email protected]

Phone: 0800 888 GOLD ( 0800 888 465 ) (or +64 9 2813898)
or Online order form with indicative pricing
---
---
---
Note:
Prices are excluding delivery
1 Troy ounce = 31.1 grams
1 Kg = 32.15 Troy ounces
Request special pricing for larger orders such as monster box of Canadian maple silver coins
Lower pricing for local gold orders of 10 to 29ozs and best pricing for 30 ozs or more.
Foreign currency options available so you can purchase from USD, AUD, EURO, GBP
Note: For local gold and silver orders your funds are deposited into our suppliers bank account. We receive a finders fee direct from them. Pricing is as good or sometimes even better than if you went direct.

---
Can't Get Enough of Gold Survival Guide? If once a week isn't enough sign up to get daily price alerts every weekday around 9am Click here for more info
---
Our Mission
To demystify the concept of protecting and increasing ones wealth through owning gold and silver in the current turbulent economic environment.
To simplify the process of purchasing physical gold and silver bullion in NZ – particularly for first time buyers.
---
---
The Legal stuff – Disclaimer: We are not financial advisors, accountants or lawyers. Any information we provide is not intended as investment or financial advice. It is merely information based upon our own experiences. The information we discuss is of a general nature and should merely be used as a place to start your own research and you definitely should conduct your own due diligence. You should seek professional investment or financial advice before making any decisions.
Copyright © 2017 Gold Survival Guide. All Rights Reserved.