This Week:
Could Stagflation Happen Again?
Latest Reports on the New Zealand Economy
Prices and Charts

---
---
Both Metals Bouncing Off Key Support Levels
Despite sharp falls lower for both metals, in New Zealand Dollars terms they look to have bounced up off key support levels.
NZD gold briefly dipped down to horizontal support at $1775, before bouncing higher. So it remains above the low from late 2017. NZD gold has gone from close to overbought to just below neutral in only a matter of days.
The longer term blue uptrend line is not far below current levels too. So any further downside from here is potentially limited.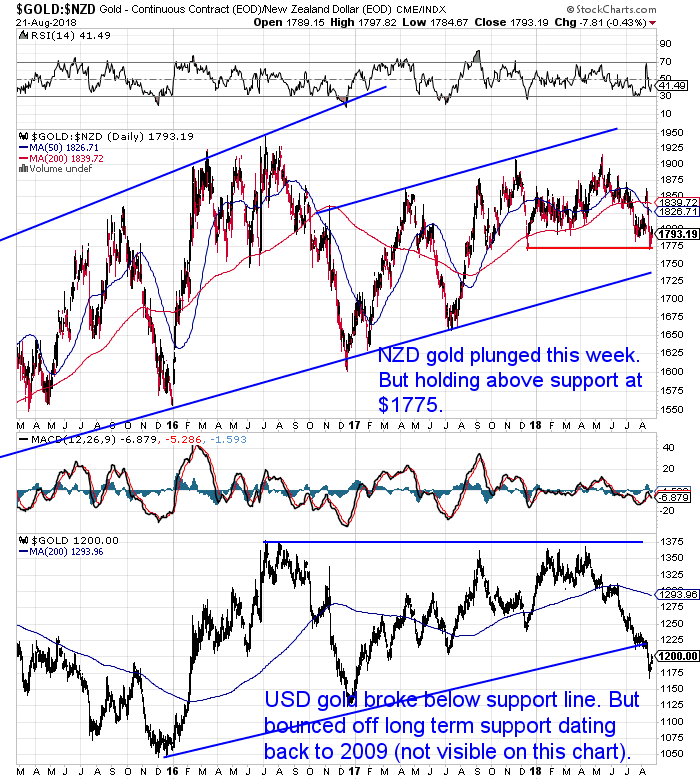 NZD 
Silver

 Best Price to Buy in Over a Year

NZD silver is down close to 4% for the week. However it did bounce off the long term blue uptrend line. So this looks like quite a low risk place to buy.

There is the chance of a further intra-day dip like we saw in July 2017. But were that to happen the difficulty may be in buying at that price. As it could be a very brief dip before bouncing higher.

Overall this looks like a great entry point. Looking back this uptrend line has only been touched 2 other times since 2015. Each time the chance to buy at these levels didn't last long.
Kiwi Dollar Bounces Back
The New Zealand dollar has bounced back from the toweling it took the previous week. Today it sits near 0.67, after getting close to 0.65.
But from here the Kiwi may struggle to get above the 50 day moving average line as it has done since April.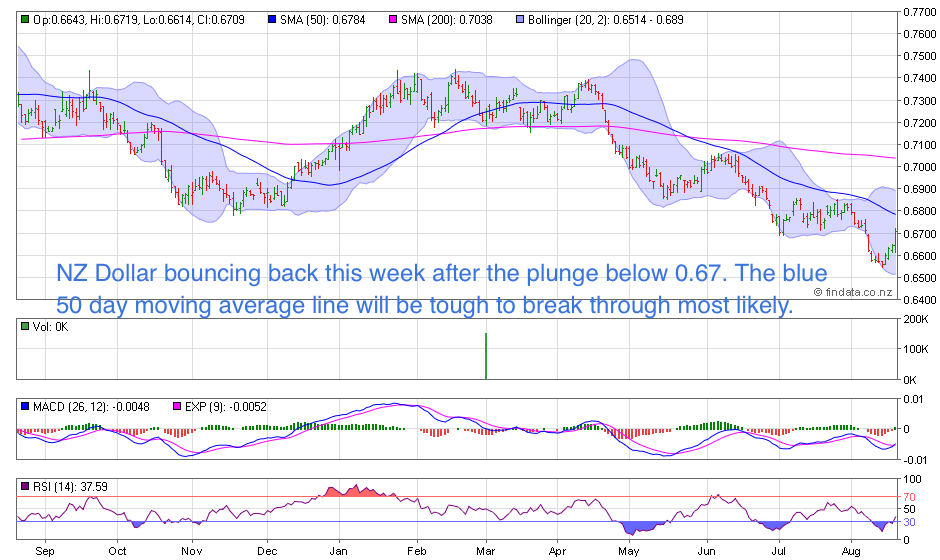 Unsure About Any Terms We Use When Discussing the Charts?
Check out this post if any of the terms we use when discussing the gold, silver and NZ Dollar charts are unknown to you:
Continues below
—– OFFER FROM OUR SISTER COMPANY: Emergency Food NZ —– 
Do you have all the essentials on hand if you need to leave home in a hurry?
Get Your Own Emergency Survival Kit
Now Available. In Stock. Ready to Ship.
Could Stagflation Happen Again?
Lately we've been keeping an eye on a number of indicators that point to a slow down in growth for the New Zealand economy.
Last week we alluded to the idea that were this to happen along with a pick up in wages, we might see a chance of stagflation in New Zealand.
This week we take a closer look at the chances of stagflation recurring.
See what is Stagflation. What causes it. What happened in the 1970's and what is the chance of stagflation occurring here again.
Latest Reports on the New Zealand Economy
There have been some new numbers out this week. Notably migration was down again in July.


"Migration drops more than expected. The net inflow of people arriving in New Zealand eased further in July, surprising Westpac economists who thought a temporary rebound might be on the cards. Stats NZ released its latest migration data today and it shows that annual net migration was 63,800 in the year ending July 2018.
That's down from 65,000 in the ending June 2018 and a decrease of 8,600 from the record high of 72,400 recorded in the year ending June 2017.
The decrease was mainly driven by more non-New Zealand citizen migrants leaving the country. They were up 20% from the July 2017 year to 31,300."
 
Read more
If this trend continues it will add impetus to what we recently wrote about in:
Net Migration Falling – Could This Tip NZ into Recession?
Meanwhile Goldman Sachs reduced its growth expectations for New Zealand. Although they reckon things will pick up again pretty quickly. Their forecast is also higher than the RBNZ's.


"Goldman Sachs has reduced it's Gross Domestic Product (GDP) growth expectations for New Zealand, citing recent weakness in business confidence. The investment bank has also pushed out its Official Cash Rate (OCR) forecast by nine months and is expecting interest rates to be at 3% by 2021." 
However this goes against the views of BNZ's head of research. He believes much of any government stimulus will be offset by other issues:
"The classic example of that is petrol prices; we're seeing a substantial increase and people cannot afford those increases, so it's eroding the gains."
In other words, some of the gains those receiving the benefit of the Families Package would have received through the policy will be offset by other rising costs in the economy.
At the same time, Toplis says New Zealand's economic growth won't be as rosy as the Government or the Reserve Bank have forecast.
"We're seeing migration fall away relatively aggressively and that's slowing down the impetus from population growth," he says.
As well as this, commodity prices have come off their peak, tourism growth is beginning to abate and the housing market is "basically stuck in the mud."
This, along with the lesser impact of the fiscal stimulus, will drag on economic growth.
"In the first instance we know economic growth is going to be below what Treasury expected," Toplis says.  
Earlier this month, Treasury warned that "growth over the coming fiscal year may be weaker-than-forecast in the Budget."
…"[The Reserve Bank] assumes the big fiscal stimulus we have seen, accompanied by relatively low-interest rates, would drive quite a big economic expansion next year.
"We're just not quite as convinced that will happen."
Your Questions Wanted
Remember, if you've got a specific question, be sure to send it in to be in the running for a 1oz silver coin.
ANZ's Economists Have Also Changed Their Tune
ANZ's economists have also changed their tune and now no longer expect official interest rates to rise in the foreseeable future
It doesn't appear that the New Zealand economy is about to drop off a cliff. However there are enough warning signs there to make sure you are prepared just in case. Treasury, central bank and bank economist forecasts are often only adjusted after the "horse has bolted".
Today looks like a very limited buying opportunity in both gold and silver. With silver in particular bouncing up off the long term uptrend line.
Check out the deals going currently.
Email: 

[email protected]

Phone: 0800 888 

GOLD

 ( 0800 888 465 ) (or +64 9 2813898)
or Shop Online with indicative pricing
— Prepared for the unexpected? —
Never worry about safe drinking water for you or your family again…
 

The Big Berkey Gravity Water Filter has been tried and tested in the harshest conditions. Time and again proven to be effective in providing safe drinking water all over the globe.
This filter will provide you and your family with over 22,700 litres of safe drinking water. It's simple, lightweight, easy to use, and very cost effective.
Big Berkey Water Filter
Only Only One Left in Stock – Learn More NOW….
—–
This Weeks Articles:
Wed, 22 Aug 2018 9:07 AM NZST
Could the New Zealand (and global) economy be headed for stagflation? See just what stagflation is, what causes stagflation and what offers the best protection from it… In last week's article "Why the Push for Higher Wages May be at Just the Wrong Time", we mentioned that there is the possibility of New Zealand (and […]
The post Could Stagflation Happen Again? appeared first on Gold Survival Guide.
Sat, 18 Aug 2018 12:19 PM NZST
This Week: NZ Dollar Falls – Why is the NZ Dollar Weaker and Where to Now? RBNZ Prepared to Print Money and Implement Negative Interest Rates in a Crisis Why the Push for Higher Wages May be at Just the Wrong Time What's Going on in Turkey? Why is the Lira Plummeting? Prices and Charts […]
The post What's Going on in Turkey? Will it Spread? appeared first on Gold Survival Guide.
As always we are happy to answer any questions you have about buying 

gold

 or 

silver

. In fact, we encourage them, as it often gives us something to write about. So if you have any get in touch.
Email: 

[email protected]

Phone: 0800 888 

GOLD

 ( 0800 888 465 ) (or +64 9 2813898)
or Online order form with indicative pricing
---
---
---
Note:
Prices are excluding delivery
1 Troy ounce = 31.1 grams
1 Kg = 32.15 Troy ounces
Request special pricing for larger orders such as monster box of Canadian maple 

silver

 coins
Lower pricing for local 

gold

 orders of 10 to 29ozs and best pricing for 30 ozs or more.
Foreign currency options available so you can purchase from USD, AUD, EURO, GBP
Plus we accept Bitcoin, Bitcoin Cash, Visa and Mastercard
Note: For local 

gold

 and 

silver

 orders your funds are deposited into our suppliers bank account. We receive a finders fee direct from them. Pricing is as good or sometimes even better than if you went direct.

---
Can't Get Enough of 

Gold

 Survival Guide?
If once a week isn't enough sign up to get daily price alerts every weekday around 9am Click here for more info
---
---
The Legal stuff – Disclaimer:
We are not financial advisors, accountants or lawyers. Any information we provide is not intended as investment or financial advice. It is merely information based upon our own experiences. The information we discuss is of a general nature and should merely be used as a place to start your own research and you definitely should conduct your own due diligence. You should seek professional investment or financial advice before making any decisions.
Copyright © 2018 

Gold

 Survival Guide.
All Rights Reserved.