This Week:
How Might War with North Korea Affect the Gold and Silver Price?
The Coming Gold "Break Out"
How to Stay Up to Date on Gold & Silver News and Deals
Prices and Charts

Looking to sell your gold and silver?
Buying Back 1oz NZ Gold 9999 Purity
$1692
Buying Back 1kg NZ Silver 999 Purity
$703
We'll be brief today as we have a funeral to run out the door to shortly. But we've got a bit of reading for you on the website this week anyway.
NZD Gold and Silver Both Shooting Higher This Week
Both metals were up around 1.7% on last week. Getting an extra boost from the weakening NZ dollar.
Gold in NZ dollars is now well above the 200 day moving average. But after jumping sharply higher this week, it is also getting very close to overbought territory on the RSA indicator (see top of chart). So odds are before too long we should see a pull back, perhaps to around the 200 day MA level around $1735.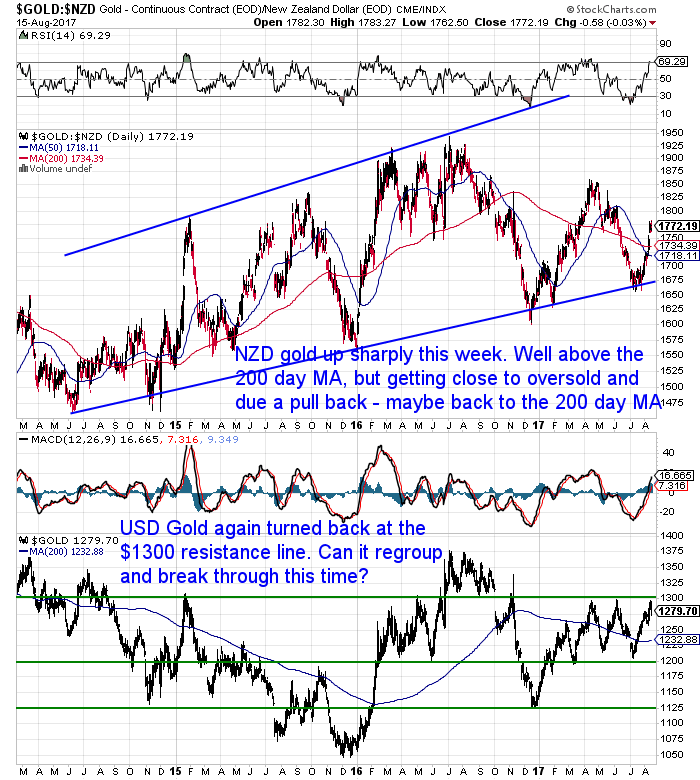 NZD silver has also jumped very sharply. Although it possibly has a little more room to run higher yet. It hasn't reached the 200 day MA and is not overbought yet.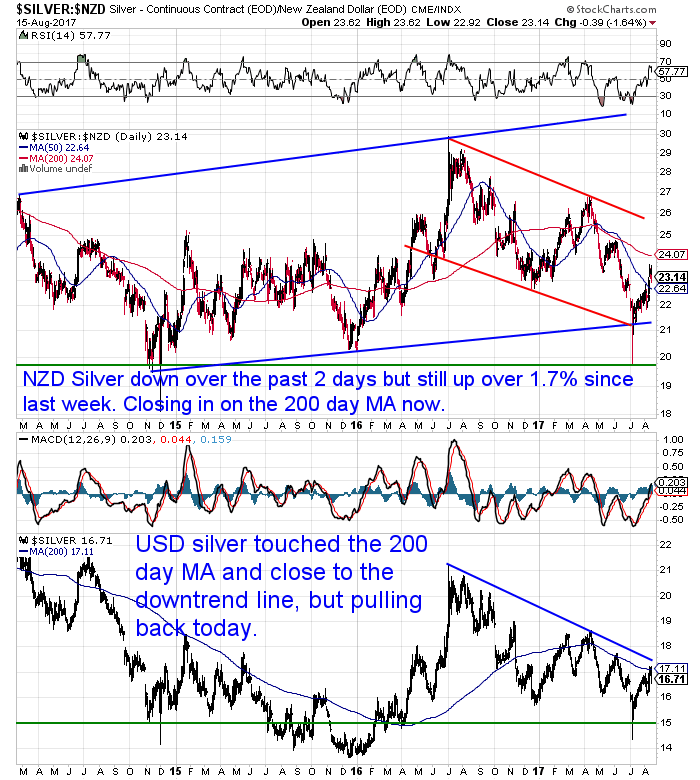 The Kiwi Dollar continued to plummet this week. Now down below the 50 day MA and well into oversold territory. Also at the bottom of the lower Bollinger band (the blue shaded area). So we could see the Kiwi hold up here. But we wonder if it might yet test the 200 day MA just above 0.71, as any interest rate rises here look to be some way off currently.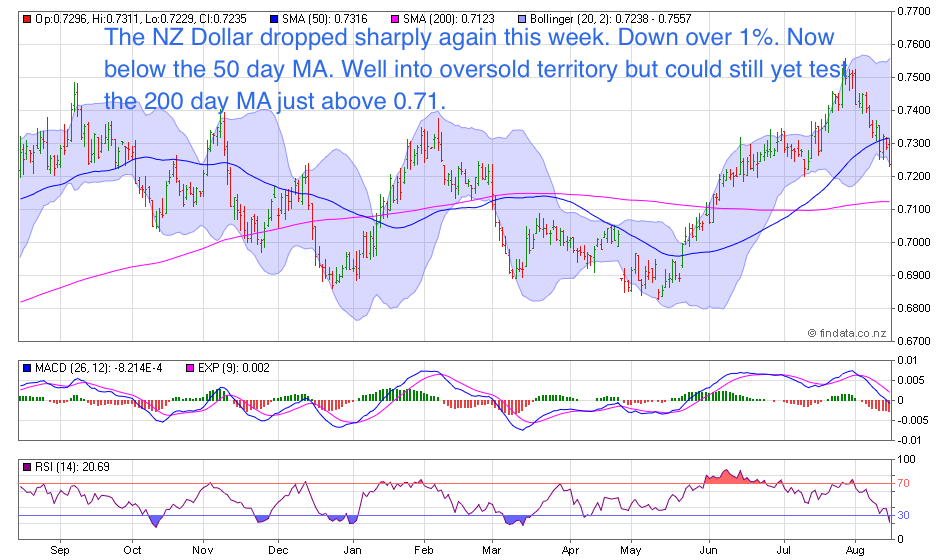 Reminder: Win A Silver Coin Every Month
Today's article on the impact of war on gold and silver prices is from a reader question. So just a reminder to send in any question you have and be in to win a silver coin every month.
See this post for details on our monthly award for the best question we receive. Send us your question if you've got one.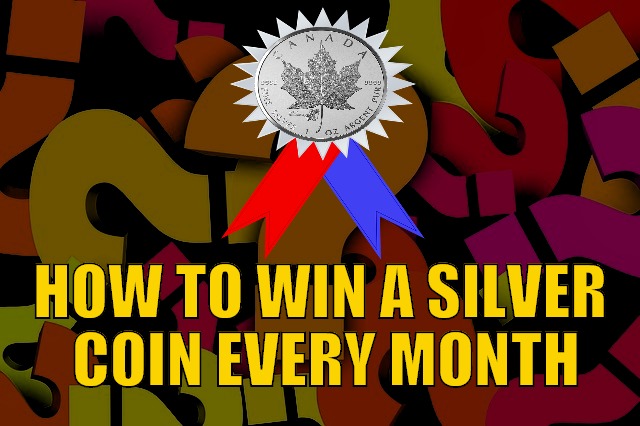 Continues below
—– OFFER FROM OUR SISTER COMPANY: Emergency Food NZ —–
Do you have all the essentials on hand if you need to leave home in a hurry?
Get Your Own Emergency Survival Kit
Now Available. In Stock. Ready to Ship.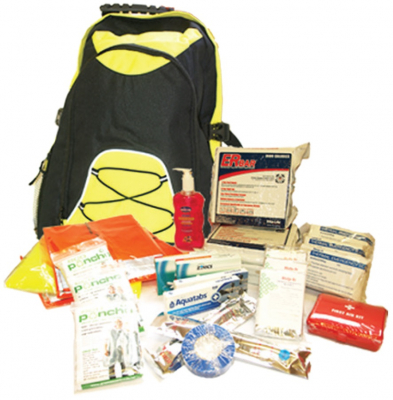 Grab Your Own Grab 'n' Go Bag NOW….
—–
Both metals are up sharply this week but in the long run we're still not too far above the recent lows. Still a decent time to be purchasing gold and silver as long term "financial insurance". But keep an eye out for possible lower prices in the next week or so too.
Call David on 0800 888 465 for a quote or with any questions.
Phone: 0800 888 GOLD ( 0800 888 465 ) (or +64 9 2813898)
or Online order form with indicative pricing
— Prepared for Power Cuts? —
[BACK IN STOCK] New & Improved Inflatable Solar Air Lantern
It's easy to use. Just charge it in the sun. Inflate it. And light up a room.
6-12 hours of backup light from a single charge! No batteries, no wires, no hassle. And at only 1 inch tall when deflated, it stores easily in your car or survival kit.
Plus, it's waterproof so you can use it in the water.
—–
This Weeks Articles:
Tue, 15 Aug 2017 8:10 PM NZST
Get Browser Push Notifications and Stay Up to Date on Gold & Silver Research & Deals Odds are you may not have any idea what a "push notification" is! But you may get push notifications currently if you use the likes of Facebook. When you have a web browser open on your computer these pop […]
Tue, 15 Aug 2017 12:55 PM NZST
In this comprehensive overview of where the gold market sits currently, Jim Rickards looks at: The physical gold market The paper gold market Central bank buying of gold The possibility of war with North Korea The likelihood of a further US Federal Reserve rate hike Whether the gold break out will be to the upside […]
Mon, 14 Aug 2017 6:01 PM NZST
War and Gold and Silver Prices Rattle. Rattle. That is the sound of sabres being well and truly shaken in Washington and Pyongyang in recent weeks. The rhetoric from both sides has certainly escalated to where the odds of war with North Korea have certainly risen lately. So if a war began, how might this […]
Thu, 10 Aug 2017 3:42 AM NZST
SILVER SPECIAL TODAY Wanting Some Great Value Minted Silver Bars? LIMITED STOCK – Just 2 Remaining Sunshine Minting (USA) 100oz .999 Silver Minted Bars $2535 each pick up (Insured delivery price add $9.20 per 100oz bar) Note: Compare to locally refined cast 100oz bars at $2514 each – pick up Ph 0800 888 465 or […]
Wed, 9 Aug 2017 12:05 PM NZST
In this post you'll learn: What is a legal tender silver or gold coin? Why are they given the specific face value they have? What use would these legal tender coins be in a currency collapse situation? The questions are coming thick and fast! Hope we can keep up with them! This is the latest […]
Tue, 8 Aug 2017 6:22 PM NZST
Interesting to see a mainstream news organisation in Australia reporting on the state of the Reserve Bank of Australia's gold reserves. The Wentworth Report's David Evan summarised and commented on an article published by "The Australia" last week. Check out David's thoughts, then we'll have some comments of our own at the end about New Zealand's […]
As always we are happy to answer any questions you have about buying gold or silver. In fact, we encourage them, as it often gives us something to write about. So if you have any get in touch.
Phone: 0800 888 GOLD ( 0800 888 465 ) (or +64 9 2813898)
or Online order form with indicative pricing
---
---
---
Note:
Prices are excluding delivery
1 Troy ounce = 31.1 grams
1 Kg = 32.15 Troy ounces
Request special pricing for larger orders such as monster box of Canadian maple silver coins
Lower pricing for local gold orders of 10 to 29ozs and best pricing for 30 ozs or more.
Foreign currency options available so you can purchase from USD, AUD, EURO, GBP
Note: For local gold and silver orders your funds are deposited into our suppliers bank account. We receive a finders fee direct from them. Pricing is as good or sometimes even better than if you went direct.

---
Can't Get Enough of Gold Survival Guide? If once a week isn't enough sign up to get daily price alerts every weekday around 9am Click here for more info
---
Our Mission
To demystify the concept of protecting and increasing ones wealth through owning gold and silver in the current turbulent economic environment.
To simplify the process of purchasing physical gold and silver bullion in NZ – particularly for first time buyers.
---
---
The Legal stuff – Disclaimer: We are not financial advisors, accountants or lawyers. Any information we provide is not intended as investment or financial advice. It is merely information based upon our own experiences. The information we discuss is of a general nature and should merely be used as a place to start your own research and you definitely should conduct your own due diligence. You should seek professional investment or financial advice before making any decisions.
Copyright © 2017 Gold Survival Guide. All Rights Reserved.