Prices and Charts

---
---
NZD Gold Rising Further Off Uptrend Line
Gold in New Zealand Dollars was up further from the uptrend line this week. Rising $33 dollars to now be right on the 200 day moving average (MA) line. From here we may see NZD gold dip back down to retest the blue uptrend line. If that happens it will likely be another great buying opportunity for anyone who has been sitting on the sidelines.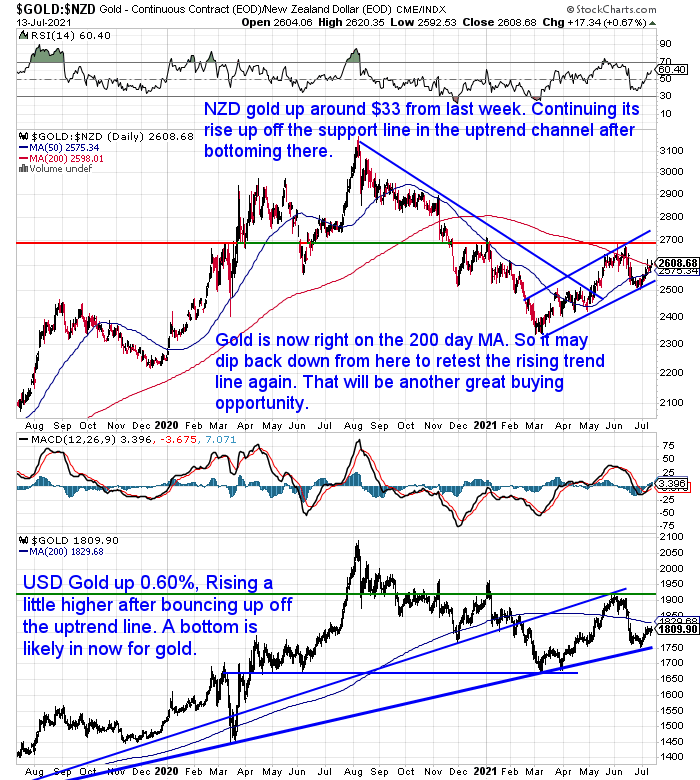 No Change for NZD Silver
Silver in New Zealand dollars is basically unchanged from last week. It remains a little up off the rising blue trendline. Sitting in between the 50 and 200 day moving averages. It's likely silver has made a bottom in this correction. So any dip back to the blue uptrend line is likely to be a good buying opportunity.
The weaker Kiwi dollar has helped to hold the local silver price up, with the US silver price down 0.75%. Silver is trading in a clear wedge formation. With a fair bit of room to run higher before it touches the upper boundary of this wedge.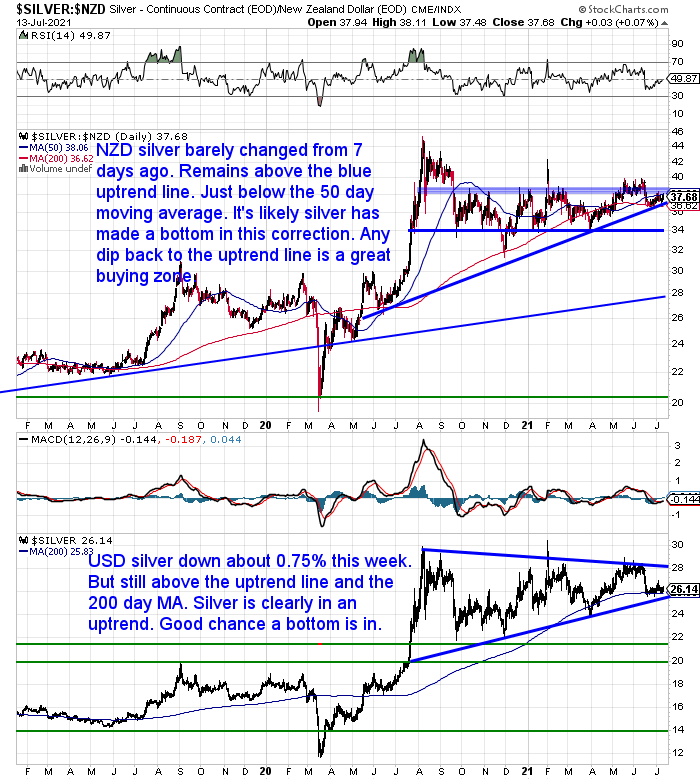 NZ Dollar Down almost 50 Basis Points This Week
As noted already the New Zealand dollar was markedly lower this past 7 days. The NZD remains well under the 200 day MA. Today it is back down close to the recent low.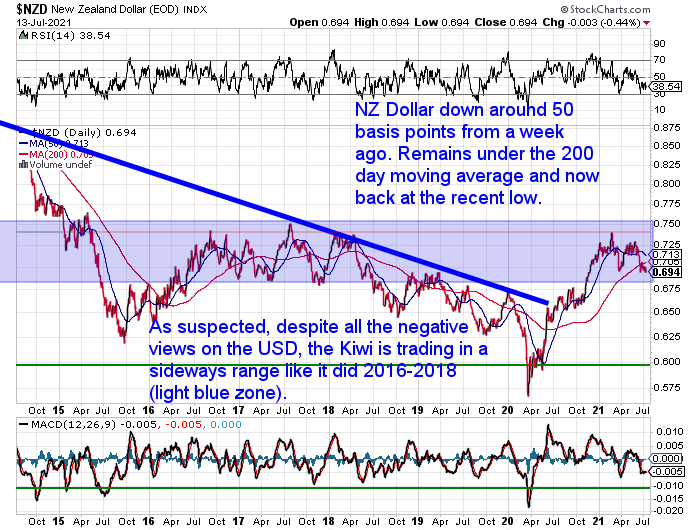 Need Help Understanding the Charts?
Check out this post if any of the terms we use when discussing the gold, silver and NZ Dollar charts are unknown to you:
Continues below
—– OFFER FROM OUR SISTER COMPANY: Emergency Food NZ —–
NEW: Certified Organic Long Life Emergency Food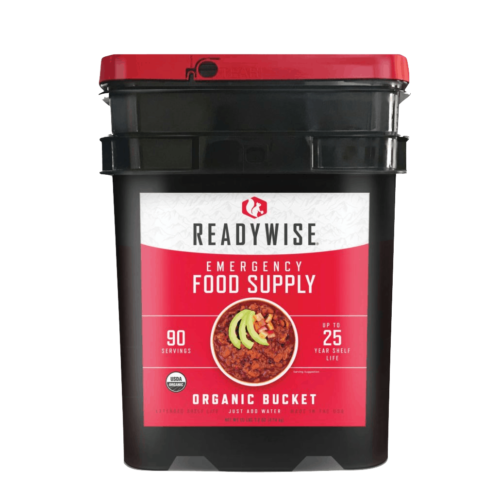 This easy to carry bucket has 90 servings of organic breakfasts and mains
Free Shipping NZ Wide
Get Peace of Mind For Your Family NOW….

  
—–
NZ Bank Economists vs Global FX Markets
There is much talk from the bank economists that the RBNZ will have to raise interest rates before the end of the year.
But despite this the NZD has remained fairly subdued – trading sideways all this year. In fact, shorter term, the trend has been down for the past few weeks.
So this points to the foreign currency traders not believing that interest rate hikes are as close as the bank economists say they are. Roger Kerr pointed this out earlier in the week:
"The higher than expected GDP growth result in the March quarter of +1.60% and the increase in business confidence in the NZIER quarterly survey last week have convinced the bank economists and NZ interest rate markets that the RBNZ will be hiking the OCR before the end of the year. In years gone by, such a sudden ramping up of pricing and expectations would have sent the Kiwi dollar value northwards.
However, over this last week the NZD has moved in completely the opposite direction i.e. the FX markets do not buy into the local hype about how our economy will perform over the next 12 months and the RBNZ responses to that unfolding economic picture.
You would have to back the global FX markets as being on the right side of this massive divergence in opinion.
The FX markets are saying, which aligns to the author's view, that New Zealand will not achieve the 4% to 5% GDP growth the RBNZ and banks are all forecasting, as we have lost our largest industry and productive output will be constrained by the severe labour shortages due to no immigration.
It would only take further falls in dairy and log commodity prices over coming months to further dent our GDP growth prospects."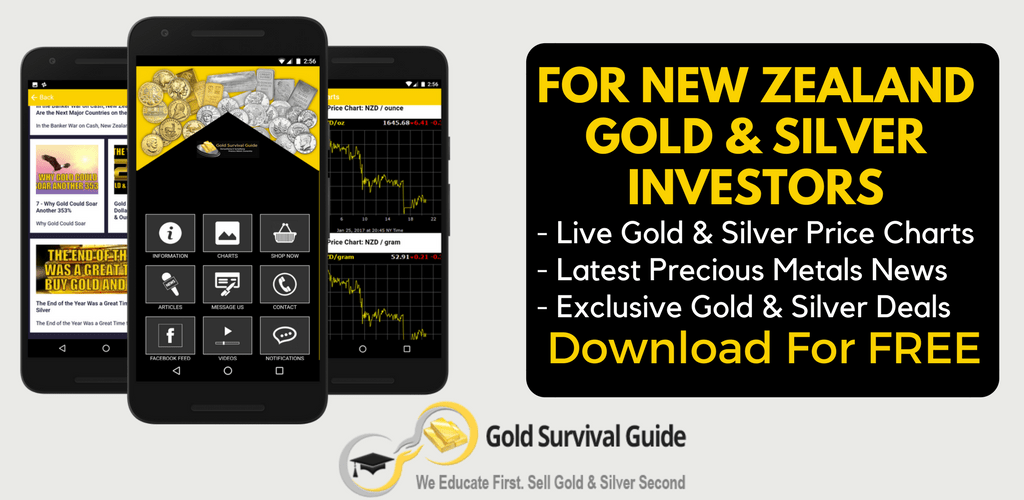 Your Questions Wanted
Remember, if you've got a specific question, be sure to send it in to be in the running for a 1oz silver coin.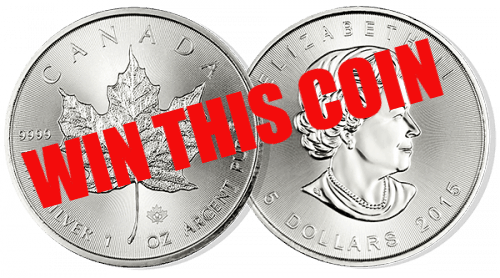 Carrying Gold into a Foreign Country in 2021. What are the Rules?
There are not so many people crossing the borders at the moment. But there are still people trying to return to or even to immigrate to New Zealand and elsewhere.
We had a question just last week from someone who had a family member arriving in New Zealand and wanted to know about the best way to bring their gold into the country. In the past we have organised fully insured shipping of bullion from one country to another. So if you or someone you know requires that then get in touch.
Anyway this question prompted us to take a further look at the rules around carrying gold across borders. We also look at the rules in terms of importing gold (and silver) into New Zealand.
This week's feature article covers:
Is Carrying Gold into A Foreign Country Illegal?
When Carrying Gold into a Foreign Country, Do You Have to Declare Legal Tender Gold Coins Face Value or Metal Value?
Carrying Gold into The USA
What About Importing or Carrying Gold into New Zealand?
What is the Safest Course of Action When Carrying Gold into a Foreign Country?
An Alternative To Carrying Gold Into A Foreign Country
Bonus Tip on Carrying Gold to Foreign Countries
Late Update: RBNZ to Stop QE This Month
Just as we were getting ready to send this out, the Reserve Bank has announced that they will end their Large-Scale Asset Purchase (LSAP) programme by July 23. This is central banker speak for currency printing. Where the central bank buys NZ government bonds with currency it creates from nothing.
Originally the LSAP was due to continue into 2022. However it seems the RBNZ is finally realising how much of an impact this has had in distorting the New Zealand economy.
The Official Cash Rate (OCR) remains at the record low of 0.25%. The Funding for Lending Programme (FLP) is also unchanged. This gives banks access to lending at the (OCR) for a term of three years. Where normally this is of a short term duration only.
So in a nutshell credit remains very easy and is likely to further stoke distortions in the New Zealand economy yet. Don't expect a collapse in house prices any time soon.
The Kiwi dollar has jumped in response, but is still up only around 60 basis points. So not a huge jump considering. But that puts the dollar back about where it was a week ago. As a result NZD gold is down about $18 from what we had written earlier. While silver is down a further 27 cents.
So if you were looking to buy you get a further discount care of the RBNZ. Right now is even better buying than it was an hour ago.
Local Silver Bars Available Again
Local silver bars are finally in stock again. Local suppliers have 1kg silver bars available again. Along with local silver 5oz bars, we also now have 10 oz bars and 500g local silver bars. Limited stock but available now. The 500g bars are not yet on the website. So phone or email for a quote for those.
We also again have ABC serial numbered 1kg bars in stock. These are actually cheaper than comparable bars we've seen advertised lately in the USA. So silver down under is well priced globally at the moment.
Also now in stock are 10oz ABC silver bars and 500g ABC silver bars. Phone or email to order them.
Phone: 0800 888 GOLD ( 0800 888 465 ) (or +64 9 2813898)
or Shop Online with indicative pricing
— Prepared for the unexpected? —
Never worry about safe drinking water for you or your family again…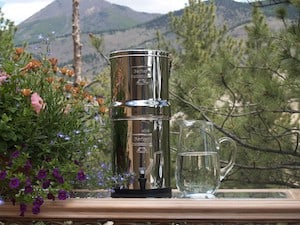 The Berkey Gravity Water Filter has been tried and tested in the harshest conditions. Time and again proven to be effective in providing safe drinking water all over the globe.
This filter will provide you and your family with over 22,700 litres of safe drinking water. It's simple, lightweight, easy to use, and very cost effective.
—–
This Weeks Articles:
Thu, 8 Jul 2021 12:36 PM NZST
Prices and Charts Looking to sell your gold and silver? Visit this page for more information Buying Back 1oz NZ Gold 9999 Purity $2469 Buying Back 1kg NZ Silver 999 Purity $1164 Correction Over? It Looks Like Gold Has Bottomed Out Gold in New Zealand dollars is up $45 from 7 days ago. It has […]
The post Runaway House Prices: The 'Winners and Losers' From the Pandemic appeared first on Gold Survival Guide.
Tue, 6 Jul 2021 5:35 PM NZST
Here's a reader question that's likely crossed your mind recently too… "Will New Zealand house prices ever fall?" Reader Jim R. writes: "There may or may not be a question here but I thought I'd ask. It's more based around property but may be linked. As inflation is here to stay for a while the […]
The post Will New Zealand Property Prices Ever Fall? appeared first on Gold Survival Guide.
Wed, 30 Jun 2021 12:17 PM NZST
Prices and Charts Looking to sell your gold and silver? Visit this page for more information Buying Back 1oz NZ Gold 9999 Purity $2424 Buying Back 1kg NZ Silver 999 Purity $1149 NZD Gold Back on the Uptrend Line Gold in New Zealand dollars edged higher during the past 7 days, but fell overnight, to […]
The post RBNZ 3rd Largest Holder of Sovereign Bonds & Central Banks Are Trapped appeared first on Gold Survival Guide.
As always we are happy to answer any questions you have about buying gold or silver. In fact, we encourage them, as it often gives us something to write about. So if you have any get in touch.
Phone: 0800 888 GOLD ( 0800 888 465 ) (or +64 9 2813898)
or Online order form with indicative pricing
---
---
---
Note:
Prices are excluding delivery
1 Troy ounce = 31.1 grams
1 Kg = 32.15 Troy ounces
Request special pricing for larger orders such as monster box of Canadian maple silver coins
Lower pricing for local gold orders of 10 to 29ozs and best pricing for 30 ozs or more.
Foreign currency options available so you can purchase from USD, AUD, EURO, GBP
Plus we accept BTC, BCH, Visa and Mastercard
Note: For local gold and silver orders your funds are deposited into our suppliers bank account. We receive a finders fee direct from them. Pricing is as good or sometimes even better than if you went direct.


---
Can't Get Enough of Gold Survival Guide?
If once a week isn't enough sign up to get daily price alerts every weekday around 9am Click here for more info
---
---
The Legal stuff – Disclaimer:
We are not financial advisors, accountants or lawyers. Any information we provide is not intended as investment or financial advice. It is merely information based upon our own experiences. The information we discuss is of a general nature and should merely be used as a place to start your own research and you definitely should conduct your own due diligence. You should seek professional investment or financial advice before making any decisions.
Copyright © 2020 Gold Survival Guide.
All Rights Reserved.