Prices and Charts
---
Looking to sell your 

gold

 and silver?
Buying Back 1oz NZ 

Gold

 9999 Purity
$1831
Buying Back 1kg NZ Silver 999 Purity
$680
---
NZD 
Gold

 Down This Week But Bouncing Back Today

Overnight gold in NZ dollars got down as low as $1884. However a sharp fall in the Kiwi dollar (more on that soon) boosted gold back up close to the 50 day moving average again. As we write gold is at $1904.

This bounce higher isn't shown in the chart below as the closing price on stockcharts came in before the fall in the NZ dollar.

So NZD gold remains well supported around the $1775 level. Staying above this mark since January. Anywhere close to that mark looks to be an excellent buying zone. But if this morning's jump was anything to go by, you may need to be in fast for these "buy the dip" opportunities.
Silver Also Bouncing
Like gold, silver in NZ dollars also jumped higher this morning. Earlier on silver was sitting right on $22. But after the Kiwi dollar fall, nzd silver is back at $22.40. Once again right in between the 50 and 200 day moving averages.
So for silver buying anywhere near this $22 level has been a good buying zone for the past couple of months.
NZ Dollar Drops Sharply After Weaker Than Expected CPI Numbers
As mentioned above, the Kiwi dollar dropped sharply this morning when Statistics NZ released the latest Consumer Price Inflation (CPI) numbers.
"The New Zealand dollar fell by one US cent after Stats NZ data showed inflation eked out just a small gain in the March quarter, upping the ante for an interest rate cut next month.
The CPI rose 0.1 per cent in the March quarter bringing the annual rate of inflation to 1.5 per cent, down from 1.9 per cent in December, Stats NZ said.
The Kiwi dropped as low as US66.72c from US67.77c immediately before the release.
Economists had predicted the CPI rose 0.3 per cent in the three months ended March 31, for an annual increase of 1.7 per cent, according to the median estimate from a poll of economists by Bloomberg."
We imagine the theory is that lower inflation adds weight to the notion that the central bank could cut the OCR soon – the above report reckons even as early as May.
Will the NZ Dollar Fall Further?
The chart below shows the NZ dollar closing below 0.67. This has been the support line since November last year. So a close below that points to lower prices ahead.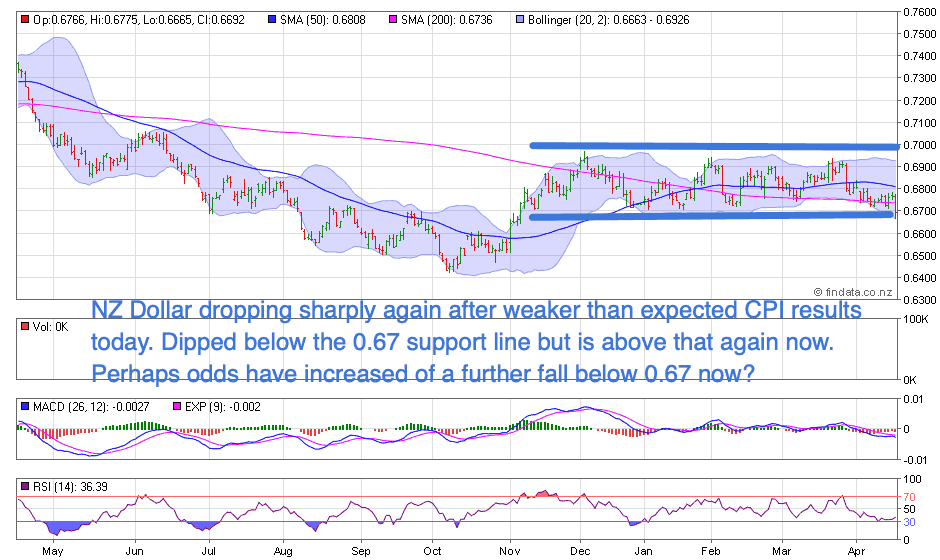 However the dollar only dipped briefly below 0.67 this morning. As we write it sits just above that mark. So we'd need to see a more conclusive move below the support line first.
But perhaps the odds have increased of a further fall for the NZ dollar now? We'd still say a potentially weaker NZ dollar is still – as we wrote last year – The Number One Reason to Buy Gold in New Zealand Today.
Need Help Understanding the Charts?
Check out this post if any of the terms we use when discussing the gold, silver and NZ Dollar charts are unknown to you:
Continues below
—– OFFER FROM OUR SISTER COMPANY: Emergency Food NZ —–
Preparation also means having basic supplies on hand.
Are you prepared for when the shelves are bare?
For just $240 you can have a 56 serving emergency food supply.
Free Shipping NZ Wide.
Smaller Emergency Food Packs Now Available.
The RBA is Destroying The Australian Economy…and No One Cares. Is the RBNZ Destroying the New Zealand Economy Too?
Last week we read an excellent post by Greg Canavan on how the Reserve Bank of Australia is destroying the Aussie economy.
This got us thinking about the impact of our own central banks interest rate manipulations since the financial crisis.
We cover a fair bit of ground in this post including:
How New Zealand is still at record low interest rates despite the "good times" we've seen in recent years.
How house prices are softening at the same time as household debt is also at record highs.
How real interest rates in New Zealand are also negative.
Then we look at what does this all mean for New Zealand?
And finally what will happen from here? Including the odds of money printing arriving in New Zealand.
So if you're after a summary of where New Zealand currently sits check that out.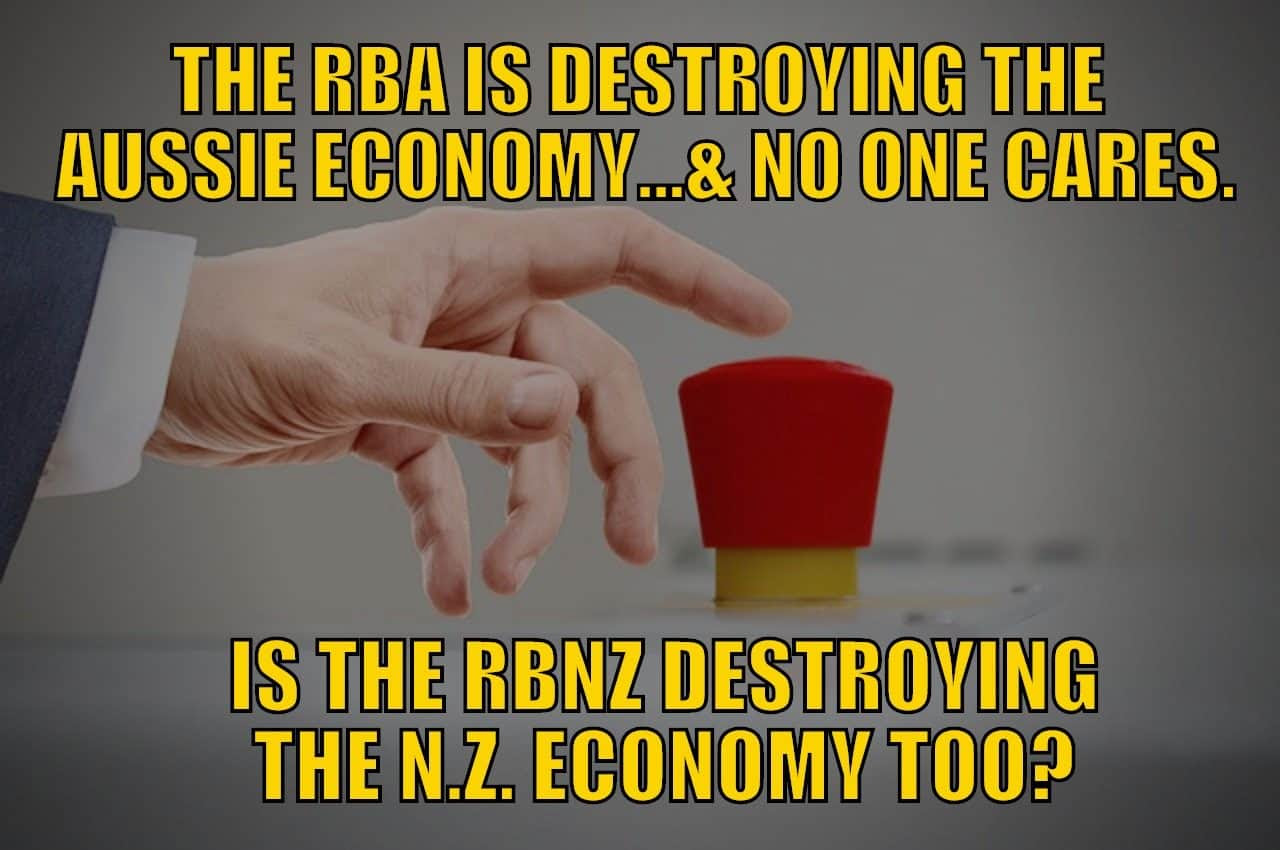 Your Questions Wanted
Remember, if you've got a specific question, be sure to send it in to be in the running for a 1oz silver coin.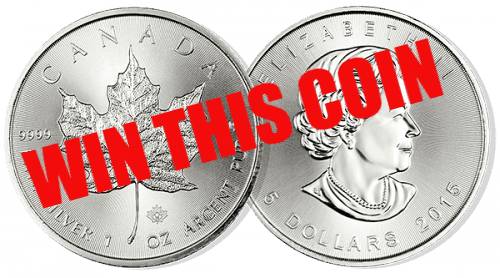 There's plenty of reading in this weeks feature article. So we'll sign off there for this week.
Remember both gold and silver are hovering just above recent support levels. There are plenty of downside risks both at home and abroad currently.
So if you're sitting on the sidelines, now is as good a time as any to take an initial position in either precious metal.
Email: 

[email protected]

Phone: 0800 888 

GOLD

 ( 0800 888 465 ) (or +64 9 2813898)
or Shop Online with indicative pricing
— Prepared for the unexpected? —

Never worry about safe drinking water for you or your family again…

The Big Berkey Gravity Water Filter has been tried and tested in the harshest conditions. Time and again proven to be effective in providing safe drinking water all over the globe.
This filter will provide you and your family with over 22,700 litres of safe drinking water. It's simple, lightweight, easy to use, and very cost effective.
Royal Berkey Water Filter
—–
This Weeks Articles:
Mon, 8 Apr 2019 12:01 PM NZST
The New Zealand central bank is aiming to increase the amount of capital New Zealand Banks must hold. Why would they want to do this? Does the Reserve Bank of New Zealand (RBNZ) see some troubles looming on the horizon? Read on to find out… IMF's Dire Warning on Global Economy In the Herald in […]
The post Bank Capital Changes: What is the RBNZ Preparing For? appeared first on GoldSurvival Guide.
Sat, 6 Apr 2019 12:22 PM NZST
Prices and Charts Looking to sell your gold and silver? Visit this page for more information Buying Back 1oz NZ Gold 9999 Purity $1840 Buying Back 1kg NZ Silver 999 Purity $681 NZD Gold at Top of Recent Trading Range The price of gold in NZ dollars is just a tad higher than a week ago. Sitting at the top of the recent […]
The post Will the Fed Create Inflation This Time? appeared first on Gold Survival Guide.
As always we are happy to answer any questions you have about buying 

gold

 or silver. In fact, we encourage them, as it often gives us something to write about. So if you have any get in touch.
Email: 

[email protected]

Phone: 0800 888 

GOLD

 ( 0800 888 465 ) (or +64 9 2813898)
or Online order form with indicative pricing
---
---
---
Note:
Prices are excluding delivery
1 Troy ounce = 31.1 grams
1 Kg = 32.15 Troy ounces
Request special pricing for larger orders such as monster box of Canadian maple silver coins
Lower pricing for local 

gold

 orders of 10 to 29ozs and best pricing for 30 ozs or more.
Foreign currency options available so you can purchase from USD, AUD, EURO, GBP
Plus we accept BTC, BCH, Visa and Mastercard
Note: For local 

gold

 and silver orders your funds are deposited into our suppliers bank account. We receive a finders fee direct from them. Pricing is as good or sometimes even better than if you went direct.

---
Can't Get Enough of 

Gold

 

Survival

 Guide?
If once a week isn't enough sign up to get daily price alerts every weekday around 9am Click here for more info
---
---
The Legal stuff – Disclaimer:
We are not financial advisors, accountants or lawyers. Any information we provide is not intended as investment or financial advice. It is merely information based upon our own experiences. The information we discuss is of a general nature and should merely be used as a place to start your own research and you definitely should conduct your own due diligence. You should seek professional investment or financial advice before making any decisions.
Copyright © 2019 

Gold

 

Survival

 Guide.
All Rights Reserved.