This Week:
Should I Buy 

Gold

 or Silver? 7 Factors to Consider in 

Gold

 vs Silver
The Seven Pillars of 

Gold
Prices and Charts
---
---
NZ$1875 Still to Fall
Gold in NZ dollars holding fairly steady from last week. Has yet to break conclusively through the $1875 mark, but still near the 2018 highs of a week ago.
Silver: Still Needs 
Gold

 to Breakout First

In contrast silver has pulled back quite sharply – down 1.45%. Getting close to the 50 day moving average. NZD Silver is back near the top of the recent trading range and likely in a good shorter term buying zone.
NZ Dollar Still Falling
The Kiwi dollar has continued its recent fall. Down nearly 1% on a week ago and sitting just under the 0.70 mark. It is the NZ Dollar weakness that has held up local gold and silver prices.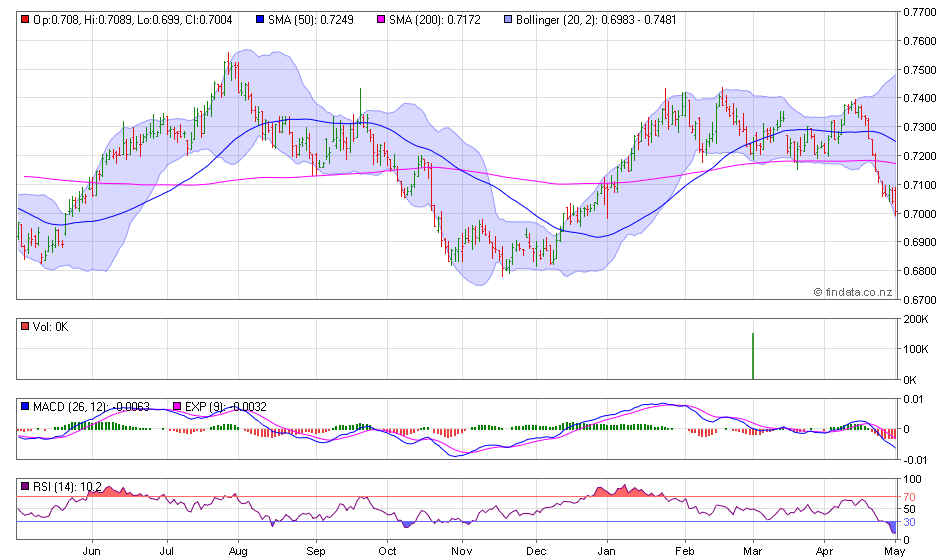 Unsure About Any Terms We Use When Discussing the Charts?
Check out this post if any of the terms we use when discussing the gold, silver and NZ Dollar charts are unknown to you:
Continues below
—– OFFER FROM OUR SISTER COMPANY: Emergency Food NZ —– 
Do you have all the essentials on hand if you need to leave home in a hurry?
Get Your Own Emergency Survival Kit
 Now Available. In Stock. Ready to Ship.
Should I Buy 
Gold

 or Silver? 7 Factors to Consider in

Gold

 vs Silver

Looking back we realised we have never covered in detail perhaps one of the most important questions people have when buying gold and silver:

Which one should I buy?

So in this week's feature article we tackle the topic. We look at 7 factors you should take into consideration when choosing between gold and silver:

1. Crisis Hedge
2. Volatility
3. Affordability
4. Mark Ups or Margins Over Spot Price
5. Storage
6. Ability to be Borrowed Against
7. Potential Upside

If you are pushed for time you can skim through the conclusions to each point by reading our "deciding between gold or silver tips".
Then check out the other posts on the blog.
The Seven Pillars of 
Gold
Also then check out the Seven Pillars of Gold which includes why gold is poised for a breakout pretty soon.
The Seven Pillars of Gold
https://goldsurvivalguide.co.nz/the-seven-pillars-of-gold/
Your Questions Wanted
Remember, if you've got a specific question, be sure to send it in to be in the running for a 1oz silver coin.
Gold and silver are a great hedge against potential trouble and strife. If you're still having trouble deciding between them, then by all means give us a call to discuss options:
Phone: 0800 888 

GOLD

 ( 0800 888 465 ) (or +64 9 2813898)
or Online order form with indicative pricing
— Prepared for Power Cuts? —
[BACK IN STOCK] New & Improved Inflatable Solar Air Lantern
Check out this cool new survival gadget.
It's easy to use. Just charge it in the sun. Inflate it. And light up a room.
6-12 hours of backup light from a single charge! No batteries, no wires, no hassle. And at only 1 inch tall when deflated, it stores easily in your car or survival kit.
Plus, it's waterproof so you can use it in the water.
See 6 more uses for the amazing Solar Air Lantern.
—–
This Weeks Articles:
Wed, 2 May 2018 2:08 PM NZST
Over the past few years a number of central banks including that of Germany have been repatriating their gold from the New York Fed vault. More recently Turkey is doing the same. Turkey has had 220 tons stored in the U.S. Jim Rckards points out: Turkish President Recep Tayyip Erdoğan has recently suggested that international […]
The post The Seven Pillars of Gold appeared first on Gold Survival Guide.
Wed, 2 May 2018 2:03 PM NZST
After you've decided to buy precious metals, the question now on your mind is "Should I buy gold or silver?" Which metal is a better choice for you? Many of the reasons to buy gold or reasons to buy silver are very much the same. However there are also some significant differences between gold and silver. […]
The post Should I Buy Gold or Silver? 7 Factors to Consider in Gold vs Silver appeared first on Gold Survival Guide.
As always we are happy to answer any questions you have about buying 

gold

 or silver. In fact, we encourage them, as it often gives us something to write about. So if you have any get in touch.
Phone: 0800 888 

GOLD

 ( 0800 888 465 ) (or +64 9 2813898)
or Online order form with indicative pricing
---
---
---
Note:
Prices are excluding delivery
1 Troy ounce = 31.1 grams
1 Kg = 32.15 Troy ounces
Request special pricing for larger orders such as monster box of Canadian maple silver coins
Lower pricing for local 

gold

 orders of 10 to 29ozs and best pricing for 30 ozs or more.
Foreign currency options available so you can purchase from USD, AUD, EURO, GBP
Plus we accept Bitcoin, Bitcoin Cash, Visa and Mastercard
Note: For local 

gold

 and silver orders your funds are deposited into our suppliers bank account. We receive a finders fee direct from them. Pricing is as good or sometimes even better than if you went direct.

---
Can't Get Enough of 

Gold

 Survival Guide?
If once a week isn't enough sign up to get daily price alerts every weekday around 

9am

Click here for more info
---
---
The Legal stuff – Disclaimer:
We are not financial advisors, accountants or lawyers. Any information we provide is not intended as investment or financial advice. It is merely information based upon our own experiences. The information we discuss is of a general nature and should merely be used as a place to start your own research and you definitely should conduct your own due diligence. You should seek professional investment or financial advice before making any decisions.