Prices and Charts

---
Looking to sell your gold and silver?
Buying Back 1oz NZ Gold 9999 Purity
$2668
Buying Back 1kg NZ Silver 999 Purity
$1086
---
NZD Gold Continues to Consolidate Above Uptrend Line
Gold in New Zealand dollars was up around $11 from a week ago. It continues to consolidate above the rising blue trendline. If this consolidation fails, then the next buying zone to watch for would be the support/resistance line at $2700. Below that would be the 200 day moving average, which is currently at $2643. But this current area is likely to be a good place to begin making purchases.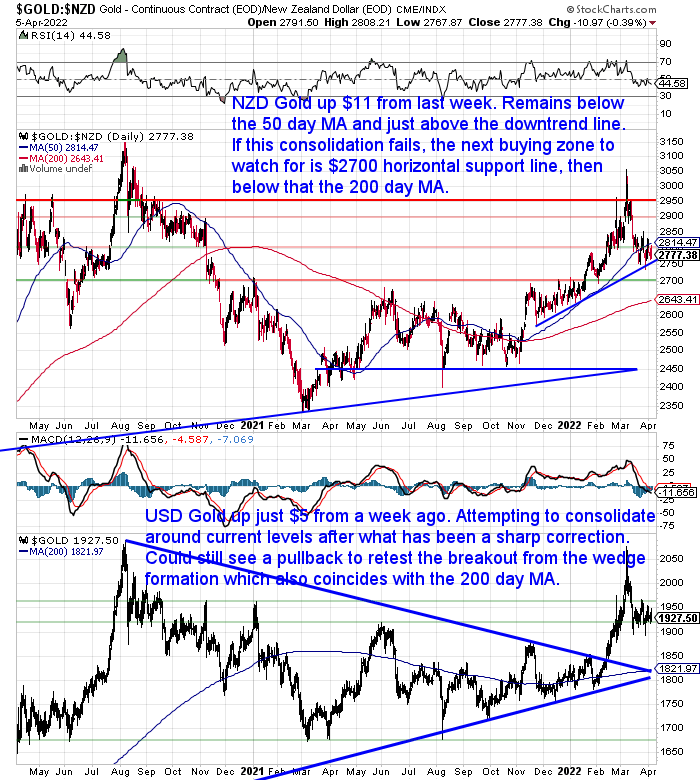 Silver Going the Other Way – Down 1.5% to Retest the Downtrend Line
Meanwhile, silver in New Zealand dollars went in the opposite direction to gold. Down 56 cents from 7 days prior. Silver now sits right on the downtrend line of the wedge that it broke out of in February.
It is not a big surprise to see it retest this break out. Something we have been saying to watch for over the past few weeks. It could still dip lower to the 200 day MA or even down to the blue uptrend line. But like gold, between here and those points is likely to be a good long term buying zone.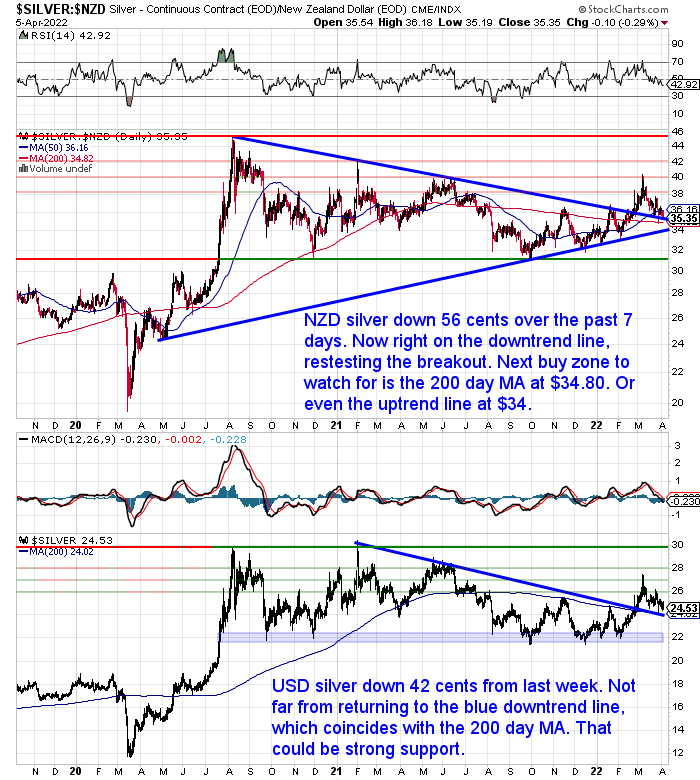 Kiwi Dollar Still Hovering Around the 200 Day Moving Average (MA)
The New Zealand dollar is down 14 basis points from last Wednesday. The Kiwi continues to hover around the 200 day MA at 0.69. After a consolidation we could yet see it push up to 0.70 which is the top of the downtrend channel. That will likely be tough resistance. With the likes of the USA and now Australia looking to also finally raise their interest rates, this could be a headwind to larger NZ dollar gains.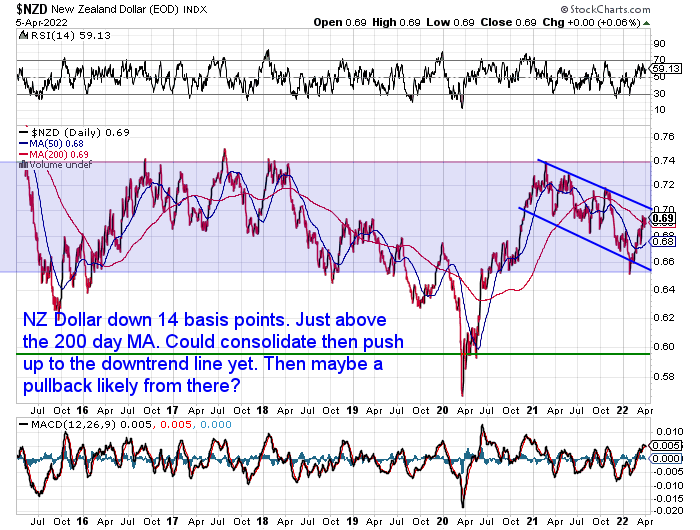 Need Help Understanding the Charts?
Check out this post if any of the terms we use when discussing the gold, silver and NZ Dollar charts are unknown to you:
Continues below
—– OFFER FROM OUR SISTER COMPANY: Emergency Food NZ —–
Long Life Emergency Food – New Stock Finally Here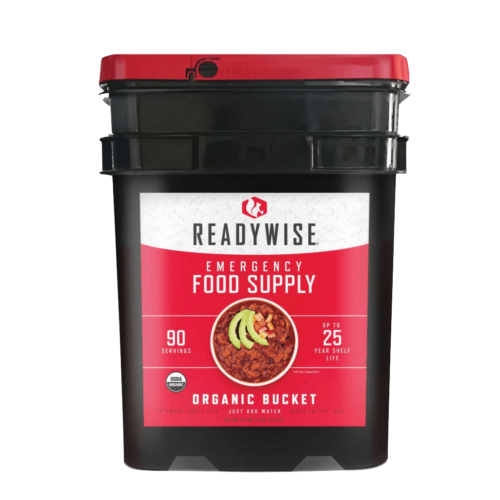 These easy to carry and store buckets mean you won't have to worry about the shelves being bare…
Free Shipping NZ Wide*
Get Peace of Mind For Your Family NOW….

  
—–
Has Russia Just Put a Floor Under Gold?
Last week we discussed how the USA and other countries blocked Russian use of the SWIFT international payment system. Then went even further by freezing around $300 billion of Russia's $640-billion gold and forex reserves.
Call Putin what you will, but he does seem to be as cunning as a weasel.
Last week Russia announced a kind of financial counterattack. With the central bank announcing that it will between now and 30 June purchase gold from local Russian banks at a fixed price. What are the implications on the gold price of this move?
In this week's feature article we look at a number of opinions on this move. It covers:
What is the Rationale Behind Russia's Fixed Gold Price?
A Reminder of the U.S. Response to the Great Depression
Ronan Manly in ZeroHedge Calls This Move "A Paradigm Shift Western Media Hasn't Grasped Yet"
What Will Happen on June 30?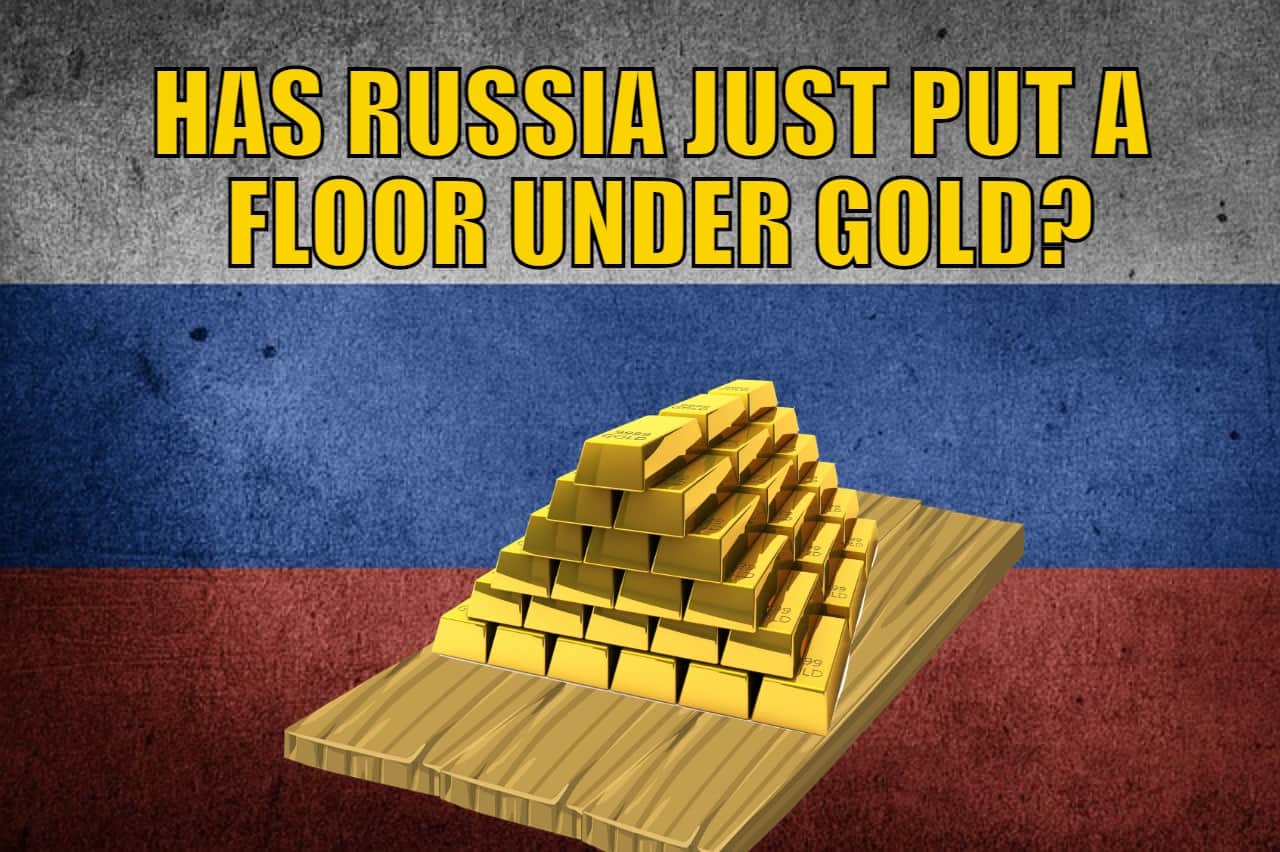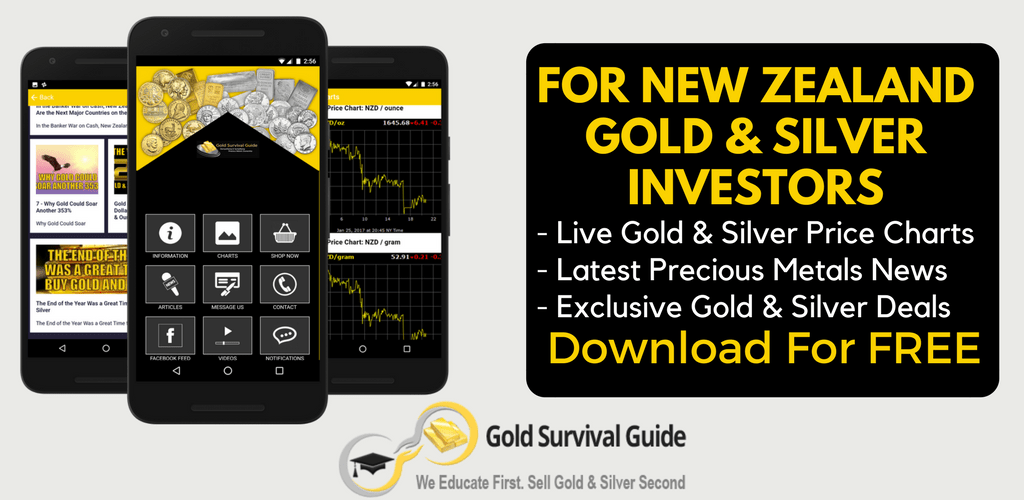 Your Questions Wanted
Remember, if you've got a specific question, be sure to send it in to be in the running for a 1oz silver coin.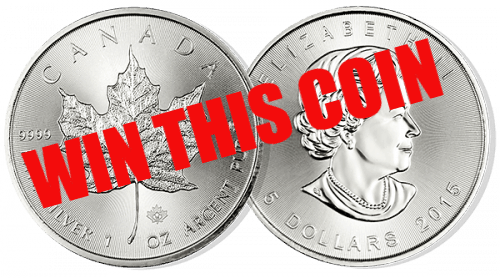 February Winner
We forgot to announce the winner of the coin for best question in February. It was Gary with this one:
Watching our dollar fall is puzzling me. I thought that NZ was well regarded with respect to covid control and exports making our country relatively stable financially. Yet we have lost approximately eight cents in the last year, to 2016 levels, and the trend seems to be pushing us lower to the dark days of 2020 when we briefly  dipped to below sixty cents.
Is there a reason for this, I seem to be missing something?
And here was our answer in case you missed it: Why is the NZ Dollar So Weak When We Are Supposed to be Doing Well in Terms of Covid?
What You Need to Know about Silver Bars
Silver has certainly increased in popularity. Over the last 6 months or so we have definitely seen an uptick in people interested in buying silver.
If you've been thinking about buying silver, then check out this post which explains all you need to know about silver bars.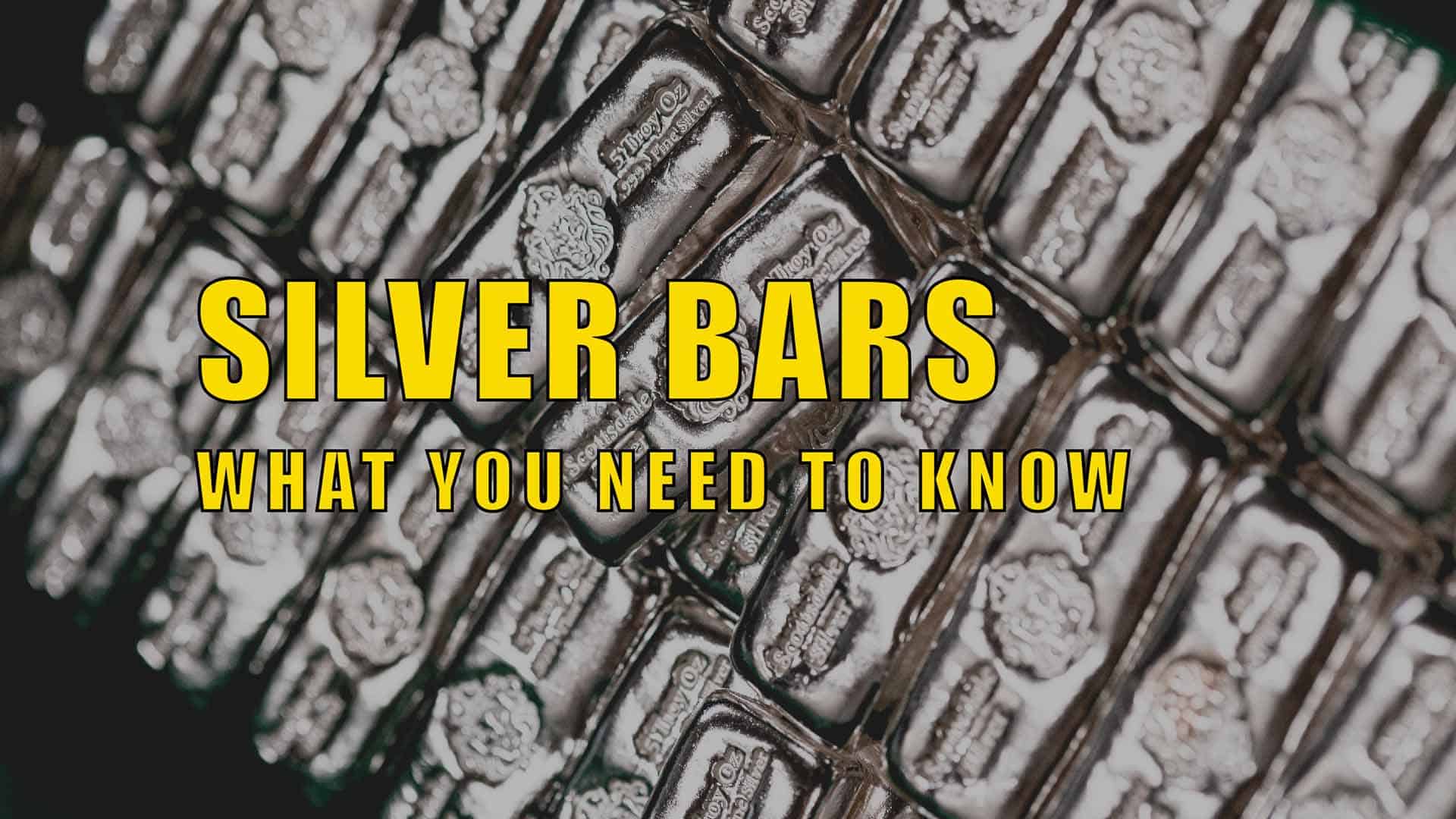 Then if you you'd like a quote for silver bars, coins or even gold, Please get in touch…
Phone: 0800 888 GOLD ( 0800 888 465 ) (or +64 9 2813898)
or Shop Online with indicative pricing
— Prepared for the unexpected? —
Never worry about safe drinking water for you or your family again…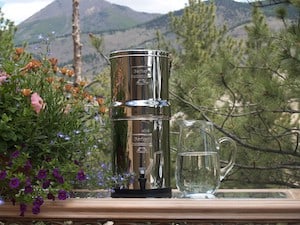 The Berkey Gravity Water Filter has been tried and tested in the harshest conditions. Time and again proven to be effective in providing safe drinking water all over the globe.
This filter will provide you and your family with over 22,700 litres of safe drinking water. It's simple, lightweight, easy to use, and very cost effective.
—–
This Weeks Articles:
Thu, 31 Mar 2022 2:52 PM NZST
A lot of people new to investing in precious metals immediately leap to gold. However, the market and opportunities in the silver industry are equally as deep and interesting for people at any stage of their financial journey. They're worth exploring to have a full understanding of the options they have. Why People Invest in […]
The post What You Need to Know about Silver Bars appeared first on Gold Survival Guide.
Tue, 22 Mar 2022 11:45 PM NZST
What is the gold silver ratio? Why is the gold silver ratio still at very high levels? In this post you'll learn: What is the Gold Silver Ratio? The gold silver ratio is simply the price of an ounce of silver divided into the price of an ounce of gold. The resulting number shows how […]
The post What is the Gold Silver Ratio? What Might the Ratio Do in 2022? appeared first on Gold Survival Guide.
As always we are happy to answer any questions you have about buying gold or silver. In fact, we encourage them, as it often gives us something to write about. So if you have any get in touch.
Phone: 0800 888 GOLD ( 0800 888 465 ) (or +64 9 2813898)
or Online order form with indicative pricing
---
---
7 Reasons to Buy Gold & Silver via GoldSurvivalGuide

Today's Prices to Buy
1oz NZ 99.99% pure gold bar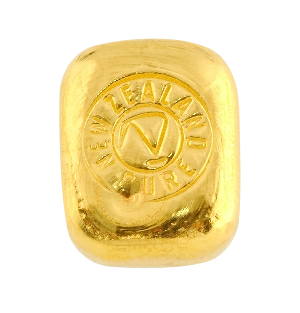 $2,879.80

1kg Pure Silver bar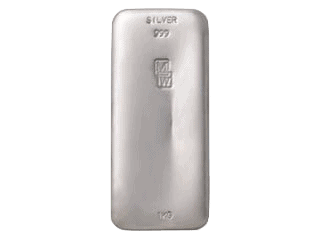 Local silver bar $1,248.00 
1kg "Scottsdale Gold" Bar 99.99% with unique serial number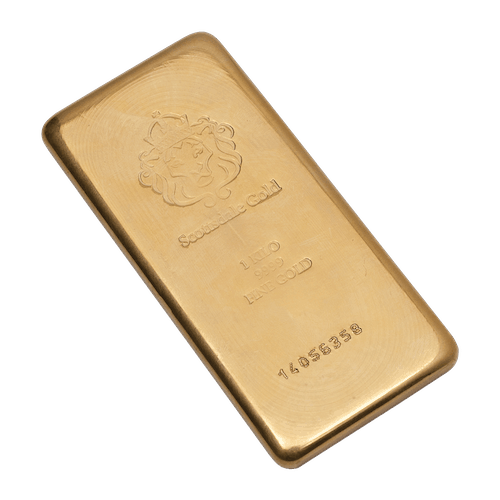 $92,065.27
1oz Canadian Gold Maple 99.99% pure gold coin (2020)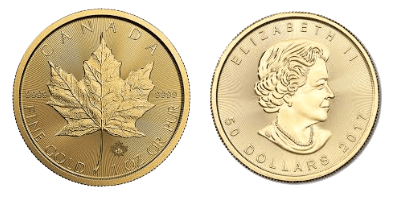 $2,982.60   (in stock)
1 oz RCM Silver Maple Coin
(Minimum order size tube of 25 coins)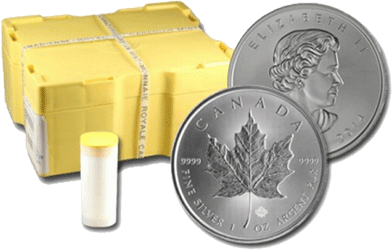 Tube of 25: $N/A (pick up) (Tubes of 1oz silver Britannia's and Krugerrands are available for $1106.250, but not here until after 18 April)
Box of 500:

$23,544.86 (Pre-order)
Including shipping/insurance 3-5 weeks delivery
---
Note:
Prices are excluding delivery
1 Troy ounce = 31.1 grams
1 Kg = 32.15 Troy ounces
Request special pricing for larger orders such as monster box of Canadian maple silver coins
Lower pricing for local gold orders of 10 to 29ozs and best pricing for 30 ozs or more.
Foreign currency options available so you can purchase from USD, AUD, EURO, GBP
Plus we accept BTC, BCH, Visa and Mastercard

---
Can't Get Enough of Gold Survival Guide?
If once a week isn't enough sign up to get daily price alerts every weekday around 9am Click here for more info
---
---
The Legal stuff – Disclaimer:
We are not financial advisors, accountants or lawyers. Any information we provide is not intended as investment or financial advice. It is merely information based upon our own experiences. The information we discuss is of a general nature and should merely be used as a place to start your own research and you definitely should conduct your own due diligence. You should seek professional investment or financial advice before making any decisions.
Copyright © 2020 Gold Survival Guide.
All Rights Reserved.