This Weeks Deal
1oz Perth Mint Silver Kangaroos 2016 BU (Brilliant Uncirculated)

Minimum order 500 coins
Based on  Spot Silver at NZ$23.80 per ounce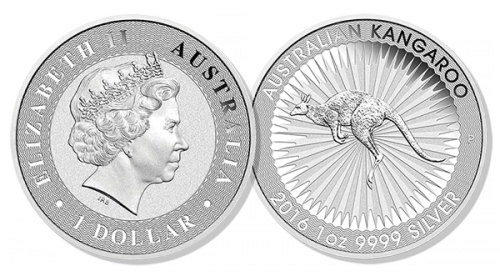 500 x 1oz Perth Mint 2016 Silver Kangaroos are
$14,160
–
$200 cheaper than 500 Silver Maples
1000 x 1oz Perth Mint 2016 Silver Kangaroos are $28,020
– $500 cheaper than 1000 Silver Maples

5000 x 1oz Perth Mint 2016 Silver Kangaroos are $139,435
Bonus for 1000 coins or more – more details further down.
(Price includes fully insured delivery via Fed Ex directly to you anywhere in New Zealand or Australia.)
Get a Huge Vehicle Survival Pack Valued at $304 for Free
Free with any order of 1000 or more 1oz Silver Kangaroo coins.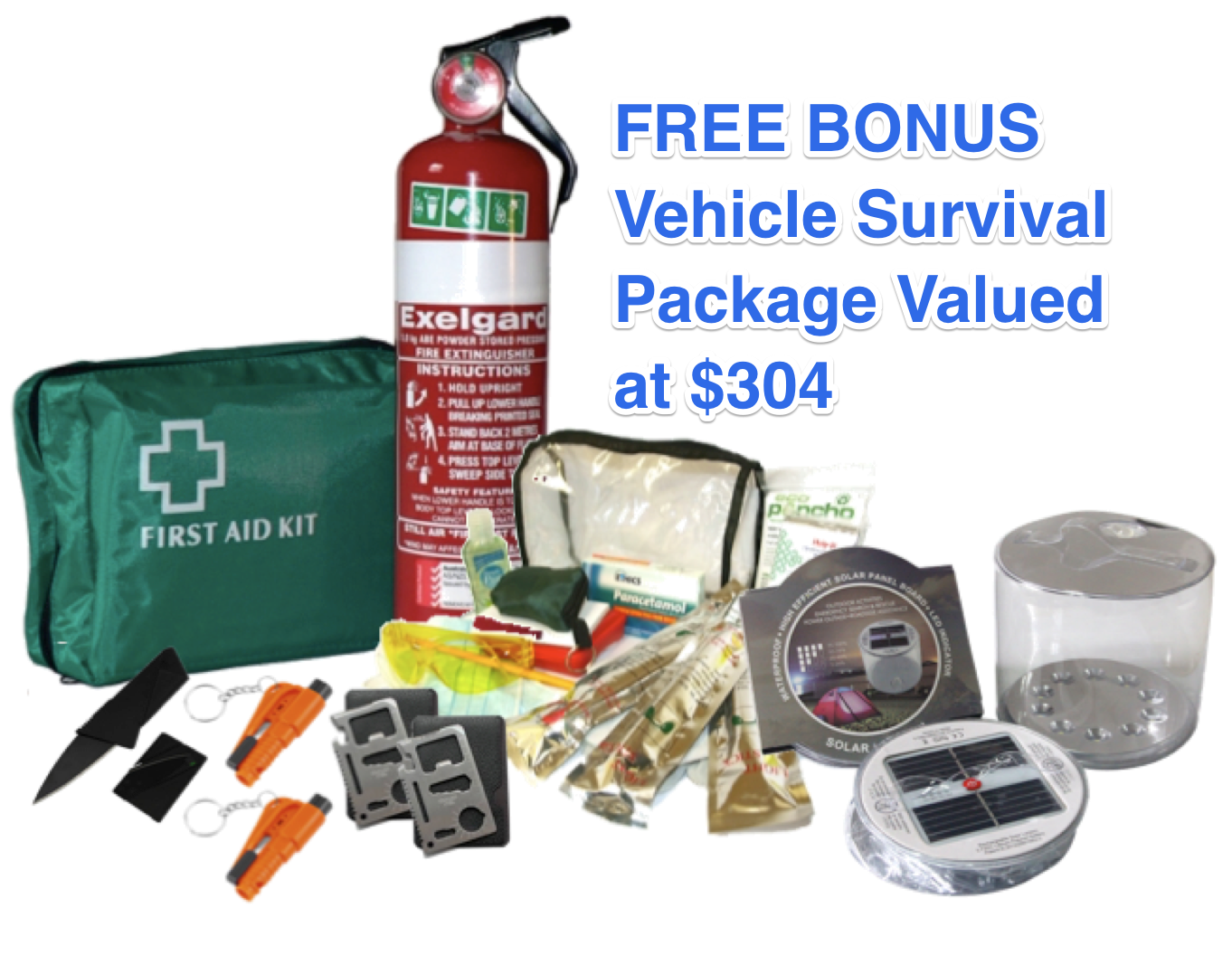 This subscriber only deal (it's not mentioned anywhere on the website) contains enough gear to spread across 2 vehicles. The pack includes:
2 x Inflatable Solar Lanterns
2 x 3-in-1 Car Escape Tools
2 x Credit Card Knives
2 x Credit Card Multi-tools
1 x Car Glove Box Survival Kit
1 x Vehicle First Aid Kit with Fire Extinguisher
Call David on 0800 888 465 to learn more about this deal or just reply to this email. Note: Minimum order is 500 coins.

---
This Week:
Why Buy Gold? No Fiat Currency Lasts Forever – What About the NZ Dollar?
RBNZ Bank Dashboard: Why it May Not Help You Pick a Safe Bank
The Gold Worm on the Yuan Hook
2017 Global Physical Gold and Silver Demand: A Fact Vs. Propaganda Update
Prices and Charts

Looking to sell your gold and silver?
Buying Back 1oz NZ Gold 9999 Purity
$1727
Buying Back 1kg NZ Silver 999 Purity
$727
Another Buying Opportunity Arrives
A stronger New Zealand dollar (more on that soon) helped push local gold and silver prices lower this week.
Gold in NZ dollars is down close to 2% from a week ago. Perhaps not surprisingly. Why's that?
Well, we did see a sharp jump higher in the price in one day – just over a week ago. When this happens it's not uncommon to see the price move lower to "backfill" this gap higher. That's what seems to be happening now.
Things are evenly balanced from a technical perspective. The RSI overbought/oversold indicator is in neutral territory at 47. The NZD gold price sits right on the downtrend line and 50 day moving average line. Both of which are acting as support.
However we could still see the price pull back to the 200 day moving average (MA) at $1760.
So right now looks like a good place to take a position. Then also keep an eye on that $1760 zone in case it arrives.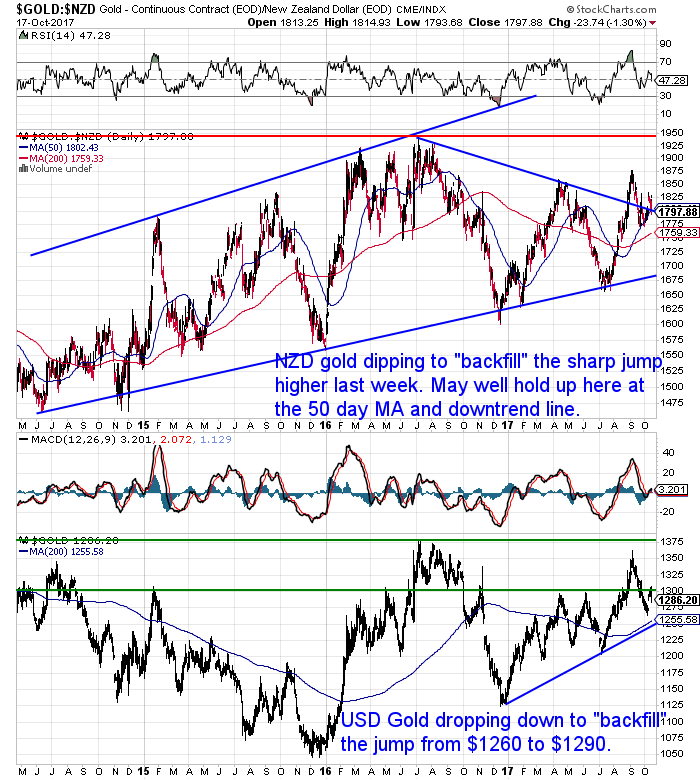 Silver in NZ Dollars is down just over 2%. It is also backfilling the gap higher that occurred last week. Also neutral on the RSI and sitting right on the 50 day MA.
Silver looks like it is building to have another crack at the red downtrend line, dating back to mid 2016.
We've been waiting for silver to outperform gold this whole year. It hasn't yet, but we get the feeling it is getting very close. Maybe we'll see some silver action in the last couple of months of the year?
Once silver breaks above the red downtrend line there is a lot of blue sky ahead. Just to get back to the high of last year at almost $30 is a 25% move higher from here. Never mind getting back to the 2011 high above $60 per ounce.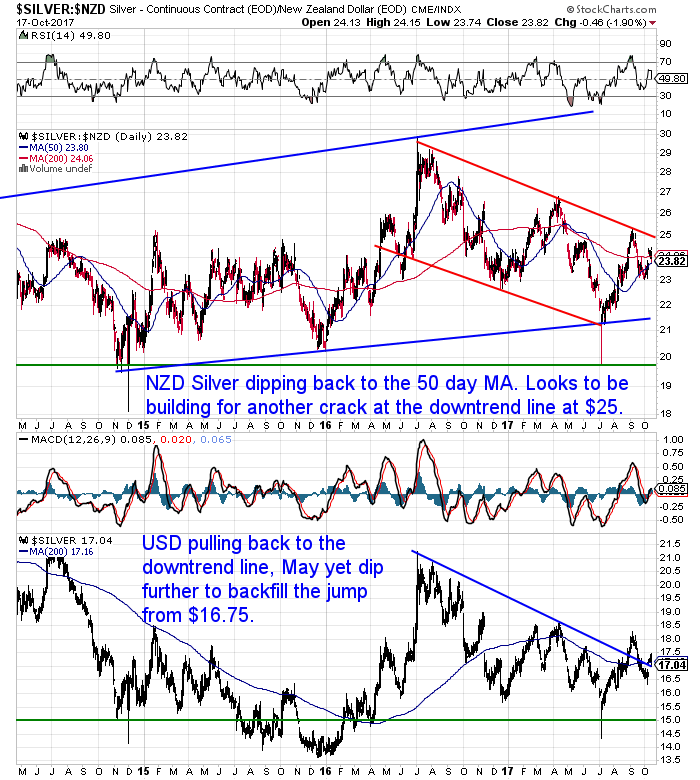 As noted already the NZ Dollar bounced back sharply this week from very oversold levels – up 1.50%. This was to be expected. We now wait to see if it can get above the short term downtrend line.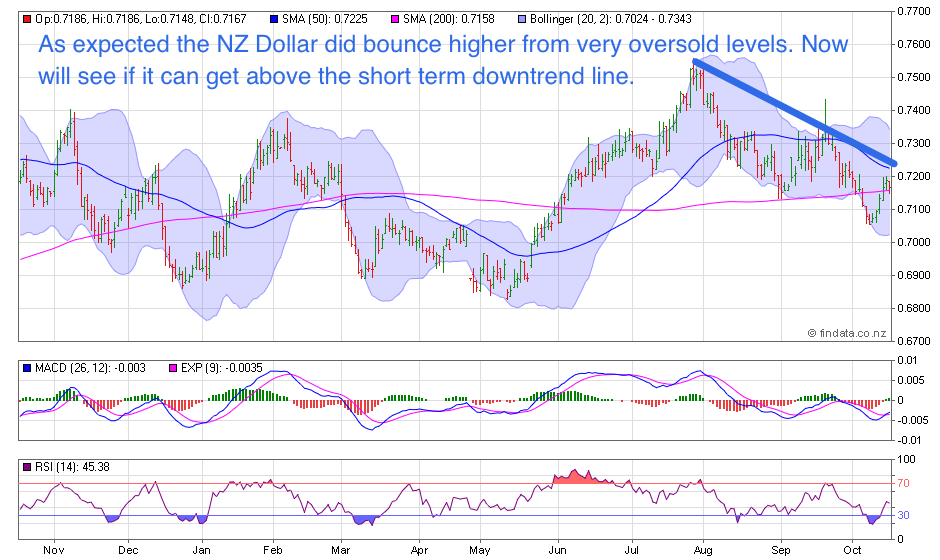 Remember to check out this post if any of the terms we use when discussing the charts are unknown to you: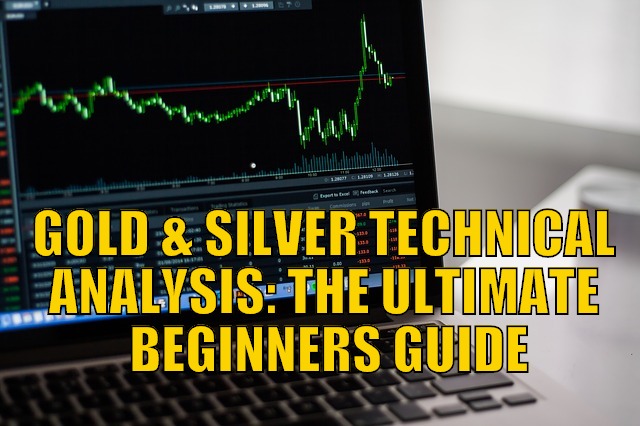 No Fiat Currency Lasts Forever – What About the NZ Dollar?
Our feature article this week looks at a major reason to buy gold: No fiat currency lasts forever. We also share some interesting and little known history of the New Zealand Dollar and legal tender laws over the past century or so: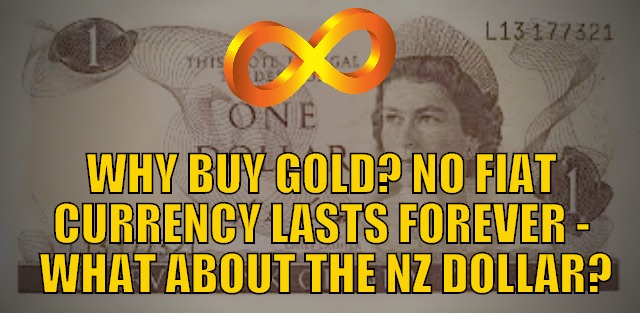 Continues below
—– OFFER FROM OUR SISTER COMPANY: Emergency Food NZ —–
Do you have all the essentials on hand if you need to leave home in a hurry?
Get Your Own Emergency Survival Kit
Now Available. In Stock. Ready to Ship.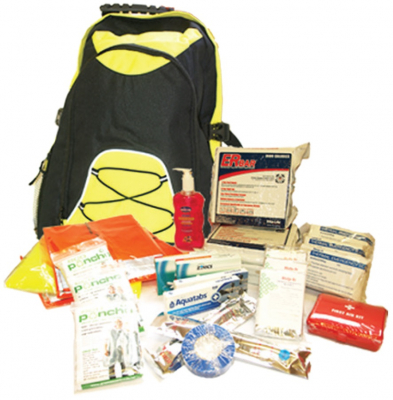 Grab Your Own Grab 'n' Go Bag NOW….
—–
Will the RBNZ "Bank Dashboard" Help You Pick a Safe Bank?
This article outlines what will be included in the new RBNZ Bank Dashboard due out next year. This aims to help people compare the soundness of New Zealand banks.
But will it actually help you pick a safer bank? We turn a few rocks over to see what scurries out…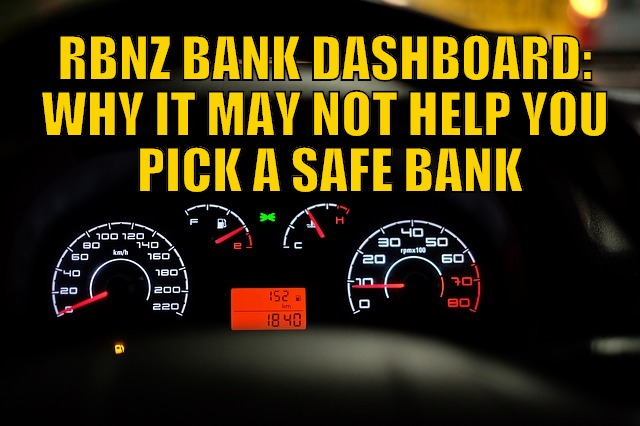 Reminder: Here's How to Connect With Other Like-Minded New Zealanders
We've come up with a plan to help connect people around the country. People who are free thinking and freedom loving.
We've called these Gold Survival Guide Circles. Which are simply casual meet ups where you can mix and mingle with other like minded people.
It's probably the most common thing we hear: "I've got no one to discuss any of this gold and silver stuff with". These Circles should solve that problem – but only if we get enough people from your area interested!
If you've at all interested in connecting with others then read this now and express your interest.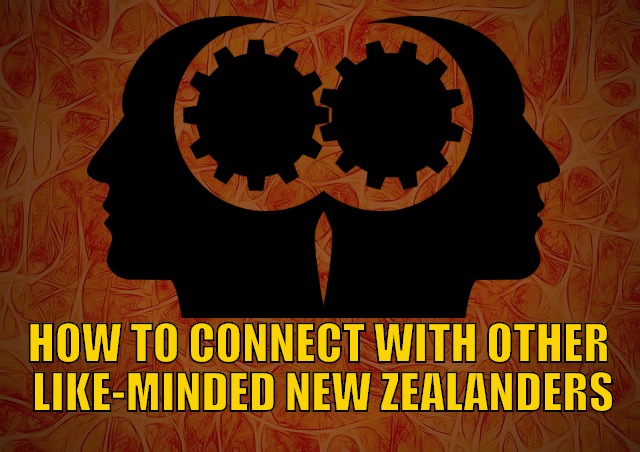 Poor Sentiment Towards Precious Metals Continues
We've spoken to many business owners from a wide range of sectors who have experienced a marked slowdown in business since the lead up to the election. This has certainly been the case for us. The interest in gold and silver here in New Zealand remains very low. This could be related to the government limbo situation.
Although demand in the western world seems to be pretty low as well.
We have an article on the website this week that argues that using the numbers from the US mint is not a good way to judge global gold and silver demand.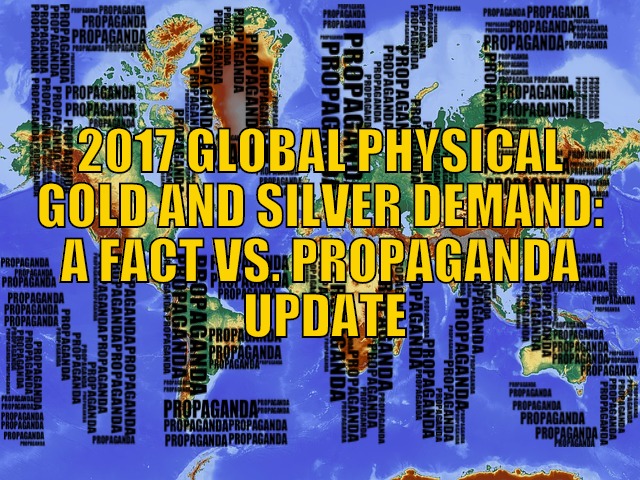 What could change this demand situation? The much discussed idea that China will issue a gold convertible Yuan based oil futures contract. Hugo Salinas Price had even more to say on this topic last week. Such a move could prompt other commodity sellers to also demand a gold convertible contract for their goods.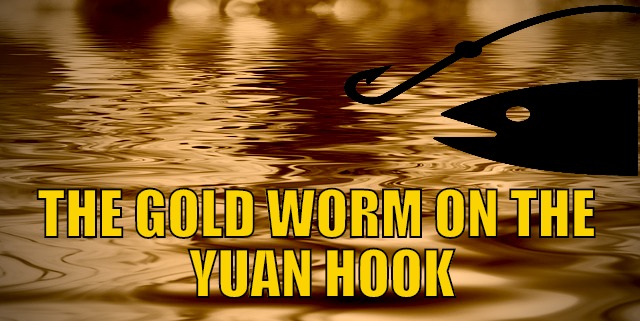 This week China's state news agency Xinhua also came out with an interesting news report. One that Jim Rickards thinks may be related to this oil-for-yuan-for-gold scheme. The daily reckoning noted:
"It said China's proven gold reserves have now reached 12,100 tonnes.
Now, just to be clear. Those 'reserves' are in the ground — they are not above ground gold bullion. It will take 10 years and billions of dollars to dig it all up and refine it. Nice to have, but not very meaningful in the short run.
So why is this report telling?
Well, it comes 10 days after China revealed it's planning to buy its oil supplies with gold-backed yuan. Here's Jim Rickards' take in an email to me overnight:
'China may be announcing them now to "backstop" their recent oil-for-yuan-for-gold scheme.
'If you are selling oil to China for yuan and relying on the Shanghai Gold Exchange to convert your yuan into gold, it's nice to know that the gold will be there in the years ahead.
'So, there is some linkage in this gold announcement to the attack on the US dollar.'
It will be fascinating to see how this plays out in the weeks to come. And there are a few key events to look out for…
The first is on 18 October, the date of the Communist Party National Congress. According to Jim, this will be a huge deal:
'It will mark the solidification of President Xi's power, including installation of his cronies into powerful positions. After the Congress, he will have a free hand to pursue reforms and devaluation of the Chinese currency.
'After that, watch out for 13 December. It's Janet Yellen's last Federal Open Market Committee meeting, and a date where a Fed "pause" in rate hikes may trigger a huge rally in gold.'
But you'll want to be already in position well before then."
But this Chinese "game changer" still remains a potential only.
Demand is certainly down in the west. However, this is actually a good sign for the beginning of the next up cycle in gold and silver. Why?
Because bull markets are born out of disinterest and low participation.
Real Estate, shares and cryptocurrencies are where all the interest is. Certainly all of these have taken some demand away from gold and silver. But therefore it doesn't take too much money moving in to cause prices to move higher.
The charts for gold and silver are painting a pretty good picture and higher prices look like being ahead of us. We are in a pretty decent buying zone currently with a pull back from the recent rise. Silver in particular looks ready to run higher soon. Get in touch for a quote or if you have any questions at all.
Finally Remember, if you've got specific question, be sure to send it in to be in the running for a 1oz silver coin.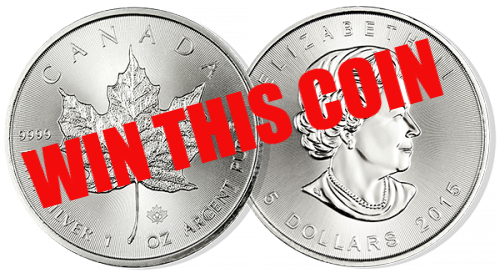 On top of the Silver Kangaroo deal already mentioned, there are also great prices for:
1kg 999 Purity Perth Mint 2016 Year of the Monkey and Koala backdated silver bars
Backdated 1oz 9999 Purity Canadian Gold Maples.
Call David to discuss these deals on 0800 888 465.
Phone: 0800 888 GOLD ( 0800 888 465 ) (or +64 9 2813898)
or Online order form with indicative pricing
— Prepared for Power Cuts? —
[BACK IN STOCK] New & Improved Inflatable Solar Air Lantern
It's easy to use. Just charge it in the sun. Inflate it. And light up a room.
6-12 hours of backup light from a single charge! No batteries, no wires, no hassle. And at only 1 inch tall when deflated, it stores easily in your car or survival kit.
Plus, it's waterproof so you can use it in the water.
—–
This Weeks Articles:
Tue, 17 Oct 2017 11:16 PM NZST
Last month the Reserve Bank quietly published its RBNZ Bank Dashboard initiative for quarterly bank disclosures. The full riveting read is here. Martien Lubberink (Associate Professor at the School of Accounting and Commercial Law at Victoria University) welcomed the bank dashboard, saying: "The Dashboard approach is meant to improve the timeliness, accessibility and comparability of […]
Tue, 17 Oct 2017 2:27 PM NZST
Why Buy Gold and Silver? Because No Fiat Currency Lasts Forever Here's one of the main answers to the question "Why buy gold and silver?" Simply because no fiat currency last forever. In this article: You'll see just how many fiat currencies have gone the way of the Dodo since only 1975 What this could mean […]
Mon, 16 Oct 2017 4:09 PM NZST
John Kim makes a solid case below for why lower demand for coins from the US mint shouldn't be used as a proxy for global physical gold and silver demand. We also read a good argument last week that there has been a bit of selling of gold and silver in the US. Therefore many […]
Fri, 13 Oct 2017 8:41 PM NZST
BONUS DEAL STILL GOING 1oz Perth Mint Silver Kangaroos 2016 BU (Brilliant Uncirculated) Minimum order 500 coins Based on Spot Silver at NZ$24.28 per ounce 500 x 1oz Perth Mint 2016 Silver Kangaroos are $14,400 – $200 cheaper than 500 Silver Maples 1000 x 1oz Perth Mint 2016 Silver Kangaroos are $28,500 – $500 cheaper […]
Thu, 12 Oct 2017 1:05 PM NZST
Hugo Salinas Price has some more thoughts on the wider implications if China really does start an oil futures contract that is convertible to gold. He believes that oil sellers won't be the only ones interested. Because as the gold price rises from increased demand in the oil trade, other sellers of commodities will likely also want […]
As always we are happy to answer any questions you have about buying gold or silver. In fact, we encourage them, as it often gives us something to write about. So if you have any get in touch.
Phone: 0800 888 GOLD ( 0800 888 465 ) (or +64 9 2813898)
or Online order form with indicative pricing
---
---
---
Note:
Prices are excluding delivery
1 Troy ounce = 31.1 grams
1 Kg = 32.15 Troy ounces
Request special pricing for larger orders such as monster box of Canadian maple silver coins
Lower pricing for local gold orders of 10 to 29ozs and best pricing for 30 ozs or more.
Foreign currency options available so you can purchase from USD, AUD, EURO, GBP
Note: For local gold and silver orders your funds are deposited into our suppliers bank account. We receive a finders fee direct from them. Pricing is as good or sometimes even better than if you went direct.

---
Can't Get Enough of Gold Survival Guide? If once a week isn't enough sign up to get daily price alerts every weekday around 9am Click here for more info
---
Our Mission
To demystify the concept of protecting and increasing ones wealth through owning gold and silver in the current turbulent economic environment.
To simplify the process of purchasing physical gold and silver bullion in NZ – particularly for first time buyers.
---
---
The Legal stuff – Disclaimer: We are not financial advisors, accountants or lawyers. Any information we provide is not intended as investment or financial advice. It is merely information based upon our own experiences. The information we discuss is of a general nature and should merely be used as a place to start your own research and you definitely should conduct your own due diligence. You should seek professional investment or financial advice before making any decisions.
Copyright © 2017 Gold Survival Guide. All Rights Reserved.