Silver Coins Deal
4000 x 1oz Perth Mint Silver Kangaroos 2015 BU (Brilliant Uncirculated).
Gold Kiwi Special Today
1oz NZ Mint Gold Kiwi coins at spot plus 2.75%.

Minimum purchase 10 coins
Delivered and fully insured for $19,028 Reply to this email or phone David on 0800 888 465
This Week:
Here's Proof the NZ Government is Following the IMF's "War on Cash" Doctrine
Get Ready for the Biggest Gold Move in Years
Silver Prices Setting Up to Soar: $50 an Ounce Silver Possible
Inflation Rising Faster Than Expected
Prices and Charts

Yet again we have only seen a short sharp correction in NZD gold. The price is up again on last week after only a brief dip lower. This was driven mainly by a fall in the Kiwi Dollar – more on that in a moment.
The fall was enough to get NZD gold out of overbought territory on the RSI though. So there is now the chance gold could push even higher still.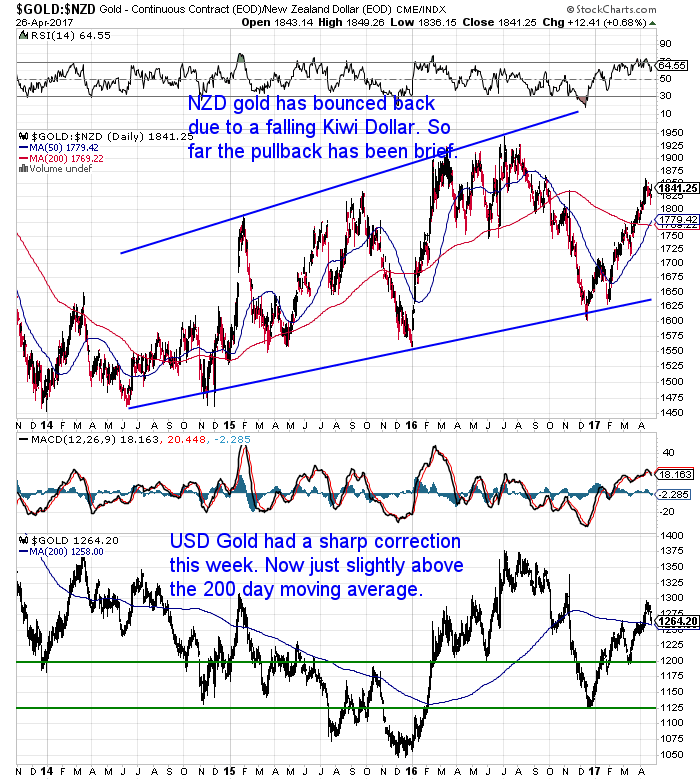 A completely different story in silver however. Down over 2% this week and now sitting right on the converging 50 day and 200 day moving average lines.
So could NZD silver consolidate here and form another higher low like it did in March? It looks likely to us given we are now below neutral on the RSI overbought/oversold indicator at 40 (see the top of the chart).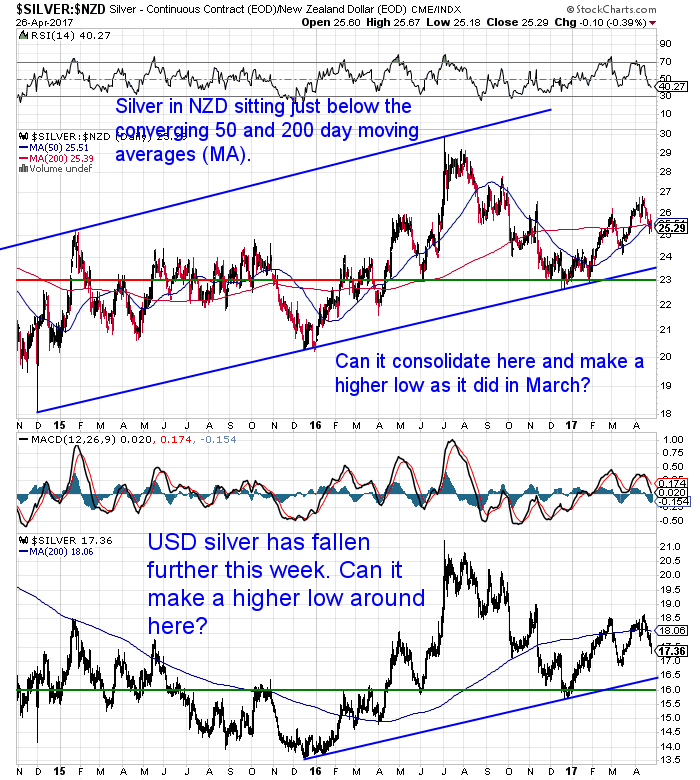 Looking at the New Zealand Dollar now, as noted already it gapped down massively overnight. Today it sits over 1.5% lower than last week and only just above the low from December.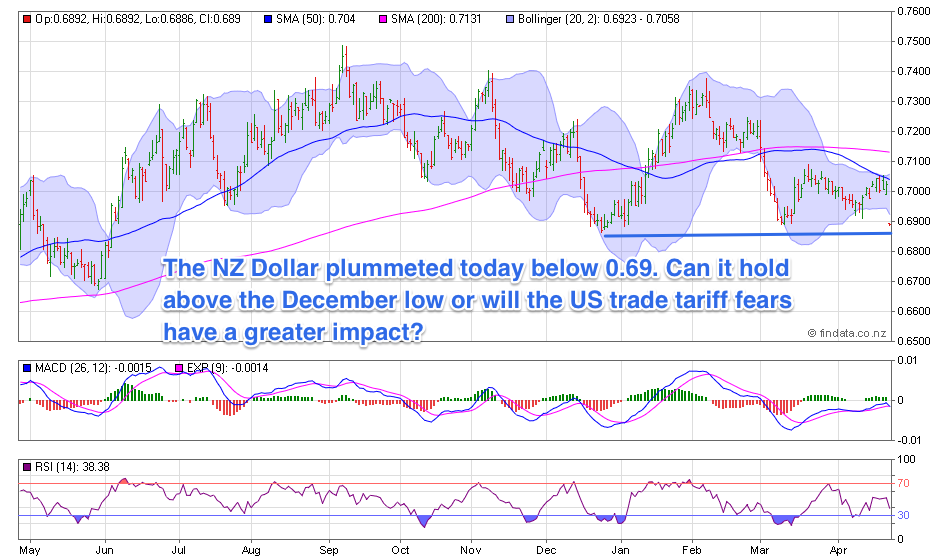 Reports say it was due to fears of further US trade tariffs like the one announced on Canadian timber in retaliation for Canadian tariffs on US dairy products.
But as ANZ Bank New Zealand senior economist Phil Borkin said this was a bit head scratching as "if one of our competitors – Canada – is lumped with tariffs then that should actually be good for New Zealand, as long as the tariffs don't affect us".
It seems likely the fears of a global trade war breaking out is what prompted the fall. That is, the worry that this won't be the last tariff put in place and this could affect New Zealand.
Could we potentially be seeing the early phase of similar protectionism to that which occurred during the great depression?
Silver Prices Setting Up to Soar: $50 an Ounce Silver Possible
Moe Zulfiqar of the Lombardi letter this week said that Investors looking for the next big trade shouldn't ignore silver prices.
According to Zulfiqar the precious metal could be setting up to jump; it wouldn't be shocking to see silver prices shoot to their 2011 highs—around $50.00—in a few years.
Zulfiqar's silver price outlook is not based on a gut feeling. The fundamentals of the silver market, and several other factors, suggest this could be possible.
Before jumping to any conclusions and buying into the mainstream narrative of precious metal being useless for one's portfolio, the first thing that investors must pay attention to is supply and demand in the silver market.
Zulfiqar discusses soaring silver demand throughout the world; institutional investors coming back in force; dwindling silver supply; exploration spending being slashed; what's next for the silver price; silver mining companies; and other factors that are boosting the silver price.
He concludes conclude, the silver price and silver miners shouldn't be ignored.
Continues below
—– OFFER FROM OUR SISTER COMPANY: Emergency Food NZ —–
<
Never worry about safe drinking water for yourself or your family again…
The Big Berkey Gravity Water Filter has been tried and tested in the harshest conditions and has time and again proven to be effective in providing safe drinking water all over the globe.
This filter will provide you and your family with over 22,700 litres of safe drinking water. It's simple, lightweight, easy to use, and very cost effective.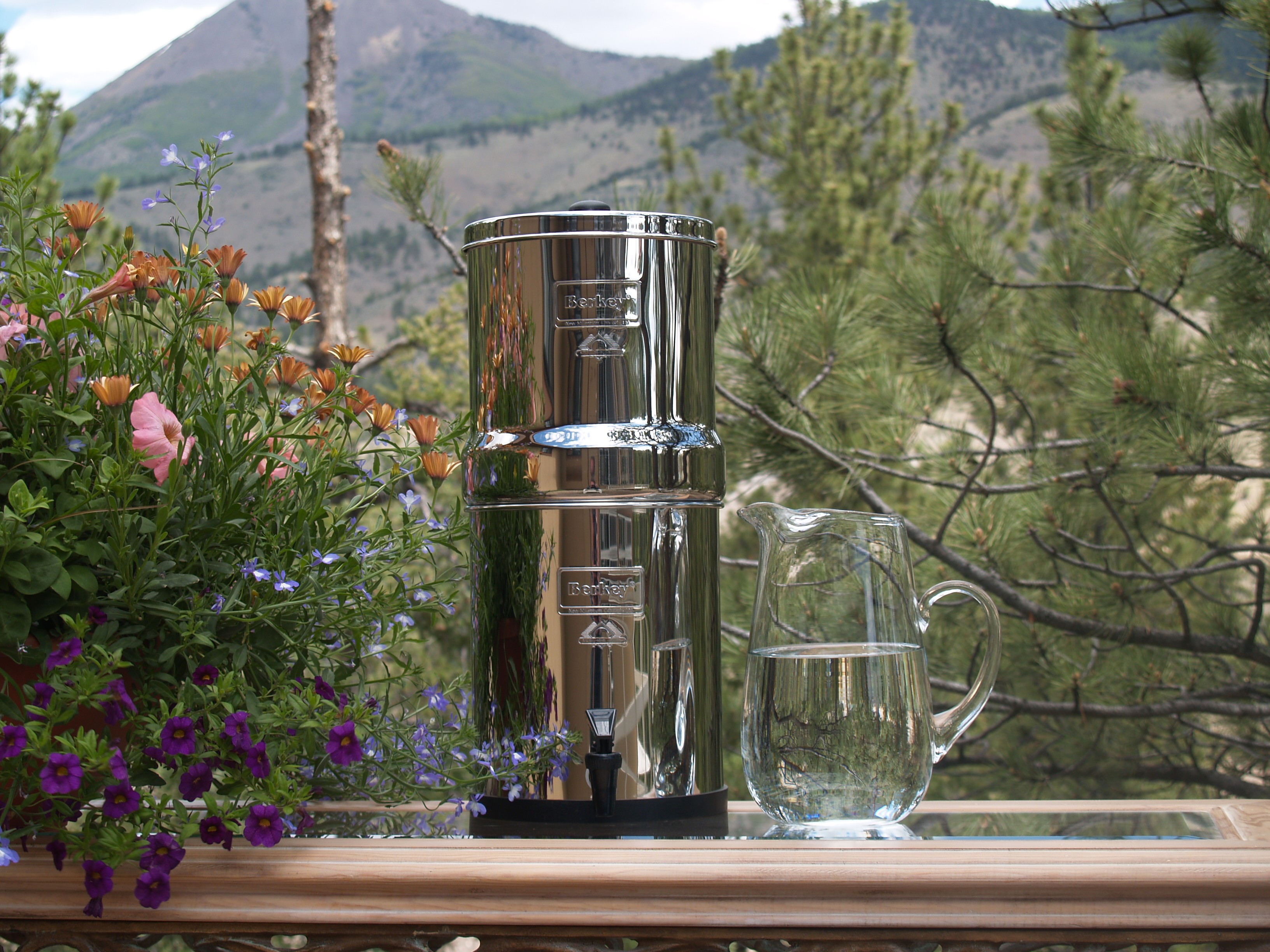 —–
Inflation Rising Faster Than Expected – Interest Rates May Too?
When the results were in, even the ASB were on the low side
as inflation reached 2.2%
. Some of which was due to tax increases on fuel and cigarettes, but other increases like housing are finally starting to show up in the government numbers.
Shamubeel Eaqub believes higher inflation could tighten the squeeze on borrowers:
"There are enough signs of normalcy in inflation for the RBNZ to also move interest rates to a more normal level. This means increasing the floating mortgage rates from about 5.7 per cent now, towards 7.5 per cent.
This will hurt those who have borrowed large sums recently. But surely no-one borrows, and no bank lends, a 30-year mortgage expecting interest rates to stay at historic lows forever. If borrowers have overstretched, the RBNZ will need to raise rates carefully, to avoid widespread banking distress.
For savers, particularly pensioners, this will be a welcome lift in interest income.
A return to normal for inflation heralds a return of higher interest rates."
Makes sense. Apart from the comment "surely no-one borrows, and no bank lends, a 30-year mortgage expecting interest rates to stay at historic lows forever", we'd not be so sure.
The recency bias comes into play here. That is, when rates have been low so long, many people don't expect that to change.
In fact long term government bond rates both in the USA and here in NZ may again be ticking higher after a recent pullback.
10 Year NZ Government Bond Rates
Here's Proof the NZ Government is Following the IMF's "War on Cash" Doctrine
Here's Proof the NZ Government is Following the IMF's "War on Cash" Doctrine
Our feature article this week examines a recent IMF paper. It compares the paper to the recent announcement of new financial reporting rules for cash transactions and overseas wire transfers for New Zealanders.
We show how this is evidence the New Zealand government is clearly following the IMF's playbook in the war on cash.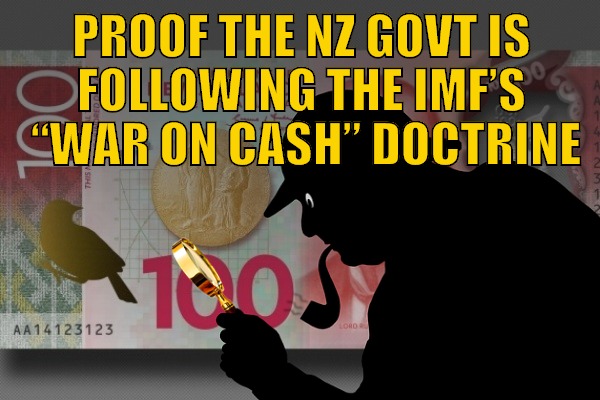 You've got a few months yet until these reporting requirements are in place. So now is the time to buy gold and silver if you value financial privacy, as your transactions are still completely anonymous until then.
Still a great deal with Gold Kiwi coins going at spot plus 2.75% while stocks last.
— Prepared for Power Cuts? —
[BACK IN STOCK] New & Improved Inflatable Solar Air Lantern
It's easy to use. Just charge it in the sun. Inflate it. And light up a room.
6-12 hours of backup light from a single charge! No batteries, no wires, no hassle. And at only 1 inch tall when deflated, it stores easily in your car or survival kit.
Plus, it's waterproof so you can use it in the water.
—–
This Weeks Articles:
Mon, 24 Apr 2017 12:26 PM NZST
The initial round of the French elections is over and there will now be a second round run-off on May 7 between the anti European Union (EU) Marine Le Pen and Emmanuel Macron, a pro-EU ex-banker and economy minister. The following article explains how a Le Pen election win in the second round could lead France to leave […]
Mon, 24 Apr 2017 9:49 AM NZST
Bix Weir believes there are "hundreds" of reasons to sell all of your physical gold and buy physical silver instead. We don't agree with Bix on the idea of holding no gold at all. But undoubtedly silver has more upside than gold currently. So while we perhaps wouldn't go so far as swapping all your […]
Fri, 21 Apr 2017 11:58 AM NZST
Here's three reasons why gold (in US Dollars) may keep on rallying and eventually break out of the multiyear downtrend it has been in. (In New Zealand Dollar terms gold already broke out of the downtrend in early 2016. So a breakout in USD gold will likely also boost the NZ gold price as well.)… […]
Fri, 21 Apr 2017 9:50 AM NZST
New Financial Reporting Rules in New Zealand: Just Following IMF War on Cash Doctrine We have a new theory for you this week as to what the real reason is behind the newly announced financial reporting rules here in New Zealand. A few weeks ago we took a look at the new financial reporting rules […]
Thu, 20 Apr 2017 9:39 PM NZST
Silver Coins Deal 4000 x 1oz Perth Mint Silver Kangaroos 2015 BU (Brilliant Uncirculated). More will be available later on this week. Minimum order to buy is 1000 silver coins. See here to learn more Gold Kiwi Special Today 1oz NZ Mint Gold Kiwi coins at spot plus 2.75%. Minimum purchase 10 coins Delivered and […]
As always we are happy to answer any questions you have about buying gold or silver. In fact, we encourage them, as it often gives us something to write about. So if you have any get in touch.
Phone: 0800 888 GOLD ( 0800 888 465 ) (or +64 9 2813898)
or Online order form with indicative pricing
---
---
---
Note:
Prices are excluding delivery
1 Troy ounce = 31.1 grams
1 Kg = 32.15 Troy ounces
Request special pricing for larger orders such as monster box of Canadian maple silver coins
Lower pricing for local gold orders of 10 to 29ozs and best pricing for 30 ozs or more.
Foreign currency options available so you can purchase from USD, AUD, EURO, GBP
Note: For local gold and silver orders your funds are deposited into our suppliers bank account. We receive a finders fee direct from them. Pricing is as good or sometimes even better than if you went direct.

---
Can't Get Enough of Gold Survival Guide? If once a week isn't enough sign up to get daily price alerts every weekday around 9am Click here for more info
---
Our Mission
To demystify the concept of protecting and increasing ones wealth through owning gold and silver in the current turbulent economic environment.
To simplify the process of purchasing physical gold and silver bullion in NZ – particularly for first time buyers.
---
---
The Legal stuff – Disclaimer: We are not financial advisors, accountants or lawyers. Any information we provide is not intended as investment or financial advice. It is merely information based upon our own experiences. The information we discuss is of a general nature and should merely be used as a place to start your own research and you definitely should conduct your own due diligence. You should seek professional investment or financial advice before making any decisions.
Copyright © 2017 Gold Survival Guide. All Rights Reserved.