Prices and Charts

---
Looking to sell your gold and silver?
Buying Back 1oz NZ Gold 9999 Purity
$2534
Buying Back 1kg NZ Silver 999 Purity
$1199
---
Not Much Change for Gold Despite a Sharp Fall During the Week
Despite a sharp but brief dip lower, gold in New Zealand dollars is little changed from a week ago. Up around $9 from then. So the sideways consolidation of last month's gains continues. After such a strong run higher in May, we may need to see this sideways range trading under the 200 day moving average continue for a little longer yet.
However gold is building nicely and is not attracting too much attention. This bodes well for higher prices ahead of us.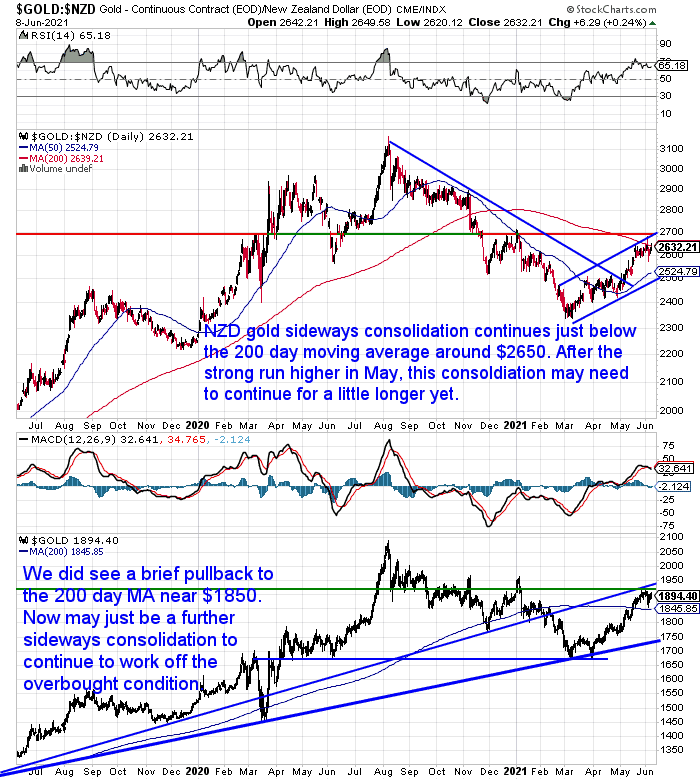 Silver Also Still Trending Sideways
Silver was also barely changed from a week ago. Down just a few cents per ounce. It continues to consolidate in the $38-$39 range. Like gold, silver is also tracking sideways. But unlike gold it is doing this above the 200 day moving average line. In other words silver is looking a bit stronger than gold.
Silver could still dip lower towards the moving averages. Especially if we see a further pullback in gold. However if we had to bet on it, we'd say a continuation of the sideways consolidation is the more likely scenario for both metals. Time will tell if our instincts are correct.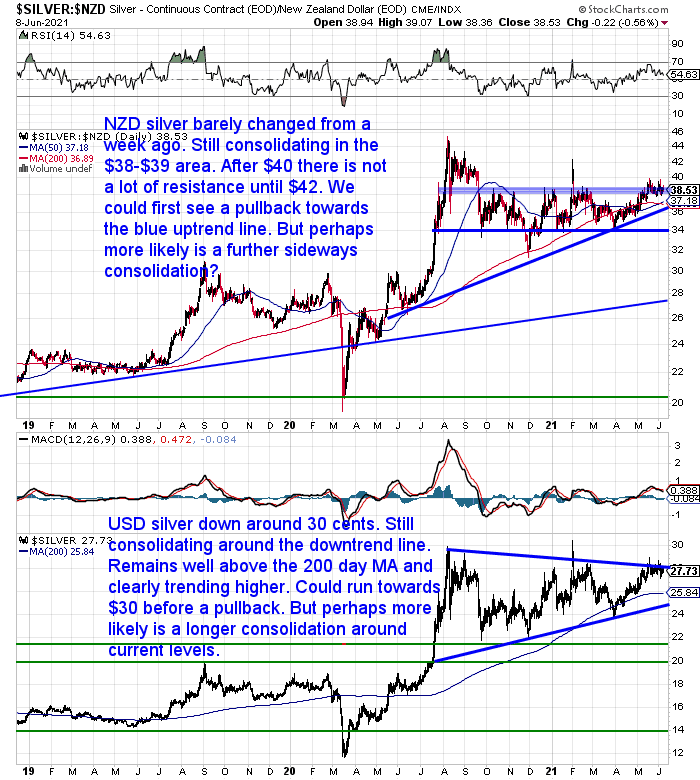 NZ Dollar Down But Also Sideways
The New Zealand dollar was down about 60 basis points from a week ago. But over the medium term it too is in a sideways trading range. Looking back to the 2016-2018 period, we can see the Kiwi traded in a wide sideways band. We could well see it do something similar for a period of time here too.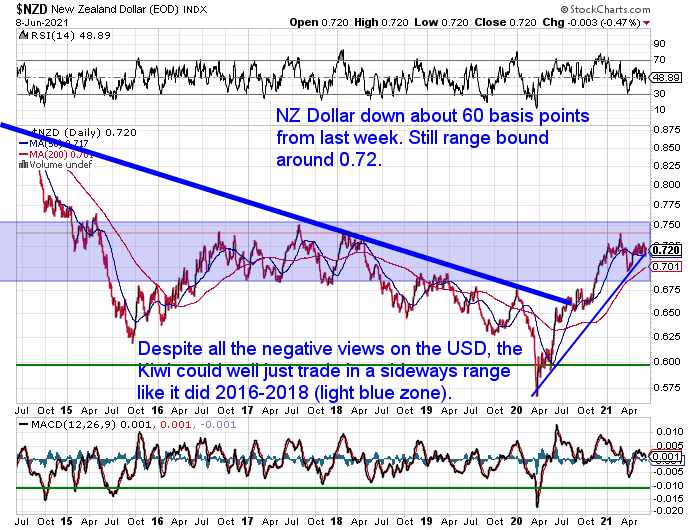 Need Help Understanding the Charts?
Check out this post if any of the terms we use when discussing the gold, silver and NZ Dollar charts are unknown to you:
Continues below
—– OFFER FROM OUR SISTER COMPANY: Emergency Food NZ —–
NEW: Certified Organic Long Life Emergency Food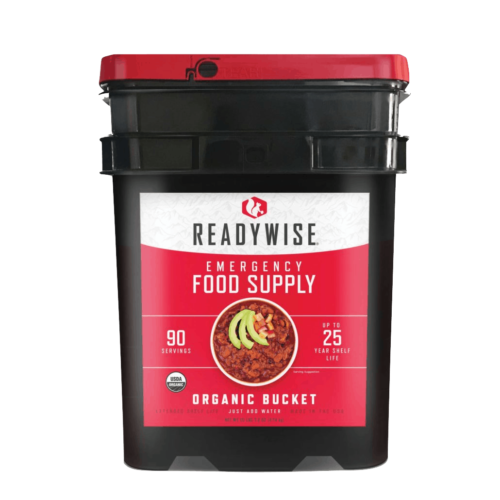 This easy to carry bucket has 90 servings of organic breakfasts and mains
Free Shipping NZ Wide
Get Peace of Mind For Your Family NOW….


—–
Australia Has 80 Tonnes of Gold, How Much Gold Does New Zealand Have?
Bloomberg recently reported that:
"Gold stored at the Bank of England has been selling for unusually high premiums recently, signaling that central banks may be back in the market buying.
Bullion in the Bank of England's London reserves — one of the largest stashes in the world — is stored and sold on behalf of other central and commercial banks as opposed to being owned by the BOE itself. It usually trades within a few cents an ounce of the metal held at other London vaults run by commercial banks such as JPMorgan Chase & Co.
But in the past week, gold sold from the BOE has traded for as much as 50 cents above benchmark London prices, according to bullion traders. These premiums are at least in part being driven by buying from the Bank for International Settlements, which regularly trades the metal on behalf of the world's central banks, a person with direct knowledge said, asking not to be identified because the information isn't public."
The article reports on a few central banks that have been buying…
"Last month, the Bank of Thailand raised its gold holdings to 6.35 million ounces from 4.95 million ounces in March, according to data from the International Monetary Fund website. In March, Hungary tripled its reserves of the metal in one of the biggest purchases by a central bank in decades. Data from the World Gold Council showed global central banks were net buyers of bullion in February, led by India, which bought 11.2 tons."
Odds are there have been even more central banks doing significant buying recently.
However we can be pretty sure of a couple that haven't been buying gold.
One of our feature articles this week makes that very clear…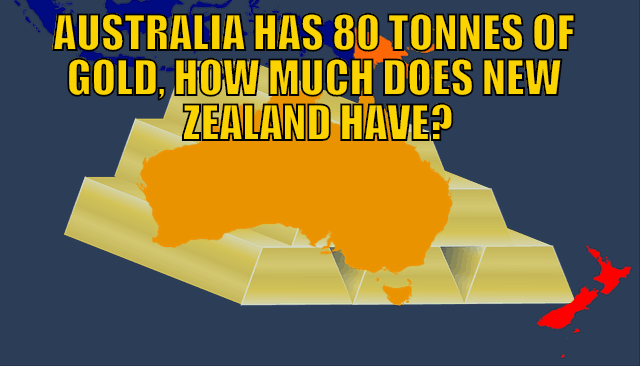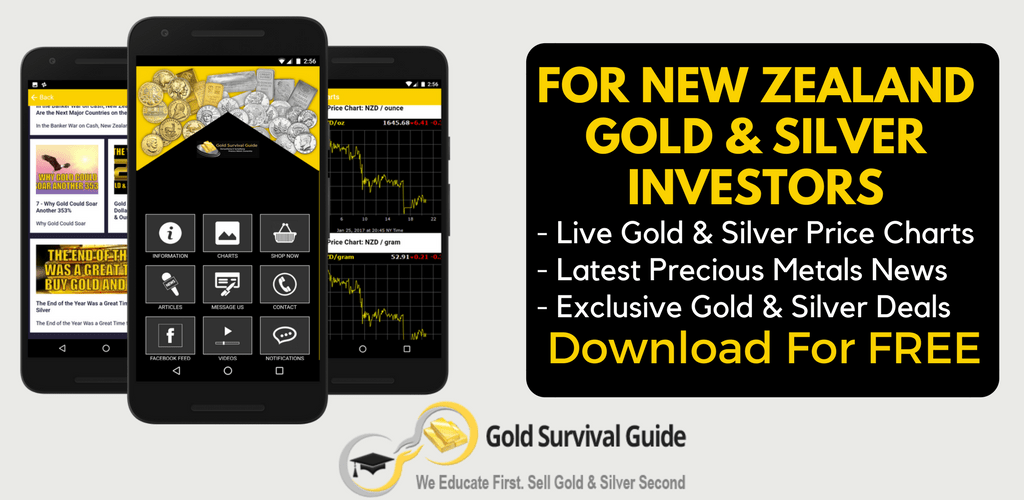 Your Questions Wanted
Remember, if you've got a specific question, be sure to send it in to be in the running for a 1oz silver coin.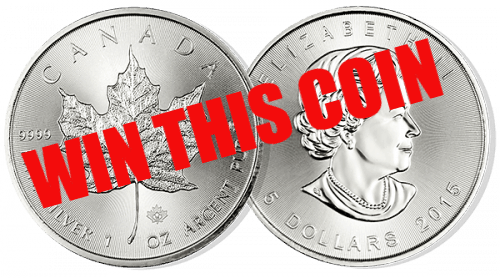 Why New Zealand Won't Have Any Say in a Global Currency Reset
Last week Russia announced it will eliminate the US dollar from its National Wealth fund to reduce its vulnerability to Western sanctions. The news comes just weeks before Putin and President Biden are scheduled to meet at an upcoming summit. Finance Minister Anton Siluanov noted that the dollar holdings will now be shifted to euros, yuan and gold.
This news item is yet another indicator of the steady slide of the US dollar as the global reserve currency.
It got us thinking once again about how a global currency reset could play out.
This article looks at:
How Would a Global Currency Reset Affect Us Down Under?
How Does New Zealand Compare to Australia in Terms of Gold Mining?
How About New Zealand's Official or Central Bank Gold Reserves?
Countries With Similar GDP to New Zealand and Their Gold Reserves:
Why New Zealand Won't Have Any Say in a Global Currency Reset
What Should You Do About New Zealand's Lack of Gold Reserves?
Get Your Own Reserves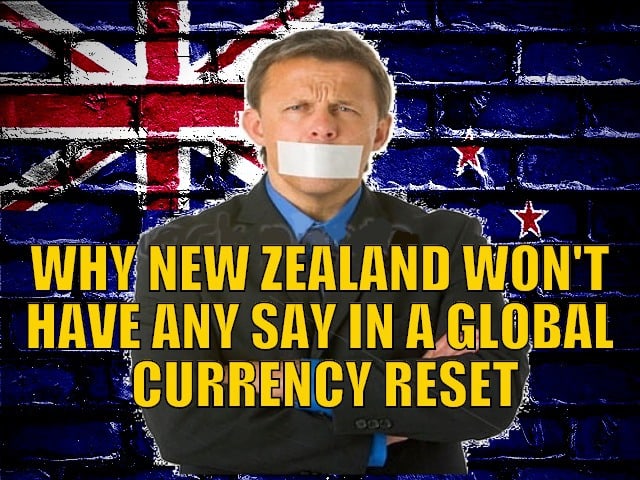 If you're keen to become your own central bank as our 2 feature articles recommend, then there are plenty of options when it comes to buying gold.
However, supplies of silver bars remain tight. Local suppliers still have no 1kg silver bars available, even on back order. The only local silver available are 5oz bars, but there is a 4-8 week wait for them.
But we currently have ABC serial numbered 1kg bars on a 2 week back order. These are actually cheaper than comparable bars we've seen advertised lately in the USA. So silver down under is well priced globally at the moment.
Also now in stock are 10oz and 500g ABC silver bars too. Phone or email to order them.
Phone: 0800 888 GOLD ( 0800 888 465 ) (or +64 9 2813898)
or Shop Online with indicative pricing
— Prepared for the unexpected? —
Here's how to always have clean fresh drinking water on hand.
The Sport Berkey Water Filter Bottle – $69 Delivered
Ideal for travel. Driving, camping, backpacking.
Free Shipping NZ Wide.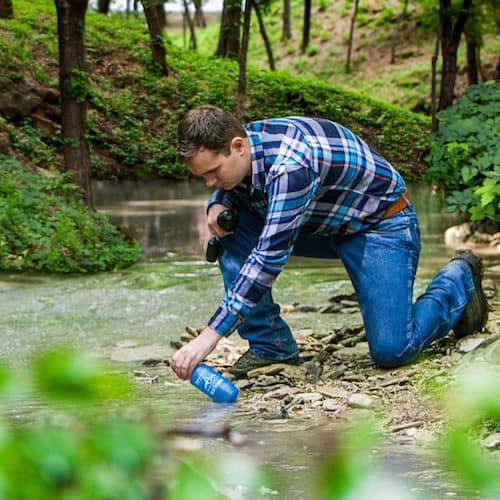 —–
This Weeks Articles:
Wed, 9 Jun 2021 9:57 AM NZST
We've spilled plenty of digital ink in these pages discussing the possibility, or maybe we should say the inevitability, of a change in the global monetary system. Perhaps in the form of a currency reset. Here's more on how that might play out. If the US Dollar Was Again Linked to Gold, How Would This […]
The post Why New Zealand Won't Have Any Say in a Global Currency Reset appeared first on Gold Survival Guide.
Wed, 2 Jun 2021 9:14 PM NZST
Prices and Charts Looking to sell your gold and silver? Visit this page for more information Buying Back 1oz NZ Gold 9999 Purity $2524 Buying Back 1kg NZ Silver 999 Purity $1197 Gold Consolidating Recent Gains Gold in New Zealand dollars continues in the sideways consolidation just below the 200 day moving average. As a […]
The post Why it Will Be Very Difficult for the RBNZ to End Currency Printing appeared first on Gold Survival Guide.
Tue, 1 Jun 2021 3:26 PM NZST
A recent question from a reader asked about the relationship between Copper and Gold: While not advocating storing copper bars under the bed, as a lifelong engineer I have always been an avid scrap collector and the red metal in all its forms has always been a steady earner. I've never kept records as such […]
The post Copper to Gold Ratio: What Can it Tell Us About Inflation? appeared first on Gold Survival Guide.
As always we are happy to answer any questions you have about buying gold or silver. In fact, we encourage them, as it often gives us something to write about. So if you have any get in touch.
Phone: 0800 888 GOLD ( 0800 888 465 ) (or +64 9 2813898)
or Online order form with indicative pricing
---
---
---
Note:
Prices are excluding delivery
1 Troy ounce = 31.1 grams
1 Kg = 32.15 Troy ounces
Request special pricing for larger orders such as monster box of Canadian maple silver coins
Lower pricing for local gold orders of 10 to 29ozs and best pricing for 30 ozs or more.
Foreign currency options available so you can purchase from USD, AUD, EURO, GBP
Plus we accept BTC, BCH, Visa and Mastercard
Note: For local gold and silver orders your funds are deposited into our suppliers bank account. We receive a finders fee direct from them. Pricing is as good or sometimes even better than if you went direct.


---
Can't Get Enough of Gold Survival Guide?
If once a week isn't enough sign up to get daily price alerts every weekday around 9am Click here for more info
---
---
The Legal stuff – Disclaimer:
We are not financial advisors, accountants or lawyers. Any information we provide is not intended as investment or financial advice. It is merely information based upon our own experiences. The information we discuss is of a general nature and should merely be used as a place to start your own research and you definitely should conduct your own due diligence. You should seek professional investment or financial advice before making any decisions.
Copyright © 2020 Gold Survival Guide.
All Rights Reserved.