This Week:
In Gold We Trust Report 2017
Silver Short-Squeeze Potential
The Sun Rises on the Precious Metals Sector
US Dollar Gold Close to Breaking 5 Year Downtrend Line
Gold And Silver Manipulation Confirmed by US Regulators
SILVER COIN SPECIAL TODAY
We're hoping to get another tranche of these coins
But currently there are just 1000 remaining. 7000 sold.

1oz Perth Mint Silver Kangaroos 2015 BU (Brilliant Uncirculated)

Minimum order 500 coins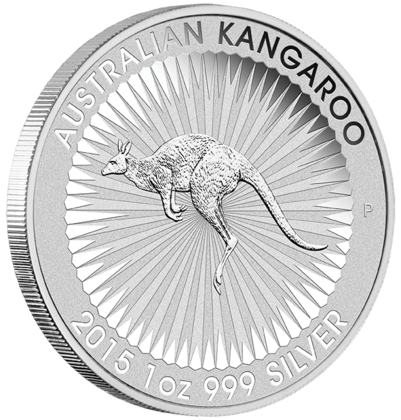 Bonus for 1000 coins – more details further down.
Learn more about the Kangaroos coins here.
—–
Prices and Charts

Looking to sell your gold and silver?
Buying Back 1oz NZ Gold 9999 Purity
$1721
Buying Back 1kg NZ Silver 999 Purity
$747
Consolidation Continues
Gold in NZ Dollars has continued to consolidate just below $1800 this past week. Held back chiefly by the stronger NZ Dollar.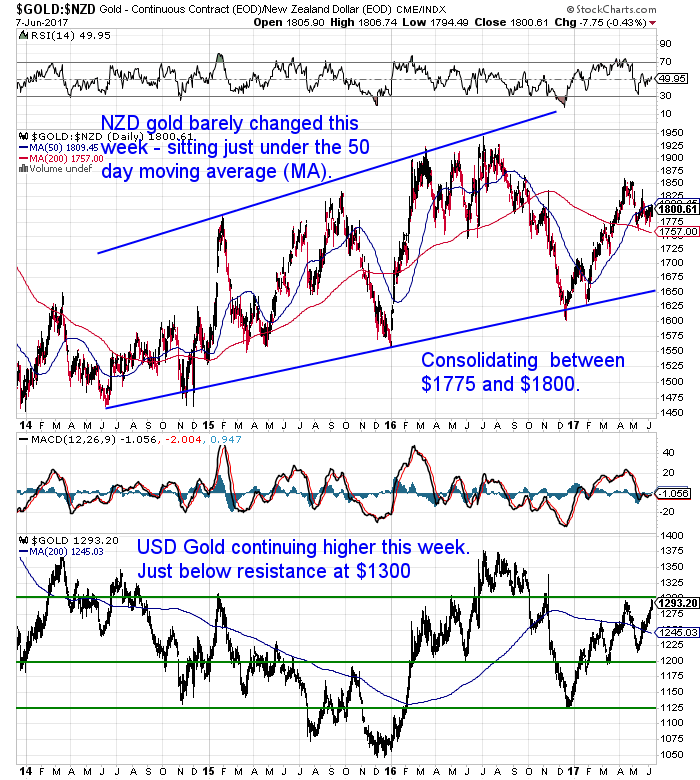 NZ Dollar silver has likewise continued to consolidate, around the $24.50 level.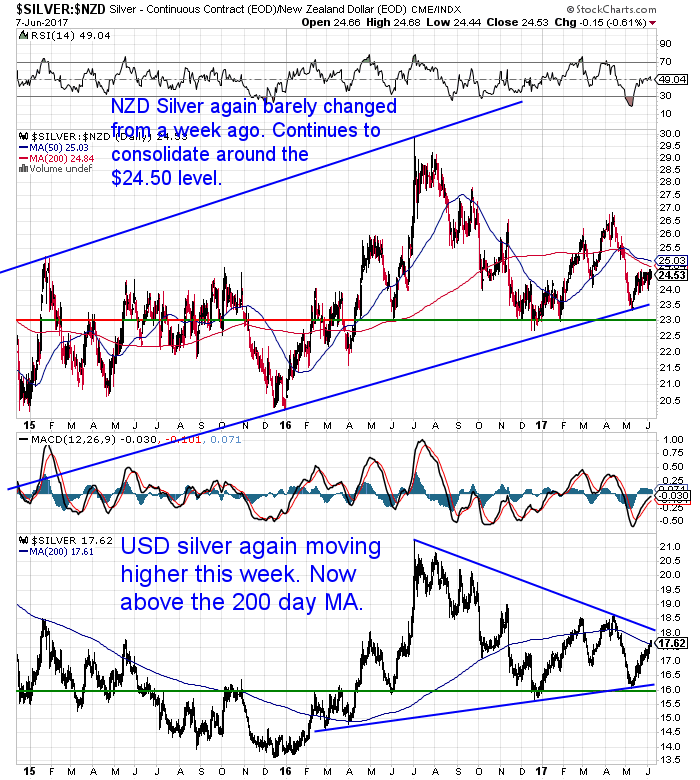 While the NZ Dollar has moved even higher. Having broken through the 200 day moving average (MA), it is getting very overbought. Also touching the downtrend line from September last year, it will be doing well to break through it right now.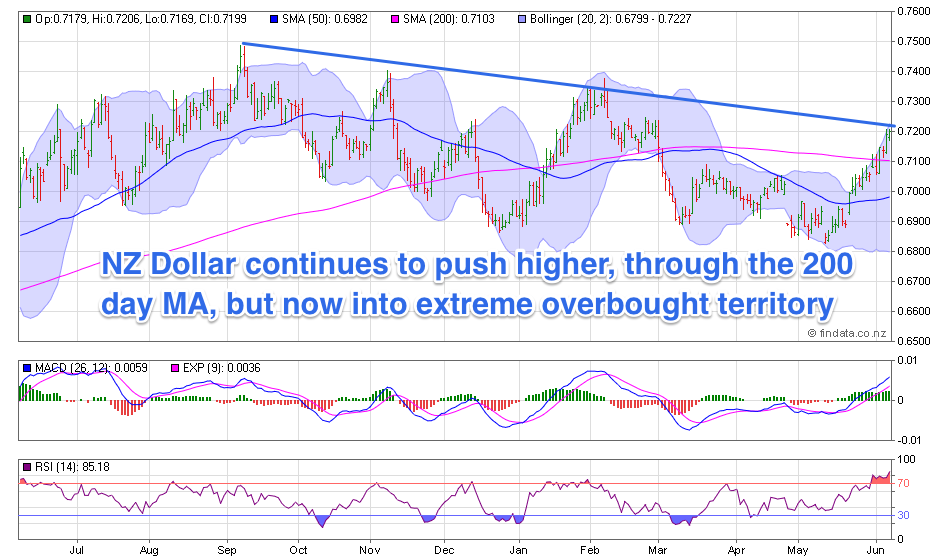 US Dollar Gold Close to Breaking 5 Year Downtrend Line
Of interest this week is that the US Dollar gold price is close to breaking through the downtrend line that has served as resistance for over 5 years.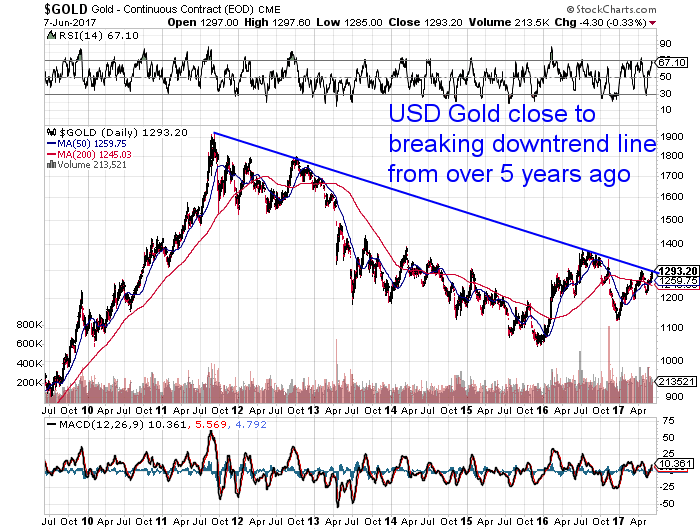 Of course in NZ Dollars gold bottomed out about 3 years ago. But the tide does also seem to be turning finally in US Dollars too.
This article makes a good argument for why a major new bull market is brewing in gold and silver too.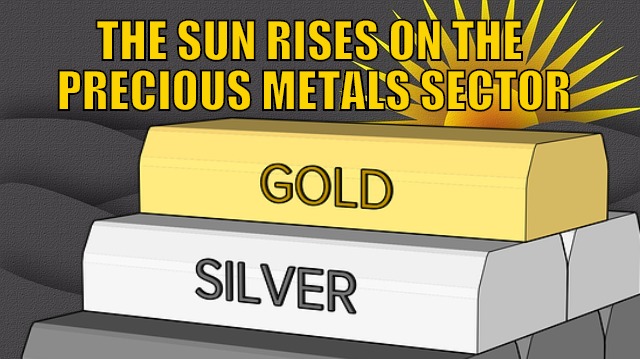 Gold And Silver Manipulation Confirmed by US Regulators
A couple of weeks ago we watched this explanation by Dr. Rosa Abrantes-Metz where she explained about how she has developed screens for detecting silver and gold price manipulation.
We've Uncovered Patterns of Gold Price Manipulation: Rosa Abrantes-Metz
This week saw a surprising announcement from the US CFTC – the Commodities Futures Trading Commission.
http://www.cftc.gov/PressRoom/PressReleases/pr7567-17#PrRoWMBL
Ted Butler explained why it was so surprising. Not that someone – a junior trader at a large but unnamed financial institution – was found guilty of manipulating prices. But that the announcement seems to show that:
"…this is no one-off by the agency. I don't think I am exaggerating in the slightest to say that the press release reads more like an open solicitation for others to step forward to provide information pertaining to COMEX gold and silver futures manipulation. Again, please read the documents. I don't know what I am more shocked by – the announcement of manipulation in COMEX gold and silver futures or the very obvious intent by the Commission to pursue this further."
We'll bow out early today as there are a number of other recommended articles on the site for you to delve into. But first in case you missed it last week here's the details of a popular offer we have going at the moment…
Limited Mintage Semi-Numismatic Silver Coin (with Possible Upside Potential) Cheaper Than a Bullion Coin
Plus New Bonus Added – Get a Huge Vehicle Survival Pack Valued at $304 for Free
These 2015 1oz Perth Mint Silver Kangaroos have continued to be very popular over the past couple of weeks. There are only 1000 left from the original 8000 we'd secured. Although we're still hopeful of securing another tranche of the coins.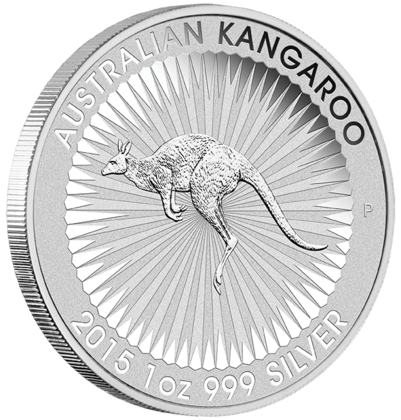 What is the reason for the popularity?
There's a few we can think of.
Reason 1:
They're currently cheaper than the other popular and also internationally recognised silver bullion coin, the Canadian Mint Silver Maples.
Here's the pricing comparison to silver maples prices:
500 x 1oz Perth Mint Silver Kangaroos 2015 are $14,550 ($29.10 per coin) – $150 cheaper than 500 Silver Maples
1000 x 1oz Perth Mint 2015 Silver Kangaroos are $28,800 ($28.80 per coin) – $600 cheaper than 1000 Silver Maples
(Price includes fully insured delivery via Fed Ex directly to you anywhere in New Zealand or Australia.)
Reason 2:
There were only 300,000 of these coins minted in 2015. So there is a chance of a potential "collectors premium" upside in the future.
To learn more about the potential upside that these limited mintage silver coins may have, check out this article.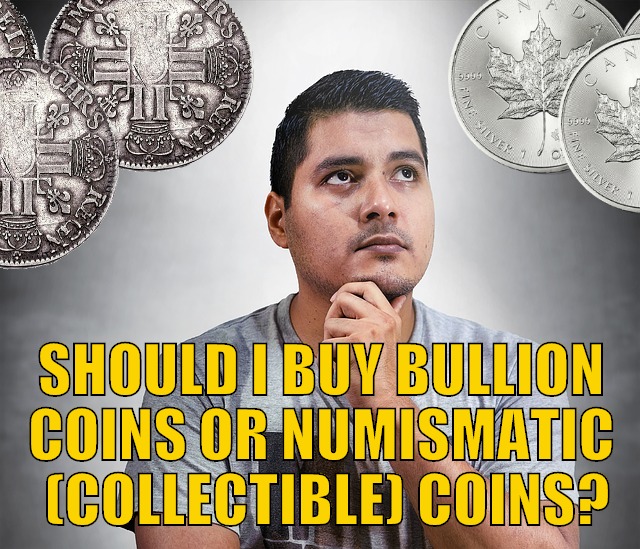 Reason 3:
Silver in NZ dollars has bottomed out and is still not too far from the recent low. So it's looking like a good time to buy silver. See the long term chart below: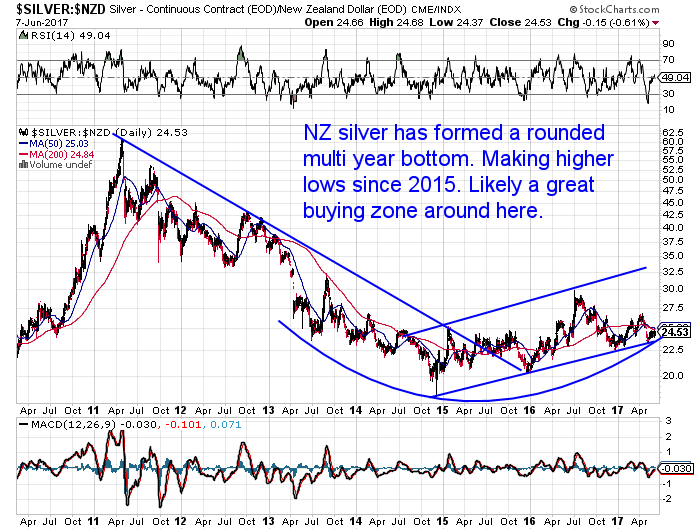 Reason 4:
Get a Huge Vehicle Survival Pack Valued at $304 for Free
Last week we also added a bonus. A huge Vehicle Survival Pack valued at $304.
Free with any order of 1000 or more 1oz Silver Kangaroo coins.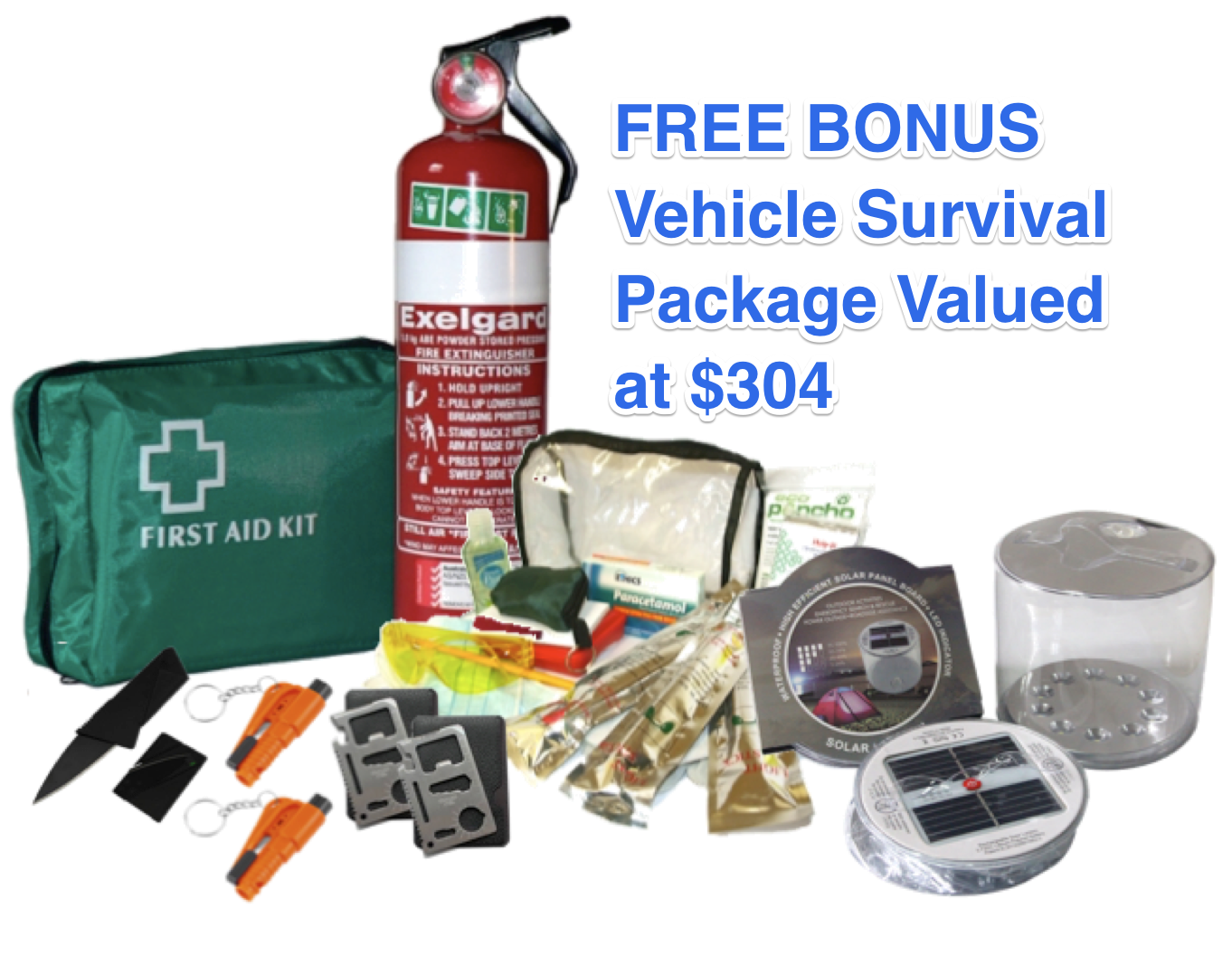 This subscriber only deal (it's not mentioned anywhere on the website) contains enough gear to spread across 2 vehicles. The pack includes:
2 x Inflatable Solar Lanterns
2 x 3-in-1 Car Escape Tools
2 x Credit Card Knives
2 x Credit Card Multi-tools
1 x Car Glove Box Survival Kit
1 x Vehicle First Aid Kit with Fire Extinguisher
Call David on 0800 888 465 to learn more about this limited quantity deal or just reply to this email. Note: Minimum order is 500 coins.
Phone: 0800 888 GOLD ( 0800 888 465 ) (or +64 9 2813898)
or Online order form with indicative pricing
— Prepared for Power Cuts? —
[BACK IN STOCK] New & Improved Inflatable Solar Air Lantern
It's easy to use. Just charge it in the sun. Inflate it. And light up a room.
6-12 hours of backup light from a single charge! No batteries, no wires, no hassle. And at only 1 inch tall when deflated, it stores easily in your car or survival kit.
Plus, it's waterproof so you can use it in the water.
—–
This Weeks Articles:
Wed, 7 Jun 2017 2:18 PM NZST
The excellent Ronnie Stoeferle and his partner at the asset management company Incrementum AG, Mark Valek, released their 2017 In Gold we Trust report on 1 June. As always there is a wealth of information contained in an easy to digest format. The "In Gold we Trust" report is considered the "gold standard of gold […]
Wed, 7 Jun 2017 12:38 PM NZST
In New Zealand Dollar terms gold and silver clearly bottomed out well over a year ago. However in US Dollar terms this hasn't been so clear cut. Here's a bunch of charts that show even the US Dollar prices of gold and silver now indicate a major bull market is brewing in both metals. The […]
Wed, 7 Jun 2017 12:03 PM NZST
Last week we discussed the short covering going on in the silver futures market and the possibility for a short squeeze developing in silver. The latest Commitment of Traders report data has given more support for this development. Adam Hamilton digs into the increased likelihood of a short squeeze developing due to what has transpired […]
Tue, 6 Jun 2017 12:33 PM NZST
There is constantly plenty of talk of housing bubbles and housing shortages here in New Zealand. However one place where prices have been shooting even higher of late is Canada. See why Canadian house prices could be what really puts the US economy "under the microscope" before too long… The U.S. Economy Is About to […]
Tue, 6 Jun 2017 12:17 PM NZST
Many may think that with the failure to elect anti-European Union candidate Marine Le Pen as French president, the EU is safe. However the underlying problems with the EU still remain. Italy looks to be the biggest risk currently. See how the EU inflation rate reaching 2% may be what creates a big problem for […]
Fri, 2 Jun 2017 9:27 PM NZST
This Week: The $5 TRILLION Paper Silver Scam PAPER vs. PHYSICAL: The Amazing Amount Of Leverage In The Silver Market The Darker Side of Bitcoin Technology and Gold's Next Spike Limited Mintage Silver Semi-Numismatic Coin – Cheaper than a Bullion Coin SILVER COIN SPECIAL TODAY Sold 4500 this week, just 3500 Remaining 1oz Perth Mint […]
As always we are happy to answer any questions you have about buying gold or silver. In fact, we encourage them, as it often gives us something to write about. So if you have any get in touch.
Phone: 0800 888 GOLD ( 0800 888 465 ) (or +64 9 2813898)
or Online order form with indicative pricing
---
---
---
Note:
Prices are excluding delivery
1 Troy ounce = 31.1 grams
1 Kg = 32.15 Troy ounces
Request special pricing for larger orders such as monster box of Canadian maple silver coins
Lower pricing for local gold orders of 10 to 29ozs and best pricing for 30 ozs or more.
Foreign currency options available so you can purchase from USD, AUD, EURO, GBP
Note: For local gold and silver orders your funds are deposited into our suppliers bank account. We receive a finders fee direct from them. Pricing is as good or sometimes even better than if you went direct.

---
Can't Get Enough of Gold Survival Guide? If once a week isn't enough sign up to get daily price alerts every weekday around 9am Click here for more info
---
Our Mission
To demystify the concept of protecting and increasing ones wealth through owning gold and silver in the current turbulent economic environment.
To simplify the process of purchasing physical gold and silver bullion in NZ – particularly for first time buyers.
---
---
The Legal stuff – Disclaimer: We are not financial advisors, accountants or lawyers. Any information we provide is not intended as investment or financial advice. It is merely information based upon our own experiences. The information we discuss is of a general nature and should merely be used as a place to start your own research and you definitely should conduct your own due diligence. You should seek professional investment or financial advice before making any decisions.
Copyright © 2017 Gold Survival Guide. All Rights Reserved.