Prices and Charts

---
Looking to sell your gold and silver?
Buying Back 1oz NZ Gold 9999 Purity
$2474
Buying Back 1kg NZ Silver 999 Purity
$1052
---
Sharp Fall – But a Sharper Bounce Back – is the Bottom Now in for Gold & Silver?
Gold in New Zealand Dollars continued to fall this week. As we warned might be the case last week, the price fell to touch the uptrend line dating back to 2018.
However today has seen a very sharp bounce back in the price. NZD gold is now back at the support/resistance line that coincides with the June low.
The line at $2500, from where gold has bounced, was also close to the 2019 high and the March closing price low.
So that is looking like a good place for NZD gold to form a bottom. In fact we are leaning towards the bottom now being in. No guarantees of course. But the RSI overbought/oversold indicator was into very oversold territory. It is now edging back a bit higher with today's bounce. Looking back, the last time the RSI was this oversold was the bottom in late 2018. If we looked back further we would also see the same thing every other year. Meaningful bottoms occur when the RSI is oversold below 30.
If you have been sitting on the fence, then any purchase around current levels is likely going to be good buying in the long run. In our opinion of course.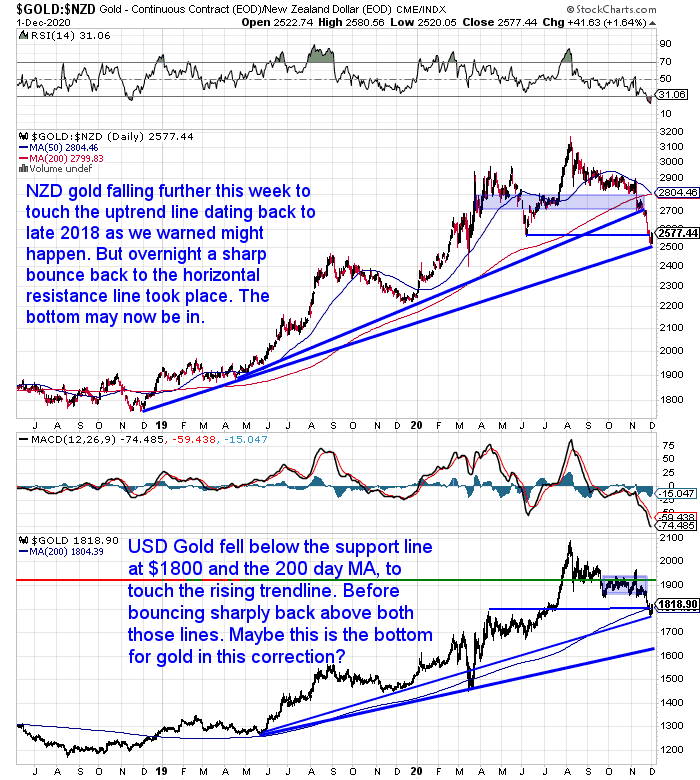 Silver Bouncing Up Sharply Off the 200 Day Moving Average
Earlier this week, silver in New Zealand dollars dipped even lower. We warned last week that we could yet see a move down to the 200 day moving average (MA). This did indeed take place. But then overnight silver staged a powerful bounce back. Rising from the $31 support line (which was the 2019 high), right the way back up to the resistance line at $34.
Like gold, the RSI for silver also touched oversold conditions at 30, before bouncing back up sharply. So the bottom may well have been put in for silver at $31. Expect further volatility from here, but our guess is we may not see lower than $31 per ounce now.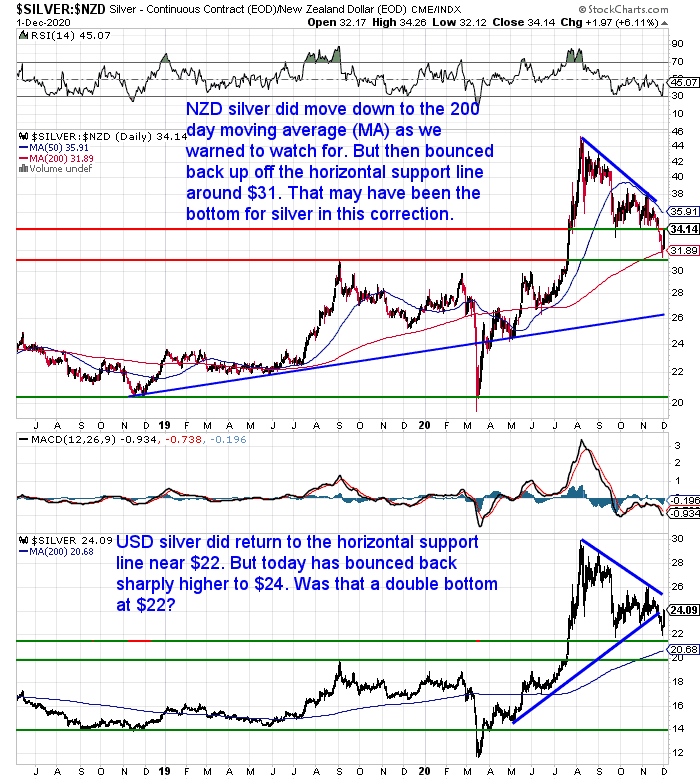 NZ Dollar Strength Continues – But For Much Longer?
The New Zealand Dollar was up over 1% this week. It has nudged above 0.70 now. The Kiwi remains in very overbought territory on the RSI, so we are still watching for a pullback.
Lately we have seen US gold and silver prices falling as the NZ dollar rose. We may soon be in for a period where we see the opposite. This would give local gold and silver prices a serious boost as metals rise while the Kiwi dollar falls.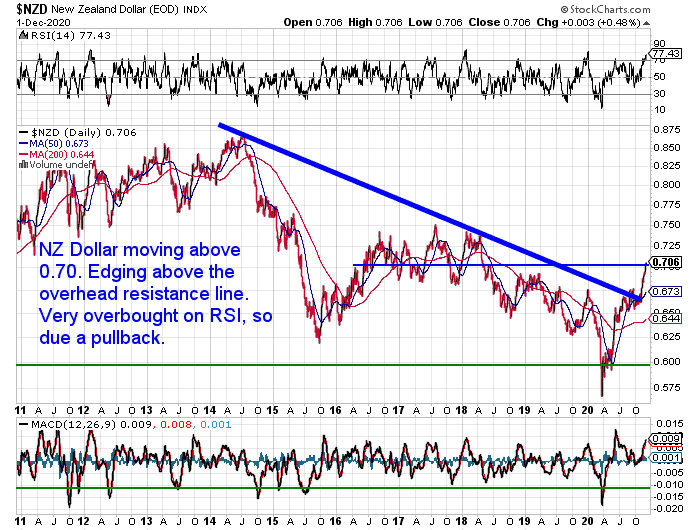 Need Help Understanding the Charts?
Check out this post if any of the terms we use when discussing the gold, silver and NZ Dollar charts are unknown to you:
Continues below
—– OFFER FROM OUR SISTER COMPANY: Emergency Food NZ —–
NEW: Certified Organic Long Life Emergency Food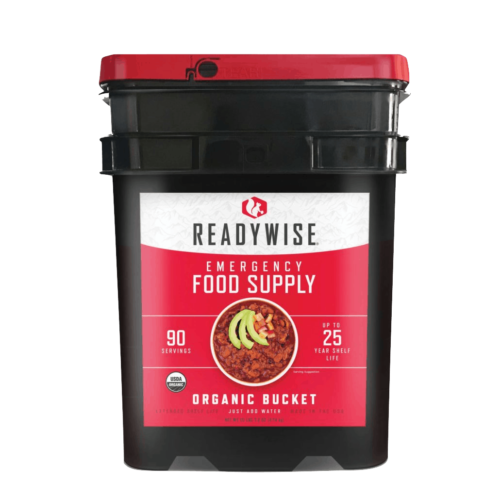 This easy to carry bucket has 90 servings of organic breakfasts and mains
Free Shipping NZ Wide
Get Peace of Mind For Your Family NOW….


—–
When to Buy Gold or Silver: The Ultimate Guide (Updated Dec 2020)
We have just outlined our argument for why the bottom may be in for gold and silver. Making now a very good time to be buying. But there is more to deciding when to buy gold and silver than just watching the price.
If you've been looking to buy, the below ultimate guide covers just above all the bases when looking to buy gold or silver…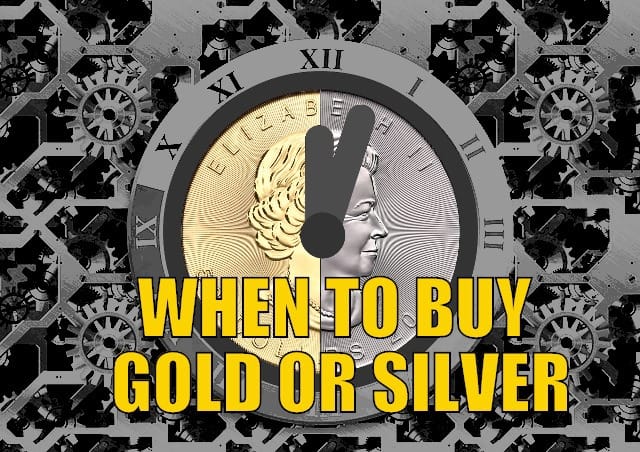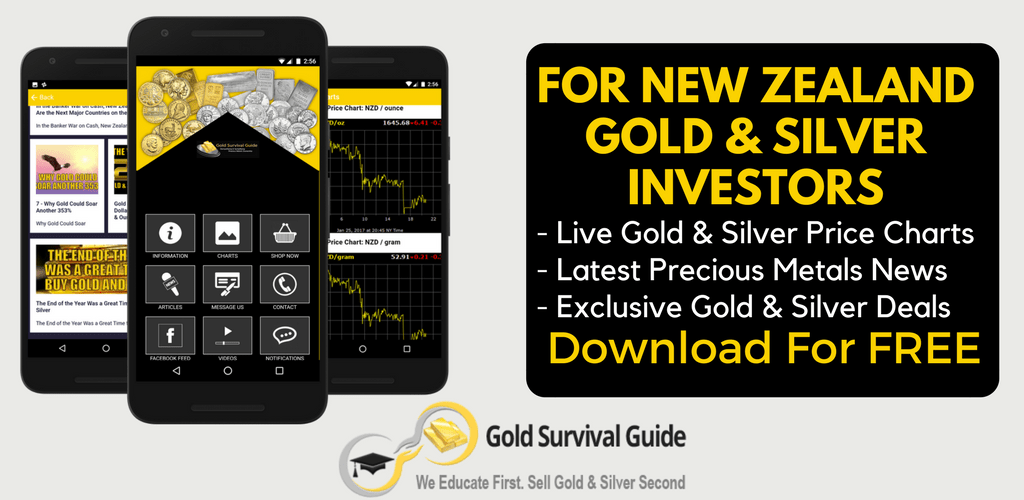 Your Questions Wanted
Remember, if you've got a specific question, be sure to send it in to be in the running for a 1oz silver coin.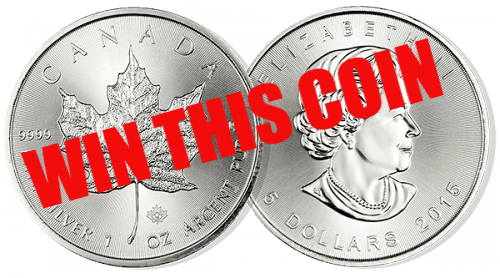 Is an Inflationary Decade Ahead of Us?
In recent months we commented on the potential for inflation to finally rear its head. In August we had:
Is Inflation Coming? If So, What Kind?
And also specifically what it could mean in New Zealand: More on Inflation (and Inflation in NZ)
Then a couple of weeks ago we shared some thoughts from Nick Hubble on how
Gold Can Benefit From Both a Crisis or an [Inflationary] Boom.
Our best guess is that we don't get a collapse. If the response to the Corona-panic has taught us anything it is that the central planners simply won't let that happen. So in the end they will likely engineer an artificial inflationary boom. The crash may come after that.
Today the always reliable Ronald Stoeferle has released an excellent report titled "The Boy Who Cried Wolf: Inflationary Decade Ahead?"
From our quick read of that it seems Ronni is also thinking along those lines. Here's a summary from him:
The extraordinary events of 2020 have motivated us to write an In Gold We Trust special on the heightened risk of rising inflation rates. We chose the classic children's fable "The Boy Who Cried Wolf", by Æsop as the leitmotif of this report.

Why did we choose this allegory? As the story goes, a boy guarding over sheep jokingly cries wolf, twice. After returning to the village twice, the locals decide not to respond when the boy cries again. Little did the villagers know that this time the wolf was attacking the sheep.

Similarly, the global paradigm of the past decades has been disinflationary and occasional warnings about rising consumer price inflation have not materialized. Now, with debts at an all-time high and trust in public institutions eroding, populist policies could serve as the bedrock of a new inflationary paradigm. We suspect that the monetary developments of 2020, coupled with the recent paradigm shift, could soon push inflation rates significantly higher.

Policymakers and investors at large are reluctant to acknowledge this possibility. Decades of the deflationary paradigm have rendered them wholly skeptical of a potential wolf attack: spiking inflation.

The main topics of this In Gold We Trust special are:
How and why politicians have taken over credit creation
Why Vaccinations will lead to an increase of the Velocity of Money
Average Inflation Targeting
Unprecedented Growth of the Broad Monetary Aggregates
The Rise of "People's" Policies (MMT, Helicopter Money)
How to Prepare Your Portfolio for Inflation

The In Gold We Trust special report can be read and downloaded here:

the report is 40 pages long, although full of charts and tables. But we'd still highly recommend you at least give it a skim.
If what we said earlier is right and the bottom has just been made in gold and silver, then we'll likely see gold and silver head higher once again from here. There is likely to be many investors who will be buying out of fear of inflation.
We'd say that fear is not unfounded – even if it isn't right around the corner just yet.
Phone: 0800 888 GOLD ( 0800 888 465 ) (or +64 9 2813898)
or Shop Online with indicative pricing
— Prepared for the unexpected? —
Here's how to always have clean fresh drinking water on hand.
The Sport Berkey Water Filter Bottle – $69 Delivered
Ideal for travel. Driving, camping, backpacking.
Free Shipping NZ Wide.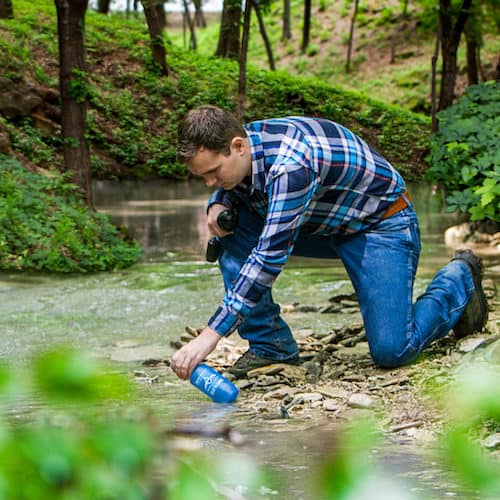 —–
This Weeks Articles:
Tue, 1 Dec 2020 6:16 PM NZST
When to buy gold or silver is a question that can have multiple meanings. Firstly you might ask it from the point of view of when is a good time to buy precious metals (gold and silver) in general. This in turn could depend on fundamental reasons for buying gold and silver. Such as how […]
The post When to Buy Gold or Silver: The Ultimate Guide (Updated Dec 2020) appeared first on Gold Survival Guide.
Wed, 25 Nov 2020 8:30 AM NZST
Prices and Charts Looking to sell your gold and silver? Visit this page for more information Buying Back 1oz NZ Gold 9999 Purity $2494 Buying Back 1kg NZ Silver 999 Purity $1033 Sharp Fall for NZD Gold – Down 5% This Week Gold in New Zealand dollars fell below the horizontal support line at $2700 […]
The post NZ Finance Minister Asks the "Drug Dealer" to Help the "Addict" appeared first on Gold Survival Guide.
Wed, 18 Nov 2020 1:41 PM NZST
Prices and Charts Looking to sell your gold and silver? Visit this page for more information Buying Back 1oz NZ Gold 9999 Purity $2634 Buying Back 1kg NZ Silver 999 Purity $1106 NZD Gold Bottoming Out Above $2700? Gold in New Zealand Dollars is down a little lower from a week ago, chiefly because of […]
The post Gold Can Benefit From Both a Crisis or a Boom appeared first on Gold Survival Guide.
As always we are happy to answer any questions you have about buying gold or silver. In fact, we encourage them, as it often gives us something to write about. So if you have any get in touch.
Phone: 0800 888 GOLD ( 0800 888 465 ) (or +64 9 2813898)
or Online order form with indicative pricing
---
---
---
Note:
Prices are excluding delivery
1 Troy ounce = 31.1 grams
1 Kg = 32.15 Troy ounces
Request special pricing for larger orders such as monster box of Canadian maple silver coins
Lower pricing for local gold orders of 10 to 29ozs and best pricing for 30 ozs or more.
Foreign currency options available so you can purchase from USD, AUD, EURO, GBP
Plus we accept BTC, BCH, Visa and Mastercard
Note: For local gold and silver orders your funds are deposited into our suppliers bank account. We receive a finders fee direct from them. Pricing is as good or sometimes even better than if you went direct.


---
Can't Get Enough of Gold Survival Guide?
If once a week isn't enough sign up to get daily price alerts every weekday around 9am Click here for more info
---
---
The Legal stuff – Disclaimer:
We are not financial advisors, accountants or lawyers. Any information we provide is not intended as investment or financial advice. It is merely information based upon our own experiences. The information we discuss is of a general nature and should merely be used as a place to start your own research and you definitely should conduct your own due diligence. You should seek professional investment or financial advice before making any decisions.
Copyright © 2020 Gold Survival Guide.
All Rights Reserved.