Prices and Charts
---
Looking to sell your gold and silver?
Buying Back 1oz NZ Gold 9999 Purity
$2669
Buying Back 1kg NZ Silver 999 Purity
$1000
---
USD Gold Jumping Higher But NZD Gold Sideways Still
Overnight the USD gold price jumped into the $1840's. This was after a week or so of sideways action just above $1800. We are now likely to see a move towards the all time USD high of $1920. Perhaps fairly quickly too?
That might then be where we see a correction. As there is likely to be pretty stiff resistance at the all time high.
Conversely the NZD gold price has continued to trade in a sideways range, due to the ongoing strength in the Kiwi dollar. Today the NZD gold price is near the top of this range of the past month. So if the USD gold price heads even higher, we may then see a move higher from the NZD gold price too.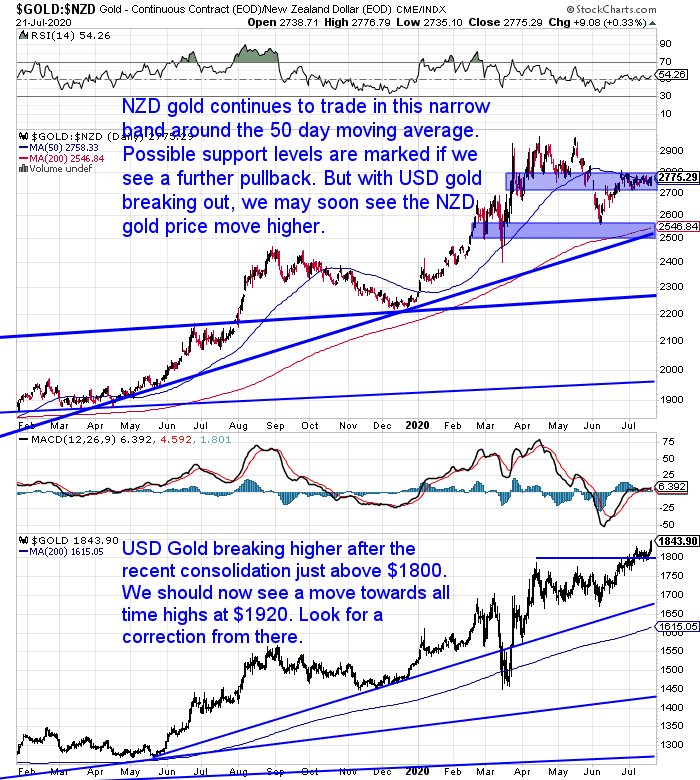 Silver Breakout – NZD Silver Surges to Highest Price Since Early 2013
However, even the strength of the Kiwi dollar couldn't dent the rise in the New Zealand dollar silver price this week. Up a massive 15% on just 7 days ago! Most of that rise coming in the past 2 days.
The price has even surged higher in the short time since we added the comments into the chart below. It's sitting above $34 as we now type. The highest price since early 2013 in NZD terms.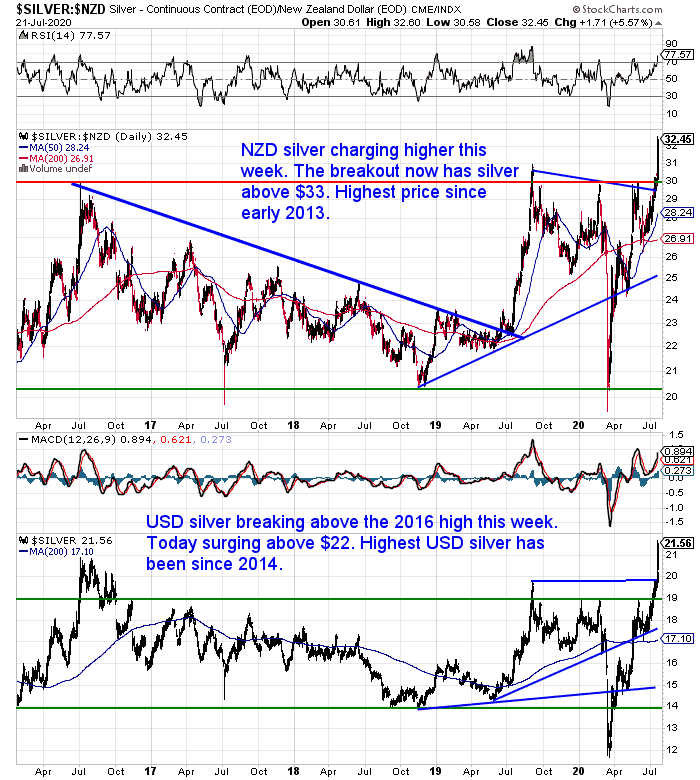 Silver is now into overbought territory so any pullback should not come as a surprise. But with silver you can't count on that happening and it could run even higher now.
Regardless of whether a pull back comes now or later, it is clear silver has broken out. Check out the long term chart below. NZD silver is above the horizontal (red) resistance line dating back to 2013. It is also now above the rising blue trendline also from 2013.
But there is still massive upside ahead just to get to the 2011 high. Almost double today's price.
With all the currency that has been created we don't expect silver to stop at the all time high. Adjusted for inflation that is much higher than US$50 (NZ$62.50).
More on that in this week's feature article below.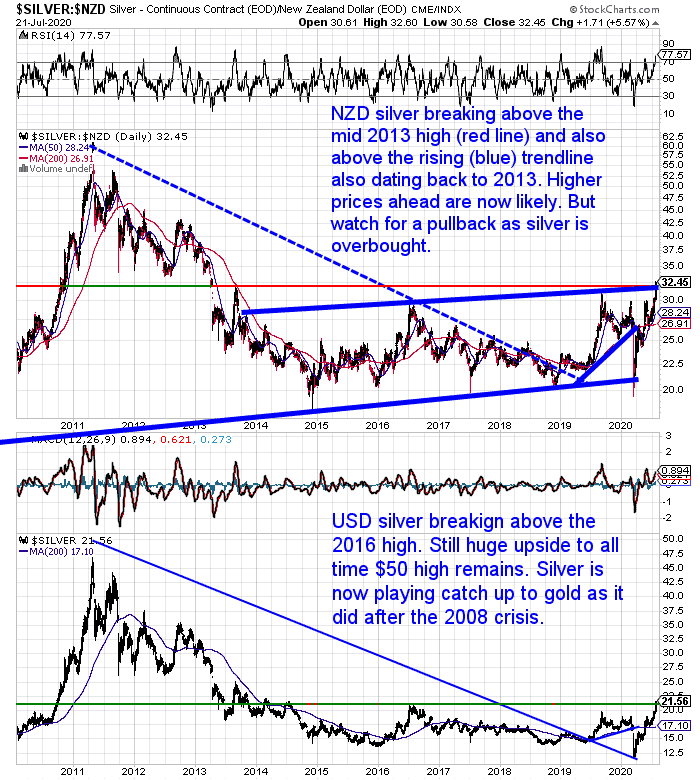 Gold Silver Ratio Plunges
The gold to silver ratio has today plunged to the lowest level this year. Down to 85. Close to touching the rising blue trendline. So perhaps that is indicating we'll see a pull back in silver soon? But then again gold could just run higher to achieve the same result.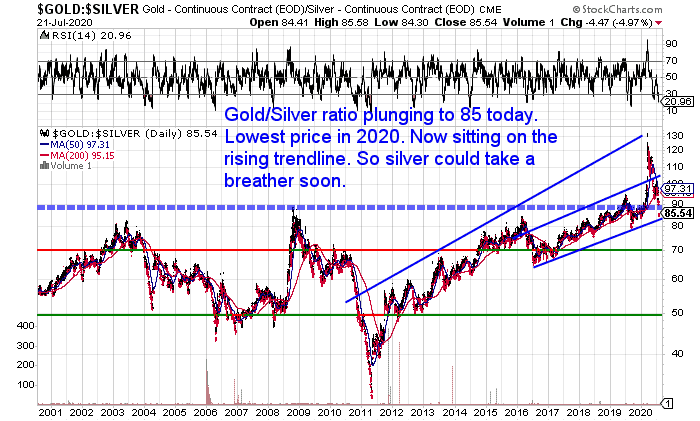 Kiwi Dollar Jumping Higher
The Kiwi dollar is up 1.75 on a week ago. As mentioned above that has put a handbrake on any gains in the local gold price
Once again it is closing in on the downtrend line dating back to 2014.
We'd need to see a clear break above 0.67 for this to change.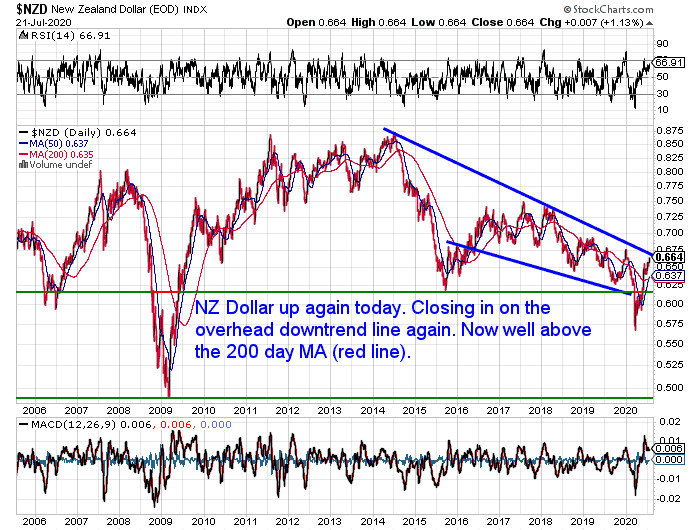 Need Help Understanding the Charts?
Check out this post if any of the terms we use when discussing the gold, silver and NZ Dollar charts are unknown to you:
Continues below
Buying Silver in New Zealand – Why is it More Expensive?
Silver is much cheaper to buy per ounce than gold. But people are often surprised that the premium above the spot price is higher for silver than for gold.
In this week's feature article we answer this question. Along with why silver premiums are often more expensive in New Zealand than elsewhere in the world. Especially for coins.
Interestingly COVID-19 has actually diminished the gap between here and elsewhere in the world in terms of silver premiums.
But don't let higher premiums put you off buying silver. As we also outline 4 reasons why silver will most likely have more upside compared to gold.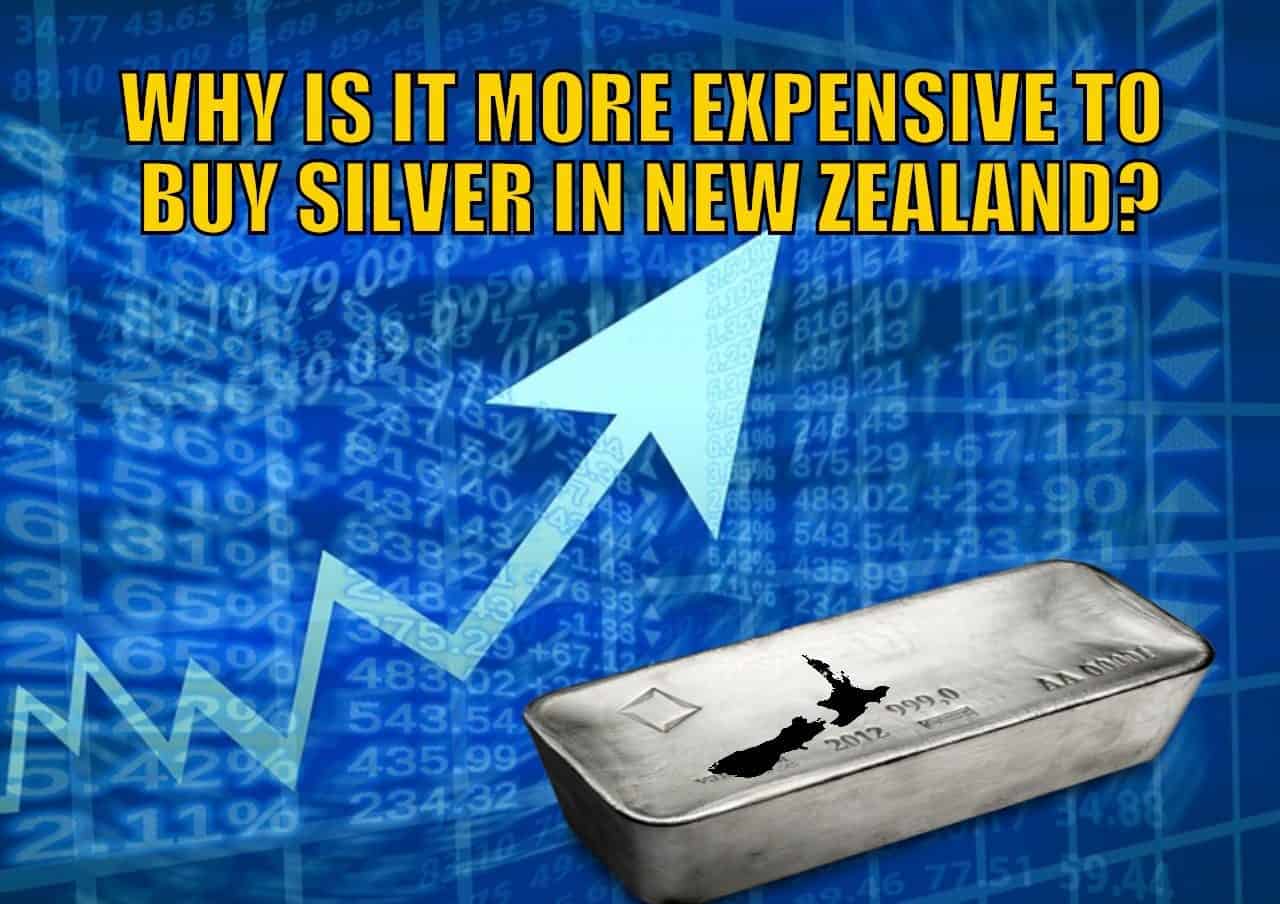 Can You Get Insurance on Gold and Silver Bullion in New Zealand?
Buying gold or silver? Don't forget about storage. And if you're storing precious metals you might also have considered trying to insure it. It's not that easy.
We run through the ins and outs of insurance on precious metals. Both at home and in private storage facilities.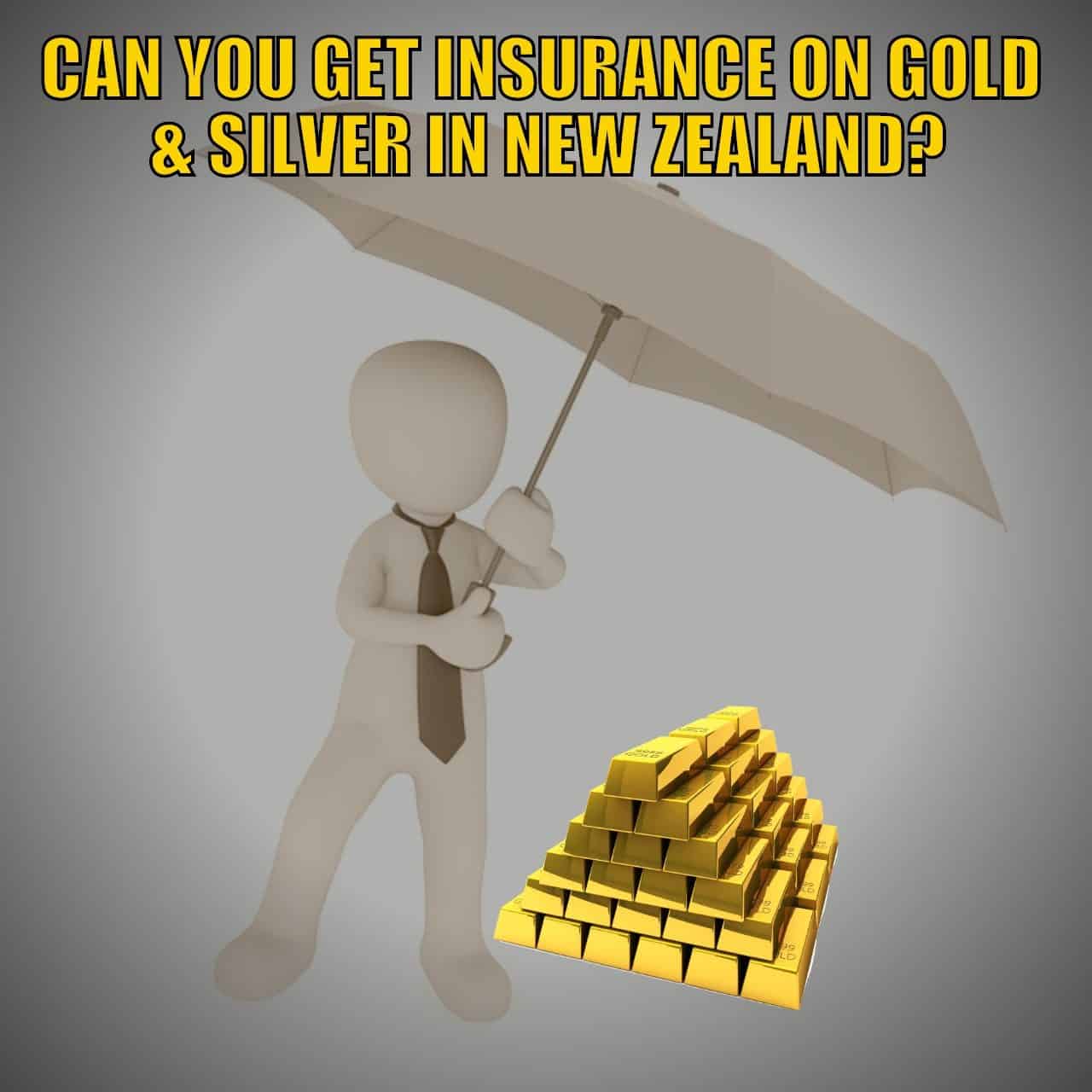 Your Questions Wanted
Remember, if you've got a specific question, be sure to send it in to be in the running for a 1oz silver coin.
Premiums and New Products
In recent weeks, premiums on most international brand silver coins have come down from the crazy highs during the COVID-19 lockdown. But with the silver price rising our bet is we'll see a surge in buying. So there's a chance these premiums could rise again. That could make now a decent time to buy any coins you're after.
The ideal time to buy is at the bottom. But that is very hard to pick. So a breakout is also not a bad time to buy. As generally when a long held resistance level is broken we can expect a decent move higher in the near future.
It's noticeably busier today. So if requesting a quote please bear with us if we're a little slower to respond.
We will be adding some more silver coin and bar products to the website in the coming days. So keep your eyes peeled for them too.
Please get in touch if you have any questions about buying gold or silver.
Phone: 0800 888 GOLD ( 0800 888 465 ) (or +64 9 2813898)
or Shop Online with indicative pricing
This Weeks Articles:
Wed, 22 Jul 2020 10:11 AM NZST
Why is it More Expensive to Buy Silver in New Zealand? In the past when buying silver bars, premiums (i.e. the mark up) above the spot price of silver have been 20% and even as high as 30% in New Zealand. While premiums above spot price have reduced on silver over recent years, silver in […]
The post Buying Silver in New Zealand – Why is it More Expensive? appeared first on Gold Survival Guide.
Tue, 21 Jul 2020 12:52 PM NZST
If you've bought or are thinking about buying gold and silver bullion, the question you should also consider is where will you store it? The next question that often springs to mind is: Can I insure gold and silver bullion in New Zealand? The short answer to this question is "Yes". However it's not as […]
The post Can You Get Insurance on Gold and Silver Bullion in New Zealand? appeared first on Gold Survival Guide.
Wed, 15 Jul 2020 9:02 AM NZST
Prices and Charts Looking to sell your gold and silver? Visit this page for more information Buying Back 1oz NZ Gold 9999 Purity $2665 Buying Back 1kg NZ Silver 999 Purity $917 NZD Gold Still Trading Sideways Gold priced in New Zealand dollars was up a little this week. However it remains in a sideways […]
The post Silver Break Out Beginning appeared first on Gold Survival Guide.
Fri, 10 Jul 2020 1:31 PM NZST
How many people own gold? How does that number today compare to what it was historically? A reader asked just that recently: "I strongly suspect that far fewer people historically by percentage are holders of investment physical precious metals and if so then it may hardly rate in the mass media. I would be interested […]
The post How Many People Own Gold? New Zealand vs Other Countries appeared first on Gold Survival Guide.
As always we are happy to answer any questions you have about buying gold or silver. In fact, we encourage them, as it often gives us something to write about. So if you have any get in touch.
Phone: 0800 888 GOLD ( 0800 888 465 ) (or +64 9 2813898)
or Online order form with indicative pricing
---
---
---
Note:
Prices are excluding delivery
1 Troy ounce = 31.1 grams
1 Kg = 32.15 Troy ounces
Request special pricing for larger orders such as monster box of Canadian maple silver coins
Lower pricing for local gold orders of 10 to 29ozs and best pricing for 30 ozs or more.
Foreign currency options available so you can purchase from USD, AUD, EURO, GBP
Plus we accept BTC, BCH, Visa and Mastercard
Note: For local gold and silver orders your funds are deposited into our suppliers bank account. We receive a finders fee direct from them. Pricing is as good or sometimes even better than if you went direct.


---
Can't Get Enough of Gold Survival Guide?
If once a week isn't enough sign up to get daily price alerts every weekday around 9am Click here for more info
---
---
The Legal stuff – Disclaimer:
We are not financial advisors, accountants or lawyers. Any information we provide is not intended as investment or financial advice. It is merely information based upon our own experiences. The information we discuss is of a general nature and should merely be used as a place to start your own research and you definitely should conduct your own due diligence. You should seek professional investment or financial advice before making any decisions.
Copyright © 2019 Gold Survival Guide.
All Rights Reserved.