Prices and Charts

---
Looking to sell your gold and silver?
Buying Back 1oz NZ Gold 9999 Purity
$2347
Buying Back 1kg NZ Silver 999 Purity
$928
---
NZD Gold Another New All Time High
NZD gold edged up to a new another new all time high this week. It looks to be consolidating above $2400 now.
The RSI overbought/oversold indicator remains in seriously overbought mode. Just as it did through all of August!
Are you still waiting for a pullback?
We guarantee one will come. The only trouble is from how much higher?
As we've been saying, bull markets like to take as few people along for the ride as possible. We still get the impression there are plenty on the sidelines still waiting for the "inevitable" pullback.
And while gold is getting a bit more publicity lately we haven't seen it reach into the mainstream at all yet.
We will likely see a very sharp pullback at some point. So just bear that in mind if you've bought. There are likely to be some big down days. It seems like these down spikes are likely to be bought rather than sold though. So they may be short lived.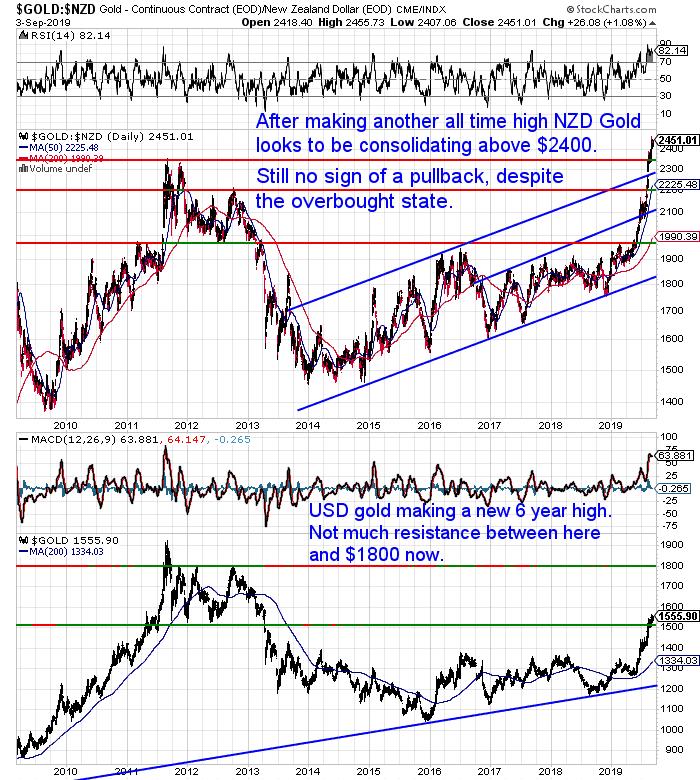 Silver is the Star (at Last!)
Silver has finally awoken from its slumber. Up over 6% this week compared to golds less than 1%.
NZD silver is now above the 2016 high of $30. In fact it is the highest price we've seen for 6 years. We have to look back to 2013 for the last time silver was above NZ$30.
This outperformance of silver compared to gold has been a long time coming. The gold to silver ratio has fallen sharply this past week. More on that below.
Just like gold silver is now seriously overbought. But also like gold, silver could well stay this way for longer too.
But unlike gold in New Zealand dollars, NZD silver still has 100% upside from here to reach its all time high above $60. Silver is still our best buy.
Also of note…
In the Comex futures and options market gold has the largest positions from hedge funds and other 'Managed Money' speculators in the 13 years of data…
…Compare that to silver. When looking at last week's data, the same group's bullish bets on silver (net of their bearish betting) was 57% below the 2016 peak.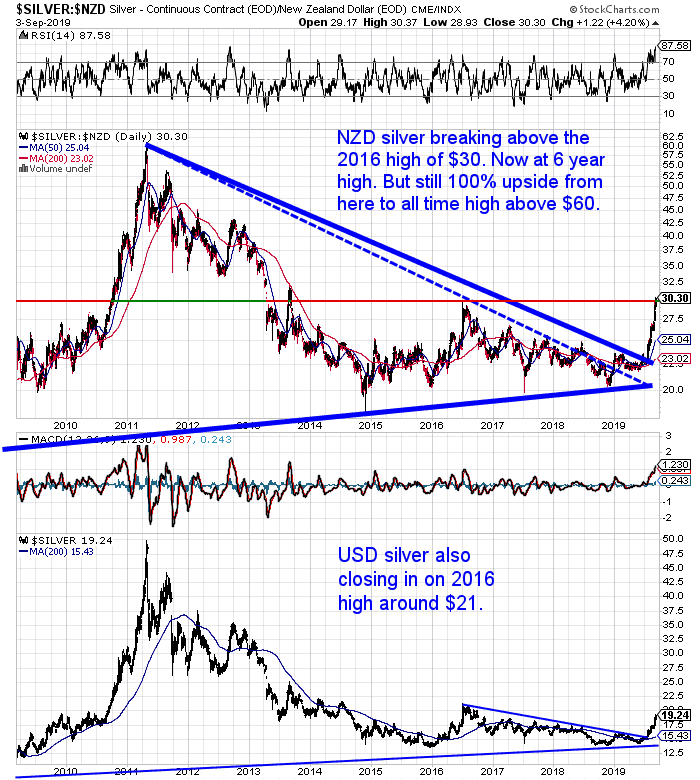 NZ Dollar About to Bounce?
Meanwhile the New Zealand dollar dropped even lower this week. Edging below 0.63. Although today the Kiwi is back above that mark.
As overbought as both metals are, the NZ Dollar is equally oversold. So we would expect a bounce before too long. But if (once?) the 0.62 mark is broken there is not a lot of support between there and the 2009 low of 0.50.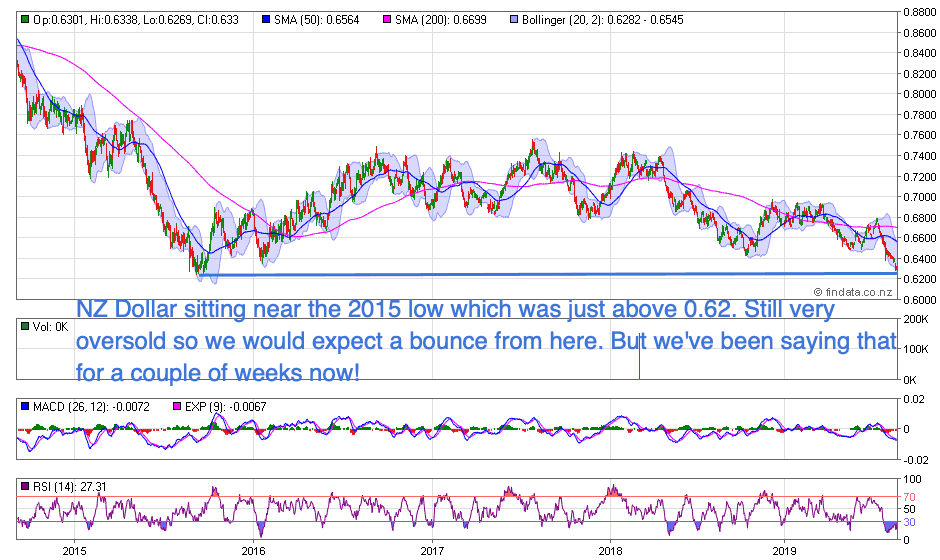 Need Help Understanding the Charts?
Check out this post if any of the terms we use when discussing the gold, silver and NZ Dollar charts are unknown to you:
Continues below
—– OFFER FROM OUR SISTER COMPANY: Emergency Food NZ —–
Preparation also means having basic supplies on hand.
Are you prepared for when the shelves are bare?
For just $240 you can have a 56 serving emergency food supply.
Free Shipping NZ Wide.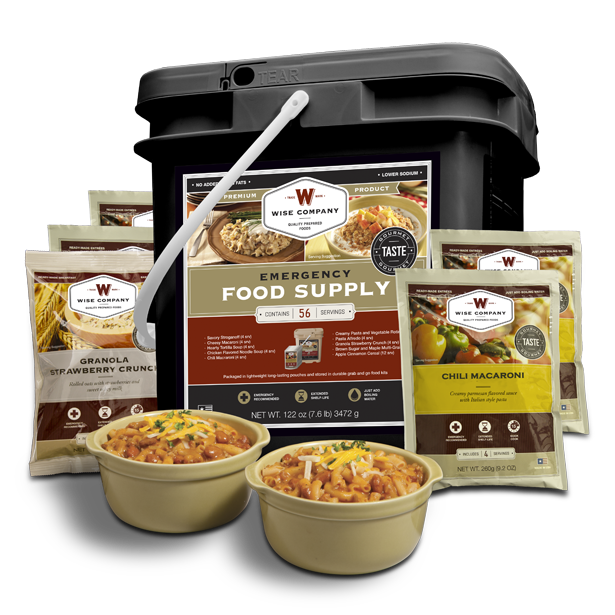 Smaller Emergency Food Packs Now Available.
What is the Gold Silver Ratio? What is the Ratio Telling Us Now?
You've already seen how silver has outperformed gold this week.
The gold to silver ratio has dropped sharply from 28 year highs at 95, to today be sitting at 80.
We wrote the below update only yesterday. But with the sharp rise in silver overnight, the ratio has dropped even lower today. So just a day later we almost need to update the charts!
It's worth looking at the gold/silver ratio in some detail.
Read on to discover:
What is the Ratio Telling Us Now?
How High Could Silver Rise if the Gold/Silver Ratio Falls?
We think this is just the start of what will be a very large reversal in the ratio. And therefore a very large rise in the silver price.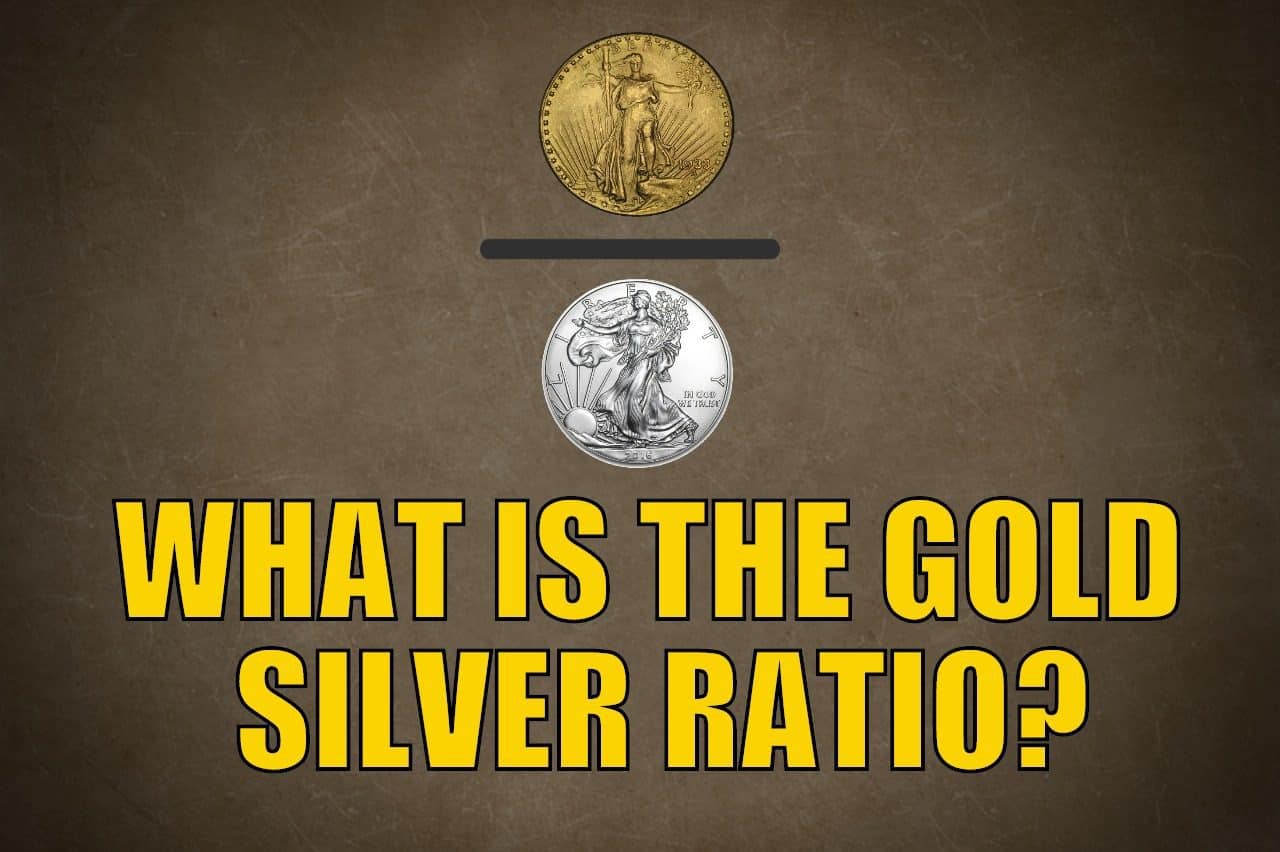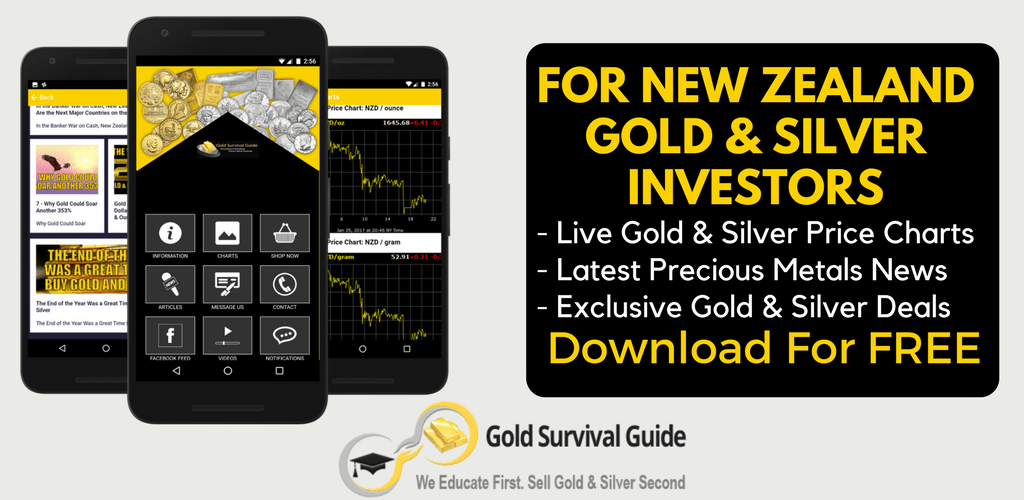 Why New Zealand Won't Have Any Say in a Global Currency Reset
We've spilled plenty of digital ink in these pages discussing the possibility – or maybe we should say the inevitability – of a change in the global monetary system. Perhaps in the form of a currency reset.
This week we read an interesting piece by a Chinese think tank. Published in Chinese state media outlet the Global Times, means this was approved by the Chinese government. It made the claim that the:
World needs to prepare for return to gold standard as Washington disrupts financial order
"…What will "post-dollar era" currencies look like? What currency can replace the status of the dollar?
In fact, this will be a process of continuous trials. It would be hard for the Bretton Woods Conference to succeed in the current era, so the new super currency has to be selected through extensive experimentation.
First of all, digital currencies. Governments in various countries are making efforts in this regard, and market forces have also cultivated various digital currencies like Bitcoin and Libra. But they are far from being universally recognized and trusted by the global markets, and they are also far from winning the support of major economies.
Second, regional currencies including the euro. Politicians around the world actually missed many opportunities after World War II, because world politics seriously disrupted global financial order, but no one would admit it. The result is the weakening status of regional currencies, like the euro.
Then what's left is the gold standard. After the collapse of the Bretton Woods System, the questioning of the gold standard has never stopped. The gold standard essentially represents a world financial order. When an old financial order faces collapse, it is necessary to create a new financial order. When the US decoupled the value of the dollar from gold, it actually committed to take on the responsibility of world finance, based on which a new financial order was formed. It is this financial order that has allowed the US to enjoy huge development dividends. Now, the US is unwilling to continue assuming and fulfilling such responsibilities for the current world financial order, and Trump has continuously intervened in the operation of the Fed and global financial market order. This development points to the necessity of seeking and building a new financial order, which is the fundamental basis for the re-emergence of the gold standard in the world financial market.
So the gold standard is an effort by the world market and financial system to balance the "Trumpian future." It means that the US can take its own path and Americans will have the right to look after themselves, but other countries around the world will also have the right to make their own choices."
So How Would This Global Currency Reset Affect us Down Under?
Will we get to make our "own choices" as the Chinese think tank alludes to?
Read on to see…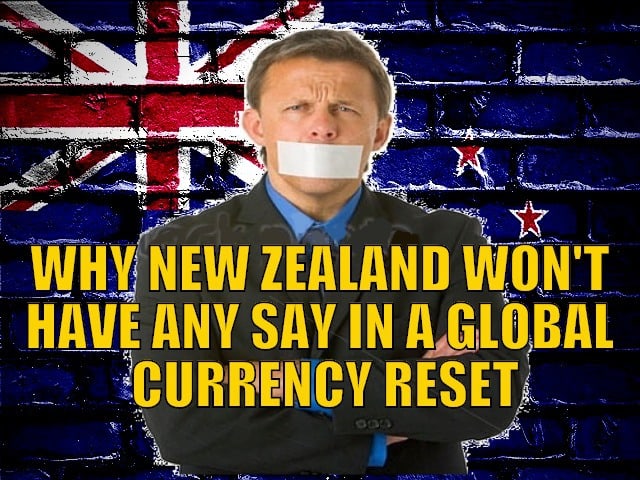 Your Questions Wanted
Remember, if you've got a specific question, be sure to send it in to be in the running for a 1oz silver coin.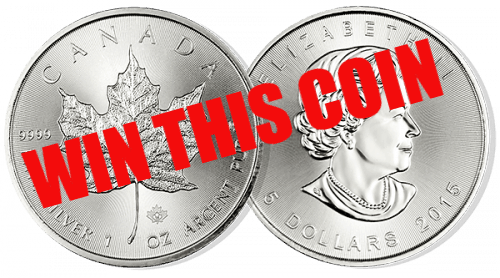 As we alluded to in the article above, New Zealand won't get any say in how the monetary system evolves.
But you can have your own say in how your personal monetary system functions.
Even though gold is at record highs in New Zealand dollars, our bet is there is plenty more to come yet. You're not too late to build your own "reserves".
Especially when it comes to silver, we reckon there is even more upside to come.
Phone: 0800 888 GOLD ( 0800 888 465 ) (or +64 9 2813898)
or Shop Online with indicative pricing
— Prepared for the unexpected? —

Never worry about safe drinking water for you or your family again…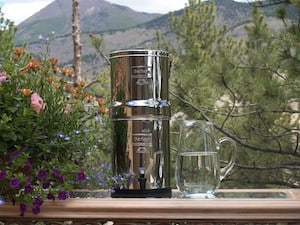 The Berkey Gravity Water Filter has been tried and tested in the harshest conditions. Time and again proven to be effective in providing safe drinking water all over the globe.
This filter will provide you and your family with over 22,700 litres of safe drinking water. It's simple, lightweight, easy to use, and very cost effective.
Royal Berkey Water Filter
—–
This Weeks Articles:
Tue, 3 Sep 2019 8:27 PM NZST
We've spilled plenty of digital ink in these pages discussing the possibility or maybe we should say the inevitability of a change in the global monetary system. Perhaps in the form of a currency reset. Here's more on how that might play out. If the US Dollar Was Again Linked to Gold, How Would This […]
The post Why New Zealand Won't Have Any Say in a Global Currency Reset appeared first on Gold Survival Guide.
Tue, 3 Sep 2019 11:45 AM NZST
What is the gold silver ratio? Why has the gold silver ratio been falling from recent new highs? In this post you'll learn: What is the Gold Silver Ratio? How is the Gold to Silver Ratio Used? What is the Ratio Telling Us Now? Why did the Gold to Silver Ratio Reach New Highs Earlier […]
The post What is the Gold Silver Ratio? What is the Ratio Telling Us Now? appeared first on Gold Survival Guide.
Wed, 28 Aug 2019 5:38 AM NZST
Prices and Charts Looking to sell your gold and silver? Visit this page for more information Buying Back 1oz NZ Gold 9999 Purity $2331 Buying Back 1kg NZ Silver 999 Purity $875 NZD Gold at Yet Another All Time High Despite the overbought condition on the NZD gold chart, the price continues to push even […]
The post It's Societal Collapse and Doomsday Week! appeared first on Gold Survival Guide.
As always we are happy to answer any questions you have about buying gold or silver. In fact, we encourage them, as it often gives us something to write about. So if you have any get in touch.
Phone: 0800 888 GOLD ( 0800 888 465 ) (or +64 9 2813898)
or Online order form with indicative pricing
---
---
7 Reasons to Buy Gold & Silver via GoldSurvivalGuide

Today's Prices to Buy
1oz NZ 99.99% pure gold bar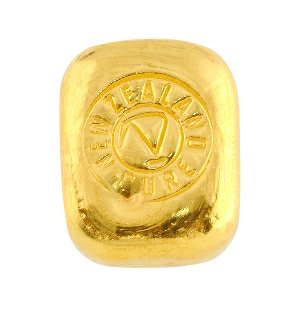 $2536
1kg NZ 99.9% pure silver bar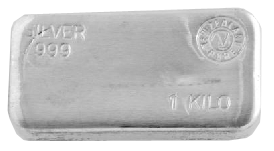 $1072
(price is per kilo for orders of 1-24 kgs)
$1067 
(price is per kilo only for orders of 25 kgs or more)
1oz PAMP Suisse 99.99% pure gold bar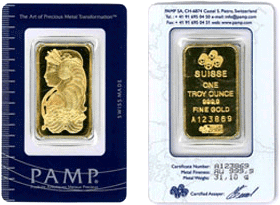 $2569
1kg PAMP 99.9% pure silver bar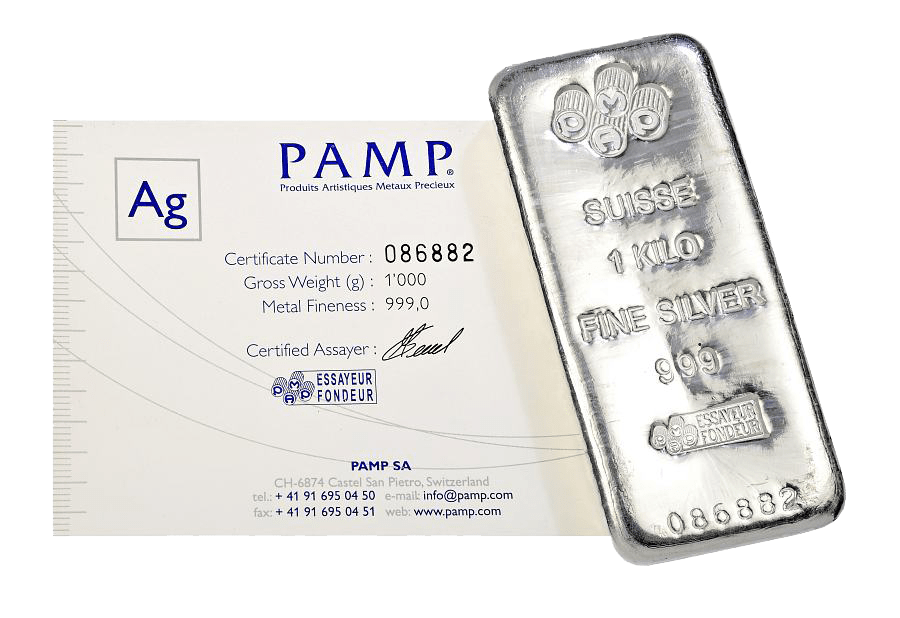 $1132
1oz Canadian Gold Maple 99.99% pure gold coin (2019)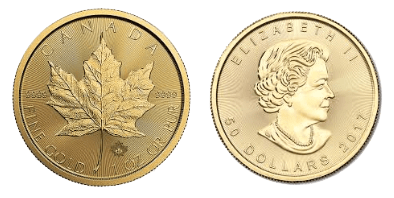 $2613
---
Note:
Prices are excluding delivery
1 Troy ounce = 31.1 grams
1 Kg = 32.15 Troy ounces
Request special pricing for larger orders such as monster box of Canadian maple silver coins
Lower pricing for local gold orders of 10 to 29ozs and best pricing for 30 ozs or more.
Foreign currency options available so you can purchase from USD, AUD, EURO, GBP
Plus we accept BTC, BCH, Visa and Mastercard
Note: For local gold and silver orders your funds are deposited into our suppliers bank account. We receive a finders fee direct from them. Pricing is as good or sometimes even better than if you went direct.


---
Can't Get Enough of Gold Survival Guide?
If once a week isn't enough sign up to get daily price alerts every weekday around 9am Click here for more info
---
---
The Legal stuff – Disclaimer:
We are not financial advisors, accountants or lawyers. Any information we provide is not intended as investment or financial advice. It is merely information based upon our own experiences. The information we discuss is of a general nature and should merely be used as a place to start your own research and you definitely should conduct your own due diligence. You should seek professional investment or financial advice before making any decisions.
Copyright © 2019 Gold Survival Guide.
All Rights Reserved.