1kg Perth Mint Silver Bars Deal
Only 100 x 1kg Perth Mint silver bars left – .999 Fine Silver Purity
(Based on NZ Dollar Spot Silver Price of $24.01)
2 Pricing Options
25 x 1kg Perth Mint silver bars (Spot plus 8%) at $833.67 x 25 = $20,841.75 picked up in Auckland or couriered and fully insured for $20,934.27
50 x 1kg Perth Mint silver bars (Spot plus 7.5%) at $829.81 x 50 = $41,490.50 picked up in Auckland or couriered and fully insured for $41,674.97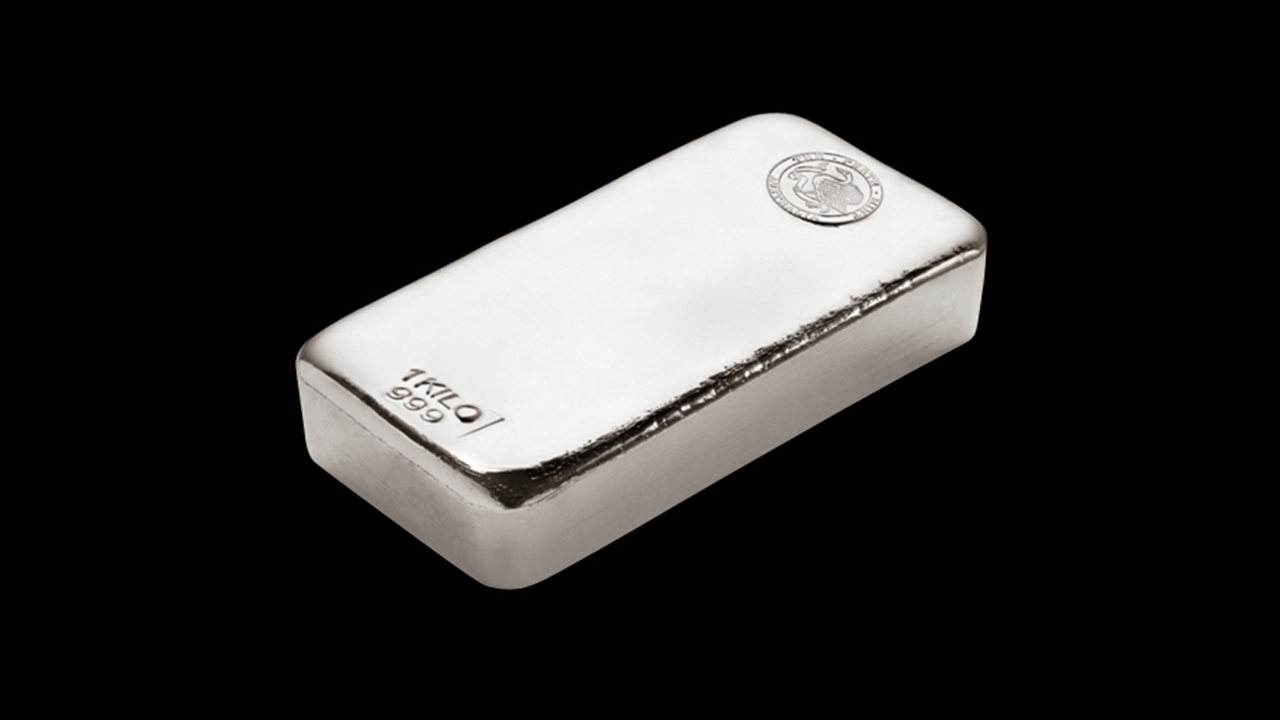 Extra Bonus on 50kg Perth Mint Silver Purchase
Get a $150 rebate off your 1st years storage when you open up a vault in Auckland or Wellington.
An option for storage is to send the silver directly to NZ Vault in Auckland or to Wellington. Then you only need to show up to open up a safety deposit box once the metal arrives.
Please contact us directly on 0800888465 if you require more details about storing the silver at NZ Vault.
---
This Week:
Key Breakout in Gold
How to Create Your Personal Gold Standard
Join Our Partnership Programme
Silver Maple Monster Box – The Complete Guide
Prices and Charts

Looking to sell your gold and silver?
Buying Back 1oz NZ Gold 9999 Purity
$1736
Buying Back 1kg NZ Silver 999 Purity
$733
Key Breakout in Gold
A key breakout for gold in US Dollars this week. (See the lower half of the chart below).
Gold has finally decisively broken through the key US$1300 resistance level. It's not just that it's a nice round number either. $1300 is where gold has been turned back about 4 times previously this year.
We are clearly above this line now for the last 2 days.
Now we need to see USD gold close above $1300 at the end of this week. As that will give us a weekly and monthly close above the key number.
So let's do that!
NZD gold is closing in on the high for the year around $1860.
A few technical indicators to consider.
The RSI (circled in the chart) is well into overbought territory. So a pull back is expected. However in the past – see the other circle from early 2015 – the price has pushed higher as NZD gold got even more overbought.
Also the price has now broken above the downtrend line last July.
The 50 day moving average (MA) line (blue) looks like it's about to cross above the 200 day MA (red). Generally regarded as an indicator of a rising trend.
Upshot of all this?
We may yet see the local gold price move even higher still in the shorter term. But a correction after such a strong surge since the early July low is to be expected. If this happens this will be the time to take a larger position if you've been thinking about buying.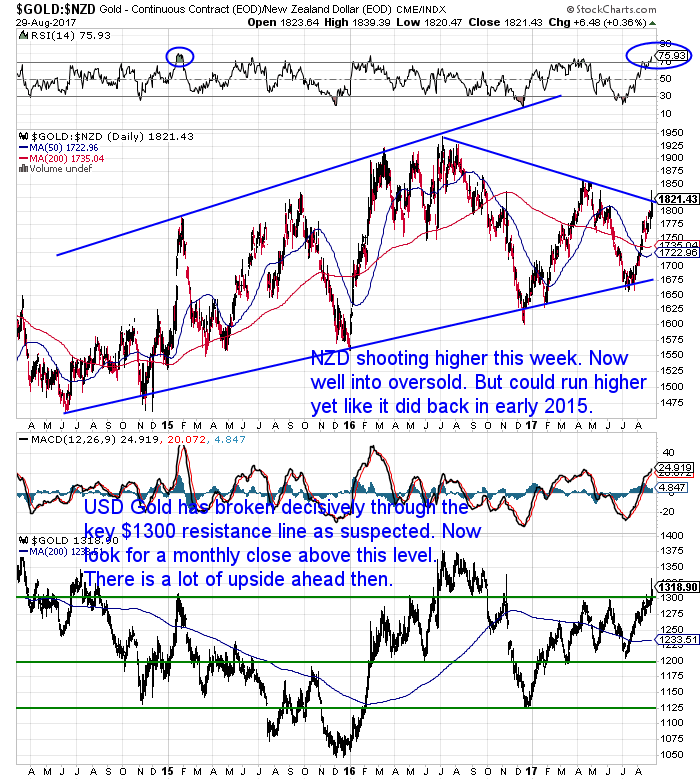 Turning to silver now. It too has risen strongly this week, slightly outperforming gold.
Taking a quick glance at the USD price (lower section of the below chart), silver looks to have just broken above the downtrend it has been in since July of last year. So that could be a significant move for silver too.
But in NZ Dollar terms we need to see it break above the red downtrend line just above $25 to see a clear change in trend. That is still a little way off, but we get the feeling this could happen before too long.
In the long run we are still not that above the lows below $20 from late 2014. So silver looks like a good long term buy anywhere around here.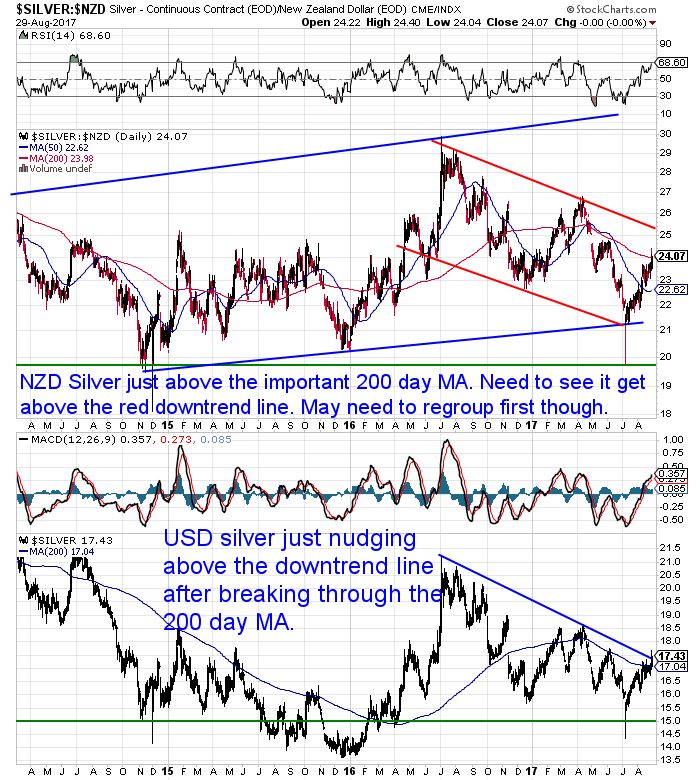 As we thought it might last week, the NZ Dollar did test the 0.72 level but then bounced higher. However it may struggle to get too far above the 50 day moving average, which is just above 0.73.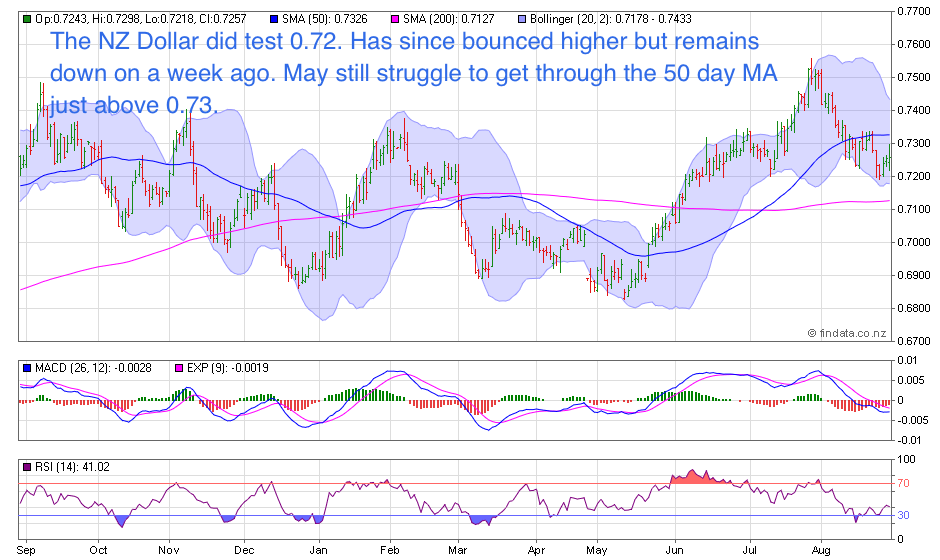 Central Banks and Gold
Egon Von Greyerz over at King World News had a good summary of the gold and silver markets this week. He has been calling for precious metals to "explode" higher for many years, but he may just be getting close to being right finally!
Regardless, we thought it was worth checking out as it provides a good summary of a number of things going on in the gold and silver markets currently. Like the very unusual visit by the US Treasury Secretary Steve Mnuchin to the US Fort Knox gold reserves.
Continues below
—– OFFER FROM OUR SISTER COMPANY: Emergency Food NZ —–
Do you have all the essentials on hand if you need to leave home in a hurry?
Get Your Own Emergency Survival Kit
Now Available. In Stock. Ready to Ship.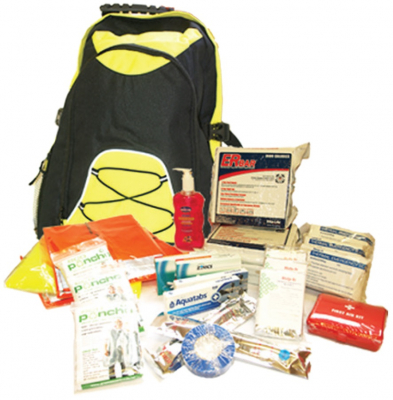 Grab Your Own Grab 'n' Go Bag NOW….
—–
Prefer to Read Our Articles as Soon as They're Published?
You may have been one of our readers who have asked if there is a way to receive an email each time we publish a new article. Rather than waiting until each Wednesday to then try and read them all.
If so we now have a couple of options available.
Option 1: Browser Push Notifications
We send these out when an article is posted or if we have a limited time deal going on gold and silver.
See here for more details
on what these are and how to activate them.
Option 2: New Post Email
Receive an automated email notifying you any day there is a new article (or articles) posted. This email will simply have a short intro and link to read the article(s) online. Short and sweet.
To receive these emails, just follow these instructions:
1. Click this link to Update Your Profile. (This Update Profile link is also in the footer of every email we send so you can always change this in the future if you like.
2. Click the green "Send Email" button.
3. Click the "Update your profile" link in the email you receive: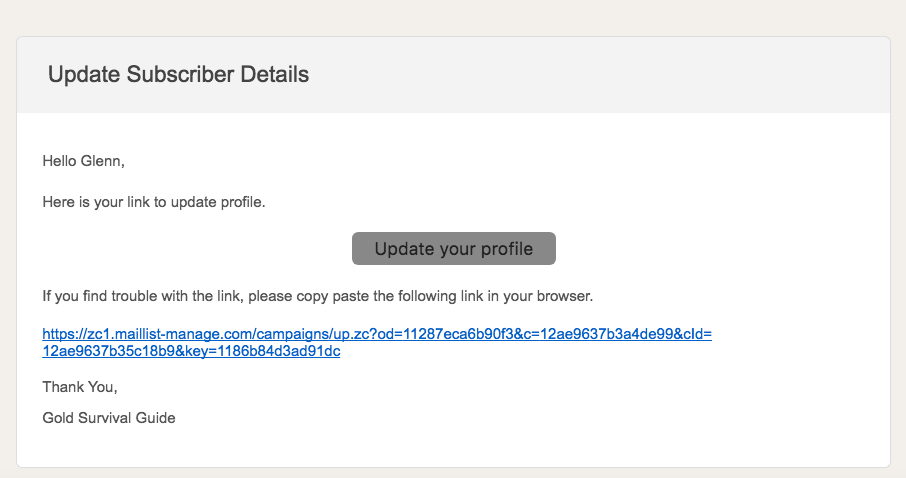 4. Tick the "Daily New Post Notification" along with whatever other lists you are already on or would like to be on.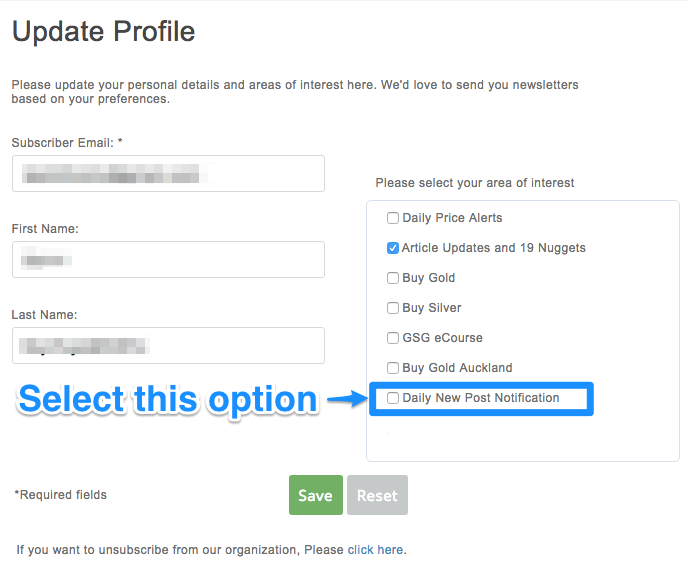 5. Click save and you're done!
You'll now be notified each time a new post is made on the Gold Survival Guide website.
Silver Maple Monster Box – The Complete Guide + Lots More
Plenty of reading on the website this week.
If you missed the email earlier this week then check out the details of
our new partnership programme
. If you have a decent sized network of people you may be able to share in the revenue while helping spread the word about the benefits of diversifying with gold and silver. >>
Join Our Partnership Programme
Since we posted that piece above there has also been the visit by Treasury Steve Mnuchin and Senate Majority Leader Mitch McConnell to Fort Knox to see the U.S. gold reserves. Mnuchin is only the third Treasury secretary in history ever to visit Fort Knox and this was the first official visit from Washington, D.C., since 1974.
If you need any help in organising your own gold standard let us know. We're happy to field question via email or phone.
Call David on 0800 888 465 for a quote or with any questions.
Phone: 0800 888 GOLD ( 0800 888 465 ) (or +64 9 2813898)
or Online order form with indicative pricing
— Prepared for Power Cuts? —
[BACK IN STOCK] New & Improved Inflatable Solar Air Lantern
It's easy to use. Just charge it in the sun. Inflate it. And light up a room.
6-12 hours of backup light from a single charge! No batteries, no wires, no hassle. And at only 1 inch tall when deflated, it stores easily in your car or survival kit.
Plus, it's waterproof so you can use it in the water.
—–
As always we are happy to answer any questions you have about buying gold or silver. In fact, we encourage them, as it often gives us something to write about. So if you have any get in touch.
Phone: 0800 888 GOLD ( 0800 888 465 ) (or +64 9 2813898)
or Online order form with indicative pricing
---
---
---
Note:
Prices are excluding delivery
1 Troy ounce = 31.1 grams
1 Kg = 32.15 Troy ounces
Request special pricing for larger orders such as monster box of Canadian maple silver coins
Lower pricing for local gold orders of 10 to 29ozs and best pricing for 30 ozs or more.
Foreign currency options available so you can purchase from USD, AUD, EURO, GBP
Note: For local gold and silver orders your funds are deposited into our suppliers bank account. We receive a finders fee direct from them. Pricing is as good or sometimes even better than if you went direct.

---
Can't Get Enough of Gold Survival Guide? If once a week isn't enough sign up to get daily price alerts every weekday around 9am Click here for more info
---
Our Mission
To demystify the concept of protecting and increasing ones wealth through owning gold and silver in the current turbulent economic environment.
To simplify the process of purchasing physical gold and silver bullion in NZ – particularly for first time buyers.
---
---
The Legal stuff – Disclaimer: We are not financial advisors, accountants or lawyers. Any information we provide is not intended as investment or financial advice. It is merely information based upon our own experiences. The information we discuss is of a general nature and should merely be used as a place to start your own research and you definitely should conduct your own due diligence. You should seek professional investment or financial advice before making any decisions.
Copyright © 2017 Gold Survival Guide. All Rights Reserved.