This Week:
Bad 'Karma' Brings Bad Consequences for Those Who Practice It
Latest on the COMEX Silver CoT Report
Silver Demand In India Continues to Increase
Prices and Charts

---
---
NZ Dollar Gold Still Range-Bound
Gold in New Zealand Dollars is awfully predictable at the moment. Each week we could pretty much reuse the prior weeks commentary. That is, NZD gold continues to trade between the 50 and 200 day moving average lines. Just as gold has done since the start of 2018.
Although these 2 lines are getting closer together and gold is getting more and more tightly compressed. It's a difficult call to make as to what happens next.
The relative strength indicator (RSI) is just below neutral, so is of little use. As is the MACD (bottom of the chart). NZD gold is also sitting in the middle of the rising channel it has been in since the start of 2017. So gold could go either way. We could yet see it test the lower blue uptrend line.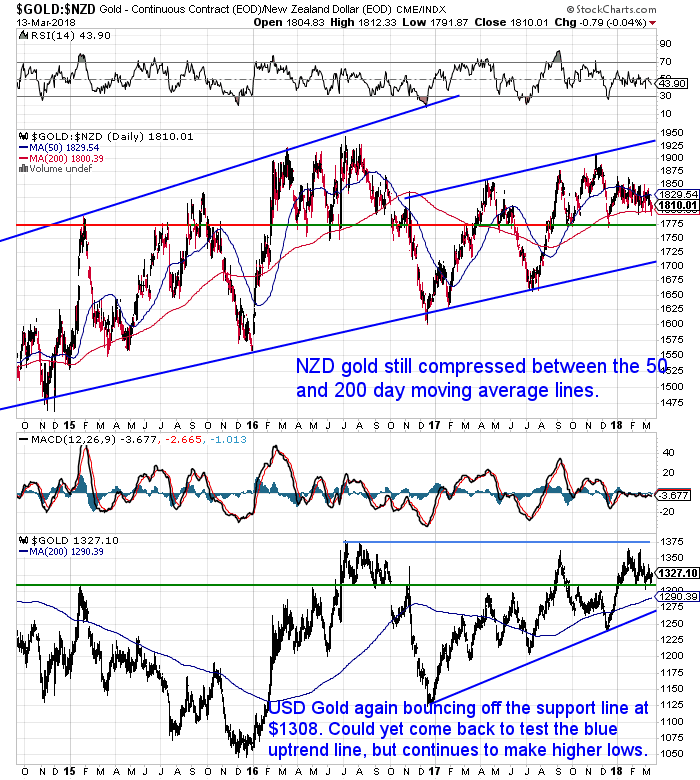 Silver also continues to move sideways. But a number of factors point towards silver jumping higher before too long.
Whether you look at silver in NZ Dollar terms (top of chart) or US Dollars (bottom of chart) the same wedge pattern is in play. So silver is getting more and more compressed in a tighter and tighter range. A range that it will have to break out of soon.
As we have been saying for weeks, we think the historically extremely high gold to silver ratio, and also the silver CoT report points to this break out for silver being to the upside.
With the gold to silver ratio very high, history shows that silver will outperform gold before too long.
This could be with silver rising and gold falling, but that would be a very unusual occurrence. More likely is that silver just rises much faster than gold.
The silver futures commitment of Traders report (CoT), is also still indicating silver will see a significant jump before too long.
See this article for more on that:

Latest on the COMEX Silver CoT Report
Silver Psychology: Somewhere Between Depression and Disbelief
Looking back at our post: Where Are We in the Psychology of the Silver Market Cycle?, 
we still look to be stuck somewhere between depression and disbelief for silver.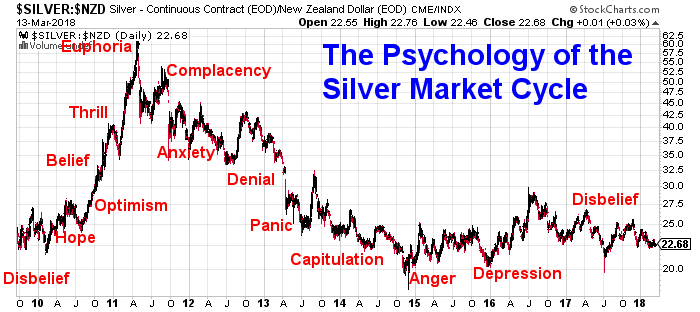 So even when this expected surge in silver arrives, we'd say the overriding theme will still be: "This rally will fail like the others/This is a suckers rally."
But that is just when the psychology changes to one of hope and then optimism. Granted silver still feels like we are a long way from that!
Kiwi Dollar Also Range-Bound
The NZ Dollar continues to trade between 0.72 and 0.74 as we suspected it might. The common technical indicators are also neutral. So there is not a lot of obvious direction in the Kiwi Dollar currently.
Unsure About Any Terms We Use When Discussing the Charts?
Remember to check out this post if any of the terms we use when discussing the gold, silver and NZ Dollar charts are unknown to you:
Continues below
—– OFFER FROM OUR SISTER COMPANY: Emergency Food NZ —– 
Do you have all the essentials on hand if you need to leave home in a hurry?
Get Your Own Emergency Survival Kit
Now Available. In Stock. Ready to Ship.
Silver Demand In India Continues to Increase
The Indian government has made a good attempt at turning its citizenry away from gold. Including increasing import duties to 10%, which simply led to more smuggling of gold across the border.
But these measures likely have still dampened the gold appetite. Particularly for temples where they might not be so inclined to turn to the black market.
Instead there are reports of temples are switching from gold to silver, just as many consumers have.
Adrian Ash reported on the happenings in the Indian silver market this week:
"Although [the 2017] performance was flattered by an exceptionally weak 2016," say specialist analysts Metals Focus…also looking at India's silver imports…"last year's total was still the third highest this decade.
"Another surge in imports in 2018 may appear unlikely, [but] given the extent of last year's rise, we should still see these shipments rise over the next 12 months."
All told them, India's surging silver imports may push higher again.
But to repeat: Prices don't care so far.
Indeed, people I chatted to at last week's LBMA drinks confirmed that silver's weakness…compared to gold…is what has driven a large part of this new demand.
Perhaps this could change, sparked by silver's appeal (and long history of surging when inflation jumps) catching the imagination of Indian investors more broadly, and echoing the 2011 surge of Western demand among savers and traders.
Long term, price-savvy consumers will not drive prices higher. Not unless the cost of living, interest rates, and the wider financial or economic outlook give them cause to re-think.
But the ratio of gold to silver prices is meantime holding around 80…pretty much the highest level in history.
That makes silver about as cheap in terms of gold as it has ever been outside the early 1990s.
Hedge funds meanwhile continue to bet that silver prices will go down…even as they bet that gold will go up.
Not all of these things can stay true for much longer."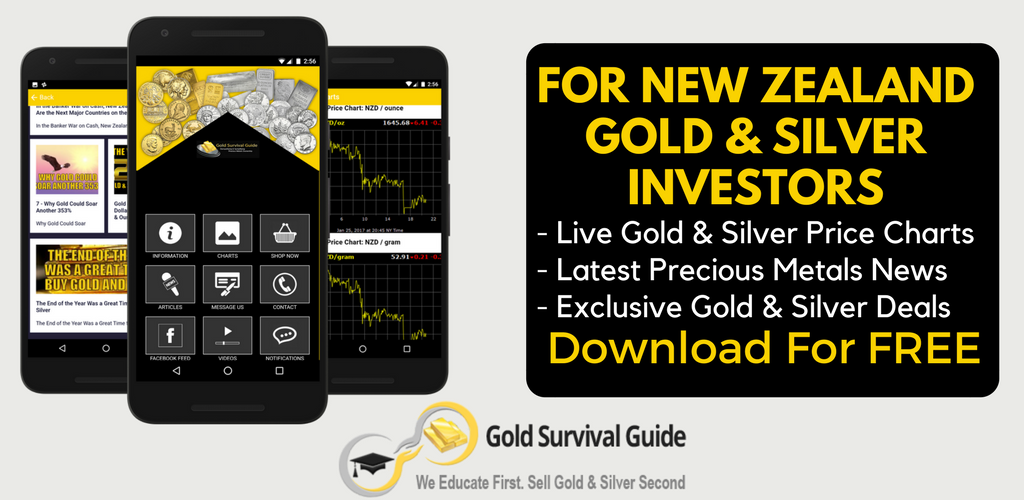 Your Questions Wanted
Remember, if you've got a specific question, be sure to send it in to be in the running for a 1oz silver coin.
Silver Undervalued and Ignored – Remains the Best Buy
Silver looks to be one of the very few unloved, undervalued and ignored investments in a world awash with debt and full of bubbles.
The gold to silver ratio is still sitting just slightly below recent highs above 80, but still remains heavily in favour of buying silver over gold at these levels. History says a hefty move in silver is likely not that far away.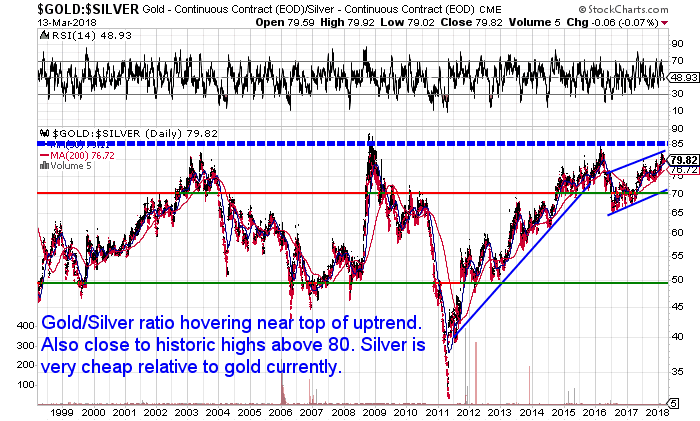 There are plenty of deals currently on silver too. NZ refined silver bars are cheaper than they have been for a while. Plus good prices on 1 oz silver coins like maples and kangaroos.
If you don't have any silver in your possession yet, get in touch to discuss your options:
Phone: 0800 888 GOLD ( 0800 888 465 ) (or +64 9 2813898)
or Online order form with indicative pricing
— Prepared for Power Cuts? —
[BACK IN STOCK] New & Improved Inflatable Solar Air Lantern
Check out this cool new survival gadget.
It's easy to use. Just charge it in the sun. Inflate it. And light up a room.
6-12 hours of backup light from a single charge! No batteries, no wires, no hassle. And at only 1 inch tall when deflated, it stores easily in your car or survival kit.
Plus, it's waterproof so you can use it in the water.
See 6 more uses for the amazing Solar Air Lantern.
—–
This Weeks Articles:
Wed, 14 Mar 2018 11:46 AM NZST
In last weeks newsletter we explained "What is COT's?" Here is the latest on the positioning of silver futures traders and what it might mean for the silver price. As the author states "the CoT is often a lagging indicator of future trend". So the numbers detailed below may not mean a jump in silver […]
The post Latest on the COMEX Silver CoT Report appeared first on Gold Survival Guide.
Wed, 14 Mar 2018 11:36 AM NZST
See why Hugo Salinas Price believes the looming trade tariffs planned by Trump will likely encourage the return of gold to central bank reserves worldwide…   Bad 'Karma' Brings Bad Consequences for Those Who Practice It By Hugo Salinas Price – First published at plata.com.mx/ There is a lot of commentary going around the world, regarding […]
The post Bad 'Karma' Brings Bad Consequences for Those Who Practice It appeared first on Gold Survival Guide.
Thu, 8 Mar 2018 1:53 PM NZST
  This Week: SILVER INVESTMENT: The Lowest Risk, Highest Return Potential vs. Stocks & Real Estate Bullish Indicator: Large Silver Speculators First Net Short Position in Memory What is COTs? Prices and Charts Looking to sell your gold and silver?Visit this page for more information Buying Back 1oz NZ Gold 9999 Purity $1762 Buying Back […]
The post What is COT's? appeared first on Gold Survival Guide.
As always we are happy to answer any questions you have about buying gold or silver. In fact, we encourage them, as it often gives us something to write about. So if you have any get in touch.
Phone: 0800 888 GOLD ( 0800 888 465 ) (or +64 9 2813898)
or Online order form with indicative pricing
---
---
---
Note:
Prices are excluding delivery
1 Troy ounce = 31.1 grams
1 Kg = 32.15 Troy ounces
Request special pricing for larger orders such as monster box of Canadian maple silver coins
Lower pricing for local gold orders of 10 to 29ozs and best pricing for 30 ozs or more.
Foreign currency options available so you can purchase from USD, AUD, EURO, GBP
Note: For local gold and silver orders your funds are deposited into our suppliers bank account. We receive a finders fee direct from them. Pricing is as good or sometimes even better than if you went direct.

---
Can't Get Enough of Gold Survival Guide?
If once a week isn't enough sign up to get daily price alerts every weekday around 

9am

Click here for more info
---
Our Mission
To demystify the concept of protecting and increasing ones wealth through owning gold and silver in the current turbulent economic environment.
To simplify the process of purchasing physical gold and silver bullion in NZ – particularly for first time buyers.
---
---
The Legal stuff – Disclaimer:
We are not financial advisors, accountants or lawyers. Any information we provide is not intended as investment or financial advice. It is merely information based upon our own experiences. The information we discuss is of a general nature and should merely be used as a place to start your own research and you definitely should conduct your own due diligence. You should seek professional investment or financial advice before making any decisions.