This Week:
Could Silver Be Worth More Than Gold?
Gold Breaks Out of 6 Year Downtrend
China Begins To Reset The World's Reserve Currency System
Prices and Charts

Looking to sell your gold and silver?
Buying Back 1oz NZ Gold 9999 Purity
$1780
Buying Back 1kg NZ Silver 999 Purity
$756
Big Moves Higher Continue for Precious Metals
Gold in NZ Dollars despite already being very overbought headed even higher this week.
We alluded to this last week.
The fact that in early 2015 gold was overbought but then proceeded to get even more overbought and move higher still.
Well, NZD gold is now above $1850 and the highs of April. But the RSI indicator (blue circle in chart below) is now above 80 and so extremely overbought. So a decent sized correction now looms. That will be the chance to take a decent sized position in gold and then sit tight.
Because this week there has been a few significant moves in gold that will now likely attract more money into the forgotten sector of precious metals. More on that to come.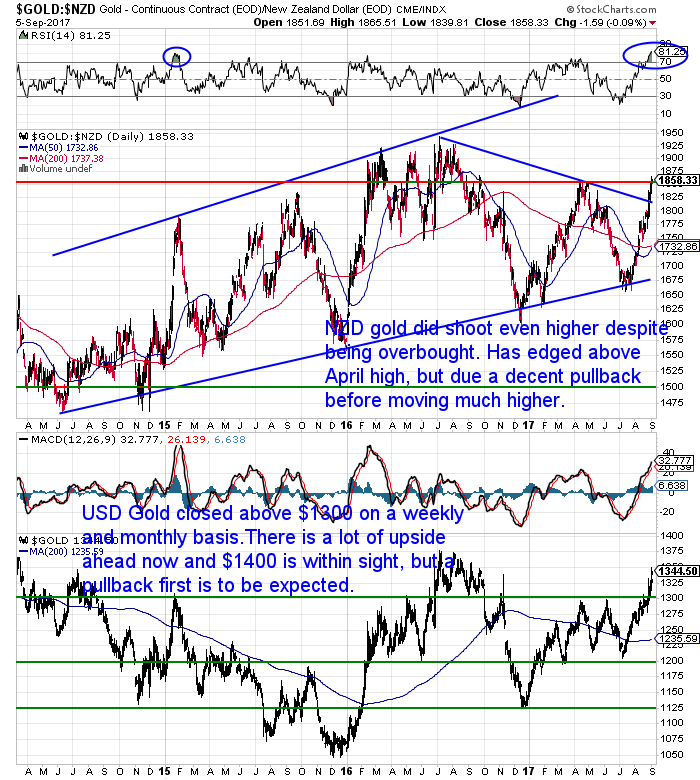 NZD silver did not disappoint this week though either – up over 3%.
Silver has now almost reached the red downtrend line. But like gold it too will likely need to consolidate before it will manage to breach this line.
Buying zones to look for will be $24, $22.77 and if you get the opportunity the uptrend line at $21.50.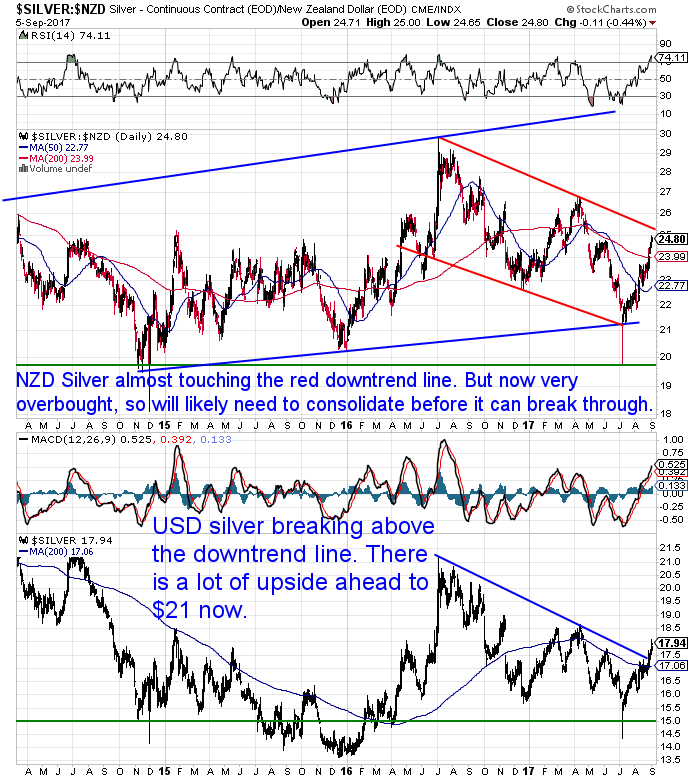 Another reason to expect a pullback in both NZD gold and silver from here is the Kiwi Dollar. It moved lower to touch the 200 day moving average (MA) at 0.7130 this week but has bounced higher.
The NZ Dollar will likely move higher from here, which will also put downwards pressure on local precious metals prices.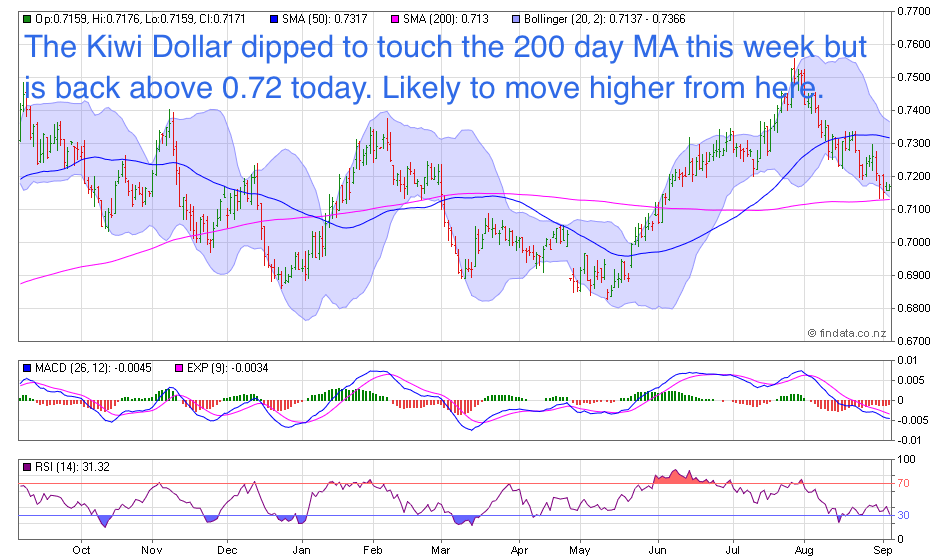 Gold Breaks Out of 6 Year Downtrend
Now back to the significant events of the past week for gold.
But there are times when it's useful to check out the globally followed US Dollar price of gold. As this is what the big money takes notice of.
Last week gold broke decisively above the horizontal resistance line at US$1300. It had been turned back from the $1300 line multiple times this week.
Now this week gold has broken out of a massive long term wedge formation stretching back to 2011 and 2008.
USD gold has been in the ever narrowing wedge since the high of 2011 at US$1900. But this week it has broken conclusively above this downtrend line. So now there is a lot of upside ahead.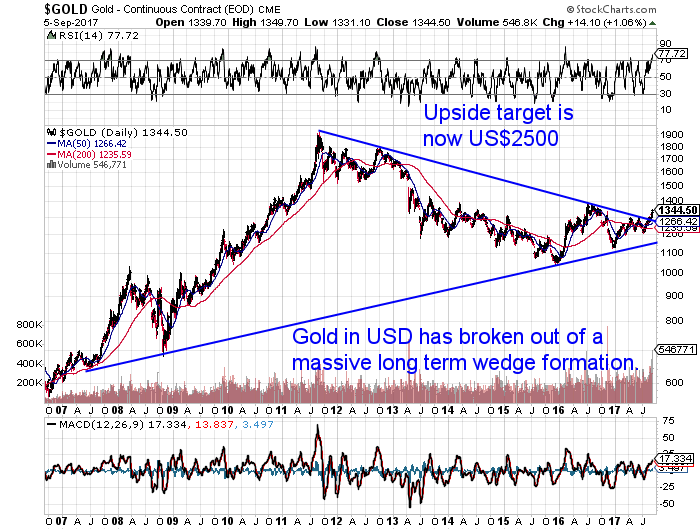 How much upside is possible now?
Well the next serious resistance line is US$1400 and the odds are it won't take too long to reach that as it's only around US$50 away. There is a lot of blue sky ahead after that on the way to the high of US$1900.
But with these wedge breakouts there is another way to determine a rough price target. Analyst Ben Morris notes:
"A "wedge" is a chart pattern in which the asset's support is a rising trend line and its resistance is a falling trend line. The asset bounces around within a smaller and smaller range. And when it breaks out, it often does so in a big way.
It's like letting go of a compressed spring. And the bigger the wedge, the more the asset is likely to move.
…when an asset breaks out of a wedge – either to the upside or to the downside – you can figure out a rough price target based on the breakout point. And in this case, it suggests gold could be headed much higher…
To keep things simple, let's say the first point on the bottom of gold's wedge was $700 per ounce (it was right around there in 2007). The first point at the top of the wedge is $1,900 per ounce. That's a $1,200 range.
You can use $1,200 from the breakout point as a price target. Since gold broke out of its wedge at about $1,300 per ounce, the chart pattern suggests a price target of $2,500 per ounce.
That's an extremely optimistic price target… But it is possible."
Also of note is that the USD gold price has also broken out of this same wedge pattern in charts displaying the price on a weekly closing price…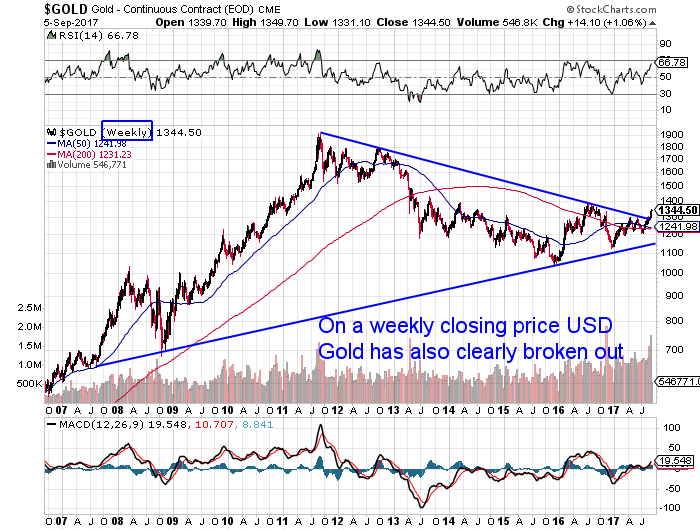 And also a monthly closing price…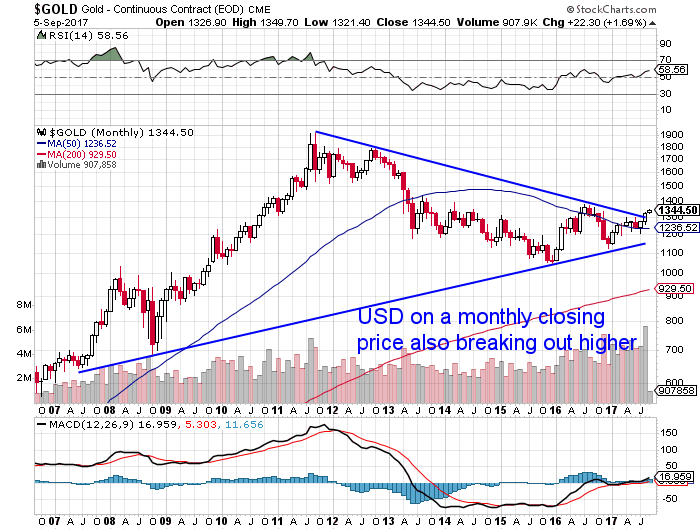 Weekly and monthly charts simply depict the price at the end of each week or month (as opposed to our usual charts which have the daily closing price).
These are good indicators of a serious change in trend to a bull market.
Gold is likely to attract big money institutional buying now that these key levels have been broken. These buyers are likely to use the gold ETF's like GLD. Historically money moving into these has moved the paper price of gold higher, much more so than any pick up retail demand has.
So then a rising price is likely to attract more buyers.
Hence why the upside target mentioned above is not at all unrealistic.
Continues below
—– OFFER FROM OUR SISTER COMPANY: Emergency Food NZ —–
Do you have all the essentials on hand if you need to leave home in a hurry?
Get Your Own Emergency Survival Kit
Now Available. In Stock. Ready to Ship.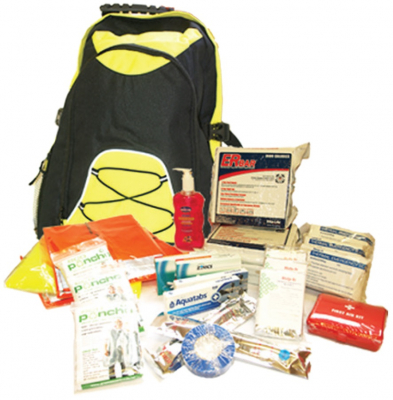 Grab Your Own Grab 'n' Go Bag NOW….
—–
Could Silver Be Worth More Than Gold?
Our feature article this week comes by way of a reader question from Jenna. Who is also the winner of our monthly silver coin award. A 1oz coin will be winging it's way to you soon Jenna!
So don't forget to
get your question in
to be in the running. We're slowly working our way through them.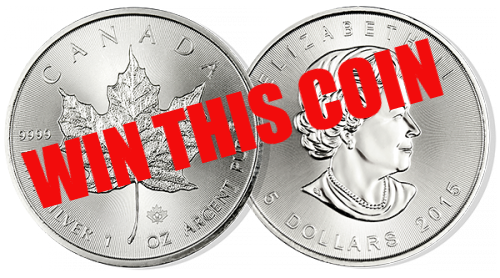 Jenna's question was:
"I've heard a lot about how useful silver is and the many different purposes it is used for, whereas gold is mainly just precious. Will the usefulness of silver ever cause it to become a more desirable asset (ie: more valuable) than gold?"
So we've done a bit of research and this article covers this topic in depth including:
The gold silver ratio over 3 centuries
Some historical evidence of silver being worth more than gold
Silver industrial demand versus investment demand
Could Silver Be Worth More Than Gold Due to:
Peak Silver?
Increasing Institutional Investment Demand?
Increasing Photovoltaic Demand?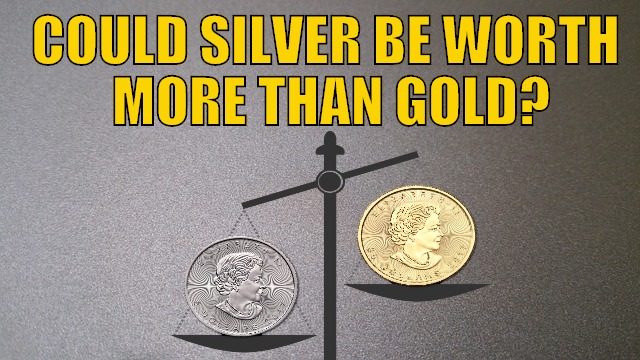 Apologies
We had a problem with the system that adds our website posts to the newsletter last week. Even the second and what we thought corrected email didn't contain them. Sorry about that!
Excellent Buying Zones Coming Up in the Next Few Weeks
If you're thinking about buying then sign up for our daily price alert as that will help you identify the likely highest reward times to buy gold or silver in the coming weeks.
Learn more about that here.
Or call David on 0800 888 465 for a quote or with any questions.
Phone: 0800 888 GOLD ( 0800 888 465 ) (or +64 9 2813898)
or Online order form with indicative pricing
— Prepared for Power Cuts? —
[BACK IN STOCK] New & Improved Inflatable Solar Air Lantern
It's easy to use. Just charge it in the sun. Inflate it. And light up a room.
6-12 hours of backup light from a single charge! No batteries, no wires, no hassle. And at only 1 inch tall when deflated, it stores easily in your car or survival kit.
Plus, it's waterproof so you can use it in the water.
—–
This Weeks Articles:
Tue, 5 Sep 2017 5:32 PM NZST
Could Silver Be Worth More Than Gold? You may have heard about the increasing uses for silver in industrial applications. This is often used to argue that the price of silver will rise significantly and could equal or even overtake gold. Could this really happen? A reader posed just such a question recently: "I've heard […]
Tue, 5 Sep 2017 2:02 PM NZST
Some interesting news broke this week concerning the latest developments in the dethroning of the US dollar as in the world's reserve currency system. Dave Kranzler of Investment Research Dynamics comments on the news from Nikkei Asian Review that China is preparing to release a yuan-denominated oil futures contract that is convertible (backed by) physical gold. […]
Mon, 4 Sep 2017 11:43 AM NZST
Big money flows into gold from Western Institutional investors are what continue to be the main drivers of the paper derived gold price. While Chinese and Indian demand is great, it is these western buyers that affect the global pricing due to the current structure of the global gold market. Stewart Thomson discusses how this […]
Mon, 21 Aug 2017 7:51 PM NZST
What We Stand For and Why Last week we announced some planned improvements and new services here at GoldSurvivalGuide. Many of these new features have come about as a result of feedback from you. This feedback included many compliments on our research and articles. So this has lead us to get clearer on exactly what we […]
Mon, 28 Aug 2017 1:29 PM NZST
Silver Maple Monster Box – 500 x 1oz Royal Canadian Mint Silver Maple Leaf Coins A Silver Maple Monster box is one of the best value ways of buying the popular 1oz silver maple leaf coins in bulk. First produced in 1988 by the Royal Canadian Mint, the Silver Maple Leaf (SML) was the […]
Mon, 28 Aug 2017 1:23 PM NZST
We recently shared our mission of "Global education about wealth protection and monetary change". As part of this mission we are looking at how we can spread the word and have a greater impact on more people here in New Zealand and around the world. Partnership Programme To further this mission we've come up […]
Mon, 28 Aug 2017 1:04 PM NZST
Many times in the past we've discussed the concept of becoming you own central bank or going on your own personal gold standard. Today Jim Rickards discusses this idea in depth. He shows you how to go on your own personal gold standard, even if the world never returns to one. Given the New Zealand Central […]
As always we are happy to answer any questions you have about buying gold or silver. In fact, we encourage them, as it often gives us something to write about. So if you have any get in touch.
Phone: 0800 888 GOLD ( 0800 888 465 ) (or +64 9 2813898)
or Online order form with indicative pricing
---
---
---
Note:
Prices are excluding delivery
1 Troy ounce = 31.1 grams
1 Kg = 32.15 Troy ounces
Request special pricing for larger orders such as monster box of Canadian maple silver coins
Lower pricing for local gold orders of 10 to 29ozs and best pricing for 30 ozs or more.
Foreign currency options available so you can purchase from USD, AUD, EURO, GBP
Note: For local gold and silver orders your funds are deposited into our suppliers bank account. We receive a finders fee direct from them. Pricing is as good or sometimes even better than if you went direct.

---
Can't Get Enough of Gold Survival Guide? If once a week isn't enough sign up to get daily price alerts every weekday around 9am Click here for more info
---
Our Mission
To demystify the concept of protecting and increasing ones wealth through owning gold and silver in the current turbulent economic environment.
To simplify the process of purchasing physical gold and silver bullion in NZ – particularly for first time buyers.
---
---
The Legal stuff – Disclaimer: We are not financial advisors, accountants or lawyers. Any information we provide is not intended as investment or financial advice. It is merely information based upon our own experiences. The information we discuss is of a general nature and should merely be used as a place to start your own research and you definitely should conduct your own due diligence. You should seek professional investment or financial advice before making any decisions.
Copyright © 2017 Gold Survival Guide. All Rights Reserved.