This Week:
Silver's Relationship to Interest Rates
Monetary Forum's 'Seven Ages of Gold' Report Sees Metal Regaining Status
Free 10 oz Silver Bar or a Candy Bar?
Gold Silver Ratio. How high might silver go?
Prices and Charts
| | Spot Price Today / oz | Weekly Change ($) | Weekly Change (%) |
| --- | --- | --- | --- |
| NZD Gold | $1821.50 | + $3.82 | + 0.21% |
| USD Gold | $1334.25 | + $10.80 | + 0.81% |
| NZD Silver | $27.06 | + $0.97 | + 3.71% |
| USD Silver | $19.82 | + $0.82 | + 4.31% |
| NZD/USD | 0.7325 | + 0.0044 | + 0.60% |
NZD gold has managed to keep it's nose above the "low tide mark" at $1800 this week. Also managing to close above the 200 day moving average mark.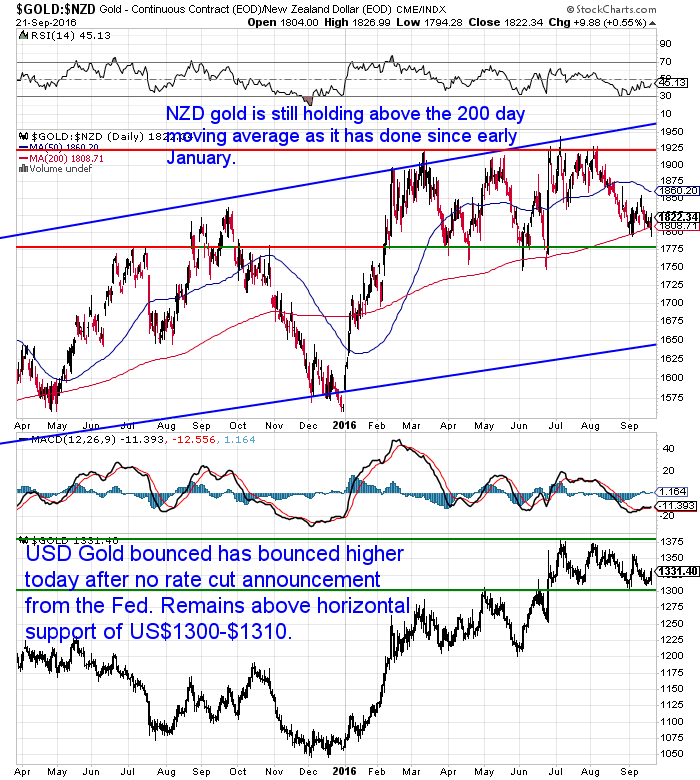 All said, it is looking rather positive for gold in NZ dollars currently. The 50 day and 200 day moving averages continue to run parallel to each other as they have since February. Indicating a bullish trend in place.
This is in the face of what continues to be a rising kiwi dollar as seen below.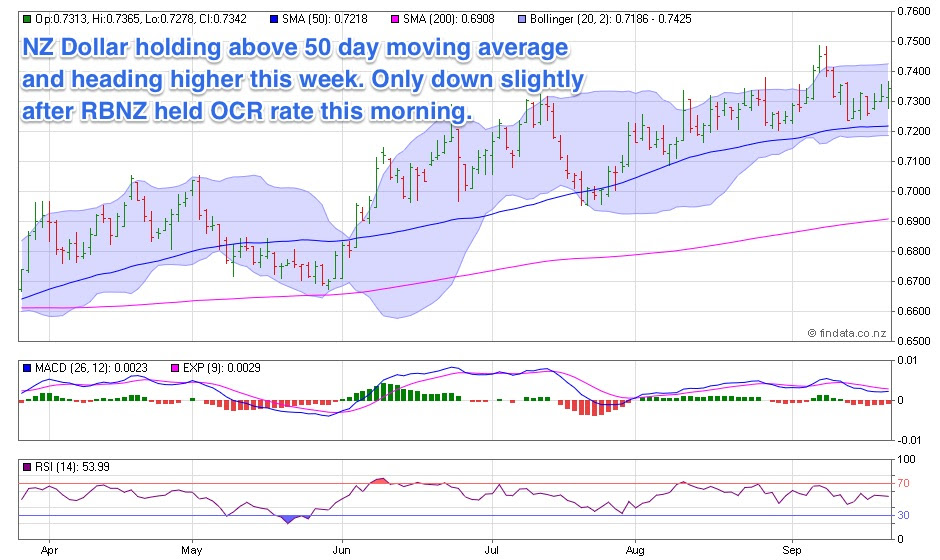 Silver has bounced up quite sharply today off the $26 horizontal support/resistance line. Could well be trending higher again already. It is getting close to the overhead rising blue trendline today.
Short Term Interest Rates on Hold – Long Term Rates Rising
The RBNZ kept the Overnight Cash Rate on hold at 2.00%. The US Federal Reserve also kept their key interest rate on hold despite a few pundits picking a surprise rate hike.
However over the past couple of weeks we've mentioned how longer term US treasury bond interest rates have actually been ticking higher since forming a possible bottom in July. (see Has the Bond Bubble Popped? Interest Rates to Rise? Impact on Gold and Silver?  and Reminder: Gold Will Rise With Interest Rates)
More people are starting to notice the action in bonds it seems. From Bill Bonner's diary this week:
If you own Treasury bonds… watch out.
 
Today's chart is of the price of the 30-year Treasury bond.
 
It is particularly sensitive to rising inflation and interest rates… both of which cause bond prices to fall.
 
 
As you can see, after being in a clear uptrend, this month, that trend line has been broken.
 
And that suggests more pain ahead for bondholders."
 
Remember, bond prices fall as their yields (interest rate) rises. So the fact bond prices are dropping shows long term interest rates are rising. Perhaps because inflation is seen on the horizon?
Silver's Relationship to Interest Rates
This week we posted an article on silver from Hubert Moolman on the website:
Silver Price Forecast: Higher Silver Prices For Many Years To Come.
(As always, check out the rest of the articles and videos posted on the website this week at the end of today's email.)
In doing so we noticed an article of his from earlier this year on a topic we haven't seen covered much previously. Silver's relationship to interest rates.
Here's his thoughts.
"Interest rates are an indication of the value that the market places on debt (or bonds).
If interest rates are low, then the market places a high value on debt, and if the interest rates are high, then a low value is placed on debt.
Silver and debt are virtually complete opposites; therefore, when interest rates are low, the market is putting a low value on silver, and when interest rates are high, then the market is putting a high value on silver.
Please note that there is a difference between the more market-related interest rates (like interest on the 10 -year Treasury) and the more manipulated interest rates (like the federal funds target rate). Here, I am mainly referring to market interest rates.
With interest rates being at all-time lows, for the last 146 years (at least), the market is putting an all-time low value on silver. Economic decline is the trigger that will bring a change in the prevailing interest rate trend. When there is economic decline, there is reduced expectation that debts will be paid (This is why the stock market collapse is such an important signal for the coming silver rally). Debt is then considered very risky, so higher interest rates are required (putting a lower value on debt).
The economic decline has already started and will soon accelerate, causing a massive spike in the silver price. Below is a long-term chart of silver (frommacrotrends.net):
On the chart, I have marked two fractals (1 to 4), to show how the period from 1921 to 1941 is similar to 1980 to 2016, for the silver market. The two fractals exist in similar conditions relative to interest rate peaks and bottoms, as well the Dow/Gold ratio peaks.
We appear to be around point 4, the point where silver and interest rates are likely to rise significantly."
Gold Silver Ratio. How high might silver go?
Sticking to silver but looking at it in comparison to gold now rather than interest rates.
Jeff Clark of GoldSilver.com wrote a piece this week on the gold silver ratio, which we too have been pointing out appears to have changed tack this year. With silver now looking to outperform gold in the longer term.
To see how the Gold Silver Ratio is calculated, how it can be used, and where it might head to next see: What is the Gold/Silver Ratio?
Here's a chart of the Gold/Silver Ratio from our daily price alerts email today (get access to that here if you're interested):
Silver has been rising faster compared to gold this year so the ratio has fallen from almost 85 down to 67.
Jeff's table below plots the potential price of silver based on various Gold/Silver ratios at various gold prices. Pick your expected price of gold on the right axis and you silver ratio along the top to get the resulting silver price.
Even if gold only rose to US$3000, a not too outlandish possibility, if the ratio hit it's 1980 low this would result in a silver price of US$214.29!
So if your silver position remains underwater still, you may be able to take some assurance that there is still potential upside ahead.
Conversely if you are yet to buy you can see clearly that the financial insurance that is silver has plenty of blue sky above it from current levels.
Continues below
—– OFFER FROM OUR SISTER COMPANY: Emergency Food NZ —–
Preparation also means having basic supplies on hand.
Are you prepared for when the shelves are bare?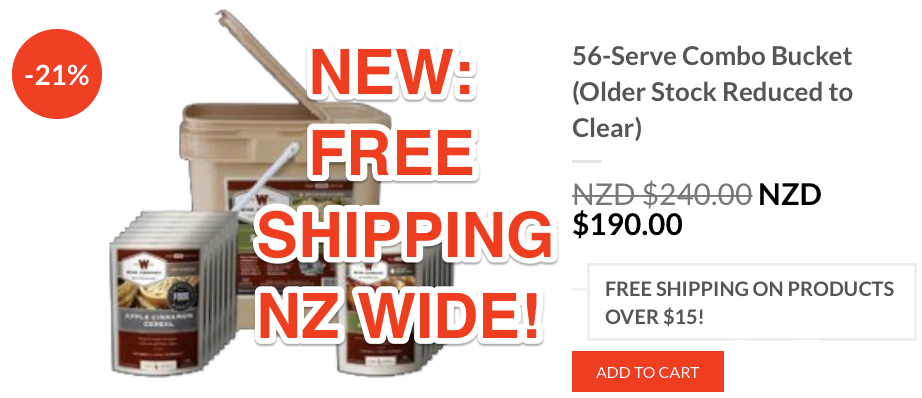 For just $190 you can have 4 weeks emergency food supply.
Free 10 oz Silver Bar or a Candy Bar?
If you needed any further evidence of how little most people know or care about silver, and how undervalued it potentially is then check out this video.
People Choose Free Candy Bar over Free 10 oz Silver Bar (Worth $200) in Social Experiment
But if you want the height of ignorance then check out this other video from Mark Dice. We can only hope he had to interview thousands of young Americans in order to get these responses. Also hopefully a New Zealand city wouldn't herald similar responses!
Trump's Sons Kill a Triceratops on Hunting Safari – Liberals Believe, And They're Very Upset
Monetary Forum's 'Seven Ages of Gold' Report Sees Metal Regaining Status
A new report out this week from the OMFIF.
"Central banks are turning back to gold purchases in line with a century of practice between 1870 and 1970. This has restored the yellow metal as a central element of monetary management after four decades of attempted demonetization, according to a new report from the Official Monetary and Financial Institutions Forum.
Annual net gold purchases of 350 tonnes a year by world central banks over the past eight years have returned to the 100-year average up to 1970 — reflecting the metal's renewed attractiveness as a safe haven asset in an environment of uncertainty and low or negative interest rates."
…Central banks have been net bullion buyers every year since 2008, adding more than 2,800 tonnes or 9.4% to reserves. Developed countries (accounting for the lion's share of total official holdings) have been conserving stocks, while developing countries led by China and Russia have been building them up. This is the longest protracted spell of gold accruals since 1950-65, when central banks and treasuries acquired a net total of more than 7,000 tonnes during the economic recovery after the second world war.
Developments since 2008 mark a powerful change from the 'Sales' Period VI in 1998-2008, when central banks, particularly in developed countries including the UK, the Netherlands and Switzerland, were unloading bullion holdings. This is also in sharp contrast to the 'Demonetisation' Period V in 1973-98, when gold's role was in limbo after it was officially phased out of the monetary system in 1971-73."
We first mentioned these guys back in 2013 where they stated:
"With the evolution towards a constellation of multiple reserve currencies, gold – as an asset that is no one's liability – will play a special role. Gold will neither replace fiat currencies, nor be the dominant 'currency' in the system. But it will become increasingly sought after and will attract a higher level of attention from policy-makers and financial market practitioners. "
Who are they?
The OMFIF "is an independent research and advisory group and a platform for confidential exchanges of views between official institutions and private sector counterparties."
A.K.A. a governmental and corporate insiders group. So probably worth paying attention to what these corporatists are saying now perhaps?
If you think it makes sense to become your own central bank and have gold as a "central element" in your personal "monetary management", then now looks like a pretty good time to buy according to the charts earlier.
A change is also certainly coming to the global monetary system, make sure you have stocked up before it happens.
Just reply to this email for a quote or phone David on 0800 888 465 if you have any questions.
** Urgent Message for All Car Owners **A compact, revolutionary tool can save your life.
We believe everyone who drives or rides in a vehicle must carry this tool.
The Keychain Car Escape Tool can save lives.
For less than the price of 2 movie tickets you can get 2 of these.
One for each car in your family or give one to someone you care about.
—–
This Weeks Articles:
Thu, 22 Sep 2016 11:43 AM NZST
Cycles are an interesting concept. That history repeats to a certain extent and that we can infer possibilities of future movements based upon this. Hubert Moolman writing from the African continent often has some interesting charts and visuals. Today he highlights why he thinks the next leg up in silver may be even more intense […]
Thu, 22 Sep 2016 11:09 AM NZST
GATA's Bill Murphy is interviewed on Crush the Street. In this short but content crammed interview they cover: *How long term interest rates have risen without the Fed actually raising rates. *How the big banks that control the Fed might actually want a rate hike right now. *How silver is the "achilles heel" of gold […]
Thu, 22 Sep 2016 9:32 AM NZST
Daniela Cambone of Kitco News interviews Doug Casey of Casey Research at the Total Wealth Symposium in Bermuda. Longtime Fed critic Doug Casey (correctly as it now happens) didn't expect the U.S. central bank to raise interest rates today, and says their efforts are actually hurting the economy. They also discuss Trumps chances in the […]
Wed, 21 Sep 2016 9:08 PM NZST
Here's Stewart Thomson's latest thoughts on gold and gold stocks and their potential impact from tomorrow's announcements from the US Federal Reserve and Bank of Japan. He also ponders how the US stock market might perform in the near term… Rate Hike Implications For Gold Stocks And Dow Graceland Updates By Stewart Thomson   The […]
Thu, 15 Sep 2016 5:39 PM NZST
This Week: Negative Interest Rates and Outlawing Cash Low Interest Rates Have Boosted the NZ Sharemarket Has the Bond Bubble Popped? Interest Rates to Rise? Impact on Gold and Silver? Deflation vs Hyperinflation First up a reminder if you have registered or if you are still to… 5 Days to Go Until Free Webinar: How […]
As always we are happy to answer any questions you have about buying gold or silver. In fact, we encourage them, as it often gives us something to write about. So if you have any get in touch.
Email:

[email protected]

Phone: 0800 888 GOLD ( 0800 888 465 ) (or +64 9 2813898)
or Online order form with indicative pricing
---
---
---
Note:
Prices are excluding delivery
1 Troy ounce = 31.1 grams
1 Kg = 32.15 Troy ounces
Request special pricing for larger orders such as monster box of Canadian maple silver coins
Lower pricing for local gold orders of 10 to 29ozs and best pricing for 30 ozs or more.
Foreign currency options available so you can purchase from USD, AUD, EURO, GBP
Note: Your funds are deposited into our suppliers bank account only. We receive a finders fee direct from them only.

---
Can't Get Enough of Gold Survival Guide?
If once a week isn't enough sign up to get daily price alerts every weekday around 9amClick here for more info
---
Our Mission
To demystify the concept of protecting and increasing ones wealth through owning gold and silver in the current turbulent economic environment.
To simplify the process of purchasing physical gold and silver bullion in NZ – particularly for first time buyers.
---
---
The Legal stuff – Disclaimer:
We are not financial advisors, accountants or lawyers. Any information we provide is not intended as investment or financial advice. It is merely information based upon our own experiences. The information we discuss is of a general nature and should merely be used as a place to start your own research and you definitely should conduct your own due diligence. You should seek professional investment or financial advice before making any decisions.
Copyright © 2016 Gold Survival Guide.
All Rights Reserved.
Jeff Clark of GoldSilver.com wrote a piece this week on the gold silver ratio, which we too have been pointing out appears to have changed tack this year. With silver now looking to outperform gold in the longer term.