This Week:
Gold Survival Guide App: Download Our Free Mobile App Today
Lord, What Fools These Mortals Be…
Gold And The Big Four: Slam Dunk
Gold And Silver: Something Different Is Occurring
Prices and Charts

Still Waiting on a Break Out…
Gold has edged a bit higher this week. It is getting quite compressed between the short term overhead resistance line and rising trendline and 50 day moving average line.
Before too long it is going to have to break one way or the other.
NZD gold does look to be building for another attack on the $1900 mark. But a tough call as to whether it will break through that mark, or pull back.
Still the overall trend for 2017 is up. As is the trend since 2014.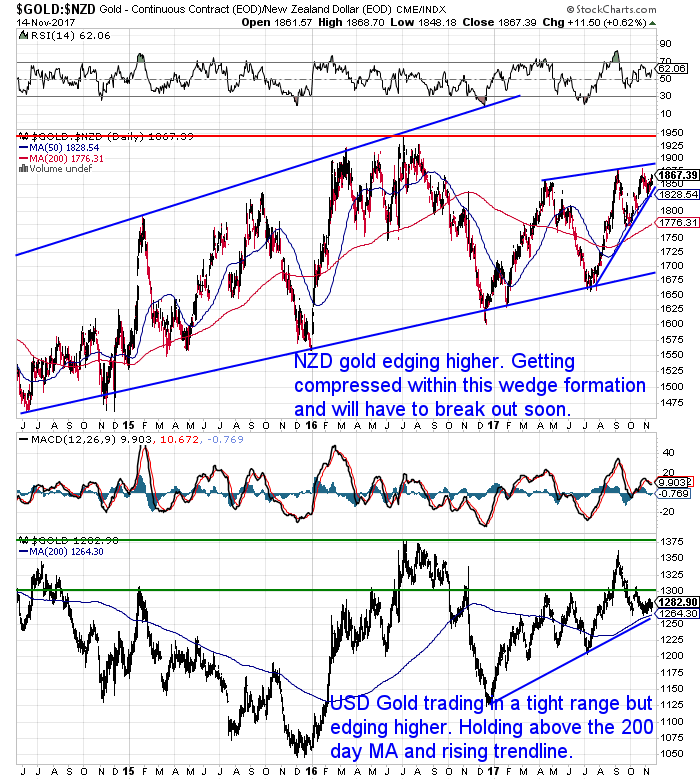 NZD silver is getting even more compressed than gold. For the past few weeks it has just been bouncing up and down between the red downtrend line and the 50 and 200 day moving average lines. Silver is also holding above the rising blue trendline.
So this wedge formation is getting narrower and narrower by the day. Silver will have to break higher or lower any day now.
Which way will it go? Check out the article below for a few examples of how gold and silver have been behaving a little differently lately.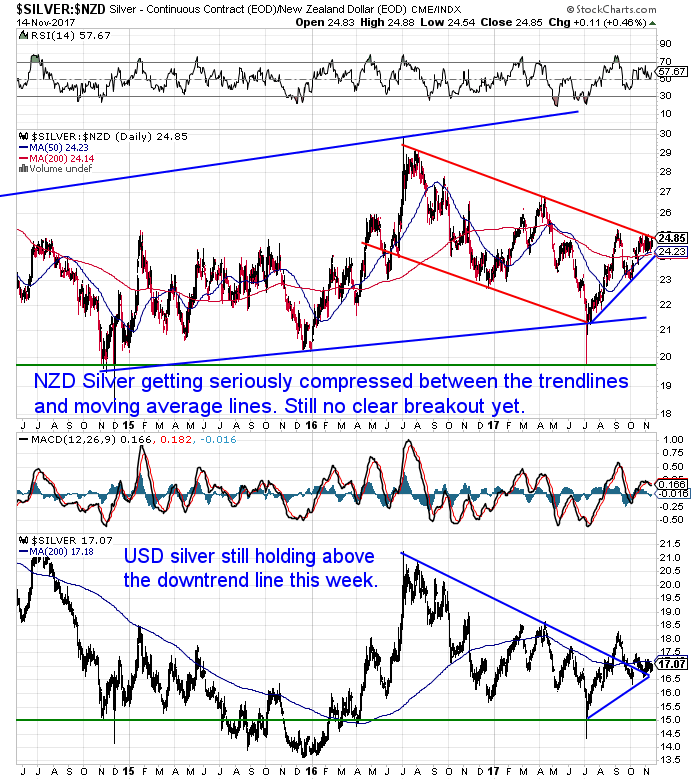 NZ Dollar Resumes Its Fall
The New Zealand Dollar has resumed its fall this week. Today it's not too far from the lows reached after the election. The Kiwi appears to be in a slight downtrend overall for 2017 now. With interest rates likely on hold here for a while yet, there may not be too much news around to push the dollar much higher.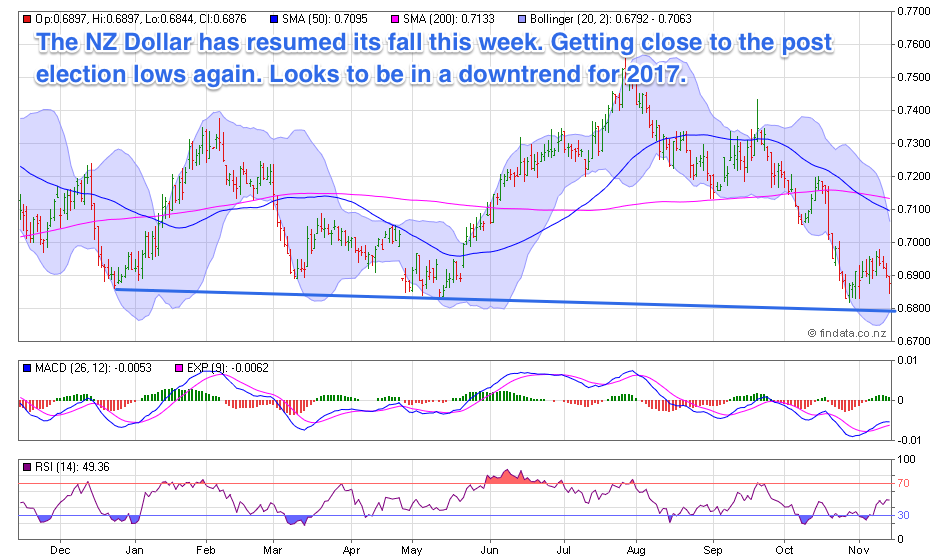 Looking at the Kiwi from a longer term point of view, it certainly looks to have broken lower. If it breaks below 0.68, then there is only a couple of support lines between there and the low from 2015 of 0.62.
You might have noticed the price of petrol heading up noticeably of late. If this fall in the Kiwi Dollar continues we will certainly see prices of imported goods rise.
As the chart below notes, gold and silver offer a good hedge against such a loss of value in the NZ Dollar.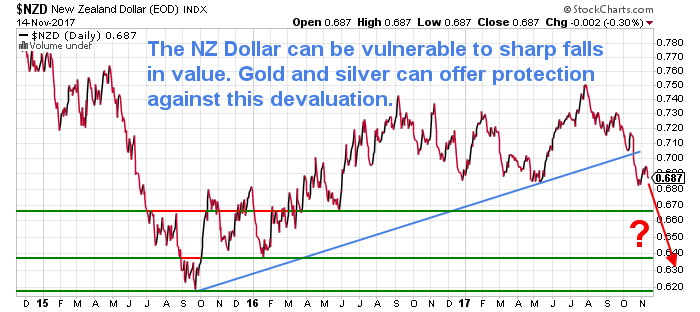 Unsure About Any Terms We Use When Discussing the Charts?
Remember to check out this post if any of the terms we use when discussing the gold, silver and NZ Dollar charts are unknown to you:
---
Gold And Silver: Something Different Is Occurring
Last weeks article generated plenty of interest: A House Price Crash Caused By the New NZ Government Policies?
It got us thinking about longer term cycles in property and also in gold and silver. So this week's feature article was born as a result.
It covers:
Has NZ Property Peaked?
The 18 Year Real Estate Cycle
Gold Bull Market 1970's vs 2000 to Date
When Will Gold and Silver Reach their Peak Valuations?
How Property Cycles and Gold Cycles Might Play Out in the Years to Come?
Read on to find out…
Of course there are no guarantees but it is interesting and worthwhile to look to the past to see what we can glean for the future.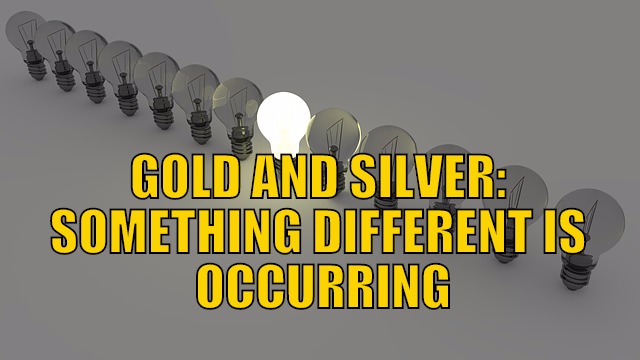 Continues below
—– OFFER FROM OUR SISTER COMPANY: Emergency Food NZ —– 
Do you have all the essentials on hand if you need to leave home in a hurry?
Get Your Own Emergency Survival Kit
Now Available. In Stock. Ready to Ship.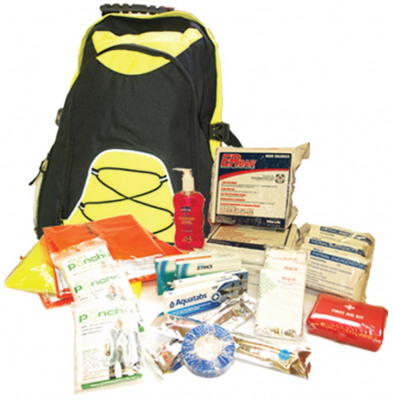 Gold Can Rise in Good Times Too
We were reminded this week that gold can actually rise in what is perceived to be "good times". Gold doesn't only rise on the back of the "fear trade".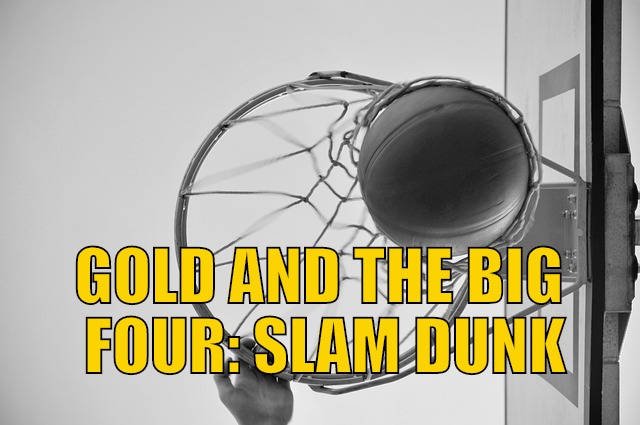 Download Our New Android App
If you're on an Android phone then be sure to check out our new Gold Survival Guide App (Apple version coming soon too).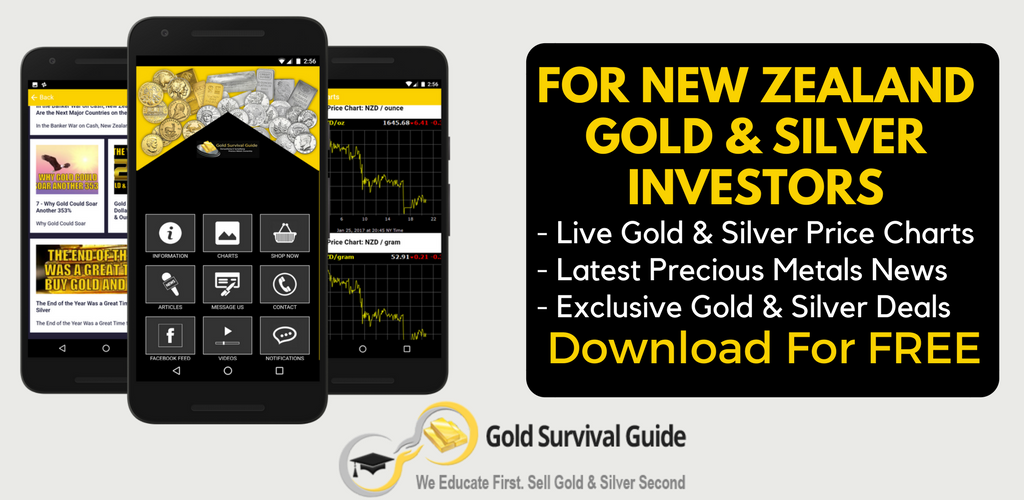 Your Questions Wanted
Finally Remember, if you've got specific question, be sure to send it in to be in the running for a 1oz silver coin.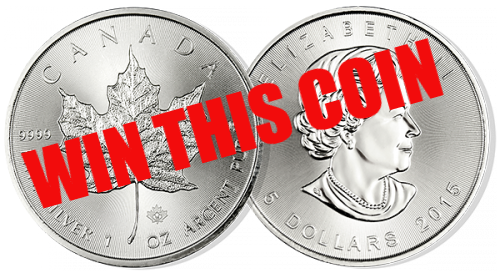 Limited Quantity RCM Coin Deals Still Remaining:
We've still got some great deals going on silver coins currently. The 1oz Perth Mint Silver Kangaroos have proven popular. But we also have some great prices on these Royal Canadian Mint 1 oz Coins:
5000 x Backdated Silver Maples
1055 x Antelopes
229 x 2014 Bald Eagles
1525 x Bison
500 x 2014 Falcons
1200 x Hawks
1400 x 2016 cougars
Call David to discuss these deals on 0800 888 465. Or just reply to this email.
Phone: 0800 888 GOLD ( 0800 888 465 ) (or +64 9 2813898)
or Online order form with indicative pricing
— Prepared for Power Cuts? —
[BACK IN STOCK] New & Improved Inflatable Solar Air Lantern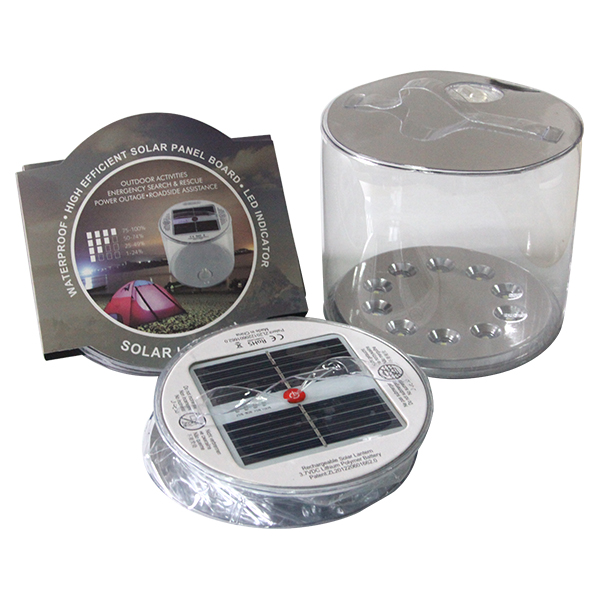 Check out this cool new survival gadget.
It's easy to use. Just charge it in the sun. Inflate it. And light up a room.
6-12 hours of backup light from a single charge! No batteries, no wires, no hassle. And at only 1 inch tall when deflated, it stores easily in your car or survival kit.
Plus, it's waterproof so you can use it in the water.
See 6 more uses for the amazing Solar Air Lantern.
—–
This Weeks Articles:
Tue, 14 Nov 2017 8:27 PM NZST
Dave Kranzler believes there are a number of recent factors that show gold and silver are perhaps starting to behave differently. And that this could indicate the next leg up is soon to begin. These include: How gold recently bounced back so fast after falling sharply on a Friday. What India's true gold imports are […]
Tue, 14 Nov 2017 5:47 PM NZST
Stewart Thomson explains why it may be good news out of Asia and improving economic growth, that drives gold higher from here. Rather than the western "fear trade" of recent years. This may seem unlikely at first glance. But look back at a chart of gold from 2001 and you'll see the price rose for […]
Tue, 14 Nov 2017 5:17 PM NZST
Hugo Salinas Price does a good job of explaining the important and little known concept of "declining marginal utility" and how this relates to gold. He goes on to conclude that "humanity is no longer in contact with the realities of the physical world: rational human activity is disconnected from those realities, by the false […]
Thu, 9 Nov 2017 3:34 PM NZST
The Free Smartphone App Built Specifically for New Zealand Gold and Silver Investors We're always looking at ways we can improve our service. The latest addition is the brand new Gold Survival Guide Mobile App. It's available for free download now on the Google Play store for Android Devices. It will also be available soon […]
Thu, 9 Nov 2017 1:07 PM NZST
This Week: Bill Bonner: Get Ready for the 'Crack-Up Boom' Where To Invest When (Almost) Everything's in a Bubble Gold Cycles vs Property Cycles: When Will Gold Reach Peak Valuation? Download Our New Android App Prices and Charts Looking to sell your gold and silver?Visit this page for more information Buying Back 1oz NZ Gold […]
As always we are happy to answer any questions you have about buying gold or silver. In fact, we encourage them, as it often gives us something to write about. So if you have any get in touch.
Phone: 0800 888 GOLD ( 0800 888 465 ) (or +64 9 2813898)
or Online order form with indicative pricing
---
---
---
Note:
Prices are excluding delivery
1 Troy ounce = 31.1 grams
1 Kg = 32.15 Troy ounces
Request special pricing for larger orders such as monster box of Canadian maple silver coins
Lower pricing for local gold orders of 10 to 29ozs and best pricing for 30 ozs or more.
Foreign currency options available so you can purchase from USD, AUD, EURO, GBP
Note: For local gold and silver orders your funds are deposited into our suppliers bank account. We receive a finders fee direct from them. Pricing is as good or sometimes even better than if you went direct.


---
Can't Get Enough of Gold Survival Guide?
If once a week isn't enough sign up to get daily price alerts every weekday around 9am Click here for more info
---
Our Mission
To demystify the concept of protecting and increasing ones wealth through owning gold and silver in the current turbulent economic environment.
To simplify the process of purchasing physical gold and silver bullion in NZ – particularly for first time buyers.
---
---
The Legal stuff – Disclaimer:
We are not financial advisors, accountants or lawyers. Any information we provide is not intended as investment or financial advice. It is merely information based upon our own experiences. The information we discuss is of a general nature and should merely be used as a place to start your own research and you definitely should conduct your own due diligence. You should seek professional investment or financial advice before making any decisions.