This Week:
Gold Purity and Silver Purity – A Complete Guide
Why You Should Become Your Own Central Bank – Even if Your Nation's Central Bank Has Gold Reserves
Visa Goes Down in the UK, Chaos Ensues, Cash is Suddenly King
Prices and Charts
---
---
Gold Again in the "Buy Zone"
Gold in NZ Dollars is down over 2% this week. Now sitting just above the 200 day moving average.
Looking at the chart below you can see that the red 200 day moving average (MA) line has been strong support so far in 2018. In fact it is almost a year since the price of gold was below this key technical indicator.
So yet again NZD gold is in a very good buying zone.
Silver Still Stuck in the Wedge
NZD silver held up comparatively better than gold. Down just over 1% for the week after again turning down from the blue downtrend line.
There's not much more to be said about silver. The giant wedge formation continues. As it does silver is getting more and more compressed. When it finally breaks out – likely in the coming months – there should be a big move coming. Hopefully to the upside.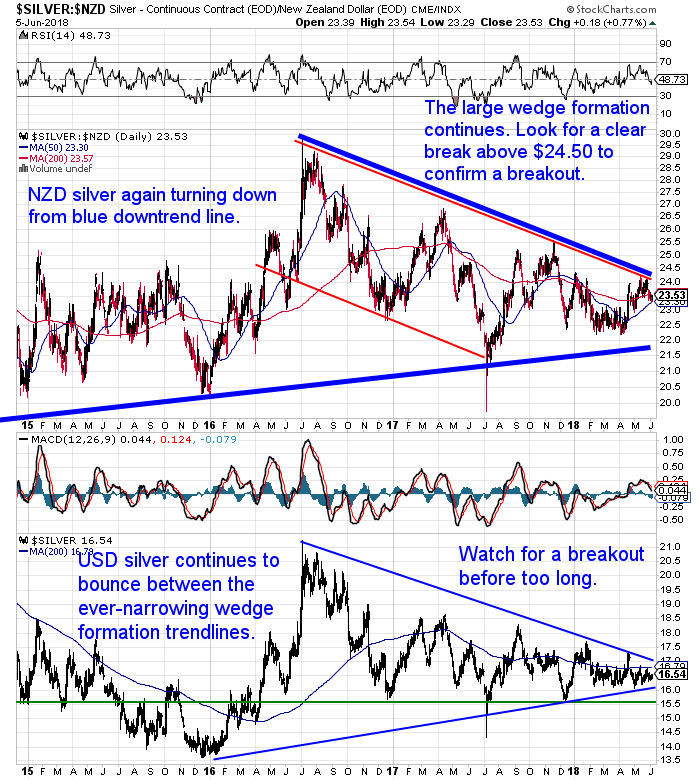 NZ Dollar Up Sharply
The NZ Dollar has been the main drag on local gold and silver prices. Up 1.81%, but now getting close to overbought. Also edging above the upper Bollinger band, so the Kiwi may struggle to get above the moving average lines.
Unsure About Any Terms We Use When Discussing the Charts?
Check out this post if any of the terms we use when discussing the gold, silver and NZ Dollar charts are unknown to you:
Continues below
—– OFFER FROM OUR SISTER COMPANY: Emergency Food NZ —– 
Do you have all the essentials on hand if you need to leave home in a hurry?
Get Your Own Emergency Survival Kit
Now Available. In Stock. Ready to Ship.
Visa Goes Down in the UK, Chaos Ensues, Cash is Suddenly King
Last week we reported how a power failure in Melbourne meant that BNZ customers couldn't use ATMs, Eftpos, internet banking, or physical bank branches for several hours over the weekend.
It highlighted how many people had no backup means to make payment.
The outage was only for a few hours. Imagine the disorder if it lasted days or even a week?
Well Europe got a similar and longer lasting taste over the last weekend, when Visa had a major outage. This resulted in millions of people being unable to use their debit or credit cards for over 12 hours.
As Don Quijones reports this was significant in the U.K. where "the chaos unleashed was particularly acute since it is one of the world's most cashless economies, pipped to the post only by Canada and Sweden".
He noted:
"In a beautiful irony, Visa, a company whose stated mission is to "put cash out of business" as quickly as possible, had little choice but to urge its customers to withdraw and use physical bank notes for transactions until the technical issue was resolved. Without access to cash, the chaos caused by yesterday's outage would have been immeasurably worse."
For more details on this plan by Visa to get rid of cash see: Visa Ups the War on Cash + How Governments Can Kill Cash
Don Quijones concludes:
"Going completely cashless [comes] with risks, as consumers in Europe were just reminded: system outage. If the payment system goes down and all you have to pay with are cards or your mobile phone, you could suddenly find yourself quite literally cashless, as happened to many Puerto Ricans after the power outages in 2017, caused by Hurricane Maria, knocked out electronic transactions and ATMs for days or weeks on end.
It was a stark reminder of just how fragile and vulnerable a 100% cashless society would be — at least until a cashless system can be created that is 100% safe from the threats posed by natural disasters, accidents, cybercriminals, and basic human incompetence. And it's why cash retains its crucial role in the payment universe, whatever Visa, driven by its desire for more profits and a larger market share, might want people to believe. Even some of Europe's senior central bankers are now willing to publicly concede, printed banknotes should retain their place and their role in society as legal tender for a long time to come."
Gold Purity and Silver Purity – A Complete Guide
We continue our "back to basics" series in our feature article this week. Have you ever wondered how gold and silver purity was expressed? There is a difference between gold and silver bullion (bars and coins) versus gold and silver jewellery.
Also learnhow to be sure of the purity of the metals you are buying.
Your Questions Wanted
Remember, if you've got a specific question, be sure to send it in to be in the running for a 1oz silver coin.
Why You Should Become Your Own Central Bank – Even if Your Nation's Central Bank Has Gold Reserves
Do you know how much gold the RBNZ holds? What about the Reserve Bank of Australia?
Does it matter? Would it help a nations citizens if a central bank has gold reserves? The answer may surprise you.
You'll also discover 3 specific ways to become your own central bank.
A reminder we have a new updated "Shop" page.
So head over and see all the new products available today.
Phone: 0800 888 GOLD ( 0800 888 465 ) (or +64 9 2813898)
or Shop Online with indicative pricing
— Prepared for Power Cuts? —
[BACK IN STOCK] New & Improved Inflatable Solar Air Lantern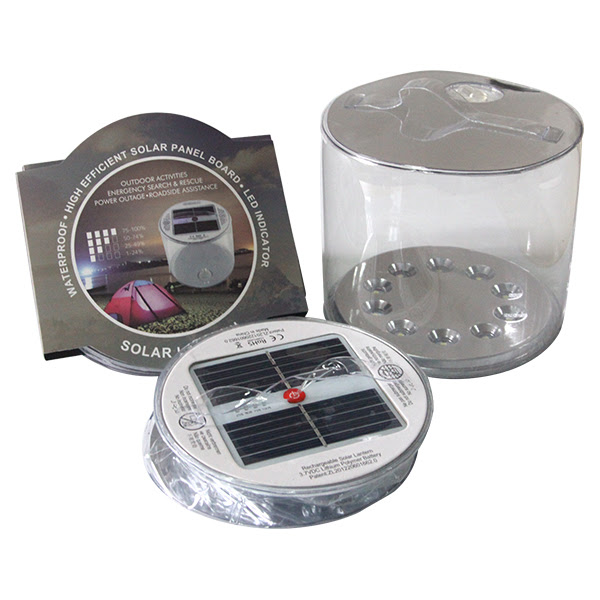 Check out this cool new survival gadget.
It's easy to use. Just charge it in the sun. Inflate it. And light up a room.
6-12 hours of backup light from a single charge! No batteries, no wires, no hassle. And at only 1 inch tall when deflated, it stores easily in your car or survival kit.
Plus, it's waterproof so you can use it in the water.
See 6 more uses for the amazing Solar Air Lantern.
—–
This Weeks Articles:
Tue, 5 Jun 2018 5:57 PM NZST
Gold Purity and Silver Purity When buying precious metals, it is important to have an understanding of the gold purity or silver purity of the bars or coins. Why? Because a small difference in gold or silver purity can have an impact upon the overall value of the gold or silver contained in a coin […]
The post Gold Purity and Silver Purity – A Complete Guide appeared first on Gold Survival Guide.
Fri, 1 Jun 2018 9:18 AM NZST
This Week: RBNZ Prepared to Print Money and Implement Negative Interest Rates in a Crisis BNZ Failure Highlights the Need to Keep Some Cash on Hand Larger Range of Gold and Silver Products and Website Shop Update Prices and Charts Looking to sell your gold and silver? Visit this page for more information Buying Back 1oz […]
The post BNZ System Failure Highlights the Need to Keep Some Cash on Hand appeared first on Gold Survival Guide.
As always we are happy to answer any questions you have about buying gold or silver. In fact, we encourage them, as it often gives us something to write about. So if you have any get in touch.
Phone: 0800 888 GOLD ( 0800 888 465 ) (or +64 9 2813898)
or Online order form with indicative pricing
---
---
---
Note:
Prices are excluding delivery
1 Troy ounce = 31.1 grams
1 Kg = 32.15 Troy ounces
Request special pricing for larger orders such as monster box of Canadian maple silver coins
Lower pricing for local gold orders of 10 to 29ozs and best pricing for 30 ozs or more.
Foreign currency options available so you can purchase from USD, AUD, EURO, GBP
Plus we accept Bitcoin, Bitcoin Cash, Visa and Mastercard
Note: For local gold and silver orders your funds are deposited into our suppliers bank account. We receive a finders fee direct from them. Pricing is as good or sometimes even better than if you went direct.

---
Can't Get Enough of Gold Survival Guide?
If once a week isn't enough sign up to get daily price alerts every weekday around 

9am

Click here for more info
---
---
The Legal stuff – Disclaimer:
We are not financial advisors, accountants or lawyers. Any information we provide is not intended as investment or financial advice. It is merely information based upon our own experiences. The information we discuss is of a general nature and should merely be used as a place to start your own research and you definitely should conduct your own due diligence. You should seek professional investment or financial advice before making any decisions.