This Week:
Gold & Silver in NZ Dollars: 2016 in Review
Our Guesses For 2017
War on Cash Expands into Greece – May Hit NZ and Canada Next
2017: What to expect in the first 3 months
Prices and Charts
| | Spot Price Today / oz | Weekly Change ($) | Weekly Change (%) |
| --- | --- | --- | --- |
| NZD Gold | $1692.11 | – $1.37 | – 0.08% |
| USD Gold | $1204.95 | + $13.25 | + 1.11% |
| NZD Silver | $23.97 | + $0.17 | + 0.71% |
| USD Silver | $17.07 | + $0.32 | + 1.91% |
| NZD/USD | 0.7121 | + 0.0084 | + 1.19% |
While the US dollar price of gold is up sharply higher this week, here in NZ the Kiwi dollar has also risen sharply, so the local price of gold is hardly changed from a week ago. Today it sits just above the 50 day moving average.
As noted last week gold looks to have bottomed out just before Christmas like it has done for the previous 2 years. So any pull back from here is likely a good chance to buy. Why? Because if the last 2 years are any guide (and we think they might be) gold is potentially at a lower level now than it will be at the end of 2017.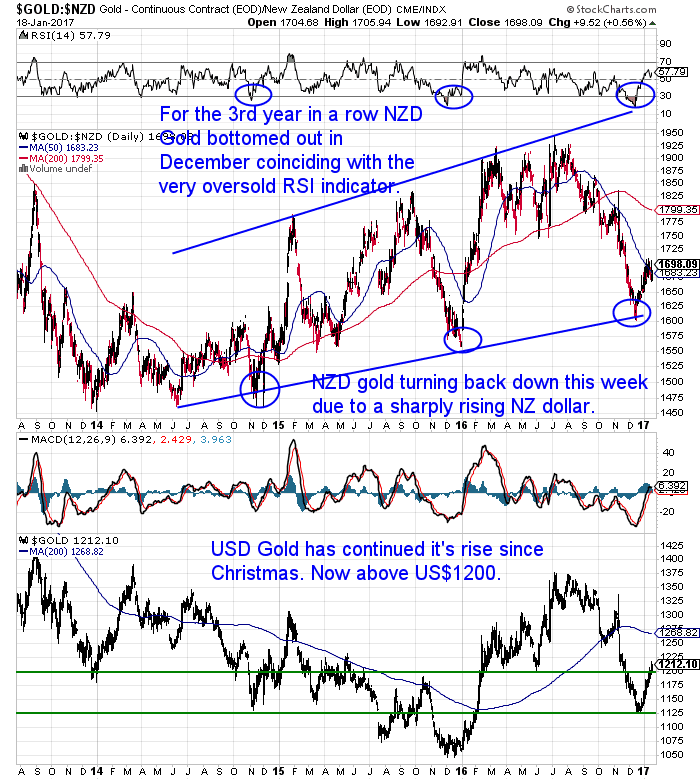 USD silver has been playing catch up with gold this week and is up quite sharply (see the bottom half of the chart below). But even with the stronger NZ Dollar, the local silver price is still up from a week ago too.
Silver may rise faster than gold but might well lag gold overall for the next little while.
The NZ Dollar chart below clearly shows the rise in the Kiwi this week. But it is getting overbought now and also right on the upper Bollinger band, so a pull back in the dollar is looking likely.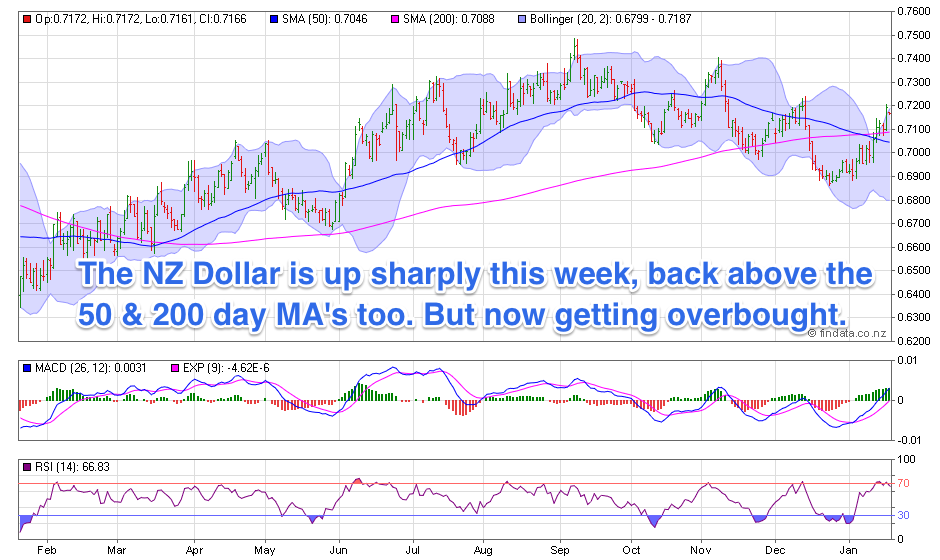 Check out this week's feature article for our thoughts on the impact the NZ dollar may have on local gold and silver prices in 2017.
It is also our usual review of the performance of gold and silver in NZ Dollars during 2016. It includes a look at our predictions (or rather guesses) for 2016 and how accurate we were (or weren't). Plus as usual a few punts on what 2017 might have in store for us, particularly for gold and silver.
War on Cash Infographic
Here's an excellent infographic that explains just what is going on and why in the global war on cash. So if you've not kept up with events this is a really fast way to get up to speed. Plus it highlights countries where attacks on cash have taken place or are being actively discussed.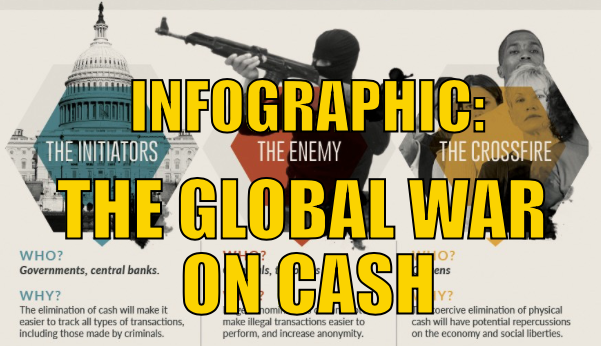 Continues below
—– OFFER FROM OUR SISTER COMPANY: Emergency Food NZ —–
Preparation also means having basic supplies on hand.
Are you prepared for when the shelves are bare?
For just $290 you can have 4 weeks emergency food supply.
—–
War on Cash Expands into Greece
Greece is now where the most recent front in the war on cash has opened.
New rules are that if you don't show proof of your expenses in the form of a debit or credit card receipt, you won't be able to use it as a tax write-off. So you won't be able to just pay cash and ask the seller for a receipt and then use this receipt in your tax return.
See more on this: War on Cash rages on in Greece
The Daily Reckoning also reported on the changes in Greece:
"Greece may not seem important. But beware… this "soft" cash ban could be a model for the advanced economies…
The Greek news site, Keep Talking Greece, reports that as of Jan. 1, Greek taxpayers will be required to make a minimum amount of purchases with credit or debit cards.
Here's the deal:
If you're Greek and make less than 10,000 euros, you've got to make 10% of your payments with plastic. Make up to 30,000 and that number rises to 15%. Over 30,000 and it rises to 20%.
And if you don't play by the rules? Enjoy that 22% penalty. Say you make 50,000 and you're required to spend 10,000 digital. But you only spend 5,000 digital. Your penalty would be 22% of that 5,000 you didn't spend — 1,100 euros.
Here's another bug the elites consider a feature: rent, utilities, loan repayments, transportation expenses and many other expenses don't count. No. You've got to spend on groceries, restaurants, hairdressers, dance schools and the like. What, you don't want to learn the waltz? Go tell it to the judge. Keep Talking Greece explains it:
"Households will be obliged to spend money even if they do not want to. As the large part of monthly need coverage (utilities. etc.) is not accepted by the tax office, households who do not manage to reach the necessary percentage through supermarket percentages will have to go and spend like crazy in retail, dance schools and gyms and other goods and service providers."

"See, look, we're not banning cash," these cats will purr. "We would never do such a thing. Spend your cash till you're blue in the face. But if you want to avoid that 22% penalty, well…"
And who's to say they'll cap the spending requirement at 20%? Maybe the economy's in doldrums next year and they raise it to 50% so your additional spending can "stimulate" the economy. Then 75% maybe.
Next thing you know, there's so little use for cash no one accepts it anymore, not even the local mom and pop. It's just too much trouble to keep on hand and store and all that when hardly anyone uses it. And here's the thing:
Once the level of cash in society falls to a certain point, it's only a small step before it vanishes entirely.
And that's how cash will die. They don't have to ban it outright. It'll just die of neglect. They just have to make it impractical to the point that no one accepts it anymore. Make using it the equivalent of buying a Ferrari with a stack of singles. It's legal — but go ahead and try it.
That's how the elites will realize their dream of truly negative interest rates. You'd rather spend your money on tango lessons or opera tickets than pay the bank for the privilege of holding it for you. (Opera? Let's think about this…)
This sort of "soft" cash ban is more a flanking attack than a direct go at the trenches like India pulled in November. The resistance is too heavy in the center. Pull off a good flanking attack and you make a lot less noise and you've soon got the enemy surrounded. That's the elite's purpose in the war on cash — to quietly outflank and surround you, to cut off all escape routes."
In the same email Jim Rickards also reports on another possible attack the central planners may take on cash.
"Goodfriend comes up with a new concept called the "flexible market-determined deposit price of paper currency." (Seriously, I'm not making this up; you can find it in Section 5B of his paper.)
In plain English, this means the "money" in your bank account and the "money" in your purse or wallet would be like two different kinds of currency.There would be an exchange rate between the two, just as there is an exchange rate between dollars and euros. The Fed could set this exchange rate at whatever level it wanted and would not be obligated to "defend" that rate at any particular level.
What this means is if you go to the bank and withdraw $1,000, the bank might only give you $980 in cash because of the "exchange rate" between your bank account and cash. Or if you deposit $1,000 in cash, the bank might only credit your bank account $980 because of the same "exchange rate" between your cash and the bank account balance. In short, it's a way to impose negative interest rates on physical cash.
It's true that Goodfriend is an academic, not a policymaker. But Yellen and other Fed bigwigs like William Dudley and Stanley Fischer were sitting in the audience. In my experience, this is how things start. Some ivory-tower academic writes about a policy proposal.
A few other ivory-tower academics and beltway think tanks take the idea and run with it. Then one of those academics gets appointed to a policy position. The next thing you know, the policy is in effect.
That's how I saw special drawing rights (SDRs) coming years in advance, and that's how I see the war on cash now. That's why I also see a war on gold…
Curiously, academic policymakers have spent so many years disparaging gold they seem to have forgotten that gold is money. Once the war on cash heats up — and certainly when that war is in full swing, out in the open — people everywhere will turn to gold as an alternative form of money.
And then, once policymakers see the massive shift to gold, they will launch a war on gold also.
So my advice to people interested in gold is — get it now while you still can. What are you waiting for?"
NZ Next Target on War on Cash?
Last year we had a number of articles on the war on cash, including how it may begin to heat up here in New Zealand too before long:
War on Cash: Implications for New Zealand
Not Long Until the "War on Cash" Comes to New Zealand
This week J.S. Kim, an American based out of Thailand wrote why he believes New Zealand and Canada will be the next economies where there are clamp downs on cash.
In the Banker War on Cash, New Zealand and Canada Are the Next Major Countries on the Banker Hit List

2017: What to expect in the first 3 months
Bullionvault's Adrian Ash notes there are a number of potentially market moving dates due in the first quarter:
17 Jan – UK Prime Minister May's speech on Brexit
20 Jan – Donald Trump's inauguration as US President
Also in Jan – UK Supreme Court judgement on Article 50
1 Feb – US Fed interest-rate decision
17 Feb – German presidential election
15 Mar – Netherlands parliamentary elections
31 Mar – UK's self-imposed Article 50 deadline
Also in Mar – US government 'debt ceiling' will be reached
All these dates come as Nato deploys a new 'high readiness' task force along its Baltic border with Russia…
…China is flexing its military might at Taiwan (two African nations have already severed ties with the island to defend their links with Beijing)…
…and Turkey risks spiralling into dictatorship, squeezed between the catastrophe in Syria and an increasingly divided European Union.
France holds presidential elections in April, with Germany also voting on Angela Merkel's record as Chancellor.
Italy needs to find a new prime minister too. The Greek debt crisis will also make a return in July, when Athens needs to repay  €7 billion in 1 month…
…if not in May, when the government will run out of money entirely on one estimate.
But the truly big shocks? The events no-one sees coming
Trying to peer into the future, bullion market analysts cannot agree over how gold and silver will perform in 2017.
But overall, their forecasts proved wildly wrong in 2016, because the analysts missed the impact of 2016's shock political surprises. Even though the Brexit referendum and US elections were clearly marked on the calendar!
The 'risk events' on your 2017 calendar will now focus the deeper investment stresses of slower growth and mounting debt worldwide. Rising inflation adds another worry for fund managers and savers alike.
The financial, economic and political threats to your money look very unlikely to retreat, in short. But there's a strong case for adding precious metals to your portfolio whatever the weather."
As Jim Rickards said "get it [gold] now while you still can. What are you waiting for?"
Even after the recent move up, you'll still be buying near the pre-Christmas lows. So if you'd like a quote get in touch.
— Prepared for Power Cuts? —
[BACK IN STOCK] New & Improved Inflatable Solar Air Lantern
Check out this cool new survival gadget.
It's easy to use. Just charge it in the sun. Inflate it. And light up a room.
6-12 hours of backup light from a single charge! No batteries, no wires, no hassle. And at only 1 inch tall when deflated, it stores easily in your car or survival kit.
Plus, it's waterproof so you can use it in the water.
See 6 more uses for the amazing Solar Air Lantern.
—–
This Weeks Articles:
Thu, 19 Jan 2017 12:27 PM NZST
We've written a number of articles on the "War on Cash" over the last few years. Here's a couple from just the end of 2016: War on Cash: Implications for New Zealand Not Long Until the "War on Cash" Comes to New Zealand But this week we came across this excellent infographic which summarises nicely […]
Tue, 17 Jan 2017 11:08 AM NZST
See why the banker movement against cash will be pushed more aggressively in small economies first before spreading to larger economies and so why New Zealand may next be in the firing line…   In the Banker War on Cash, New Zealand and Canada Are the Next Major Countries on the Banker Hit List As we […]
Tue, 17 Jan 2017 10:23 AM NZST
Even though gold fell sharply in the second half of 2016, if history is any guide there is still potentially a lot further it has yet to rise… Why Gold Could Soar Another 353% By Justin Spittler Gold is on the rise again… It's climbed for two straight weeks, and it's now up nearly 5% […]
Tue, 17 Jan 2017 10:09 AM NZST
2016 was an eventful year with the "surprise" results of Brexit and the US presidential elections. So with 2016's end it's time for our review of gold and silver performance in NZ Dollars during the calendar year. Plus a look back at our predictions from a year ago as well. After all there is no […]
Thu, 12 Jan 2017 4:24 PM NZST
This Week: Gold and silver look to have bottomed out What happens next? Prices and Charts Spot Price Today / oz Weekly Change ($) Weekly Change (%) NZD Gold $1693.48 + $52.31 + 3.18% USD Gold $1191.70 + $59.95 + 5.29% NZD Silver $23.80 + $0.65 + 2.80% USD Silver $16.75 + $0.79 + 4.94% […]
As always we are happy to answer any questions you have about buying gold or silver. In fact, we encourage them, as it often gives us something to write about. So if you have any get in touch.
Email:

[email protected]

Phone: 0800 888 GOLD ( 0800 888 465 ) (or +64 9 2813898)
or Online order form with indicative pricing
---
---
---
Note:
Prices are excluding delivery
1 Troy ounce = 31.1 grams
1 Kg = 32.15 Troy ounces
Request special pricing for larger orders such as monster box of Canadian maple silver coins
Lower pricing for local gold orders of 10 to 29ozs and best pricing for 30 ozs or more.
Foreign currency options available so you can purchase from USD, AUD, EURO, GBP
Note: Your funds are deposited into our suppliers bank account only. We receive a finders fee direct from them only.
---
Can't Get Enough of Gold Survival Guide?
If once a week isn't enough sign up to get daily price alerts every weekday around 9am Click here for more info
---
Our Mission
To demystify the concept of protecting and increasing ones wealth through owning gold and silver in the current turbulent economic environment.
To simplify the process of purchasing physical gold and silver bullion in NZ – particularly for first time buyers.
---
---
The Legal stuff – Disclaimer:
We are not financial advisors, accountants or lawyers. Any information we provide is not intended as investment or financial advice. It is merely information based upon our own experiences. The information we discuss is of a general nature and should merely be used as a place to start your own research and you definitely should conduct your own due diligence. You should seek professional investment or financial advice before making any decisions.
Copyright © 2017 Gold Survival Guide.
All Rights Reserved.