This Week:
What's Happening With Gold?
Why the World's Billionaire Investors Buy Precious Metals
Will Gold and Silver Again Bottom with the Fed Rate Hike?
Prices and Charts

Gold and Silver Take it on the Chin
Gold and silver have taken it on the chin this week regardless of in which currency they are looked at.
NZD gold is down close to 3% from a week ago and at the lowest price since March. It is now sitting right on the 200 day moving average (MA) line and getting close to oversold territory. A chunk of this fall is due to the strengthening NZ dollar – more on that soon.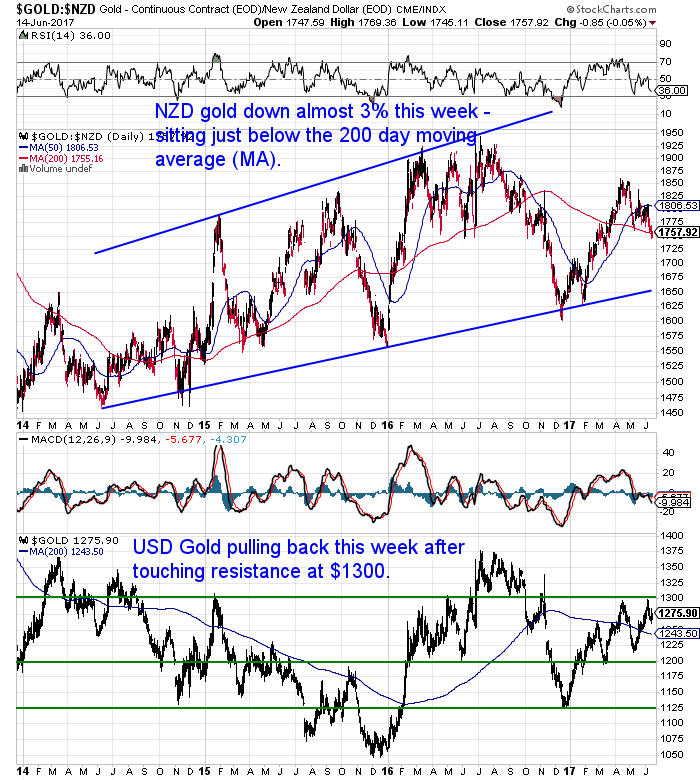 Meanwhile NZD silver has done it even tougher this week. Down 4.65% from a week ago and did get briefly below the low from early May. NZD silver also dipped below the blue uptrend line, but has now bounced back up towards it again.
Silver is also close to oversold territory. So we are likely back into an excellent long term buying zone again around here.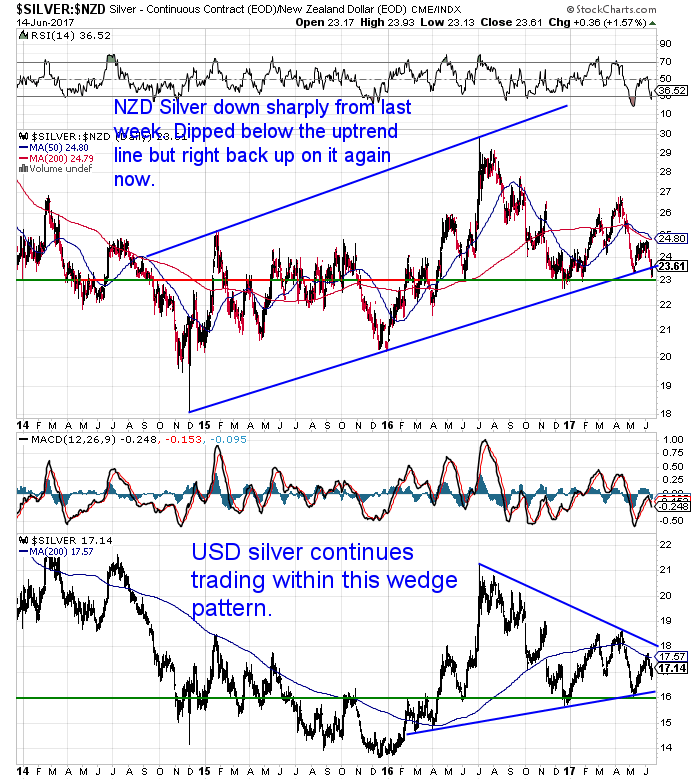 As noted the Kiwi dollar moved even higher again this week. It remains extremely overbought and shot higher this morning as the US Central Bank hiked interest rates again. The NZ dollar looks likely to have to pull back pretty soon. So that adds to the likelihood of gold and silver in NZ Dollars bottoming out around here too.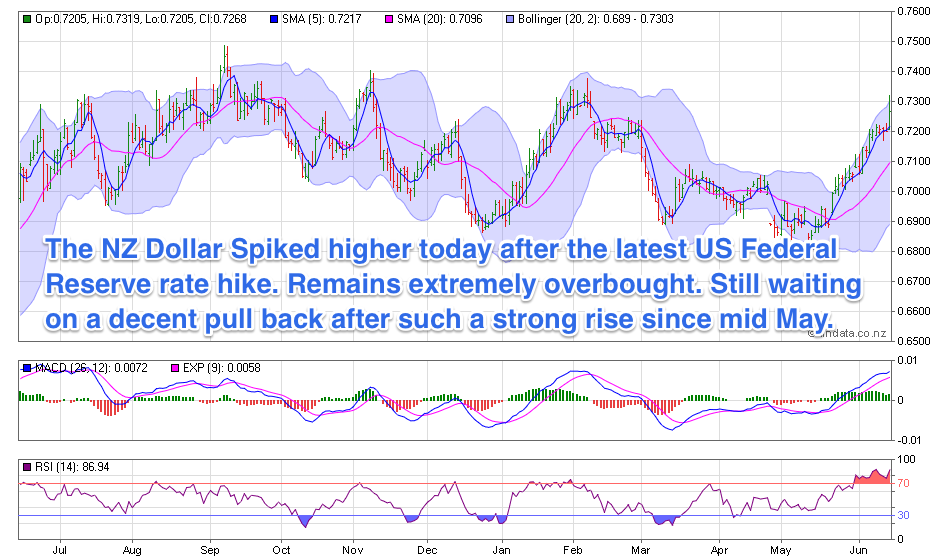 Will Gold and Silver Again Bottom with the Fed Rate Hike?
So the Fed bumped US interest rate a little higher again this morning.
The previous 3 rate hikes have also seen precious metals dip in the lead up to the announcement but then bottom out very soon afterwards. A case of "sell the rumour, buy the news".
The US central bank previously raised interest rates on 15 March 2017, 14 Dec 2016, and
16 Dec 2015. We've marked these dates on the chart below. You can clearly see gold has risen after each of the previous 3 hikes.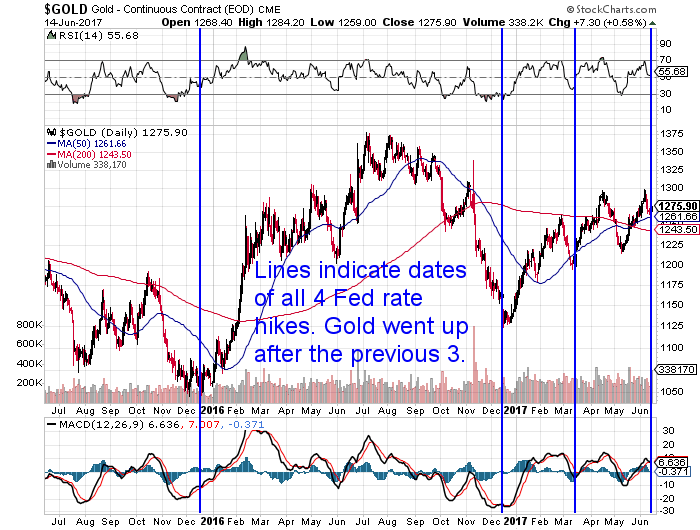 This went against what you'll read in the mainstream where rising interest rates are meant to be bad for gold.
We have a couple of articles on the site discussing this situation.
First up Jim Rickards reckons:
"Normally, tight money is bad for the dollar price of gold but not this time. That's because the Fed is not tightening into economic strength, but they're tightening into economic weakness for the first time since 1937. We can see this in last week's data. Job growth slowed, labor force participation dropped, inflation dropped, auto sales declined and real wages continued to flat-line.
Gold sees what's coming next, which is either a recession or something close to it by the late summer.
At that point, the Fed will have to reverse course. They'll do this through "forward guidance" that signals there will be no rate hike in September.
We got a glimpse of this on May 30 in a speech by Lael Brainard, one of the "Big Four" in the Fed system, along with Yellen, Fischer and Dudley. Brainard said, in effect, that she is a "yes" for a rate hike in June but may be a "no" in September. She won't be alone.
Brainard is a channel for Bob Rubin, the shadow godfather of the international monetary elite. If Bob Rubin, Christine Lagarde, Larry Summers and others gang up on Yellen as they did in September 2015 (when Yellen postponed the "liftoff"), then September 2017 is off the table for a rate hike.
Gold sees this coming.
Gold is the most forward looking of all major markets. With a $1,300 foundation in place and forward guidance in the cards, gold could have an extremely strong second half of 2017."
See the rest of his theory below including why it's real interest rates that are so important to track. Not just what the Fed does…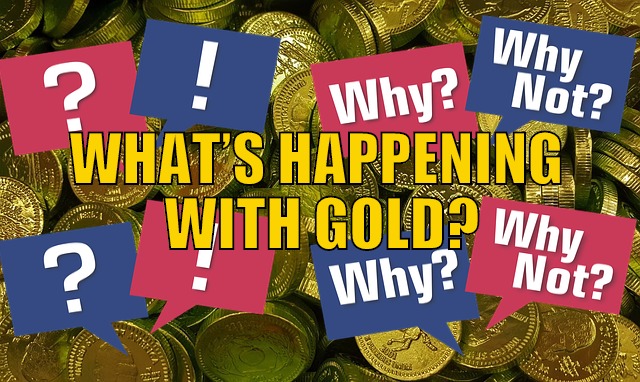 Earlier this week Stewart Thomson also chimed in on inflation and interest rates:
"19. I predicted that gold stocks would bottom against gold when Janet Yellen ended the deflationary QE program and replaced it with rate hikes.
20. So far I've been proven correct, but more rate hikes are required to create a powerful bull cycle in money velocity. Accelerating money velocity creates accelerating inflation.
21. Also, as more rate hikes occur, institutional investors will become concerned about their US stock market investments. They won't necessarily sell their existing holdings, but the US stock market is likely to stagnate as they focus new money on European markets, Asian markets, and gold stocks."
Check out that article below which also has news on why GST in India is actually good news for gold.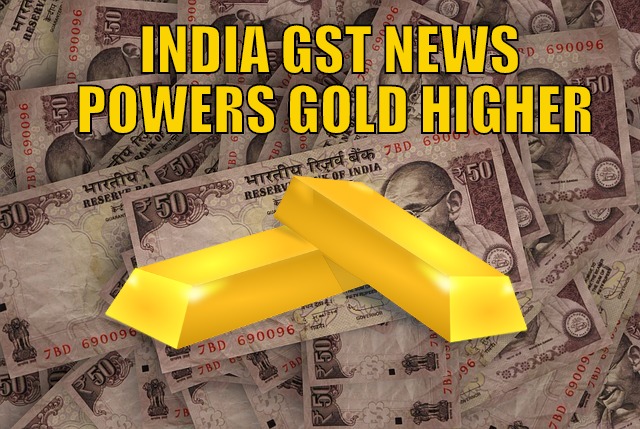 Both metals again look to be in very good buying zones and if the aftermath of previous Fed rate hikes are anything to go by, may not stay here for too long.
Call David on 0800 888 465 for a quote or with any questions. Or just reply to this email. Note: Minimum order is 500 coins.
Phone: 0800 888 GOLD ( 0800 888 465 ) (or +64 9 2813898)
or Online order form with indicative pricing
— Prepared for Power Cuts? —
[BACK IN STOCK] New & Improved Inflatable Solar Air Lantern
It's easy to use. Just charge it in the sun. Inflate it. And light up a room.
6-12 hours of backup light from a single charge! No batteries, no wires, no hassle. And at only 1 inch tall when deflated, it stores easily in your car or survival kit.
Plus, it's waterproof so you can use it in the water.
—–
This Weeks Articles:
Thu, 15 Jun 2017 12:16 PM NZST
Here's an important lesson about what really happens when a currency collapses. An interesting boots on the ground report from a country where the black market has been the real market for some time now… Zimbabwe: When the Black Market Becomes the Real Market By Jeff Thomas For many years, I've described black markets not […]
Wed, 14 Jun 2017 11:51 AM NZST
Here's 3 reasons why gold has stumbled and drifted lower over the past week or so. Plus you'll see how the US central bank, the Federal Reserve, is getting set to launch a "kamikaze mission" against the U.S. economy. Then Jim Rickards shows you why gold has proven so resilient this year, despite strong head winds […]
Wed, 14 Jun 2017 11:45 AM NZST
There are always lessons that can be learned from the "smart money". Unlike regular investors, billionaire money managers like Ray Dalio and Stan Druckenmiller are professional investors. They have entire institutional teams at their disposal, dive deep into the nuances and complexities of the market, and spend every waking moment of their lives thinking about […]
Fri, 9 Jun 2017 3:08 PM NZST
There was some very positive news for gold out from India this week. Unlike the past couple of years when every announcement from the Indian government has been negative for gold. For a change a tax was announced that was lower than expected and actually reduces the overall tax on gold in some Indian states. […]
Fri, 9 Jun 2017 2:43 AM NZST
This Week: In Gold We Trust Report 2017 Silver Short-Squeeze Potential The Sun Rises on the Precious Metals Sector US Dollar Gold Close to Breaking 5 Year Downtrend Line Gold And Silver Manipulation Confirmed by US Regulators SILVER COIN SPECIAL TODAY We're hoping to get another tranche of these coins But currently there are just […]
As always we are happy to answer any questions you have about buying gold or silver. In fact, we encourage them, as it often gives us something to write about. So if you have any get in touch.
Phone: 0800 888 GOLD ( 0800 888 465 ) (or +64 9 2813898)
or Online order form with indicative pricing
---
---
---
Note:
Prices are excluding delivery
1 Troy ounce = 31.1 grams
1 Kg = 32.15 Troy ounces
Request special pricing for larger orders such as monster box of Canadian maple silver coins
Lower pricing for local gold orders of 10 to 29ozs and best pricing for 30 ozs or more.
Foreign currency options available so you can purchase from USD, AUD, EURO, GBP
Note: For local gold and silver orders your funds are deposited into our suppliers bank account. We receive a finders fee direct from them. Pricing is as good or sometimes even better than if you went direct.

---
Can't Get Enough of Gold Survival Guide? If once a week isn't enough sign up to get daily price alerts every weekday around 9am Click here for more info
---
Our Mission
To demystify the concept of protecting and increasing ones wealth through owning gold and silver in the current turbulent economic environment.
To simplify the process of purchasing physical gold and silver bullion in NZ – particularly for first time buyers.
---
---
The Legal stuff – Disclaimer: We are not financial advisors, accountants or lawyers. Any information we provide is not intended as investment or financial advice. It is merely information based upon our own experiences. The information we discuss is of a general nature and should merely be used as a place to start your own research and you definitely should conduct your own due diligence. You should seek professional investment or financial advice before making any decisions.
Copyright © 2017 Gold Survival Guide. All Rights Reserved.