This Week:
12 Reasons Why Gold and Silver Will Rise in 2018
The Stealth Rally in Gold Continues
Why Does Gold Demand Remain Strong in the East?
We're "in the News": Downside of Going Cashless
Prices and Charts
---
---
Kiwi Dollar Still Strengthening – Dampens Local Metal Prices
Gold in NZ Dollars is down 1% this week due to the continuing strengthening of the NZ Dollar.
NZD gold continues to consolidate between the 50 and 200 day moving average lines, after rising through the latter half of December.
It looks to be preparing for another move higher, likely when the NZ Dollar next takes a dip.
Silver in NZD dropped just under 2% this past week. Holding just above the $23 level. Silver remains in a wedge formation. From which it will likely break out of this year.
Our guess is this may happen before too long, as there are a number of reasons likely to support precious metals this year. More on that soon.
Kiwi Dollar Still Overbought and Pushing Higher
The Kiwi Dollar continues to power higher as it has done since early December. It is still in overbought territory on the RSI as it has been all year! The NZ Dollar is now approaching the next resistance level of 0.74. If it breaks that we could see a test of the 1 year high above 0.75.
However as we have been saying the NZ Dollar still remains in a slight down trend over the longer run for the moment.
For more on why that may be check out this article from last week: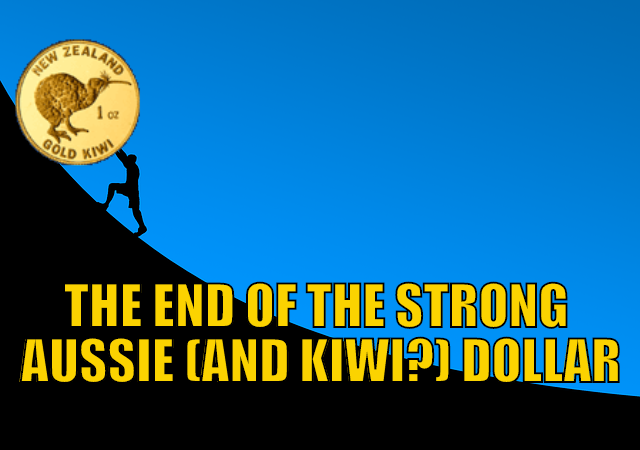 Unsure About Any Terms We Use When Discussing the Charts?
Remember to check out this post if any of the terms we use when discussing the gold, silver and NZ Dollar charts are unknown to you:
Continues below
—– OFFER FROM OUR SISTER COMPANY: Emergency Food NZ —– 
Do you have all the essentials on hand if you need to leave home in a hurry?
Get Your Own Emergency Survival Kit
 Now Available. In Stock. Ready to Ship.
12 Reasons Why Gold and Silver Will Rise in 2018
Last week we had our review of 2017 and punts for what 2018 might have in store for gold and silver. In that piece we reckoned 2018 will likely be a good year for both metals and silver may perform better this year.
This got us thinking a bit more about our reasons for this position.
So this weeks feature article summarises 12 of them we've come across recently.
Also just out today is a good article from Jeff Clark also adding another 3 trends that should push gold prices higher this year.
Why Does Gold Demand Remain Strong in the East?
We've reported in recent months how demand for gold and silver both here in New Zealand and through most of the western world (Germany seems to be the exception), has been very low.
This week we've summarised the 2017 demand for gold across a number of the eastern hemisphere nations.
Then we look at why this demand has remained strong in the east despite the gold price continuing to rise last year. The eastern mentality seems to be more to buy the dips, than chase the price higher like we are more prone to do in the west.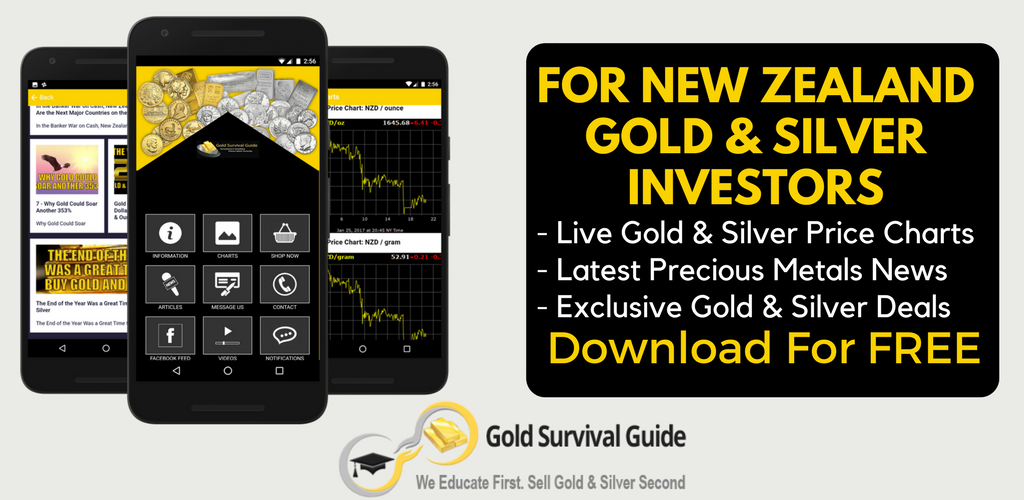 Another sign of De-Dollarisation
In the above article we talk about the slow but steady "de-dollarisation" taking place. Where the US Dollar is slowing being dethroned from its global reserve currency role.
This month we've seen another piece of news supporting this:


Europe's central banks are starting to replace dollar reserves with the yuan
"The Chinese yuan hit a two-year high against the U.S. dollar this week, after the German Bundesbank said that it would include the yuan in its reserves for the first time. "The notable development from the European point of view over the past few years has been the growing international role of the renminbi in global financial markets," Andreas Dombret, a member of the central bank's executive board, reportedly said at a conference in Hong Kong (paywall). The decision was made last year and no investments have been made yet, as preparations are still in process. The French central bank then revealed that it already held some reserves in yuan.
As most central banks' reserves are held in dollars, any shift into other currencies, such as the yuan, will come at the expense of the greenback."
Your Questions Wanted
Finally Remember, if you've got specific question, be sure to send it in to be in the running for a 1oz silver coin.
We're "in the News": Downside of Going Cashless
We got a surprise mention in a Stuff article this week on the drive for cashless cities:
"Auckland is one of nine cities to be dubbed "digital leaders" in a global study on realising the benefits of digital payments paid for by Visa.
The Cashless City report makes a plea to governments around the world to drive their cities towards a cashless future, which Visa says would drive efficiencies, boost economies, and reduce tax avoidance.
In the study of 100 cities around the world, Auckland is included in the top nine alongside of London,Stockholm, Copenhagen and Helsinki, Canada's Ottawa and Toronto, as well as Sydney and Canberra."
But the article did add some balance by pointing out the downsides to going cashless that we have discussed many times:
"New Zealand gold bullion investment website Gold Survival Guide has been tracking the "war on cash", suggesting people liking privacy, and the ability to protect wealth from bank collapses might consider investing in physical gold or silver.
It lists the "Real Reasons For Going Cashless" as including raising more tax, tracking the populace, and leaving people unable to withdraw wealth from the banking system, so should there ever be a bank collapse, their money would be available to help recapitalise it. 
It would also enable "negative interest rates" on bank deposits in times of economic crisis."
Add those reasons to buy gold and silver to the reasons why the price may rise this year, plus the fact that they seem to be entering good buying zones currently, and that makes a pretty good case for making a purchase right now.
Phone: 0800 888 GOLD ( 0800 888 465 ) (or +64 9 2813898)
or Online order form with indicative pricing
— Prepared for Power Cuts? —
[BACK IN STOCK] New & Improved Inflatable Solar Air Lantern
Check out this cool new survival gadget.
It's easy to use. Just charge it in the sun. Inflate it. And light up a room.
6-12 hours of backup light from a single charge! No batteries, no wires, no hassle. And at only 1 inch tall when deflated, it stores easily in your car or survival kit.
Plus, it's waterproof so you can use it in the water.
See 6 more uses for the amazing Solar Air Lantern.
—–
This Weeks Articles:
Tue, 23 Jan 2018 4:36 PM NZST
China and Russia continue buying near record levels even as the gold price rises Recent data shows that gold demand has remained strong in the likes of China, Russia, India and Turkey, even while the price has been rising. Eastern cultures are more inclined to "buy the dips" than those of us in the west […]
Tue, 23 Jan 2018 12:59 PM NZST
We pointed out late last year that it was likely a good time to buy gold and silver as it appeared they might have bottomed already. And that buying at the end of the year had historically been a good time to buy as the price of gold was usually higher at the end of […]
Tue, 23 Jan 2018 11:18 AM NZST
2017 was a pretty good year for gold. Although the sentiment towards it has hardly been worse. In the west it seems there is little demand for physical gold and silver. In our predictions for 2018 we reckon this year could actually be a better year for precious metals than 2017. With the chance that […]
Thu, 18 Jan 2018 12:48 PM NZST
  This Week: Gold & Silver in NZ Dollars: 2017 in Review & Our Punts for 2018 The End of the Strong Aussie (and Kiwi?) Dollar The Last Great Silver Buy Cryptocurrency Crackdown Prices and Charts Looking to sell your gold and silver?Visit this page for more information Buying Back 1oz NZ Gold 9999 Purity […]
As always we are happy to answer any questions you have about buying gold or silver. In fact, we encourage them, as it often gives us something to write about. So if you have any get in touch.
Phone: 0800 888 GOLD ( 0800 888 465 ) (or +64 9 2813898)
or Online order form with indicative pricing
---
---
---
Note:
Prices are excluding delivery
1 Troy ounce = 31.1 grams
1 Kg = 32.15 Troy ounces
Request special pricing for larger orders such as monster box of Canadian maple silver coins
Lower pricing for local gold orders of 10 to 29ozs and best pricing for 30 ozs or more.
Foreign currency options available so you can purchase from USD, AUD, EURO, GBP
Note: For local gold and silver orders your funds are deposited into our suppliers bank account. We receive a finders fee direct from them. Pricing is as good or sometimes even better than if you went direct.


---
Can't Get Enough of Gold Survival Guide?
If once a week isn't enough sign up to get daily price alerts every weekday around 

9am

Click here for more info
---
Our Mission
To demystify the concept of protecting and increasing ones wealth through owning gold and silver in the current turbulent economic environment.
To simplify the process of purchasing physical gold and silver bullion in NZ – particularly for first time buyers.
---
---
The Legal stuff – Disclaimer:
We are not financial advisors, accountants or lawyers. Any information we provide is not intended as investment or financial advice. It is merely information based upon our own experiences. The information we discuss is of a general nature and should merely be used as a place to start your own research and you definitely should conduct your own due diligence. You should seek professional investment or financial advice before making any decisions.