Prices and Charts

---
Looking to sell your gold and silver?
Buying Back 1oz NZ Gold 9999 Purity
$2736
Buying Back 1kg NZ Silver 999 Purity
$1128
---
NZD Gold Down to $2850 Horizontal Support Line Again
This week gold in New Zealand dollars is again touching the horizontal support line at $2850. It remains in the sideways range it has been in since the end of August.
The redrawn rising trendline now coincides with the 200 day moving average line and also the next horizontal support zone. So we could still see the price dip down to those levels. But then again, it could simply keep moving sideways. Then it will eventually meet the rising trendline and 200 day MA that way also.
It seems gold is waiting for something to send it in one direction or the other. Could that be the US elections in just over a week?
More on that later…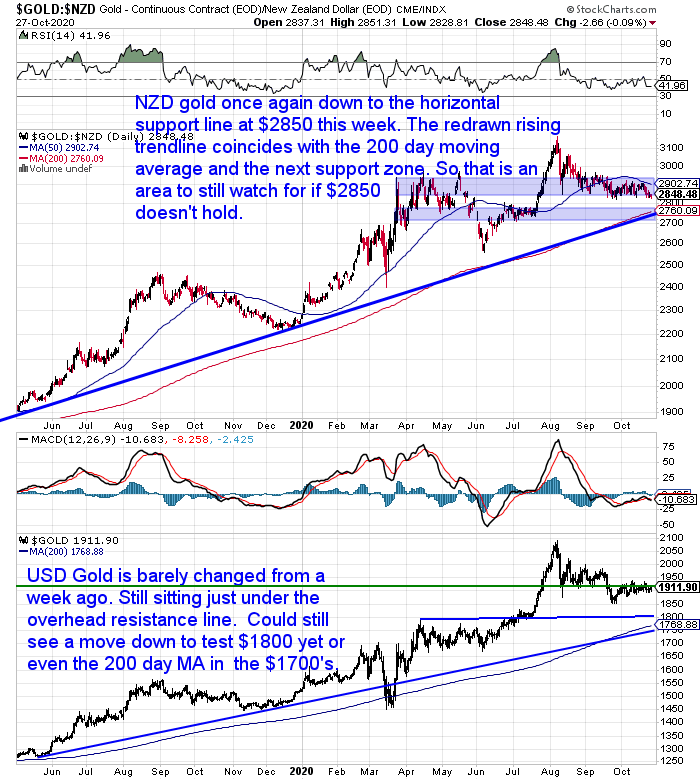 NZD Silver Remains in a Pennant Formation
NZD silver continues to trade within this pennant or wedge pattern. This week dipping down to touch the rising trendline in this formation. It will have to break out of this pattern before too long as the wedge gets narrower and narrower.
Like gold, perhaps that will be the US elections next weekend?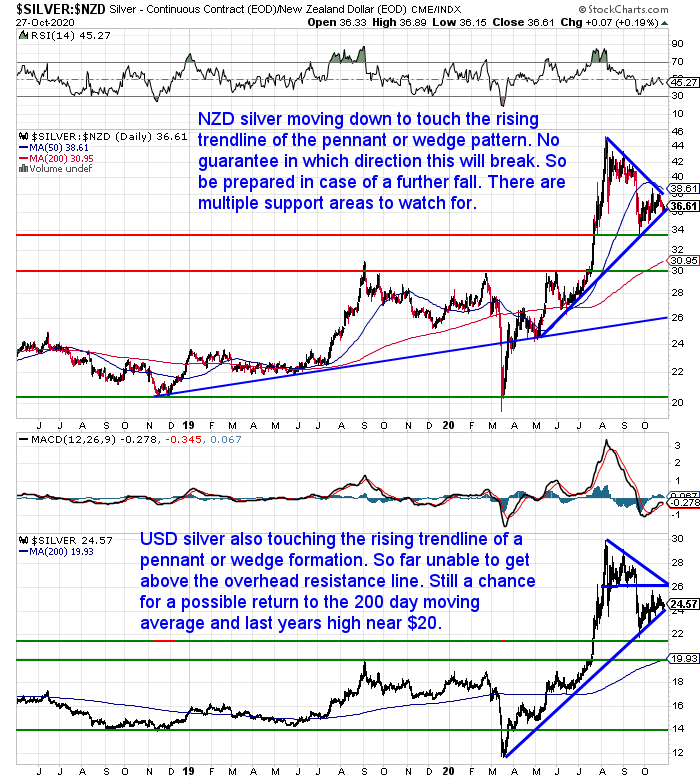 NZD Up Almost 2% This Week
The Kiwi dollar was up just under 2% this week. That was the main factor limiting the advance in precious metals prices here.
The NZ dollar still remains under the downtrend line for now.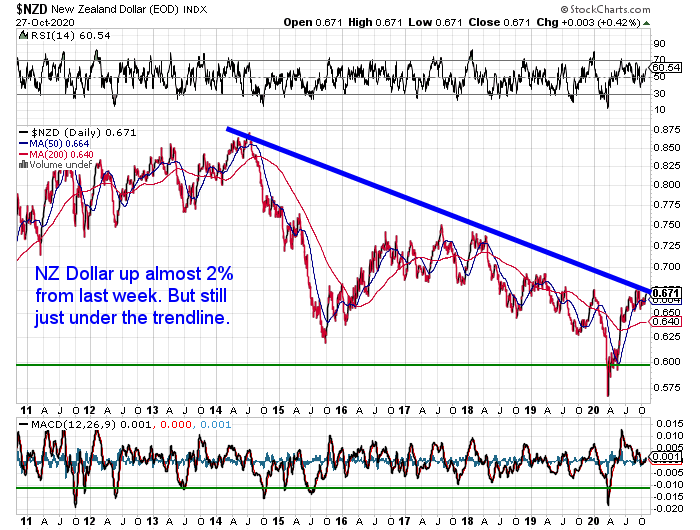 Need Help Understanding the Charts?
Check out this post if any of the terms we use when discussing the gold, silver and NZ Dollar charts are unknown to you:
Continues below
—– OFFER FROM OUR SISTER COMPANY: Emergency Food NZ —–
NEW: Certified Organic Long Life Emergency Food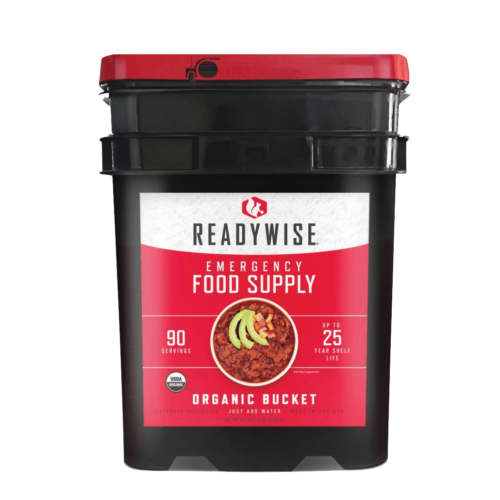 This easy to carry bucket has 90 servings of organic breakfasts and mains
Free Shipping NZ Wide
Get Peace of Mind For Your Family NOW….


—–
NZ Cash In Circulation Up Massively in 2020
The chart below shows that cash in circulation in New Zealand is up massively in 2020. This is much like what occurred previously in the 2008 financial crisis and also in 2000 as people prepared for the Y2K "bug".
Now in 2020 it is a different "bug" that has caused people to hoard cash. Not just in New Zealand, but also in all the countries shown. Apart from, interestingly enough, Sweden. Sweden is just about completely digital when it comes to payments. But it also didn't go into a lockdown as just about everyone else did. So perhaps people also wouldn't have had the same level of fear as everywhere else?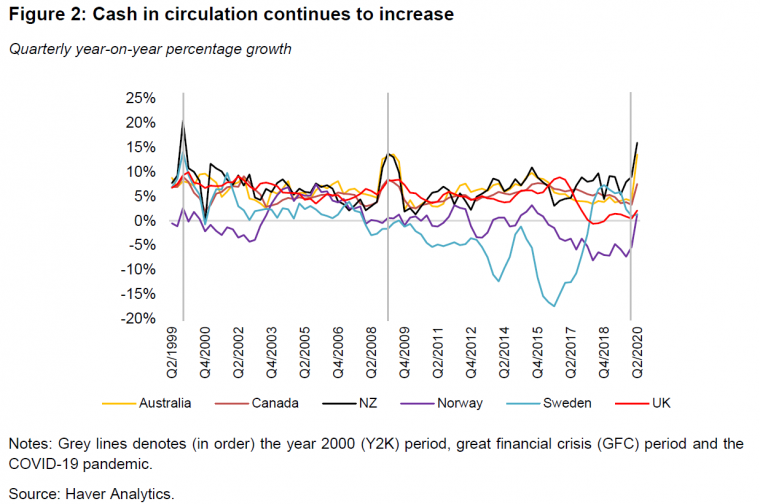 Assistant RBNZ Governor Christian Hawkesby in a recent speech said:
"During the weeks leading up to the March 25 pandemic lockdown, New Zealanders demanded an unprecedented amount of cash, with $800 million of bank notes issued in March alone (compared to $150 million in March 2019).

"These bank notes have not yet returned to the banking system, meaning they are likely still being held by the public."
So despite a return to somewhat normal, all this extra cash hasn't yet been returned to the banks.
COVID-19 Makes Us Wonder: What Use Will Silver Coins be in New Zealand in a Currency Collapse?
Hoarding cash makes a certain amount of sense. But hanging on to cash for the long haul in the age of low and most likely soon to be negative interest rates, means the cash is guaranteed to lose value.
So what about silver as an alternative?
COVID-19 might have gotten you thinking about this too.
So in this week's feature article we look at the use of silver coins in New Zealand in a currency Collapse. Including:
New Zealand Has Never Seen a Complete Currency Collapse
What Has Happened Elsewhere During a Currency Collapse?
Currency Collapse in New Zealand More Likely to be Result of Global Monetary Breakdown
So in this Case Gold and Silver Would be the Better Bet to Own Than US Dollars
Therefore a Silver Coin From a Well Known Mint Should be a Pretty Good Bet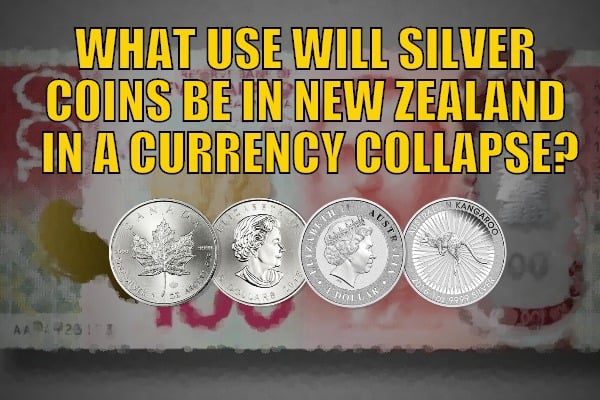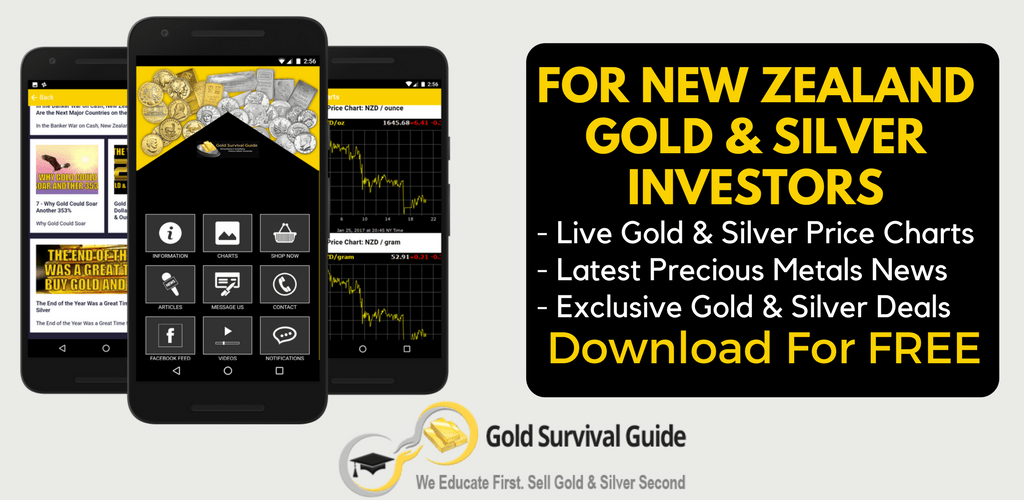 How Will US Elections Affect the Gold Price? What If Biden Wins? How About Trump?
As noted earlier gold has been treading water lately. You might be thinking is gold waiting for the outcome of the US elections to give it some direction?
There is a chance gold could make a move as a result of the election outcome. But our view this is likely to be a short term move.
In the end, gold and silver are in a long term cyclical bull market. They are rising as the current monetary system continues to die.
So we'd have to agree with our "secret investment advisor" Chris Weber. That whoever the US president is will make no difference to what gold and silver do in the longer term (you can learn more about who our secret investment advisor is here).
He actually gives empirical proof that whoever the sitting president is seems to make no significant difference to what gold does.
"During George W Bush, gold rose from $270 on his first day in office to $820 eight years later on his last day. Obama's eight years saw gold go from $820 to $1210. The nearly four years of Trump have seen gold rise from $1210 to the current $1894. This should show how divorced the gold market is from the ideology of every US president. These three men-Bush, Obama, and Trump- operated in very different ways. And yet we had a global trend in the gold price that was remarkably the same.
Gold rose by 203.7% during Bush's 8-year term. Gold rose by 47.6% over Obama's 8-year term. So far in Trump's years, gold has risen by 56.3%. You can say that gold rose faster in Trump's less than four years than Obama's full eight years. Moreover, at gold's peak in August at $2063 that rise went to 70.5%, much stronger with Trump than with Obama. Does looking at the three presidents mean that gold goes up faster if we have a Republican in office than if we have a Democrat?
Or is my extreme minority view correct, that a global bull or bear market will rise or fall regardless of who is in the White House?"
However he also points out that a Biden victory (something that is perhaps not as likely as the mainstream would have us believe) could give precious metals a real boost:
"I'm betting that a Biden victory will vault the prices of these. His economic policies resemble nothing so much as 70s style stagflation.
I think the metals and miners will go up under Biden at least as much as they have under Trump."
Does Silver Show The Same Trend as Gold?
Here's what Mr Weber's numbers show for silver:
"Silver stood at $4.71 the last day Bill Clinton was in office in January of 2001. The last day of George Bush eight years later had silver at $11.32. Obama's last day eight years after that had silver at $17.06. Trump's term is not yet over, but if it ended today, silver's price would still be higher, at $23.84. Thus, silver rose by 141% while Bush was president, just 50.1% while Obama was in office, and 39.7% during the less-than-four years since Trump has been president.
Looking over this data, to me a crucial trend appears. And this is a nearly 20-year trend we have been watching. All through three US presidents of varying ideologies, we've seen the same trend. I think this should tell you something important.
I know people don't want to hear this, and I know I could be wrong, but to me the most important thing is whether the underlying asset is in a bull or a bear market. The most important thing, and far more important than any other thing."
So we'd have to agree with him that the overall trend is much more important than who is in power.
Although the odds of organised violence in the aftermath of the US elections appear to be pretty high. Maybe even civil war?
However, perhaps the heightened odds of violence are less to do with who the candidates are, and more to do with the greater cycles in play in US society itself?
Much like the argument as to whether gold and silver will rise or fall based upon who is the elected president, the overall cycle in society may be a bigger factor. For more on this see:
The Fourth Turning and Gold: What's Still to Come in This Crisis?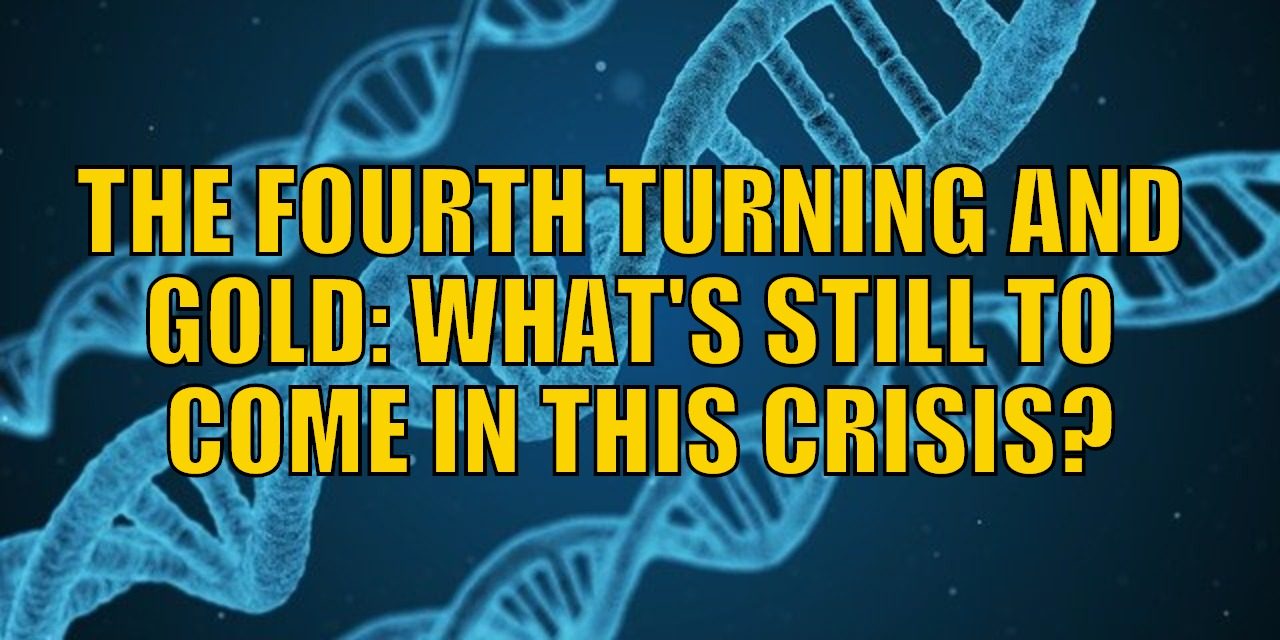 So if you're waiting on the outcome of the US election to buy gold or silver, that may not be the best option. Instead maybe look at the overall big picture trend and purchase based upon that. Instead of who may be the president.
Your Questions Wanted
Remember, if you've got a specific question, be sure to send it in to be in the running for a 1oz silver coin.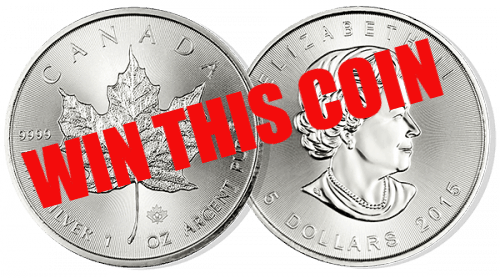 If you have any questions about the process of buying gold and silver please get in touch…
Email:

[email protected]

Phone: 0800 888 GOLD ( 0800 888 465 ) (or +64 9 2813898)
or Shop Online with indicative pricing
— Prepared for the unexpected? —
Never worry about safe drinking water for you or your family again…
Back in Stock Again:
Berkey Water Purifier Systems
The Berkey Gravity Water Filter has been tried and tested in the harshest conditions. Time and again proven to be effective in providing safe drinking water all over the globe.
This filter will provide you and your family with over 22,700 litres of safe drinking water. It's simple, lightweight, easy to use, and very cost effective.
—–
This Weeks Articles:
Wed, 21 Oct 2020 8:27 AM NZST
Prices and Charts Looking to sell your gold and silver? Visit this page for more information Buying Back 1oz NZ Gold 9999 Purity $2793 Buying Back 1kg NZ Silver 999 Purity $1167 NZD Gold Bouncing Up Off Support Gold priced in New Zealand dollars bounced up off the support line at $2850. Getting back above […]
The post Does the NZ Government Debt Matter? appeared first on Gold Survival Guide.
Tue, 20 Oct 2020 6:04 PM NZST
What is a troy ounce? Why is gold and silver measured in troy ounces? Are they different from a standard or avoirdupois ounce? You'll be an expert on the weights of precious metals by the end of this article… What is a Troy Ounce? The troy ounce is the unit of measure used for precious […]
The post What is a Troy Ounce? Troy Ounce vs Standard Ounce appeared first on Gold Survival Guide.
Tue, 20 Oct 2020 3:50 PM NZST
Gold Purity and Silver Purity When buying precious metals, it is important to have an understanding of the gold purity or silver purity of the bars or coins. Why? Because a small difference in gold or silver purity can have an impact upon the overall value of the gold or silver contained in a coin […]
The post Gold Purity and Silver Purity – A Complete Guide appeared first on Gold Survival Guide.
As always we are happy to answer any questions you have about buying gold or silver. In fact, we encourage them, as it often gives us something to write about. So if you have any get in touch.
Email:

[email protected]

Phone: 0800 888 GOLD ( 0800 888 465 ) (or +64 9 2813898)
or Online order form with indicative pricing
---
---
---
Note:
Prices are excluding delivery
1 Troy ounce = 31.1 grams
1 Kg = 32.15 Troy ounces
Request special pricing for larger orders such as monster box of Canadian maple silver coins
Lower pricing for local gold orders of 10 to 29ozs and best pricing for 30 ozs or more.
Foreign currency options available so you can purchase from USD, AUD, EURO, GBP
Plus we accept BTC, BCH, Visa and Mastercard
Note: For local gold and silver orders your funds are deposited into our suppliers bank account. We receive a finders fee direct from them. Pricing is as good or sometimes even better than if you went direct.


---
Can't Get Enough of Gold Survival Guide?
If once a week isn't enough sign up to get daily price alerts every weekday around 9am Click here for more info
---
---
The Legal stuff – Disclaimer:
We are not financial advisors, accountants or lawyers. Any information we provide is not intended as investment or financial advice. It is merely information based upon our own experiences. The information we discuss is of a general nature and should merely be used as a place to start your own research and you definitely should conduct your own due diligence. You should seek professional investment or financial advice before making any decisions.
Copyright © 2020 Gold Survival Guide.
All Rights Reserved.