This Week:
Government Destroys National Central Banks to Build Global One
10 Steps to Help You Navigate the Challenges Upon Us
A Reset is Coming
Prices and Charts
| | Spot Price Today / oz | Weekly Change ($) | Weekly Change (%) |
| --- | --- | --- | --- |
| NZD Gold | $1773.83 | + $15.00 | + 0.85% |
| USD Gold | $1267.05 | – $3.00 | – 0.23% |
| NZD Silver | $24.73 | + $0.22 | + 0.89% |
| USD Silver | $17.66 | – $0.04 | – 0.22% |
| NZD/USD | 0.7143 | – 0.0078 | – 1.08% |
The New Zealand dollar weakened this week by just over 1% and so that gave local gold and silver prices a boost. The kiwi dollar didn't manage to get above the 50 day moving average and so drifted lower over the week.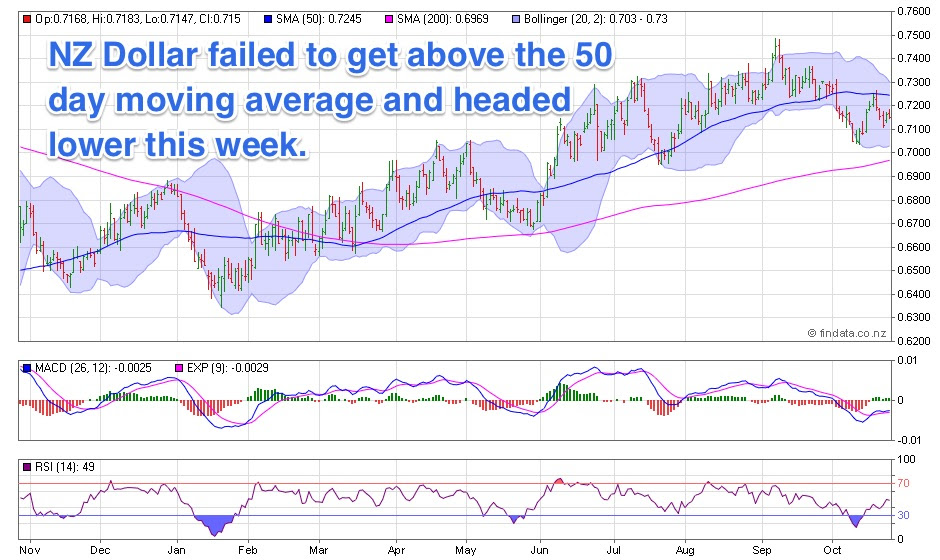 Gold in NZ dollars has edged higher this week after again bouncing off the $1750 horizontal support line. So there certainly seems to be strong support at this level. But unlike the USD gold price, the NZ dollar price remains well under the 200 day moving average (MA). The 50 day MA has also recently dipped below the 200 day MA. So we'd like to see this cross back above the 200 day MA before too long.
While the price remains below the 200 day MA there remains the possibility of further downside and a return to test the lower rising trendline around $1650.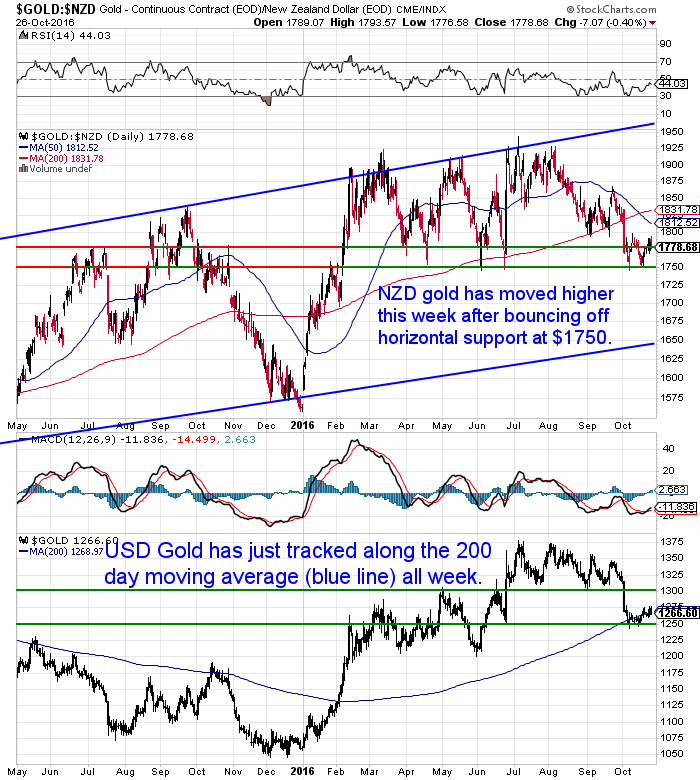 Meanwhile silver has already dropped right back down to the rising trendline. It is sitting just below the 200 day MA which it has been tracking just beneath for most of October.
There has been a marked pull back in the bullishness of traders in the gold and silver futures markets. Steffen Grosshauser reported this week that:
So given the track record of the "Managed Money" category, this fall in bullishness is a positive for gold and silver. They are usually wrong in their extremes.
But perhaps it still needs to come back a bit further yet before gold and silver can run higher.
Last week we commented on how we had observed a higher incidence of more mainstream reporting on the dangers of central banks.
While at first glance this criticism of central banking may seem like a positive, we should perhaps still be very wary. As the Daily Bell noted this week, this may in fact be part of a larger theme at play.
The Daily Bell expanded on this topic while commenting on the impact of Trump in the US elections and how he has split the Republican party. If the powers that be are indeed aiming for a further centralisation of power than even exists currently, there is at least still some hope…
Continues below
—– OFFER FROM OUR SISTER COMPANY: Emergency Food NZ —–
Preparation also means having basic supplies on hand.
Are you prepared for when the shelves are bare?
For just $190 you can have 4 weeks emergency food supply.
We've been reading a bit of Catherine Austin Fitts work this part week. She has many wise words to share as those of us lucky enough to hear her speak here in Auckland last year could attest.
Here's a short note from her for anyone that feels "out of sorts – that your perceptions of the world are out of step given what you are seeing and hearing in the media and the polls – have no fear. You are not out of step. What you are observing is complete fiction."
10 Steps to Help You Navigate the Challenges Upon Us
So what can I do about it?
You might be wondering what you can do to improve your life given the forces at work in the world today. The answer would seem to be, "Quite a lot!"
This blog post from Catherine should give you plenty of ideas
10 Steps to Help You Navigate the Challenges Upon Us
We'd especially recommend checking out Coming Clean. A process for improving your energy in 23 areas of your life.
And if you think "I'm only one person, what difference can I make?", then be sure to read Appendix A.   But . . . I'm Only One Person!
There's a wealth of ideas in there to consider. Maybe just try 1 a week? It could have a big impact on your family's life down the track.
A Reset is Coming
If you checked out our presentation 2 weeks ago, Gold & Silver: Wealth Insurance with Upside, you'll recall we outlined how historically the growth in monetary supply has been balanced out by the value of global gold holdings.
Or put another way the gold price rises to balance out the amount of currency that is created. At the end of the 1970's we could have actually gone back onto a gold standard due to the rise in the price of gold throughout the decade.
This methodology is the same one that Jim Rickards (and others) uses to arrive at his $10,000 gold forecast.
This week we stumbled across a chart that also shows how out of whack we are currently. But how historically the net worth of US citizens eventually comes back into balance with US GDP.
It was from the interesting Ben Hunt of Salient Partners who writes Episilon Theory:
Here in New Zealand it seems we have a housing bubble still being blown ever larger. But we have our doubts whether this means "everyone who owns a house is rich". Perhaps they might feel richer at least we guess?
But a reset of some kind seem inevitable. Be sure to have some financial insurance in place well before the reset comes.
Get in touch if you have any questions about the buying process. David is happy to answer them.
** Urgent Message for All Car Owners **A compact, revolutionary tool can save your life.
We believe everyone who drives or rides in a vehicle must carry this tool.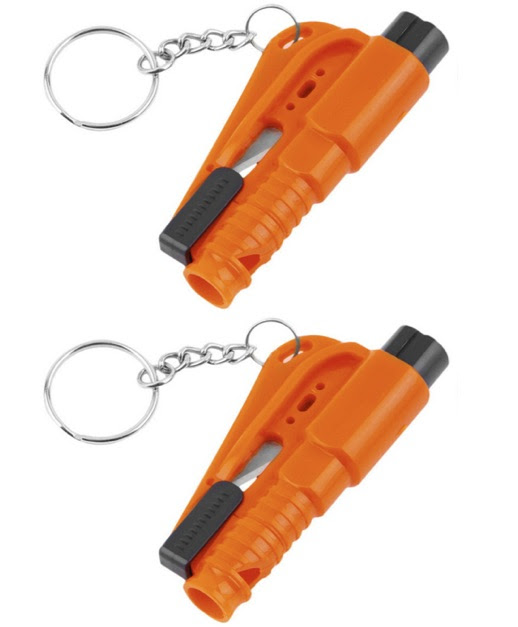 The Keychain Car Escape Tool can save lives.
For less than the price of 2 movie tickets you can get 2 of these.
One for each car in your family or give one to someone you care about.
—–
This Weeks Articles:
Wed, 26 Oct 2016 2:43 PM NZST
If you have children in any levels of education, then this article is worth taking into consideration in deciding how you can ensure they retain the ability of critical reasoning… The Elimination of Reason By Jeff Thomas Recently, I paid for an item with the exact amount requested, including 89 cents in change. The salesgirl […]
Wed, 26 Oct 2016 2:23 PM NZST
See why Stewart Thomson thinks regardless of whether Clinton or Trump wins the US election, the outcome will be a positive one for gold…   Graceland Updates By Stewart Thomson   The US election is now only about two weeks away.  The winner of this election is likely to be… gold.  Here's why: Both candidates are eager […]
Wed, 26 Oct 2016 1:59 PM NZST
Following the Brexit leave vote we published a number of articles that supported the notion that it might not actually be so bad for Britain. And that it could well be just the first step in the end of the EU. Of course these were definitely not mainstream opinions. But this week we've seen the […]
Wed, 26 Oct 2016 1:35 PM NZST
If you've read Ronald Stoerferle's In Gold We Trust report you'll know they believe the most likely outcome is that of stagflation (see the report here: In Gold We Trust 2016). The following takes a similar position and outlines why we could well see something of a repeat of the 1970's… Weekend Edition: The Last Time […]
Thu, 20 Oct 2016 7:05 PM NZST
This Week: Gold Price Forecast 2016/2017: Gold Bull Market Still Intact, But… Why This Gold Correction is Normal Dangers of Central Banks Going Mainstream? Former Goldman Insider Says Price of Gold Could Double Janet, Government, And The Woodshed Prices and Charts Spot Price Today / oz Weekly Change ($) Weekly Change (%) NZD Gold $1758.83 […]
As always we are happy to answer any questions you have about buying gold or silver. In fact, we encourage them, as it often gives us something to write about. So if you have any get in touch.
Phone: 0800 888 GOLD ( 0800 888 465 ) (or +64 9 2813898)
or Online order form with indicative pricing
---
---
---
Note:
Prices are excluding delivery
1 Troy ounce = 31.1 grams
1 Kg = 32.15 Troy ounces
Request special pricing for larger orders such as monster box of Canadian maple silver coins
Lower pricing for local gold orders of 10 to 29ozs and best pricing for 30 ozs or more.
Foreign currency options available so you can purchase from USD, AUD, EURO, GBP
Note: Your funds are deposited into our suppliers bank account only. We receive a finders fee direct from them only.
---
Can't Get Enough of Gold Survival Guide?
If once a week isn't enough sign up to get daily price alerts every weekday around 9am Click here for more info
---
Our Mission
To demystify the concept of protecting and increasing ones wealth through owning gold and silver in the current turbulent economic environment.
To simplify the process of purchasing physical gold and silver bullion in NZ – particularly for first time buyers.
---
---
The Legal stuff – Disclaimer:
We are not financial advisors, accountants or lawyers. Any information we provide is not intended as investment or financial advice. It is merely information based upon our own experiences. The information we discuss is of a general nature and should merely be used as a place to start your own research and you definitely should conduct your own due diligence. You should seek professional investment or financial advice before making any decisions.
Copyright © 2016 Gold Survival Guide.
All Rights Reserved.