Prices and Charts
---
---
Gold Continues Its Bounce Back
Gold in New Zealand Dollars has continued its move higher after bottoming out at $2700. Up $28 or around 1% from 7 days ago. We are due a pullback, however NZD gold could yet run to $2950 before this happens. However we do think this is most likely the start of the next up wave in gold. More on that in this week's feature article. So any pullback will likely be a good buying opportunity.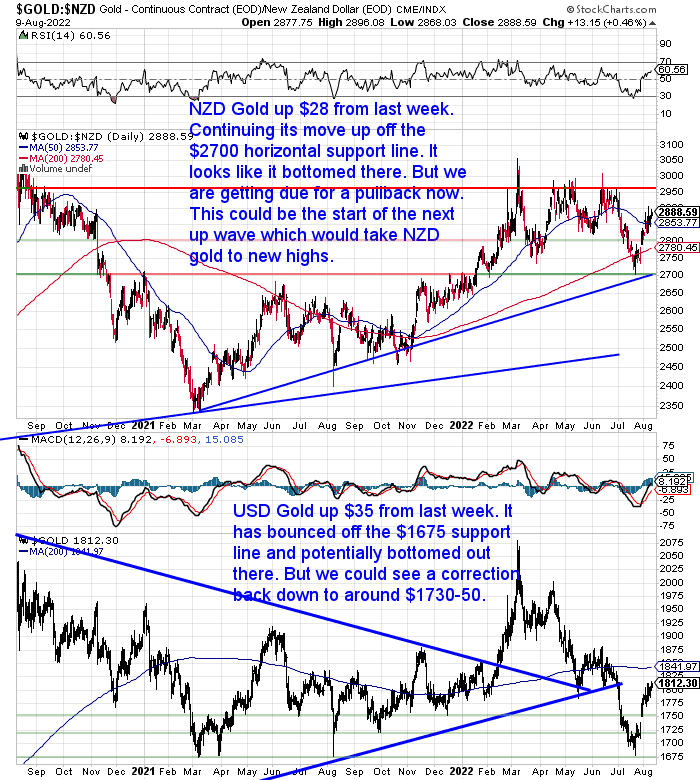 NZD Silver Up 2% After a Brief Pullback
Silver in NZ dollars is up 62 cents from last week. It did undergo a brief pullback but has now made a higher high. So it could run a bit higher still. But then we'd expect a decent pullback, maybe around 50% of the run up since bottoming below $30? Like gold we'd consider any pullback to be a buying opportunity. Because we think the bottom is in for silver too.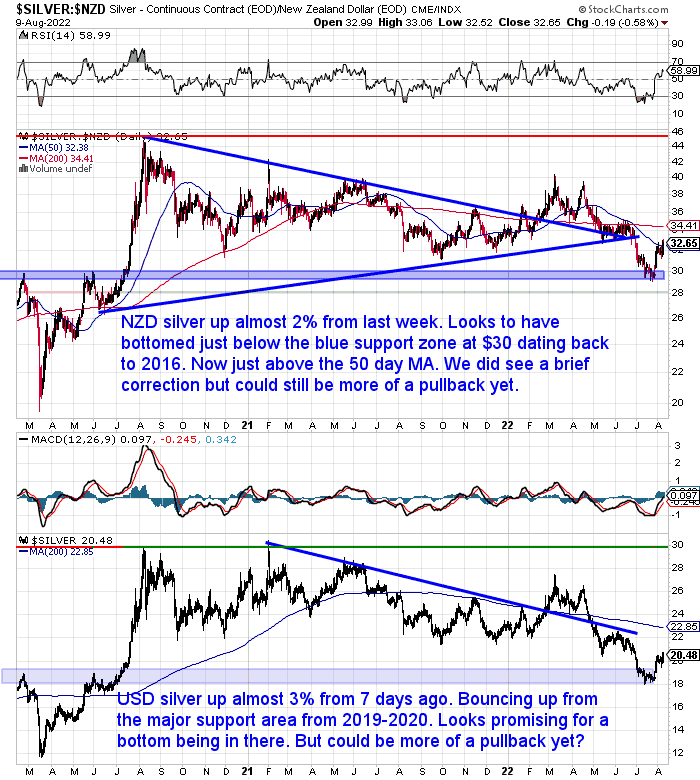 NZ Dollar up 1%
The NZ dollar was up 62 basis points or exactly 1% from a week ago. It's likely the bottom is in for the NZD as well. Maybe just a slow but steady rise from here versus the USD? But we'd expect a higher rise in gold and silver prices, just like we've seen this week.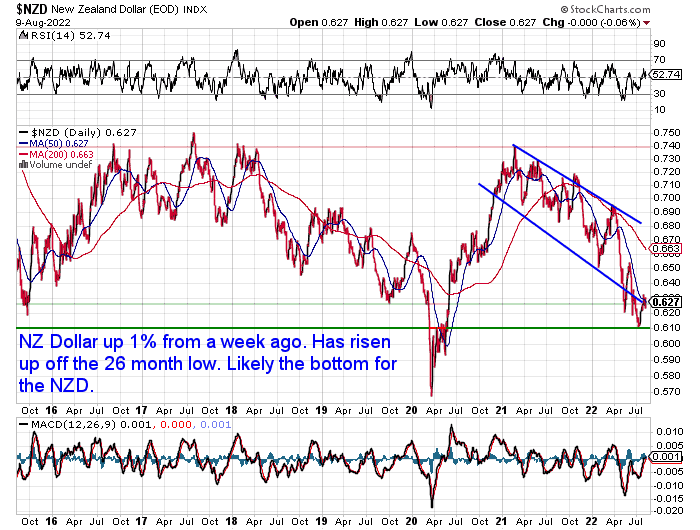 Need Help Understanding the Charts?
Check out this post if any of the terms we use when discussing the gold, silver and NZ Dollar charts are unknown to you: Continues below
Is Now a Good Time to Buy Gold in New Zealand?
This is the question on not just first time buyers' minds, but also for people adding to their stash. So in this week's feature article we look at a number of indicators that help with answering this question. That includes:
What the recent correction means
Looking at longer term trends
Other Indicators including property and stock Markets
Seasonality
Futures Market Commitment of Traders Positions
Elliot Wave analysis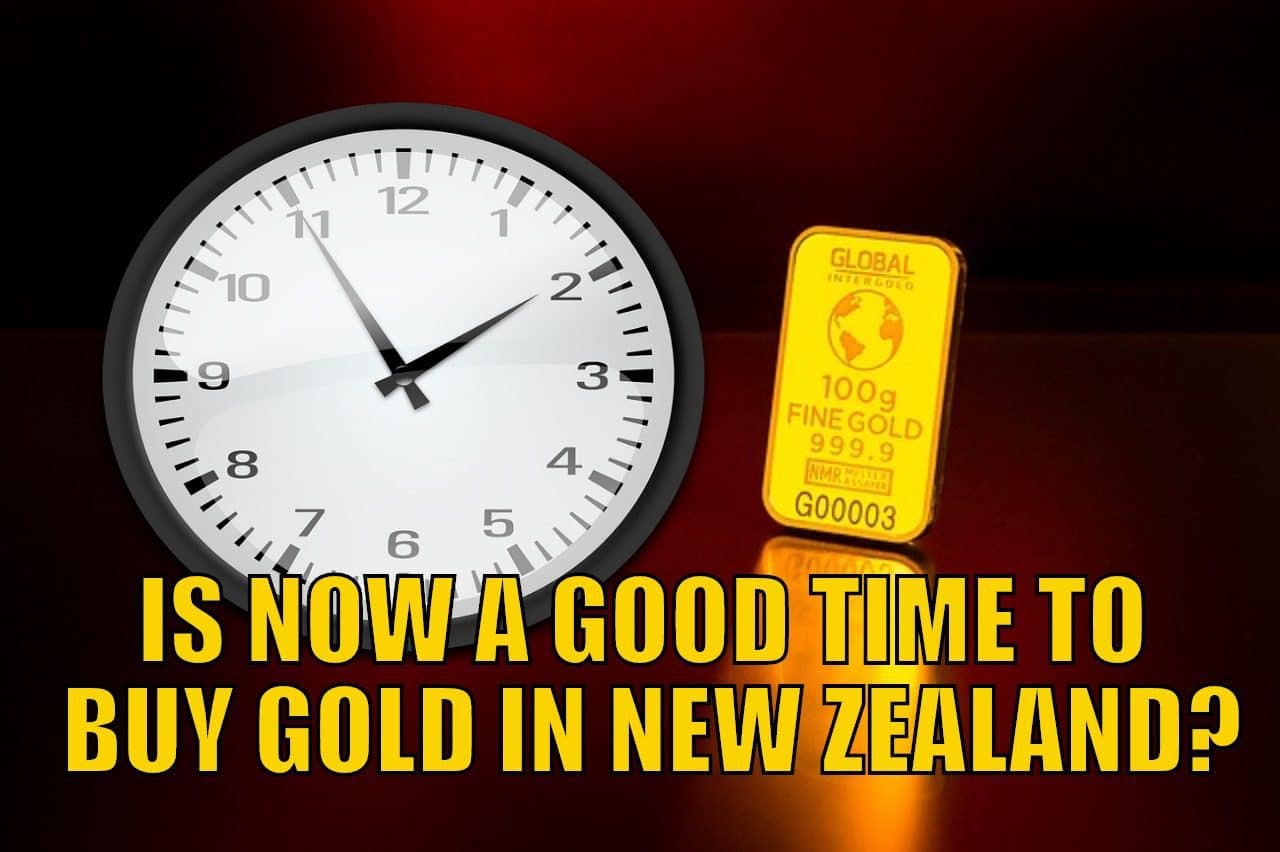 Your Questions Wanted
Remember, if you've got a specific question, be sure to send it in to be in the running for a 1oz silver coin.
Are We Just Seeing A Pause In Longer Trends?
Share markets including ours here in NZ, have bounced nicely over the past couple of months. Wholesale and some mortgage Interest rates have also come down. Market expectations are now for rates to be cut next year. The latest RBNZ inflation expectation survey has also dipped a touch. With inflation expectations falling for the first time in two years.
No recession they say…
The Yield Curve Recession Predictor 2022: Impact on Gold? So all these moves would point to things improving. Well at least as long as they continue to carry on. However we wonder if they are all just short term aberrations in longer term trends? What if we are in the early stages of a cyclical bear market for stocks? And the rise of the past couple of months is simply a pause in this down trend? Likewise, what if the tick down in interest rates is also just a pause in a longer term uptrend in rates? What if the reduction in inflation expectations is simply a result of so much press about how inflation is only short term and will be back to the normal 2-3% in a couple of years? But what if we are already in a multi year, or even decade long, period of high inflation? If we are in fact at the start of longer term trends then we would be looking at something similar to the 1970's stagflation. Basically a recession with high inflation. But unfortunately with the difference that most people's debt levels are much higher than they were in the 70's. We'd guess that most people are horribly unprepared for an environment like this. An environment where gold and silver shine. So make sure you are not like most people. Get in touch for a quote today:
Phone: 0800 888 GOLD ( 0800 888 465 ) (or +64 9 2813898)
or Shop Online with indicative pricing
This Weeks Articles:
Wed, 20 Jul 2022 4:10 PM NZST
Prices and Charts Looking to sell your gold and silver? Visit this page for more information Buying Back 1oz NZ Gold 9999 Purity $2643 Buying Back 1kg NZ Silver 999 Purity $928 NZD Gold Pushed Lower by Stronger Kiwi Dollar Gold in New Zealand dollars was down $65 from a week ago. That is a […] The post
Is This Corrective Wave Down in NZD Gold About to End?
appeared first on
Gold Survival Guide
.
Tue, 19 Jul 2022 4:27 PM NZST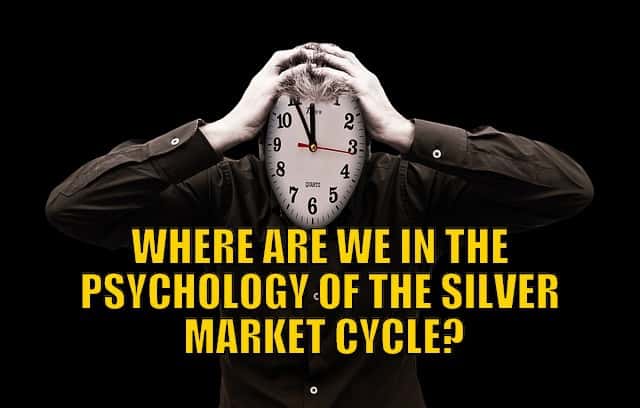 Where Are We in the Psychology of the Silver Market Cycle? This article looks at the phases of investor psychology in market cycles. Then compares these phases to the silver market cycle over the past 14 years or so, to see where the silver market is currently. Therefore helping to indicate where silver is going […] The post
Where Are We in the Psychology of the Silver Market Cycle in 2022?
appeared first on
Gold Survival Guide
.
Wed, 13 Jul 2022 11:30 AM NZST
Whether you're an old hand at the matters of gold, silver and what is money, or a real newbie, you'll probably have something in common with a frustrated reader. He admitted that all the conflicting information about how the world monetary system works was "doing [his] head in!". Here is his email and below it […] The post
Why is Gold More Valuable Than "Worthless Paper"?
appeared first on
Gold Survival Guide
.
As always we are happy to answer any questions you have about buying gold or silver. In fact, we encourage them, as it often gives us something to write about. So if you have any get in touch.
Phone: 0800 888 GOLD ( 0800 888 465 ) (or +64 9 2813898)
or Online order form with indicative pricing
---
---
---
Note:
Prices are excluding delivery
1 Troy ounce = 31.1 grams
1 Kg = 32.15 Troy ounces
Request special pricing for larger orders such as monster box of Canadian maple silver coins
Lower pricing for local gold orders of 10 to 29ozs and best pricing for 30 ozs or more.
Foreign currency options available so you can purchase from USD, AUD, EURO, GBP
Plus we accept BTC, BCH, Visa and Mastercard

---
Can't Get Enough of Gold Survival Guide? If once a week isn't enough sign up to get daily price alerts every weekday around 9am Click here for more info
---
---
The Legal stuff – Disclaimer: We are not financial advisors, accountants or lawyers. Any information we provide is not intended as investment or financial advice. It is merely information based upon our own experiences. The information we discuss is of a general nature and should merely be used as a place to start your own research and you definitely should conduct your own due diligence. You should seek professional investment or financial advice before making any decisions.
Copyright © 2020 Gold Survival Guide. All Rights Reserved.