Prices and Charts

---
Looking to sell your gold and silver?
Buying Back 1oz NZ Gold 9999 Purity
$2643
Buying Back 1kg NZ Silver 999 Purity
$928
---
NZD Gold Pushed Lower by Stronger Kiwi Dollar
Gold in New Zealand dollars was down $65 from a week ago. That is a fall of over 2%. It has now dropped below the $2800 horizontal support line. Now sitting just below the 200 day moving average (MA) line. The RSI indicator is getting close to oversold. So perhaps we could see a bounce from the next support line of $2700?
Looking at gold in USD, it has fallen below the $1725 support line we mentioned last week. But it is now close to the major horizontal support line around $1675. It is oversold on the RSI already so could be due to bounce as well.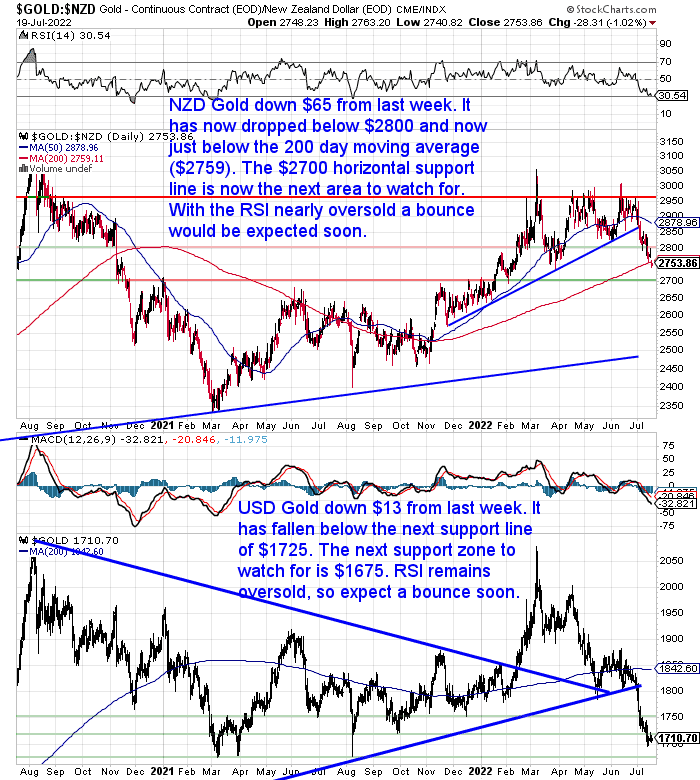 Is This Corrective Wave Down in NZD Gold About to End?
This week we're also including this long term gold chart which we haven't published for many months.
We drew these Elliott wave lines on it back in the first quarter of this year. At that point we said we were likely late in wave iii and due a correction. That has indeed been the case. We also had a guess at where the corrective wave iv down might be.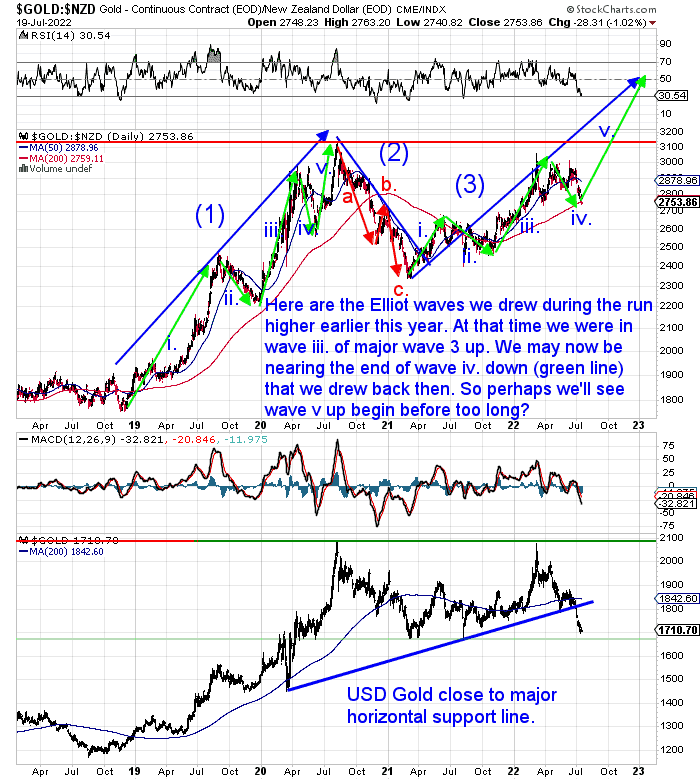 On checking today we seem to have had a pretty lucky guess there. As right now we are pretty close to where we guess that wave down might end. So perhaps we are now close to seeing wave v up begin?
For a quick refresher on Elliott wave theory, it contains 5 major waves. Up, down, up, down, up. Then 3 correction waves, down, up, down. Then within these major waves up are also 5 minor waves. So it is the minor wave iv down that we think may be close to ending now.
You can read a whole lot more about Elliott wave theory at this very well written stockcharts post.
Here is their example of a bullish cycle.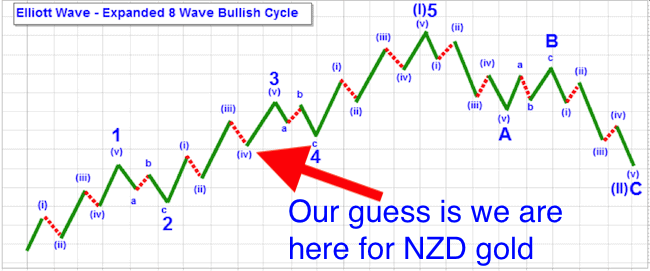 NZD Silver Down Slightly More Than Gold
Silver in NZ dollars was down 76 cents or 2.45% over the past 7 days. A touch more than gold. But like gold perhaps silver is also now finally bottoming out? Or at least pretty close to it? NZD silver failed to make the triple bottom just below $32 we had been watching for. Instead falling to the shaded blue support zone around $30 which dates back to 2016. The RSI is finally edging up out of oversold, so maybe we'll see silver finally bounce from here? Otherwise the next support line to watch for is $28.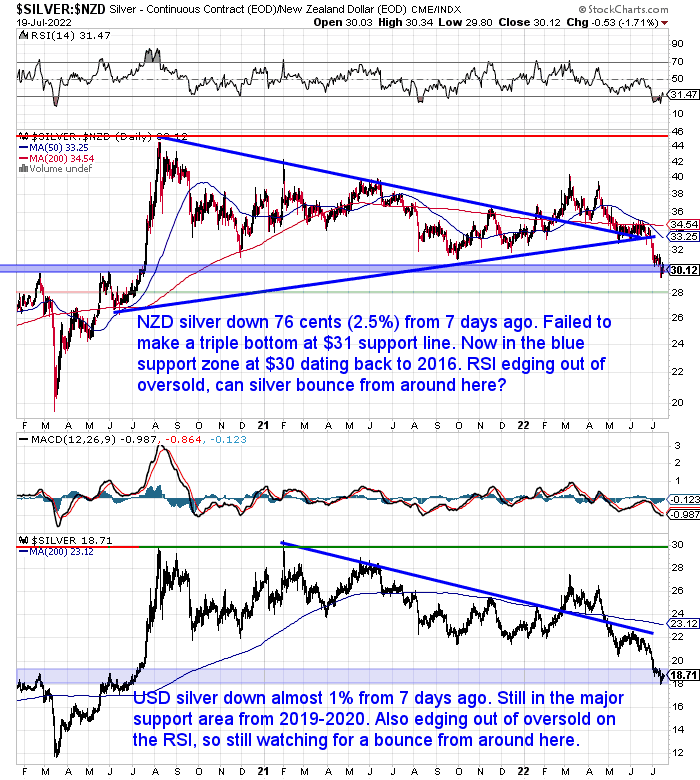 NZ Dollar jumps 1.6% From 26 Month Low
The New Zealand dollar was up 98 basis points or 1.60% from 7 days ago. The Kiwi might well have bottomed out at 0.61.
The 32 year record high inflation rate might have Forex traders thinking the RBNZ will increase interest rates even faster than expected. So that could make the Kiwi more attractive to those looking for a higher yield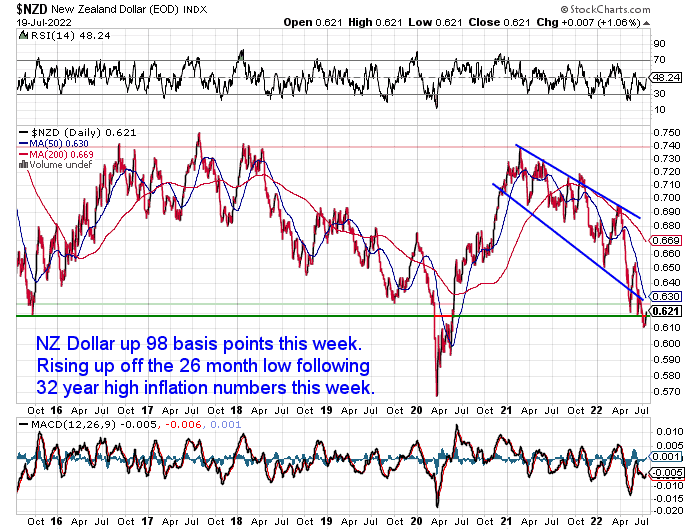 The USD index also looks like it might be topping out. The USD Index is made up of a basket of other currencies, of which the Euro is the largest.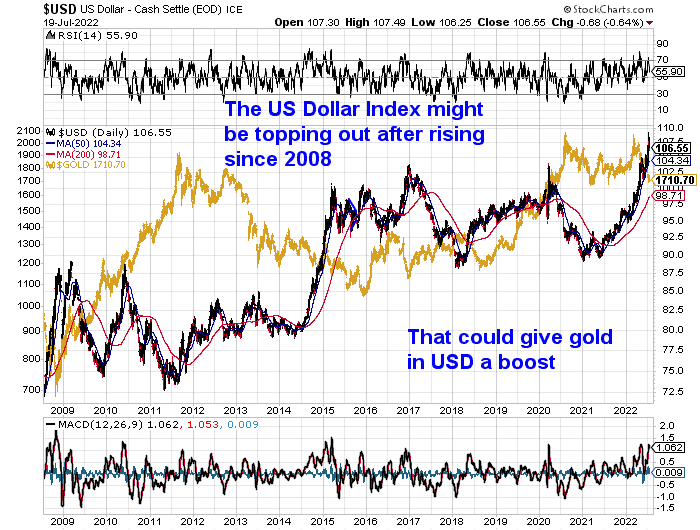 So if this is the case, then that could well give USD gold a boost.
Then for us holders down under, it just depends how much gold rises versus how much the NZ dollar appreciates against the USD.
Our guess is that we are about to enter a period where the USD price of gold rises faster than gold does when measured in other currencies like the NZD. We'll also make the pick that gold will rise more than the NZD falls. So NZD gold will still go "up" just not as much as USD Gold.
Need Help Understanding the Charts?
Check out this post if any of the terms we use when discussing the gold, silver and NZ Dollar charts are unknown to you:
Continues below
—– OFFER FROM OUR SISTER COMPANY: Emergency Food NZ —–
Long Life Emergency Food – Back in Stock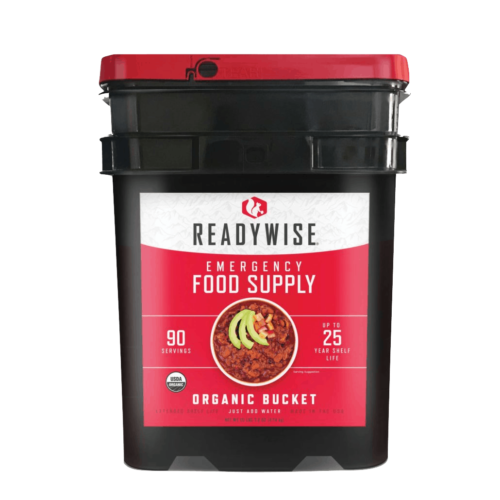 These easy to carry and store buckets mean you won't have to worry about the shelves being bare…
Free Shipping NZ Wide*
Get Peace of Mind For Your Family NOW….

  
—–
Silver Commercial Hedgers Short Position Indicates Bottom Near For Silver
Here's another factor pointing to a bottom for silver possibly being close. The short positions in the silver futures for the commercial hedgers is at a level that has only occurred a handful of times in the past decade.
See the dark grey line at the bottom of the chart below. Bear in mind the numbers are negative since they are the net short positions (long minus short). So when the line is higher it actually means the short positions are lower.
Why do these positions matter?
Commercials are commercial hedgers such as miners, actual users of metal etc – they are usually the "smart money'. As they are not just betting on the price of silver but actually hedging their positions.
So the fact that the Commercial traders net short position in silver is currently extremely low historically is quite significant. It means they think prices are likely to rise from here. These producers/end users of gold are usually right at the extremes. The Commercials usually have a higher net short position when prices are peaking as they are hedging themselves against the price falling. But it is just the opposite today. So that means they think silver is more likely to rise.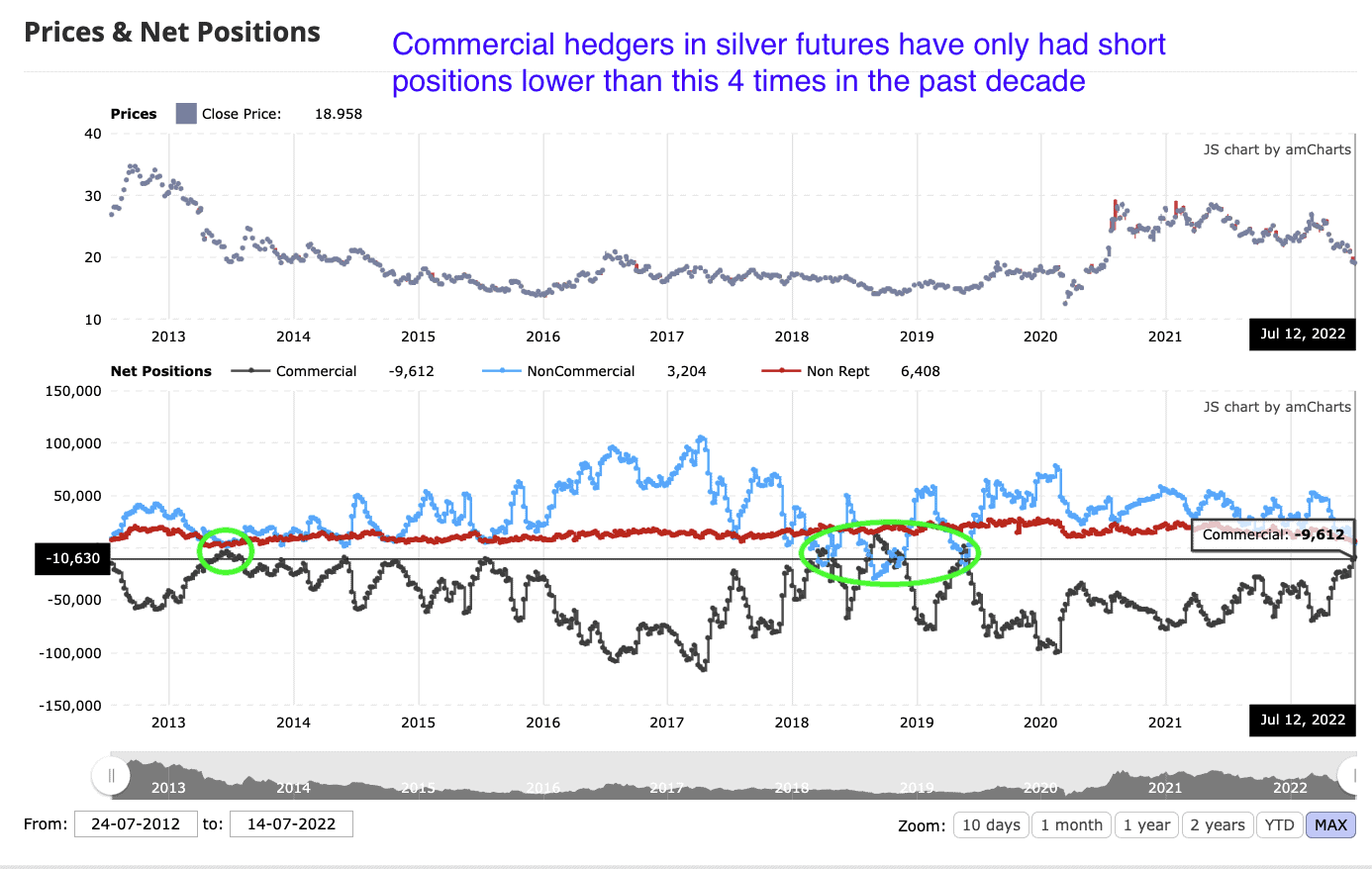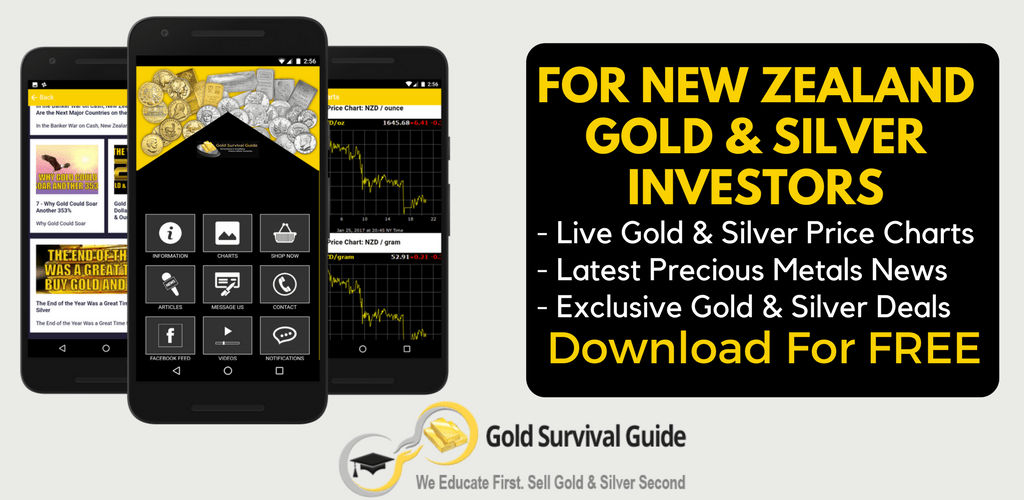 Your Questions Wanted
Remember, if you've got a specific question, be sure to send it in to be in the running for a 1oz silver coin.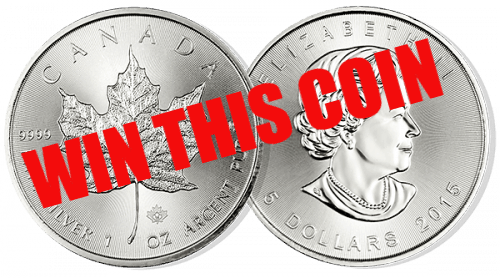 Where Are We in the Psychology of the Silver Market Cycle in 2022?
Market sentiment and psychology plays a huge role in where prices go. Although often in a contrarian manner.
So this week we look at the phases of investor psychology in market cycles. Then we compare these phases to the silver market cycle over the past 14 years or so, to see where the silver market is currently.
Hopefully this might help us determine where silver is going from here and aiding with deciding when to buy silver.
We also look at an interesting 40 year chart pattern in silver and have a crack at some pierce targets for silver now…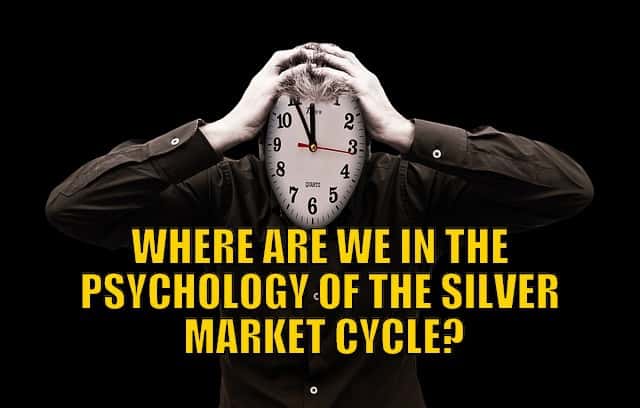 So, a bit of information this week pointing to bottoms possibly being close for gold and silver. Of course they could fall further yet, but our guess is we are not far off. Certainly much closer to a bottom than a top right now.
But these are the times when most people are instead not buying. If you want to go against the grain then please get in touch or  let us know if you have any questions:
Phone: 0800 888 GOLD ( 0800 888 465 ) (or +64 9 2813898)
or Shop Online with indicative pricing
— Prepared for the unexpected? —
Never worry about safe drinking water for you or your family again…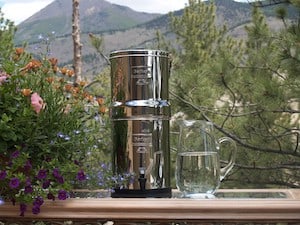 The Berkey Gravity Water Filter has been tried and tested in the harshest conditions. Time and again proven to be effective in providing safe drinking water all over the globe.
This filter will provide you and your family with over 22,700 litres of safe drinking water. It's simple, lightweight, easy to use, and very cost effective.
—–
This Weeks Articles:
Tue, 19 Jul 2022 4:27 PM NZST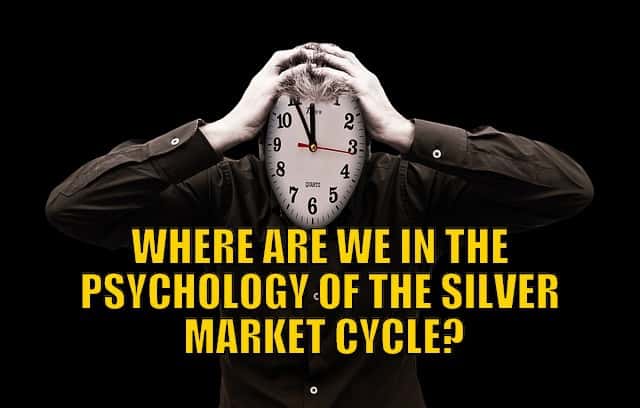 Where Are We in the Psychology of the Silver Market Cycle? This article looks at the phases of investor psychology in market cycles. Then compares these phases to the silver market cycle over the past 14 years or so, to see where the silver market is currently. Therefore helping to indicate where silver is going […]
The post Where Are We in the Psychology of the Silver Market Cycle in 2022? appeared first on Gold Survival Guide.
Wed, 13 Jul 2022 11:30 AM NZST
Whether you're an old hand at the matters of gold, silver and what is money, or a real newbie, you'll probably have something in common with a frustrated reader.  He admitted that all the conflicting information about how the world monetary system works was "doing [his] head in!".  Here is his email and below it […]
The post Why is Gold More Valuable Than "Worthless Paper"? appeared first on Gold Survival Guide.
Wed, 13 Jul 2022 5:43 AM NZST
Prices and Charts Looking to sell your gold and silver? Visit this page for more information Buying Back 1oz NZ Gold 9999 Purity $2707 Buying Back 1kg NZ Silver 999 Purity $951 NZD Gold Drops Below Uptrend Line Gold in New Zealand dollars was down $41 from a week ago. Falling below the blue uptrend […]
The post Fund Manager: Are We At A Turning Point for Stock Markets? appeared first on Gold Survival Guide.
Wed, 6 Jul 2022 12:45 PM NZST
Covid responses have seen the government encroaching more and more into everyday life, both here and across the planet. As a result we have more people getting concerned about the potential for gold confiscation. In various gold and silver newsletters we read, we've seen a few queries on the topic of confiscation of gold in […]
The post Gold Confiscation | Could it Happen in New Zealand Today? appeared first on Gold Survival Guide.
As always we are happy to answer any questions you have about buying gold or silver. In fact, we encourage them, as it often gives us something to write about. So if you have any get in touch.
Phone: 0800 888 GOLD ( 0800 888 465 ) (or +64 9 2813898)
or Online order form with indicative pricing
---
---
7 Reasons to Buy Gold & Silver via GoldSurvivalGuide

Today's Prices to Buy
1oz NZ 99.99% pure gold bar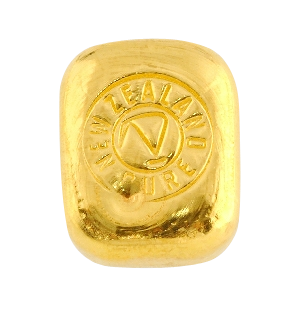 $2,841.50

1kg Pure Silver bar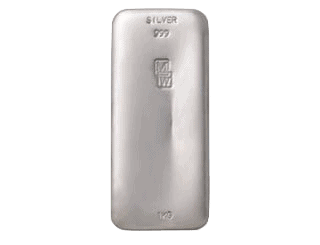 Local silver bar $1,085.20
1kg "Scottsdale Gold" Bar 99.99% with unique serial number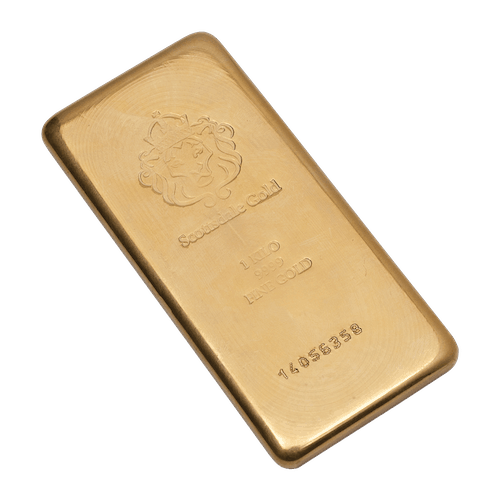 $90,955.79
1oz Canadian Gold Maple 99.99% pure gold coin (2020)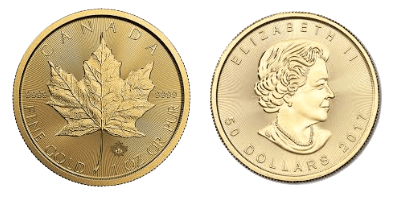 $2,945.20 (in stock)
1 oz RCM Silver Maple Coin
(Minimum order size tube of 25 coins)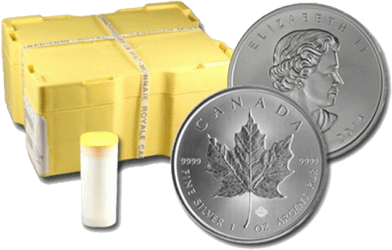 Tube of 25: $1008.02 (pick up) (Not due for around 6 weeks)
Box of 500:

$20,087.30 (Pre-order)
Including shipping/insurance 6/7 weeks delivery
---
Note:
Prices are excluding delivery
1 Troy ounce = 31.1 grams
1 Kg = 32.15 Troy ounces
Request special pricing for larger orders such as monster box of Canadian maple silver coins
Lower pricing for local gold orders of 10 to 29ozs and best pricing for 30 ozs or more.
Foreign currency options available so you can purchase from USD, AUD, EURO, GBP
Plus we accept BTC, BCH, Visa and Mastercard

---
Can't Get Enough of Gold Survival Guide?
If once a week isn't enough sign up to get daily price alerts every weekday around 9am Click here for more info
---
---
The Legal stuff – Disclaimer:
We are not financial advisors, accountants or lawyers. Any information we provide is not intended as investment or financial advice. It is merely information based upon our own experiences. The information we discuss is of a general nature and should merely be used as a place to start your own research and you definitely should conduct your own due diligence. You should seek professional investment or financial advice before making any decisions.
Copyright © 2020 Gold Survival Guide.
All Rights Reserved.