This Week:
Gold & Silver in NZ Dollars: 2017 in Review & Our Punts for 2018
The End of the Strong Aussie (and Kiwi?) Dollar
The Last Great Silver Buy
Cryptocurrency Crackdown
Prices and Charts
---
Gold Up, Silver Down
Silver has underperformed gold this past week. With the NZ Dollar continuing to strengthen, this has been the main factor in local precious metals prices being much weaker than US Dollar prices this week. Much more on the NZ Dollar to come later.
Gold in NZ Dollars is consolidating just below $1850 after the sharp rise at the end of last year. The much stronger NZ Dollar has been key in keeping the NZ gold price down so far this year. But that may not last much longer.

Silver in NZ Dollars has been struggling of late, down almost half a percent this past week.
Silver, whether in NZ or US dollars, is trading in a large wedge formation. A formation that it will have to break out of pretty soon. We think odds favour this breakout being in line with the longer term trend in silver – which is up over the last 3 years.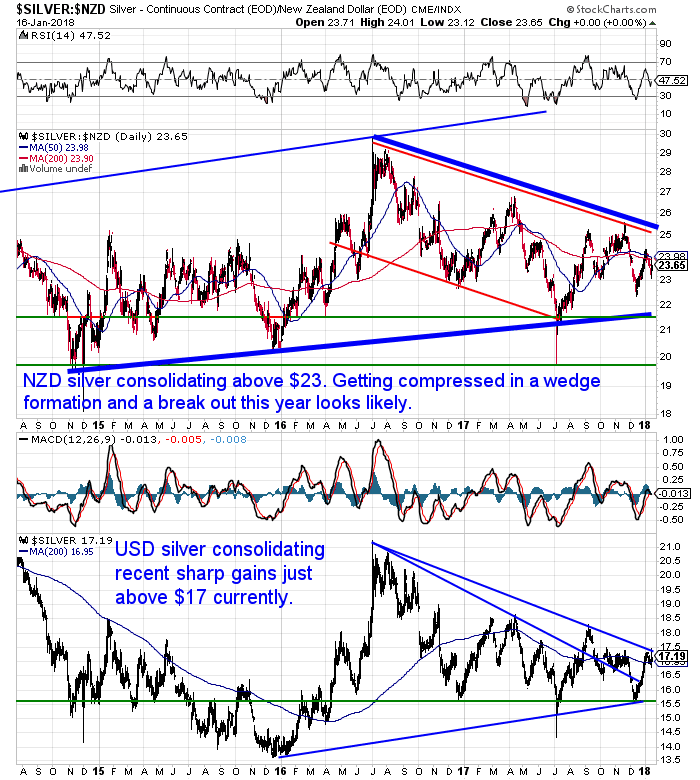 Kiwi Dollar Seriously Overbought and Due a Fall
As noted earlier the strengthening Kiwi Dollar has taken the wind out of local gold and silver prices the past couple of weeks.
But the dollar remains extremely overbought as it has been since the start of the year. A drop in the dollar is therefore overdue.
We believe the longer term trend for the Kiwi dollar this year is down.
For more on why that may be check out this article: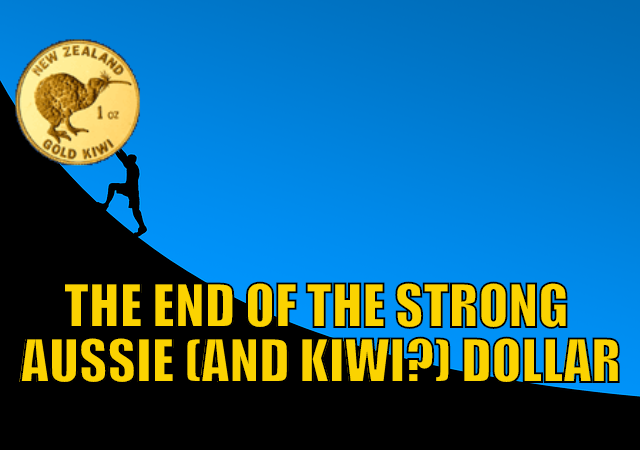 Unsure About Any Terms We Use When Discussing the Charts?
Remember to check out this post if any of the terms we use when discussing the gold, silver and NZ Dollar charts are unknown to you:
Continues below
—– OFFER FROM OUR SISTER COMPANY: Emergency Food NZ —– 
Do you have all the essentials on hand if you need to leave home in a hurry?
Get Your Own Emergency Survival Kit
Now Available. In Stock. Ready to Ship.
Gold & Silver in NZ Dollars: 2017 in Review & Our Punts for 2018
Time for our annual gold and silver in review article.
In our feature post this week we look at how gold and silver in New Zealand Dollars performed over 2017.
Then we look back at how we fared with our predictions for 2017.
Before finally having a few punts as to what might happen this year for gold and silver and the Kiwi Dollar.
Your Questions Wanted
Finally Remember, if you've got specific question, be sure to send it in to be in the running for a 1oz silver coin.
Cryptocurrency Crackdown
Regardless of what you think about cryptocurrencies they have likely raised awareness of the problems with the current monetary system. Plenty of people who had never heard the term "fiat currency" now have a better understanding of just what that term means.
So no surprises that governments are cracking down on Bitcoin and cryptocurrencies. Just as they have attempted to control gold and silver so too are they wanting to control cryptocurrencies.
The US is looking into how it can avoid bitcoin becoming the "next swiss bank account".
News that the South Korea government might still ban crypto trading sent bitcoin and other currencies falling this morning. And China may yet try to ban or restrict bitcoin mining. Source.
Somewhat surprisingly to many gold is showing an inverse correlation to bitcoin so far this year. Rising while the cryptocurrency falls.
So GATA chairman Bill Murphy may be right when he says:
Bitcoin profits may be converted to monetary metals purchases
GATA Chairman Bill Murphy, interviewed this week by GoldSeek Radio's Chris Waltzek, discusses the improving prospects for monetary metals prices and speculates that bitcoin investors may start to convert their profits into gold and silver. The interview is 10 minutes long and can be heard at GoldSeek Radio here.
If you've got bitcoin profits, or business profits, or profits from selling a property or any profits for that matter, which you'd like to convert to gold or silver, then get it touch.
Phone: 0800 888 GOLD ( 0800 888 465 ) (or +64 9 2813898)
or Online order form with indicative pricing
— Prepared for Power Cuts? —
[BACK IN STOCK] New & Improved Inflatable Solar Air Lantern
Check out this cool new survival gadget.
It's easy to use. Just charge it in the sun. Inflate it. And light up a room.
6-12 hours of backup light from a single charge! No batteries, no wires, no hassle. And at only 1 inch tall when deflated, it stores easily in your car or survival kit.
Plus, it's waterproof so you can use it in the water.
See 6 more uses for the amazing Solar Air Lantern.
—–
This Weeks Articles:
Wed, 17 Jan 2018 9:20 AM NZST
In our predictions for 2018 (made in the 2017 in Review and Punts for 2018 article) we said: "The New Zealand Dollar will end the year lower than the US Dollar this year. In 2017 it was so only the rally at the end of the year that saw the Kiwi Dollar end the year […]
Tue, 16 Jan 2018 10:27 AM NZST
2017 was all about bitcoin and cryptocurrencies. Although most financial assets also went up. Such as shares both globally and here in New Zealand. Here and in many parts of the world property also rose during 2017. This scenario, where all assets are rising, is generally seen as not being that favourable to financial insurance […]
Mon, 15 Jan 2018 11:39 AM NZST
See why there is evidence that there has recently been another very large accumulation of physical silver to rival the Hunt Brothers and Warren Buffett's Berkshire Hathaway massive scale silver investments. You'll also discover how this may in fact be the biggest physical silver accumulation in history and why this accumulation likely plays a major […]
Thu, 11 Jan 2018 12:01 PM NZST
  This Week: Gold and Silver Again Bottom in December The Next Great Bull Market in Gold Has Begun Is it Time to Trade Your Gold in for Bitcoin? Prices and Charts Looking to sell your gold and silver?Visit this page for more information Buying Back 1oz NZ Gold 9999 Purity $1764 Buying Back 1kg […]
As always we are happy to answer any questions you have about buying gold or silver. In fact, we encourage them, as it often gives us something to write about. So if you have any get in touch.
Phone: 0800 888 GOLD ( 0800 888 465 ) (or +64 9 2813898)
or Online order form with indicative pricing
---
---
---
Note:
Prices are excluding delivery
1 Troy ounce = 31.1 grams
1 Kg = 32.15 Troy ounces
Request special pricing for larger orders such as monster box of Canadian maple silver coins
Lower pricing for local gold orders of 10 to 29ozs and best pricing for 30 ozs or more.
Foreign currency options available so you can purchase from USD, AUD, EURO, GBP
Note: For local gold and silver orders your funds are deposited into our suppliers bank account. We receive a finders fee direct from them. Pricing is as good or sometimes even better than if you went direct.

---
Can't Get Enough of Gold Survival Guide?
If once a week isn't enough sign up to get daily price alerts every weekday around 

9am

Click here for more info
---
Our Mission
To demystify the concept of protecting and increasing ones wealth through owning gold and silver in the current turbulent economic environment.
To simplify the process of purchasing physical gold and silver bullion in NZ – particularly for first time buyers.
---
---
The Legal stuff – Disclaimer:
We are not financial advisors, accountants or lawyers. Any information we provide is not intended as investment or financial advice. It is merely information based upon our own experiences. The information we discuss is of a general nature and should merely be used as a place to start your own research and you definitely should conduct your own due diligence. You should seek professional investment or financial advice before making any decisions.