Special Offer: While Stocks Last
1oz NZ Mint Gold Kiwi coins at spot plus 2.75%.

Minimum purchase 10 coins
Delivered and fully insured for $17,777
Reply to this email or phone David on 0800 888 465
This Week:
Why Did COMEX Silver Derivatives Increase 41% in 2016?
The Davos Plan For Your Cash and Bitcoin
The Mother Of All Financial Bubbles
Push Back: US States Treating Gold and Silver as Money
U.S. Price Inflation, Bond Yields and Gold
Prices and Charts

Both Metals Up Just Under 1%
Gold and silver in NZ dollars are both just under 1% higher from a week ago.
Gold continues to hover around the NZ$1725 after rising strongly earlier in February. It still wouldn't surprise us to see it correct from here, perhaps back down towards the 50 day moving average (MA) at $1676.
This is only a move lower of around 2.5% from current prices.
Here's something to consider though.
Currently we have a limited supply deal of 1oz Gold Kiwi coins at only 2.75% above spot price. This is one heck of a deal as these normally retail for about 5.7% above spot. The price is even cheaper than local gold ingots.
So while a pull back could come from here, there's every chance it might not be as much as the current discount above spot on these coins (which is around 2.95%). So getting in now while stocks are still available at this price may be the way to go. Minimum purchase is 10 coins.
NZD silver has continued to just bounce along under the 200 day MA (red line in the chart below) this week. It has been unable to get above it and remains close to overbought. After such a strong move higher so far in 2017, a correction from here would not be a surprise.
But the price is not that far above the rising blue uptrend line. So there still looks to be an awful lot of upside yet for silver in particular.
The Kiwi dollar has again dipped lower. Down about half a percent from last week. Again sitting right on the 200 day MA. With it also being oversold, a bounce higher from here looks likely.
If so that should help to nudge local gold and silver prices lower as we have been expecting.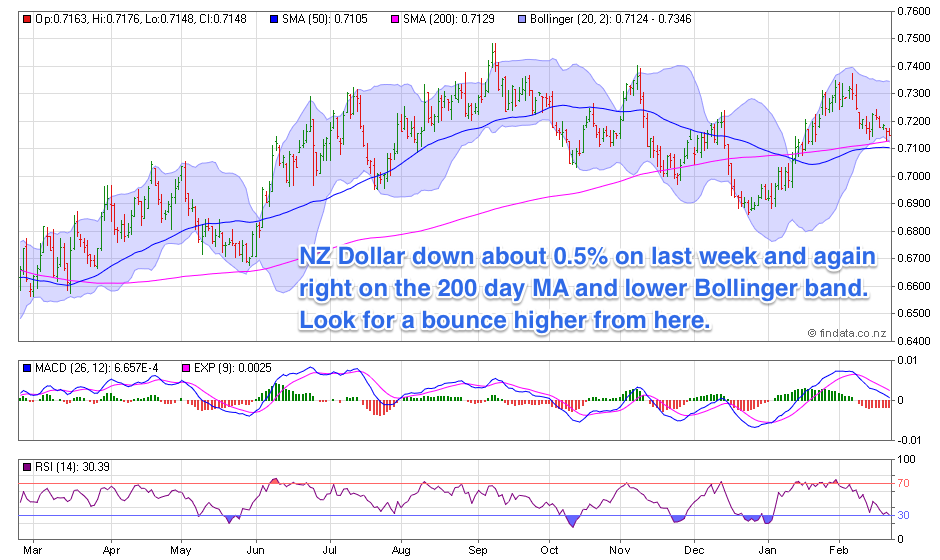 Push Back: US States Treating Gold and Silver as Money
Here's some surprising treatment of gold and silver. Normally governments do all they can to discourage citizens from purchasing and holding gold and silver. In the US this includes having capital gains taxes on gold and silver.
But some US states are pushing back against these federal rules:
"The Arizona House has removed a gold and silver inflationary tax. Meanwhile Utah and Oklahoma have declared gold and silver legal tender in their state, free from any taxation. Other states are mulling similar moves. It is a ways from being a major movement but the moves are "critical in dispensing with the idea that gold and silver are merely investments and speculation."
It is a good point calling capital gains taxes on gold and silver a "tax on inflation".
"Capital gains tax on gold and silver is especially misleading. It is more likely a tax on inflation than on the underlying metals. "This bill is an effort by one state to protect the people from such confiscation," said Representative Finchem.
With this bill, the inflationary tax can be deducted from gross income on their state income tax. The bill now goes to the Senate.
Finchem argues that any perceived capital gain from gold and silver is not actually a gain, but a protection against losing money in the inflationary federal reserve system.
"It's called inflation," Finchem continued. "The Internal Revenue Service for many, many years has been taxing inflation as though it was a gain."
Who knows how much impact these new state laws will have, but they are a step in the right direction:
"The idea is that if more states can remove unjust taxation real currency competition will be in a position to return. "This isn't going to end the fed's monetary monopoly overnight, but it sets the foundation and opens the door for more market activity by the people," Michael Boldin of the Tenth Amendment Center reportedly said."
…"Over time, as residents of the state use both Federal Reserve notes and silver and gold coins, the fact that the coins hold their value more than Federal Reserve notes do will lead to a "reverse Gresham's Law" effect, where good money (gold and silver coins) will drive out bad money (Federal Reserve notes). As this happens, a cascade of events can begin to occur, including the flow of real wealth toward the state's treasury, an influx of banking business from outside of the state – as people in other states carry out their desire to bank with sound money – and an eventual outcry against the use of Federal Reserve notes for any transactions."
Conclusion: The path back to real money is a slow one but states are embarking on it now. And as they continue, silver and gold are gradually seen as money again. That's real progress."
U.S. Price Inflation Hits 58-Month High
Last week we noted that the US Consumer Price Index "had its biggest jump in 4 years. This puts the US CPI well above the 2% "ideal" level the Fed aims for. So could this be the start of global inflation heading higher?"
The National Inflation Association (NIA) had a more detailed post on this during the week. They expect US inflation to head above 3% this month which is quite a jump again.
"U.S. Price Inflation Hits 58-Month High!
The official year-over-year U.S. price inflation rate for January 2017 reached a new 58-month high of 2.5%!
In August 2016 after the BLS reported an official U.S. price inflation rate for July 2016 of only 0.84%, NIA predicted that it would triple over the following six months to an official price inflation rate for January 2017 of 2.52%. NIA's forecast was off by only 2 basis points!
In fact, the official U.S. price inflation rate for July 2016 was later revised downward to 0.827%. This means it has increased over the last six months by 167.3 basis points.
NIA in August 2016 had forecast a six month increase in the official price inflation rate of 168 basis points, which was almost perfectly accurate and off by less than 1 basis point!
NIA remains confident in its August 2016 prediction that the official U.S. price inflation rate will explode past 3% for the month of February 2017! Click here to see a chart of the official U.S. price inflation rate over the last 58 months and compare it to NIA's August 2016 forecast of the official U.S. price inflation rate through February 2017!"
As we've said before, this is likely just early days. But we may well be in the midst of a change from low (official) inflation and low interest rates, to higher inflation and interest rates.
Continues below
—– OFFER FROM OUR SISTER COMPANY: Emergency Food NZ —–
Only Until 3 March 2017…
Get a FREE bucket of freeze dried fruit or veges (Up to $316 value)When you purchase 2 buckets of Mains and Breakfasts.
Learn More.
—–
Rising Inflation Turning Real Bond Yields Negative
Frank Holmes, CEO of US global Investors elaborates on why this increase in inflation rates is significant.
"Inflation just got another jolt, rising as much as 2.5 percent year-over-year in January, the highest such rate since March 2012. Led by higher gasoline, rent and health care costs, consumer prices have now advanced for the sixth straight month. In addition, January is the second straight month for rates to be above the Federal Reserve's target of 2 percent.


Gold responded accordingly, closing above $1,240 for the first time since soon after the November election. Below you can see the gold price charted against the inflation-adjusted 10-year Treasury yield, which is now in subzero territory.


The question I have is: Why would an investor deliberately choose to lose money? But that's precisely what's happening now with inflation where it is.
These were among some of the topics addressed by former Fed Chair Alan Greenspan, who spoke with the World Gold Council (WGC) for the winter edition of its "Gold Investor."
"Significant increases in inflation will ultimately increase the price of gold," Greenspan said. "Investment in gold now is insurance. It's not for short-term gain, but for long-term protection."

He also reiterated his view, which I share, that gold is much more than just a metal but a currency:
"I view gold as the primary global currency. It is the only currency, along with silver, that does not require a counterparty signature. Gold, however, has always been far more valuable per ounce than silver. No one refuses gold as payment to discharge an obligation. Credit instruments and fiat currency depend on the credit worthiness of a counterparty. Gold, along with silver, is one of the only currencies that has an intrinsic value. It has always been that way. No one questions its value, and it has always been a valuable commodity, first coined in Asia Minor in 600 BC."
We're not sure what to make of the infamous Mr Greenspan.
Bix Weir (see his video in this week's articles: Why Did COMEX Silver Derivatives Increase 41% in 2016?) has the interesting angle that Greenspan was working from the inside to bring down the system.
Most just think he is a turncoat who sold himself to the "darkside". Who knows? But we have to agree with his sentiments above.
If you want some long term financial insurance, consider some of the Gold Kiwi coins on offer currently.
You can call, email or order online for a quote. See the details below along with all the articles posted on the website this week.
— Prepared for Power Cuts? —
[BACK IN STOCK] New & Improved Inflatable Solar Air Lantern
Check out this cool new survival gadget.
It's easy to use. Just charge it in the sun. Inflate it. And light up a room.
6-12 hours of backup light from a single charge! No batteries, no wires, no hassle. And at only 1 inch tall when deflated, it stores easily in your car or survival kit.
Plus, it's waterproof so you can use it in the water.
See 6 more uses for the amazing Solar Air Lantern.
—–
This Weeks Articles:
Thu, 23 Feb 2017 9:31 AM NZST
In the video below Bix Weir wonders why, with the total mined silver production in 2016 going down by 33 Million ounces (or 3%), did the total amount of COMEX futures and options contracts increase by 41%? Weir outlines what the level of actual global hedging required would be and what the discrepancy is between […]
Wed, 22 Feb 2017 4:39 PM NZST
We've been discussing the War on Cash a lot here recently. Many of the initiatives that are being slowly rolled out across the globe, such as removing higher denomination notes, have been hinted at by global elites over the past couple of years. The central planner/global elitist gathering in Davos, Switzerland has been one such place where […]
Wed, 22 Feb 2017 3:04 PM NZST
We haven't published anything from Chris Martenson for a while. Not because we think any less of the work he has been doing. We just haven't been keeping a close eye on it lately. But this piece highlights the very good investigative reporting he and his team have done on some major news events in […]
Thu, 16 Feb 2017 4:35 PM NZST
Special Today 1oz NZ Mint Gold Kiwi coins at spot plus 2.75% Minimum purchase 10 coins Delivered and fully insured for $17,625.25 Reply to this email or phone David on 0800 888 465 This Week: World's Largest Hedge Fund Manager Predicts Bleak Future for Markets Deflation and Gold: A Contrarian View Will the Banker War […]
As always we are happy to answer any questions you have about buying gold or silver. In fact, we encourage them, as it often gives us something to write about. So if you have any get in touch.
Phone: 0800 888 GOLD ( 0800 888 465 ) (or +64 9 2813898)
or Online order form with indicative pricing
---
---
---
Note:
Prices are excluding delivery
1 Troy ounce = 31.1 grams
1 Kg = 32.15 Troy ounces
Request special pricing for larger orders such as monster box of Canadian maple silver coins
Lower pricing for local gold orders of 10 to 29ozs and best pricing for 30 ozs or more.
Foreign currency options available so you can purchase from USD, AUD, EURO, GBP
Note: For local gold and silver orders your funds are deposited into our suppliers bank account. We receive a finders fee direct from them. Pricing is as good or sometimes even better than if you went direct.

---
Can't Get Enough of Gold Survival Guide?
If once a week isn't enough sign up to get daily price alerts every weekday around 9am Click here for more info
---
Our Mission
To demystify the concept of protecting and increasing ones wealth through owning gold and silver in the current turbulent economic environment.
To simplify the process of purchasing physical gold and silver bullion in NZ – particularly for first time buyers.
---
---