Wanting Some Great Value Minted Silver Bars?
LIMITED STOCK – Just 20 Available
Sunshine Minting (USA) 100oz .999 Silver Minted Bars
$2483 each pick up
(Insured delivery price add $9.20 per 100oz bar)
Note: Locally refined cast 100oz bars are $2474 each – pick up
(See the end of today's newsletter for the difference between cast and minted bars)
Ph 0800 888 465 or simply reply to this email to secure them
This Week:
Owning Gold Is the First Step to "Freedom Insurance"
Why Gold Goes Up
The Golden Revolution, Revisited: Chapter 5
Silver and the Great Future of Mexico
Prices and Charts

Looking to sell your gold and silver?
Buying Back 1oz NZ Gold 9999 Purity
$1619
Buying Back 1kg NZ Silver 999 Purity
$673
Silver Takes a Pounding
Both metals headed lower this week. Silver in particular really took a beating – down 4%.
But gold has pulled back a decent chunk too. Now sitting pretty close to the long term uptrend line which has proven an excellent place to purchase gold over the past 3 years. The overbought/oversold RSI indicator is also in seriously oversold territory at 22.
So we may be finally getting close to a turning point for NZD gold.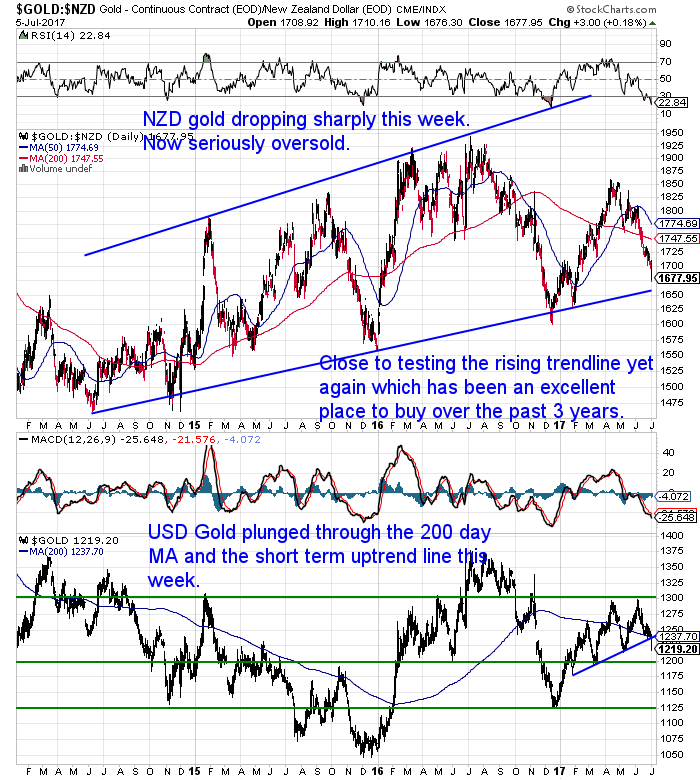 But silver really plummeted, down almost 4% from a week ago. Silver in NZ dollars is now at new lows for 2017. Sitting just above horizontal support at the round number of $22. Like gold it also remains very oversold on the RSI. But silver is now quite close to both the long term rising trendline (in blue) and also the shorter term downtrend line (in red).
So NZD silver is also likely very close to making a turnaround.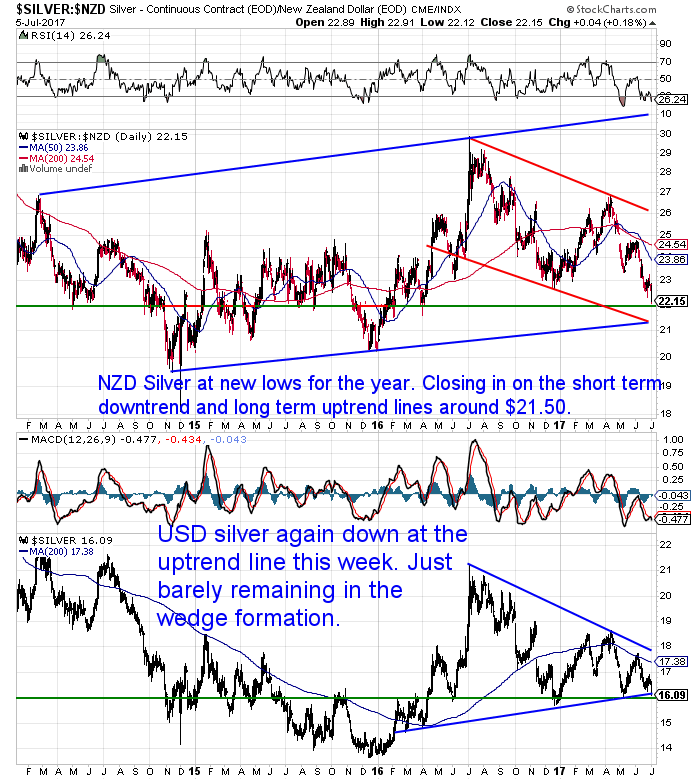 The Kiwi dollar has dipped slightly from 7 days ago. But still remains in the elevated position it has been in for the past month. Just as gold and silver are oversold, the NZ dollar is still overbought. The MACD indicator has also crossed over and may be turning down.
If we keep saying it long enough sooner or later we'll be right and the dollar will head lower!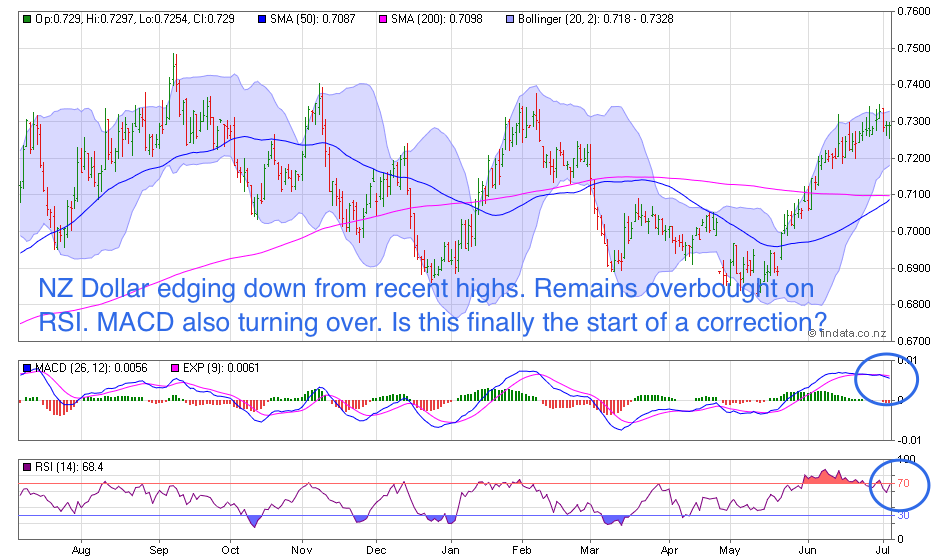 Continues below
—– OFFER FROM OUR SISTER COMPANY: Emergency Food NZ —–
Do you have all the essentials on hand if you need to leave home in a hurry?
Get Your Own Emergency Survival Kit
Now Available. In Stock. Ready to Ship.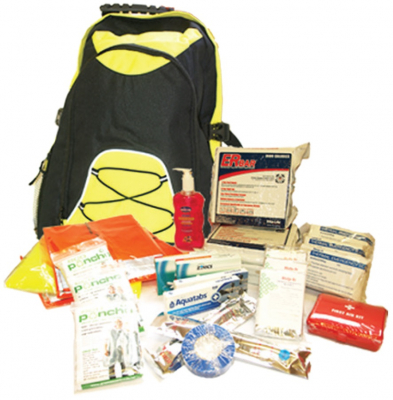 Grab Your Own Grab 'n' Go Bag NOW….
—–
Gold and Silver at Key Long Term Buying Levels
Have you been sitting on the fence in terms of wondering when to buy?
It looks to us that we are at, or if not at, very close to key long term buying levels for both metals.
Cast your eye back up to the gold chart. You can see the NZ dollar gold price has dipped down to this trendline on 5 occasions since mid 2014. We are once again approaching one of these times we reckon.
Gold remains pretty unloved. We are certainly a long way from widespread buying still. Both here and also worldwide retail demand remains low. But even so gold has been quietly marching higher for 3 years already.
Yet to us and probably to you (especially if you bought sometime around 2011), it doesn't feel like it.
This is what seems to happen in the early stages of a bull market. Price moves higher but no one really notices. It takes somewhat of a contrarian to buy.
NZD Silver Also Close to Long Term Uptrend Line
NZ dollar priced silver also has been quietly heading higher for about 2.5 years. Though not up as much as gold percentage wise – mainly as silver has been in a downtrend over the past year.
To be honest we have been a bit surprised that silver has not done better this year. But it probably won't really get moving in price until gold moves higher again too.
Check out the gold/silver ratio chart below. See the period from late 2009 to late 2010, where after falling from a high of close to 90, the ratio headed higher for a year. Before then plummeting into 2011 as silver shot much higher.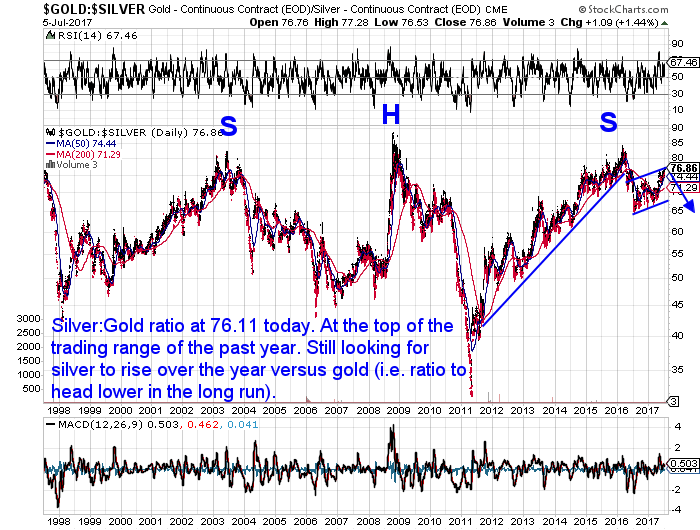 So perhaps we are seeing silver history rhyming somewhat now?
What to Make of the Ratio?
Well, given that the gold/silver ratio is once again at the top of the trading range it has been in for the past year. And the silver price is at a low for the past year, this likely makes now a pretty decent entry point for long term buyers of financial insurance with some upside potential.
Minted Bars vs Cast Bars
Just a reminder – If you're looking for great value silver then check out the limited quantity special on the Sunshine Minting 100 oz minted silver bars.
(Note: 100 troy ounces equates to about 3.11kg.)
In case you don't know minted bars involve more work to get their "sharper" look which is why they usually sell for a fair bit more than cast bars.
With cast bars the molten metal is poured into a cast or mold which usually also contains the hallmark and purity etc in the cast.
Whereas minted bars require an extra step to "stamp" or "press" the design into the blank bar. So this extra "work" means they are almost always quite a bit more expensive than cast bars.
But with today's deal you're getting a minted bar for close to the same price as a locally refined cast silver bar.
Great Value Minted Silver Bars
LIMITED STOCK – Just 20 Available
Sunshine Minting (USA) 100oz .999 Silver Minted Bars
$2483 each pick up
(Insured delivery price add $9.20 per 100oz bar)
Note: Locally refined cast 100oz bars are $2474 each – pick up
Call David on 0800 888 465 for a quote or with any questions.
Phone: 0800 888 GOLD ( 0800 888 465 ) (or +64 9 2813898)
or Online order form with indicative pricing
— Prepared for Power Cuts? —
[BACK IN STOCK] New & Improved Inflatable Solar Air Lantern
It's easy to use. Just charge it in the sun. Inflate it. And light up a room.
6-12 hours of backup light from a single charge! No batteries, no wires, no hassle. And at only 1 inch tall when deflated, it stores easily in your car or survival kit.
Plus, it's waterproof so you can use it in the water.
—–
This Weeks Articles:
Thu, 6 Jul 2017 11:12 AM NZST
This article fits in nicely with our view on gold (and silver). We say they are "financial insurance". This piece expands this concept into why they are also "freedom insurance" and how they can lessen your risk from "big government"… Owning Gold Is the First Step to "Freedom Insurance" By Nick Giambruno Justin's note: As […]
Wed, 5 Jul 2017 3:28 PM NZST
We had the pleasure of hearing John Butler speak here in Auckland a few years ago (you can check out what he had to say on that day here). To follow is the sixth in the serial publication of the new, revisited edition of John's book, The Golden Revolution (John Wiley and Sons, 2012). (The […]
Wed, 5 Jul 2017 1:24 PM NZST
Here's a bit of philosophising on gold from the deep thinking, dry witted and entertaining Bill Bonner… Why Gold Goes Up By Bill Bonner – originally posted at BonnerandPartners.com DUBLIN – Gold dropped sharply [last week]. The yellow metal fell about 1% to as low as $1,236. A "fat finger" was blamed, meaning it was […]
Wed, 5 Jul 2017 11:38 AM NZST
The latest from our "favourite billionaire" Hugo Salinas Price is a speech he recently delivered to the Russian Embassy in Mexico. He delves into his plan for a particular type of silver coin that Mexico should produce and how it would be in great demand if they did. The really interesting thing is that he […]
Sat, 1 Jul 2017 2:51 AM NZST
Wanting Some Small Denomination Silver Bars? LIMITED STOCK – Just 70 Remaining Sunshine Mint (USA) 10oz .999 Silver Minted Bars $266 each pick up (Insured delivery price add $9.20 when purchasing 1-12 bars) Note: Locally refined 10oz bars are $273.40 each – pick up (and they are only cast versus these minted bars) Ph 0800 […]
As always we are happy to answer any questions you have about buying gold or silver. In fact, we encourage them, as it often gives us something to write about. So if you have any get in touch.
Phone: 0800 888 GOLD ( 0800 888 465 ) (or +64 9 2813898)
or Online order form with indicative pricing
---
---
---
Note:
Prices are excluding delivery
1 Troy ounce = 31.1 grams
1 Kg = 32.15 Troy ounces
Request special pricing for larger orders such as monster box of Canadian maple silver coins
Lower pricing for local gold orders of 10 to 29ozs and best pricing for 30 ozs or more.
Foreign currency options available so you can purchase from USD, AUD, EURO, GBP
Note: For local gold and silver orders your funds are deposited into our suppliers bank account. We receive a finders fee direct from them. Pricing is as good or sometimes even better than if you went direct.

---
Can't Get Enough of Gold Survival Guide? If once a week isn't enough sign up to get daily price alerts every weekday around 9am Click here for more info
---
Our Mission
To demystify the concept of protecting and increasing ones wealth through owning gold and silver in the current turbulent economic environment.
To simplify the process of purchasing physical gold and silver bullion in NZ – particularly for first time buyers.
---
---
The Legal stuff – Disclaimer: We are not financial advisors, accountants or lawyers. Any information we provide is not intended as investment or financial advice. It is merely information based upon our own experiences. The information we discuss is of a general nature and should merely be used as a place to start your own research and you definitely should conduct your own due diligence. You should seek professional investment or financial advice before making any decisions.
Copyright © 2017 Gold Survival Guide. All Rights Reserved.