This Week:
Silver Tumbles – Buying Opportunity Arrives
Gold: All Eyes On Jackson Hole
Why mortgage interest rates in Australia & NZ may rise even while central Banks cut their official interest rates
Storing Precious Metals: Will Gold & Silver Survive a House Fire?
Prices and Charts
| | Spot Price Today / oz | Weekly Change ($) | Weekly Change (%) |
| --- | --- | --- | --- |
| NZD Gold | $1814.43 | – $49.36 | – 2.64% |
| USD Gold | $1324.35 | – $24.85 | – 1.84% |
| NZD Silver | $25.46 | – $1.80 | – 6.60% |
| USD Silver | $18.58 | – $1.15 | – 5.82% |
| NZD/USD | 0.7299 | + 0.006 | + 0.82% |
Looking to sell your gold and silver?
Buying Back 1oz NZ Gold 9999 Purity
$1744
Buying Back 1kg NZ Silver 999 Purity
$779
Silver Tumbles – Buying Opportunity Arrives
A big move in silver this week falling 6.60% from a week ago. NZD Silver has now retraced around half of the big move that began in June.
But we are getting into what could be an excellent buying zone now. We could still see a move back down to the blue uptrend line which currently sits around $25. Or even a little lower to the 200 day moving average near $24.
But there are no guarantees we'll see these prices as silver is getting into oversold territory now too.
If you've been sitting on the sidelines waiting to buy then now is looking like a pretty good time. If you're worried about silver falling further then consider buying in a few tranches so you'll at least lock in a position now. Then if it drops any lower you can buy more at lower prices for a good overall entry price.
But be aware that any dip lower could be very brief. Perhaps for just a day or 2.
Gold in NZ Dollars has pulled back this week too. It is also closing in on its 200 day moving average. But gold is also getting close to oversold. So any further drop could be short and sharp.
Unlike silver, gold is still just consolidating within the same range it has been in since February. So any purchase close to the bottom of this range near $1775, odds favour being a decent bet.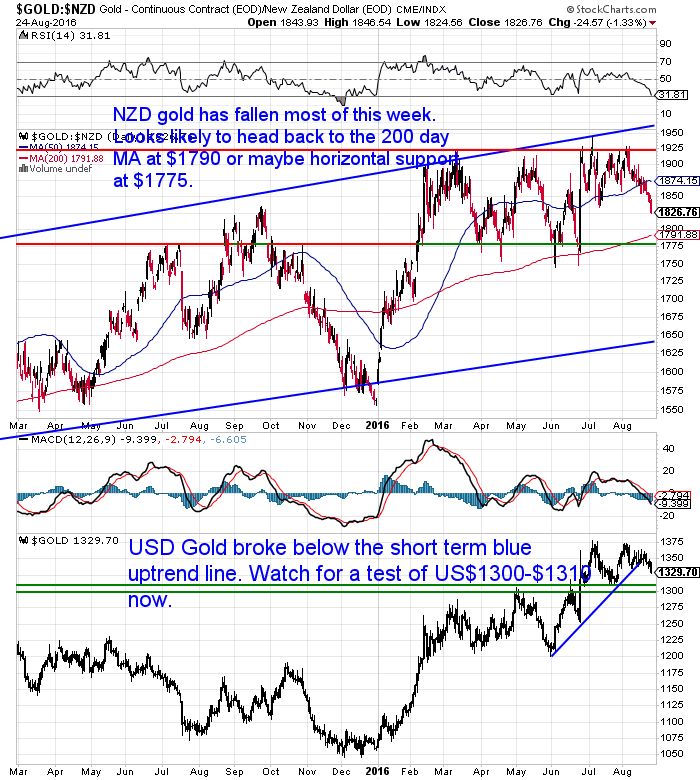 We've got another article on the site from Stewart Thomson this week. If you're considering buying gold he outlines what he believes may happen in the next couple of days to create a buying opportunity.
Gold: All Eyes On Jackson Hole
The NZ Dollar has edged above 0.73 today. Up slightly on last week. A speech by RBNZ Governor Wheeler seemed to give it a boost. Traders seem to take him to mean that interest rate cuts might not be as rapid or as deep as originally thought. Here's an excerpt:
"Our present judgement is that the current interest rate track, involving an expected 35 basis points of further interest rate cuts, balances a number of risks weighing on the economy, while generating an increase in CPI inflation back towards the mid-point of the 1 to 3 percent target range.
 
"We remain committed to the inflation goals in the Policy Targets Agreement. We do not believe that the outlook and balance of risks warrants a position of no policy change, nor a position of rapid easings. If the emerging information and risks unfold in a manner that warrants a change in our judgements, we will modify our policy settings and outlook."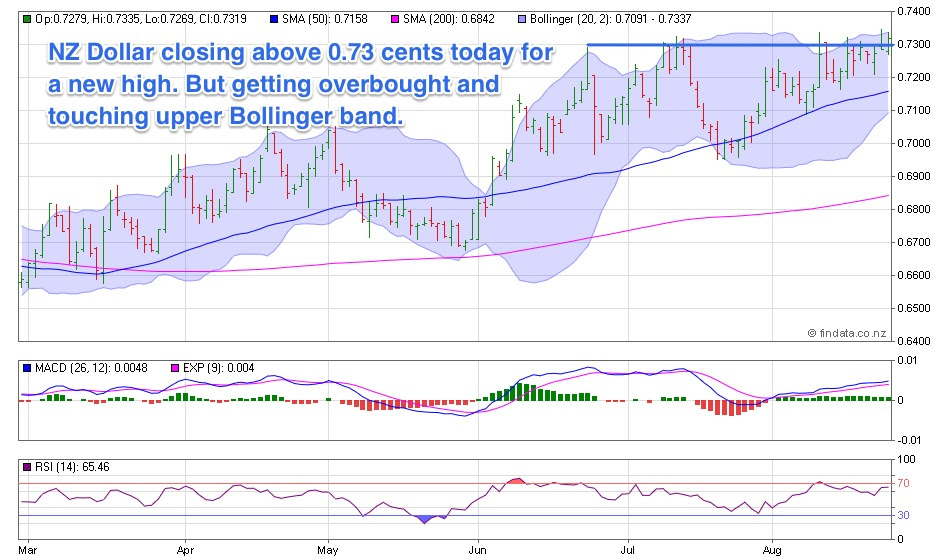 No real surprises here. They cut rates to drop the dollar and just the opposite happens. The law of unintended consequences is regularly at work when it comes to central planning.
It was a similar case over in Aussie recently with the Australian Dollar also rising against the US after a rate cut.
Meanwhile the Labour party is calling for the monetary policy (of the Reserve bank) to expand beyond solely inflation control.
"A review needs to consider widening the focus of the bank to take factors such as the exchange rate, employment, wages and the overall health of the economy into account when setting the OCR and making its policy decisions."
Good old Winston Peters chimed in too saying:
""The primary function of the Reserve Bank Act must be broadened to include the rate of economic growth, export growth, the value of the dollar and employment, as well as, price stability," Peters said."
We wonder if this is just the early stages of potential changes down the track. Where the Reserve Bank has its scope widened to target "economic growth" and worry less about inflation.
The argument would go something like, if inflation is so low then let's not worry about it. Let's "stimulate" the economy to "boost growth". Can anyone spell helicopter money? This is when inflation is likely to then surprise everyone and rear it's ugly head.
Of course we are a way off this yet. Interest rates have still not reached zero here. Well not yet anyway.
Continues below
—– OFFER FROM OUR SISTER COMPANY: Emergency Food NZ —–
Preparation also means having basic supplies on hand.
Are you prepared for when the shelves are bare?

For just $190 you can have 4 weeks emergency food supply.
Why mortgage interest rates in Australia & NZ may rise even while central Banks cut their official interest rates
Speaking of Australian interest rates. Sam Volkering made an argument as to why Australian mortgage interest rates could rise even while the Reserve Bank of Australia made further cuts to its overnight bank rate.
"…while the banks now have to deal with 'margin squeeze', they also have to adhere to responsible lending standards. Now sometimes these standards might be seen as 'relaxed'. But it's fair to say the standards held by the Aussie banks are historically better than those by our overseas counterparts, like the US or UK.
What that means is they try to avoid 'risky' lending. They don't want to accumulate a bunch of bad debts on their books. They really don't want lots of bad residential mortgage debt. The problem is they can't just shut up shop, either.
If all of a sudden the Big Four ceased residential lending, it would be enough to spark a property crisis on its own. So they have to lend to the average punter overpaying for Aussie residential property. But the people they're now lending to are 'risky'.
And riskier loans cost the banks more. The banks won't just absorb these higher costs. They'll pass on the costs to the customer. This all means that further rate cuts could see retail interest rates rise.
Everyone I speak to has trouble believing that the banks could raise rates if the RBA cuts rates.
Don't forget, banks are under no obligation to pass on more rate cuts by the RBA. The banks are public companies. They have to make a profit and return equity to shareholders, not appease the RBA.
And if they do raise rates while the RBA cuts again, it's going to spell disaster for the Aussie property market."
This is a point worth considering for us here in New Zealand too. We've already seen some early signs of this. Recall that two weeks ago we reported how both here and in Australia some banks only passed on a small amount of the central banks rate cut. Also they surprisingly increased their deposit rates. Perhaps due to increasing cost of offshore funding.
So if this situation were to continue this would be another reason why they might not pass on the rate cut to mortgage holders. Or even do the opposite as Volkering outlines above.
Storing Precious Metals: Will Gold & Silver Survive a House Fire?
When looking to buy gold and silver a common point to overlook is where you will store them once you've purchased?
While gold and silver have no counter-party risk (well physical gold and silver we should say), there remains the risk of theft no matter where you store it.
One reader this week was mulling over whether gold would survive a house fire?
So we answered and then did a bit of further research to also take into consideration silver too. So if you're mulling over what to do with your gold and silver, or how safe the gold and silver you currently own is, check out this weeks feature article.
Storing Precious Metals: Will Gold & Silver Survive a House Fire?
Olympic Medals Fact of the Day
"According to Victor Hugo Criado Berbert, production manager of the 2016 Rio Olympic medals, the gold medals, though they each weigh 500 grams, only contain about 5.84 grams of gold. However, the "gold" medals each contain 494.16g of silver, making them by weight, by value, and by price, a gold plated silver medal. At today's respective prices for a 1 troy ounce American Gold and Silver Eagle coin, the gold and silver contained in each gold medal would be priced at $266.07 of gold and $364.63 of silver for a total price of $630.70, assuming that the gold and silver used in the fabrication of the medals are 99.99% fine, which I haven't been able to confirm. That's a lot of training for a "gold" medal that doesn't even contain 1/5 of a single troy ounce of gold and that, by every possible measurement metric, should truly be called a silver medal."
As noted at the start of today's email we think we are getting very close to decent buy zones for both gold and silver. So if you've been thinking of buying best you keep a close eye on the price in the coming days. Or you can let us do that for you and sign up for our daily price alert.
Or if you're ready to buy now then get in touch for a free quote. Feel free to have a "test run" and request a quote to see how the process works, even if it's a few days before you're ready to buy.
Faster Delivery & Lower Prices
There has been a slow down in retail demand for gold and silver lately.  The upshot is the delivery for the likes of Royal Canadian Mint 1oz silver maples is the fastest it has been for some time. We still have free shipping on these boxes of 500 x 1oz Canadian 9999 purity Silver Maples delivered to your door via UPS, fully insured until you sign for them.Price today is $15,110.
Delivery in approx 7-10 business days.
Lastly, don't forget to check out the articles posted on the site this week linked below.
** Urgent Message for All Car Owners **A compact, revolutionary tool can save your life.
We believe everyone who drives or rides in a vehicle must carry this tool.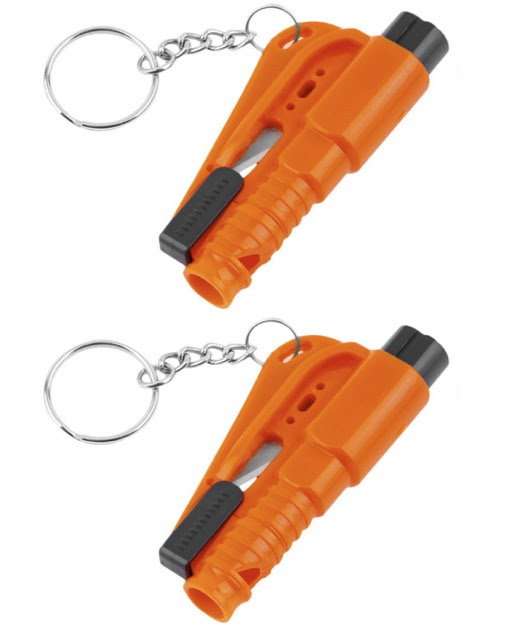 The Keychain Car Escape Tool can save lives.
For less than the price of 2 movie tickets you can get 2 of these.
One for each car in your family or give one to someone you care about.
—–
This Weeks Articles:
Thu, 25 Aug 2016 11:14 AM NZST
Today the price of gold in US Dollars is not that far above the level of US$1310 that Stewart Thomson identifies as a possible low before a further move higher for gold. The drop in price overnight was seemingly caused by a massive $1.5 Billion sale of gold futures at a low volume time of […]
Thu, 25 Aug 2016 9:42 AM NZST
To follow is an excellent article that shines a ray of hope for anyone that believes we are heading towards a more centralised world with bigger governments gaining even more control. Dan Denning previously wrote for Money Morning in Australia, after shifting there from the US. We heard him speak at the Gold Symposium in Sydney on […]
Thu, 25 Aug 2016 9:09 AM NZST
An interesting question from a reader this week on storing precious metals: "Will gold survive a house fire?" This is far from a clear cut yes or no answer and depends upon other factors like how and where the gold is stored in the house.   First a couple of facts about storing gold and […]
Wed, 24 Aug 2016 11:32 AM NZST
Negative interest rates aren't in New Zealand and they won't ever happen here will they? Well, the below article shows how some banks in some countries are charging them to customers even though negative interest rates are not widespread there yet. While our rates are well above zero currently, it seems like the prevailing trend […]
Wed, 24 Aug 2016 10:50 AM NZST
We theorised after the Brexit vote outcome that in the long run it would benefit the UK, but be detrimental to the EU. This article delves into the rationale as to why this is the most likely outcome… Picking Up the UK Tab By Jeff Thomas Back in the late '90s, I began saying, "I'll […]
Thu, 18 Aug 2016 5:35 PM NZST
This Week: Brexit Aftermath: What Next? A North American Union in the Cards? NZ Rental Yields Falling – But NZ Loves the Property Bubble Lord Rothschild: Sells Shares and Buys Gold —– New Gold Special Today 1kg Swiss PAMP Gold bars 9999 Purity (20 in total) $61,250 per 1kg bar – pick up Elsewhere around […]
As always we are happy to answer any questions you have about buying gold or silver. In fact, we encourage them, as it often gives us something to write about. So if you have any get in touch.
Email:

[email protected]

Phone: 0800 888 GOLD ( 0800 888 465 ) (or +64 9 2813898)
or Online order form with indicative pricing
---
---
---
Note:
Prices are excluding delivery
1 Troy ounce = 31.1 grams
1 Kg = 32.15 Troy ounces
Request special pricing for larger orders such as monster box of Canadian maple silver coins
Lower pricing for local gold orders of 10 to 29ozs and best pricing for 30 ozs or more.
Foreign currency options available so you can purchase from USD, AUD, EURO, GBP
Note: Your funds are deposited into our suppliers bank account only. We receive a finders fee direct from them only.

---
Can't Get Enough of Gold Survival Guide?
If once a week isn't enough sign up to get daily price alerts every weekday around 9amClick here for more info
---
Our Mission
To demystify the concept of protecting and increasing ones wealth through owning gold and silver in the current turbulent economic environment.
To simplify the process of purchasing physical gold and silver bullion in NZ – particularly for first time buyers.
---
---
The Legal stuff – Disclaimer:
We are not financial advisors, accountants or lawyers. Any information we provide is not intended as investment or financial advice. It is merely information based upon our own experiences. The information we discuss is of a general nature and should merely be used as a place to start your own research and you definitely should conduct your own due diligence. You should seek professional investment or financial advice before making any decisions.
Copyright © 2016 Gold Survival Guide.
All Rights Reserved.