This Week:
3 Current Positives for Gold
An Upside Surprise for Precious Metals From US Election?
A Perfect Storm Has Formed in the Gold Market
These Three Major Catalysts Are Poised to Send Gold to the Moon
Prices and Charts
| | Spot Price Today / oz | Weekly Change ($) | Weekly Change (%) |
| --- | --- | --- | --- |
| NZD Gold | $1783.82 | + $9.99 | + 0.56% |
| USD Gold | $1298.09 | + $31.04 | + 2.45% |
| NZD Silver | $25.45 | + $0.72 | + 2.91% |
| USD Silver | $18.52 | + $0.86 | + 4.86% |
| NZD/USD | 0.7277 | + 0.0134 | + 1.87% |
Gold shot higher this week. In US dollars (bottom half of the below chart) gold made it back up above $1300 for the first time in a month. It has now regained all of the fall that occurred during October.
In New Zealand dollars gold is up too. Although the strengthening Kiwi dollar has dulled the rise somewhat. Nevertheless NZD gold is touching on the 50 day moving average today. It looks likely that the $1750 level (which has been touched 5 times this year) was the bottom.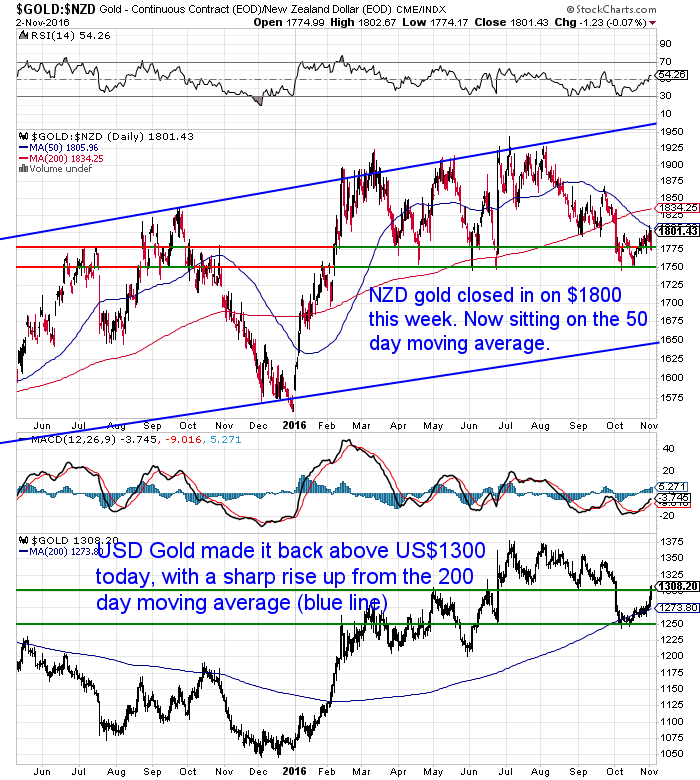 Silver jumped even more than gold. It too has now regained most of the fall that occurred in October. NZD silver got above the 200 day moving average this week and is now right on the 50 day moving average. It might take a bit longer for it to build enough momentum to get firmly back above this line though.
Our guess is that any return close to the blue rising trendline should be bought.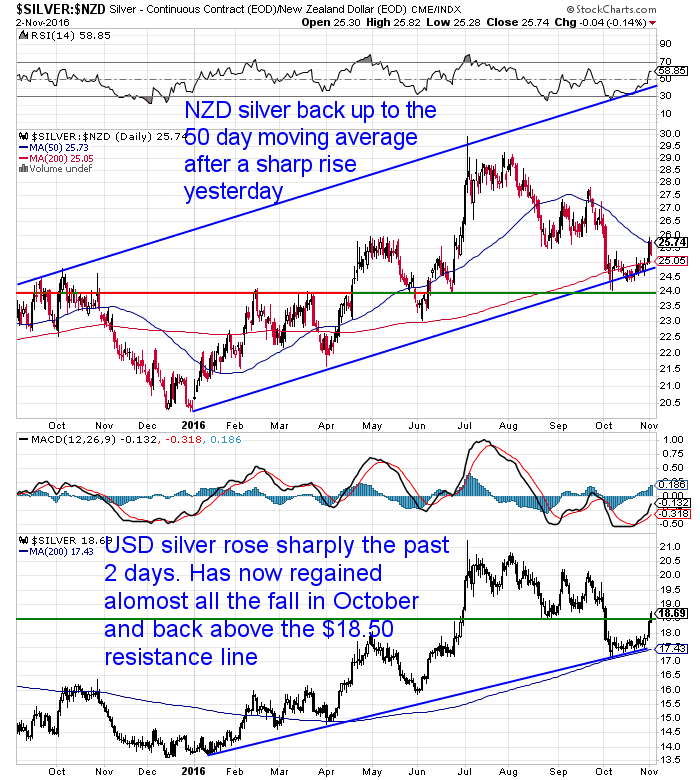 As noted already the Kiwi dollar has moved higher alongside the metals this week. It too is sitting on the 50 day moving average.
Chart of the Week
Here's a chart that we don't remember posting for a long time – if at all for that matter.
It's of the Gold Miners Bullish Percent Index (a.k.a. BPGDM).

Here's a decent definition if you'd like one:
"The Gold Miners Bullish Percent Index ($BPGDM) is a gauge of overbought and oversold conditions for the gold mining sector. It is a breadth indicator based on the number of stocks with Point & Figure buy signals (a Point & Figure chart emphasizes strong moves while ignoring small ones) within this index.
The Gold Miners Bullish Percent Index's range varies between 0 and 100.

Generally, a reading below 30 indicates oversold conditions in the gold mining stocks sector, and a reading above 70 indicates overbought conditions. This indicator is used as a tool to decide when to buy or sell gold mining stocks, but since gold stocks very often move in tune with gold or silver, it can be a useful tool when determining the direction of the entire precious metals sector. The index can be used in conjunction with a gold price chart, or multiple other tools, to watch for additional confirmations of a trend."
So in essence the BPGDM can be a pretty good indicator of sentiment in the gold market in general.
We can see that quite clearly in the chart above. The gold line is the price of gold and it tracks pretty closely to the BPGDM. In July the BPGDM reached the maximum reading of 100! The gold price topped out shortly afterwards. But since then the reading on the BPGDM dropped all the way back to 18! This wasn't too much above the lows from January of 14.
So this sub 30 level on the index proved to be a good buying point again, as gold looks to have bottomed out during the month of October. As we said for silver keep an eye out for any further dip back down in price as a good buying position.
While we're looking at charts, here's a couple articles worth checking out by Clive Maund. They also indicate that gold and silver may have found bottoms recently.
Continues below
—– OFFER FROM OUR SISTER COMPANY: Emergency Food NZ —–
Preparation also means having basic supplies on hand.
Are you prepared for when the shelves are bare?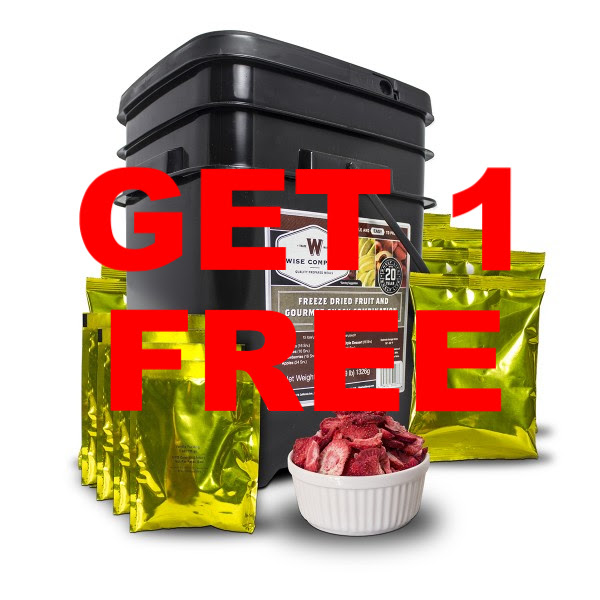 Get a FREE bucket of freeze dried fruit or veges (Up to $316 value)
When you purchase 2 buckets of Mains and Breakfasts.
Another Positive for Gold
One issue that worried many in the gold community was the high level of large speculators going long in the futures markets, as noted in the commitment of traders report.
Steve Sjuggerud noted that this appears to be changing.
"Wow. I can't believe the sea change that has happened in gold in the last two weeks…
 
Two weeks ago, my headline here in DailyWealth was "Gold Isn't a Buy Yet… But it's Close."
 
That day, I said:
—
"Personally, I look forward to getting back into gold and gold stocks with my own money… They have fallen, a lot, and I believe we're at the early stages of a major long-term bull market in gold stocks.
 
But even after such a fall, and even with my long-term outlook, I personally can't get excited just yet…
 
Unfortunately, gold is still loved… And it's still in a downtrend."
—
 
My, what a difference a couple of weeks makes…
 
Today, large investors are bailing out of gold – at a frenzied pace. Take a look…
 
 
Meanwhile, the bleeding might have stopped in the price of gold. It's hard to call it an "uptrend" right now… But gold has moved sideways for weeks. The downtrend might be nearing its end.
 
…investors have massively changed their opinions on gold and other precious metals in just the last couple weeks. And big investors have started to throw in the towel.
 
I didn't think it would happen this quickly, or to this degree. But it's true. Gold is quickly moving from "loved" toward "hated" again.
 
I love to see this… This makes gold and other precious metals much more attractive than they were just a couple weeks ago."
 
This was written almost a week ago now and the uptrend in gold looks a little more certain. Another positive indicator anyway if you're looking for a decent entry point to buy.
Upside Surprise For Precious Metals From US Election?
Even after the reopening of the investigation into "crooked" Hillary's emails, the mainstream consensus both here and in the US still seems to be for a Clinton win.
But more and more of the alternative media we read seem to indicate many positive indicators of a Trump victory. The National Inflation Association had some interesting polls stats this week:
"…the odds of Donald Trump winning the state of Ohio have just reached a record high of 59%. The winner of Ohio has won every previous Presidential election. In Florida, the largest battleground state, Trump is building major momentum with his odds of winning now up to 44% compared to only 19% back on October 12th."
And this one:
During the last Presidential election, the LA Times was the most accurate poll. They showed Obama up 4 points when most other polls had him tied with Romney. Currently, the LA Times is using a more modest oversample of 2 points and they have Trump in the lead by 2 points. If we adjust the other polls to a 2 point Democrat oversample to match the LA Times, both FOXNews and IBD would also have Trump up 2 points and Trump's average lead would be 2.67%."
Meanwhile the US stock market is also not looking good for Clinton according to this mornings Daily Reckoning:
"Going back to World War II," notes Sam Stovall, chief investment strategist at CFRA, "the S&P 500 performance between July 31 and Oct. 31 has accurately predicted a challenger victory 86% of the time when the stock market performance has been negative."
And the crystal ball's showing a Trump win…
The S&P ended July at 2,173. It ended October at 2,126… 47 points lower.
More omens gathering for Trump: Gold's soared over 2% since FBI director James Comey's announcement last Friday. It spiked almost $18 today alone, to $1,309. Many consider a vote for gold a vote for Trump."
So to us the odds of another Brexit-like surprise outcome seem to be much closer than most would expect.
If Trump wins we will likely see a jump in volatility in the sharemarket. That is already happening after the FBI investigation announcement.
If gold's correction has ended (as we suspect it has) then we could likely see a decent jump in gold and silver prices with a Trump win. As everyone seems to be bracing for "uncertainty".
Although HSBC's Chief Precious Metals Analyst advises to buy gold no matter who wins the election.
"…James Steel says it'll enjoy at least a 8% jump whoever wins the race.
Both candidates have espoused trade policies that could stimulate demand, with gold offering a potential "protection against protectionism," he says. Even the relatively more internationalist Democratic candidate has argued for the renegotiation of longstanding free-trade agreements. That's positive for gold — even if "not on the scale of Mr Trump's agenda."
If the real-estate magnate triumphs, gold could rise to $1,500 an ounce, according to HSBC, up from around $1,289 at time of writing.
If Clinton wins, the price of the metal could improve to $1,400 an ounce by year end, Steel writes, adding that a Democratic sweep of Congress would further stoke demand for the metal owing to a possible boost in fiscal spending. Clinton's not alone in having suggested stimulus through channels outside of monetary policy, with Trump at one point saying he would put at least half a trillion dollars to work."
Don't know how Mr Steel manages to come up with such exact moves under each candidate. He must have a very accurate algorithm or something?
But the key point would seem to be that either candidate intends to try and spend their way to prosperity. We doubt it matters who wins. The massive aircraft carrier USA is already on a predetermined course and even Captain Trump likely won't be able to alter it too much. But he might help to blow the boat up a bit faster maybe?
So to us a gold or silver purchase here looks to be at a pretty good level regardless of the election outcome. Gold and silver might well have finished their corrections from the sharp run up in the first half of 2016.
But there is also has the chance of some short sharp upside if Trump does manage to get across the line.
If you think that makes sense then don't wait too long to pull the trigger.
Get in touch if you have any questions about the buying process. David is only too happy to answer them.
** Urgent Message for All Car Owners **A compact, revolutionary tool can save your life.
We believe everyone who drives or rides in a vehicle must carry this tool.
The Keychain Car Escape Tool can save lives.
For less than the price of 2 movie tickets you can get 2 of these.
One for each car in your family or give one to someone you care about.
—–
This Weeks Articles:
Wed, 2 Nov 2016 1:44 PM NZST
We read about this event a week ago but haven't seen it mentioned too much anywhere else. It's a change that will potentially add a huge number of new gold buyers to the global gold market from 2017 onwards… These Three Major Catalysts Are Poised to Send Gold to the Moon By Justin Spittler Editor's […]
Wed, 2 Nov 2016 1:07 PM NZST
Gold mining stocks (or shares as we call them here in New Zealand) have made some big gains this year. But their recent correction looks to have scared many people off. However there are a number of reasons to believe that we are likely still in the early stages of an ongoing up cycle in […]
Fri, 28 Oct 2016 5:49 PM NZST
The indicator discussed in this article has a two fold use. We use it to determine when is the better time to buy silver versus gold. But as explained below it also has the added benefit if you are interested in investing in gold mining shares, of identifying high upside entry times for them too… […]
Thu, 27 Oct 2016 9:19 PM NZST
This Week: Government Destroys National Central Banks to Build Global One 10 Steps to Help You Navigate the Challenges Upon Us A Reset is Coming Prices and Charts Spot Price Today / oz Weekly Change ($) Weekly Change (%) NZD Gold $1773.83 + $15.00 + 0.85% USD Gold $1267.05 – $3.00 – 0.23% NZD Silver […]
As always we are happy to answer any questions you have about buying gold or silver. In fact, we encourage them, as it often gives us something to write about. So if you have any get in touch.
Phone: 0800 888 GOLD ( 0800 888 465 ) (or +64 9 2813898)
or Online order form with indicative pricing
---
---
---
Note:
Prices are excluding delivery
1 Troy ounce = 31.1 grams
1 Kg = 32.15 Troy ounces
Request special pricing for larger orders such as monster box of Canadian maple silver coins
Lower pricing for local gold orders of 10 to 29ozs and best pricing for 30 ozs or more.
Foreign currency options available so you can purchase from USD, AUD, EURO, GBP
Note: Your funds are deposited into our suppliers bank account only. We receive a finders fee direct from them only.
---
Can't Get Enough of Gold Survival Guide?
If once a week isn't enough sign up to get daily price alerts every weekday around

9am

Click here for more info
---
Our Mission
To demystify the concept of protecting and increasing ones wealth through owning gold and silver in the current turbulent economic environment.
To simplify the process of purchasing physical gold and silver bullion in NZ – particularly for first time buyers.
---
---
The Legal stuff – Disclaimer:
We are not financial advisors, accountants or lawyers. Any information we provide is not intended as investment or financial advice. It is merely information based upon our own experiences. The information we discuss is of a general nature and should merely be used as a place to start your own research and you definitely should conduct your own due diligence. You should seek professional investment or financial advice before making any decisions.
Copyright © 2016 Gold Survival Guide.
All Rights Reserved.