Gold Kiwi 1oz Coin Special
80 x 1oz NZ Mint 99.99% Gold Kiwi Coins.

Good condition (no scratches) and various years but not in individual plastic wrapping or casings.
Normally priced at Spot + 5.7% at NZ Mint.
Selling 1-9 coins at Spot plus 5% (Approx $1807)
Selling 10-28 coins at Spot + 4% (Approx $1790)
Selling 29+ coins at Spot plus 3% (Approx $1772)
Get in fast as there's only 80 in stock!
Ph 0800 888 465 and speak to David or reply to this email.
This Week:
NZ Dollar still falling
Impact of NZ Current Account Deficit
Bond market crash?
Prices and Charts
| | Spot Price Today / oz | Weekly Change ($) | Weekly Change (%) |
| --- | --- | --- | --- |
| NZD Gold | $1724.61 | + $43.01 | + 2.55% |
| USD Gold | $1185.50 | – $0.70 | – 0.06% |
| NZD Silver | $23.45 | + $0.67 | + 2.94% |
| USD Silver | $16.12 | + $0.05 | + 0.31% |
| NZD/USD | 0.6874 | – 0.018 | – 2.55% |
NZ Dollar still falling
The falling NZ dollar continues to give local gold and silver prices a decent bump higher. As you can see in the table above gold up 2.55% and silver up 2.94% this week care of a 2.55% fall in the NZD/USD exchange rate.
Looking at the NZD gold chart below we can see this has pushed the price up above the steady uptrend it has been in. It did this in January but given how fast it climbed it wasn't a surprise to see it tumble down just as fast.
By contrast this rise since the start of May has been more measured. So perhaps it will also be a more sustainable rise?
NZD gold hasn't been below $1650 for over a month now.
There is certainly no denying that NZD gold is in an uptrend.
NZD silver also looks to be in a steady uptrend. Perhaps making a higher low just above NZ$22 earlier in June?
As stated already the New Zealand Dollar remains the key driver of local precious metals prices (you can see in the lower half of each chart that the USD prices have been fairly stagnant in comparison).
The Kiwi dollar was very volatile this morning. It got down briefly below .69 this morning but after the latest US Fed announcement it bounced back up to just under .70.
Fed holds off on interest rate hike, downgrades economic forecast
The Fed wording supposedly means they are slightly less likely to raise rates this year although the survey of the FOMC members shows "15 of the 17 members of the policymaking Federal Open Market Committee still expect to raise the rate this year".
Our bet is they won't raise rates this year but just keep the talk up. Given how woeful the Fed predictions of economic performance have been the fact that they have downgraded could well mean it will be even worse!
Plus you also have officials at the IMF and the World Bank saying the Fed should wait until next year at least due to concerns an increase could slow U.S. growth and roil the global economy.
We'd also prefer to take notice of Jeff Gundlach, a.k.a. the "Bond King" rather than Fed members on the direction of interest rates:
Anyway back to the NZ dollar…
So we guess it means currency traders bought the NZ dollar after the Fed announcement on the expectation that the interest rate differential between it and the USD won't be growing wider just yet.
However only a short time later the latest New Zealand GDP numbers came out and the Kiwi dollar fell right back to where it was before the Fed announcement.
The GDP numbers weren't pretty and currency traders took it out on the Kiwi dollar for sure:
NZD/USD hammered on GDP misses
In another story…
So lower interest rates ahead for NZ still, as we've been saying for a while.
Current Account Deficit up to $8.6b and lower dairy prices yet to hit
This slowdown in growth was also backed up by the NZ current account deficit widening to 3.6% of GDP. That is the largest it has been for a year and a half.
This simply means that "New Zealand earned $8.6 billion less from the rest of the world through trade and investment in the year to March than the rest of the world earned from us."
What does an ongoing current account deficit mean?
It's worth taking a minute to consider what an ongoing current account deficit actually means.
Simply that we have to borrow from offshore to fund our lifestyle.
We were reminded of this by some comments in the Daily Reckoning Australia recently.
You can see in the chart below that it has been this way for years, but has gotten much worse in the past 10 years. (Note: The chart is quarterly so the odd blip in positive territory is cancelled out by the other quarters around it that are negative).
Interestingly this worsening of the deficit coincides with the rise of house prices here in the past decade. This is perhaps not surprising given a current account deficit simply means foreigners must finance our excess consumption.
We'll hand off to some comments on Australia by Greg Canavan as they could apply to New Zealand just as well here:
Indeed. Like Australia, while we continue to run deficits we'll continue to need to borrow from offshore to fund our "lifestyle" and we'll continue selling assets to foreigners as well.
We can talk of various rules and regulations to stop this, but it simply is a requirement of us spending more than we make. Without this offshore funding things here would likely tumble – a lot.
And as Greg says at some point this may matter – a lot. But we just don't know when.
Bond Crash?
We noted earlier that we don't think the Fed will raise interest rates in the US this year.
But there is a decent counter argument to this that we read last week from Ambrose Evans Pritchard in the Telegraph.
He believes there will be a bond crash across the world as the deflation trade goes horribly wrong, spearheading a violent re-pricing of credit across the world.
This article ties in nicely with one from Darryl Schoon that we just posted on the website last night. He outlines how the recent rises in government bond interest rates are sending us some loud warnings about how this might be the end of an era.
He also explains why he disagrees that a big central bank instigated monetary reset and new global currency is coming, but rather a different kind of reset…
PANIC IN THE BOND MARKETS – The Bankers' Last Arena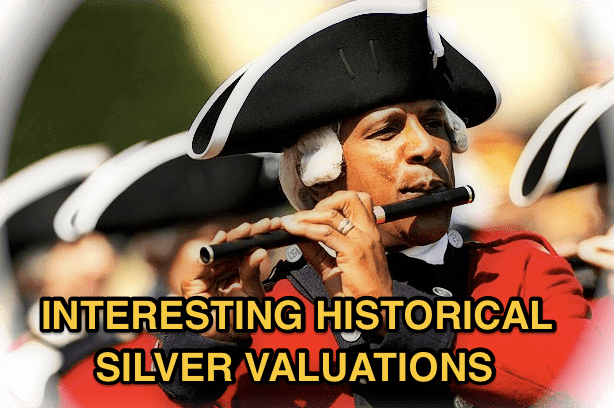 Also if you like a bit of history you should check out the other article and accompanying video showing some historical comparisons in the valuation of silver.
Interesting Historical Comparisons in the Valuation of Silver
As we sign off the NZ Dollar has continued to fall and we've just had to update our prices in this email.
So it appears that it is still the NZ Dollars turn to take a dive in the ongoing currency skirmishes.
If you want some protection from this without having to buy the US dollar then gold or silver might be just the ticket. Unlike a currency trade there is no counterparty risk involved in holding physical gold or silver.
Let us know if you'd like a quote!
Free delivery anywhere in New Zealand and Australia
We've still got free delivery on boxes of 500 x 1oz Canadian Silver Maples delivered to your door via UPS, fully insured.
Todays price is $14,175 and delivery is now about 7-10 business days.
This Weeks Articles:
2015-06-11 01:08:27-04
This Week: NZ Dollar Could Fall Further Yet Impacts of falling NZ interest rates? Bond Prices and Derivatives Interest Rates and QE – not what you'd expect   Prices and Charts Spot Price Today / oz Weekly Change ($) Weekly Change (%) NZD Gold $1681.60 +$20.30 + 1.22% USD Gold $1186.20 + $0.20 + 0.01% […]
2015-06-14 20:26:13-04
We've featured Chris Duane and others who have looked at historical valuations and comparisons of silver in the past (Check out the related posts at the end for some of these). This video below covers a number of historical comparisons in the valuation of silver such as what it bought in the past or what […]
2015-06-17 04:31:49-04
Just how significant are the recent rises in government bond interest rates (i.e. falling bond prices)? Darryl Schoon outlines how they are sending us some loud warnings about how this might be the end of an era. He also explains why he disagrees that a big central bank instigated monetary reset and new global currency […]
As always we are happy to answer any questions you have about buying gold or silver. In fact, we encourage them, as it often gives us something to write about. So if you have any get in touch.
Phone: 0800 888 GOLD ( 0800 888 465 ) (or +64 9 2813898)
or Online order form with indicative pricing
---
Today's Spot PricesSpot Gold
NZ $ 1724.61 / oz
US $ 1185.50 / oz
Spot Silver
NZ $ 23.45 / ozNZ $ 753.91 / kg
US $ 16.12 / ozUS $ 518.24 / kg
---
---
Note:
Prices are excluding delivery
1 Troy ounce = 31.1 grams
1 Kg = 32.15 Troy ounces
Request special pricing for larger orders such as monster box of Canadian maple silver coins
Lower pricing for local gold orders of 10 to 29ozs and best pricing for 30 ozs or more.
Foreign currency options available so you can purchase from USD, AUD, EURO, GBP
Note: Your funds are deposited into our suppliers bank account only. We receive a finders fee direct from them only.
---
Can't Get Enough of Gold Survival Guide?If once a week isn't enough sign up to get daily price alerts every weekday around

9am

Click here for more info
---
Our Mission
To demystify the concept of protecting and increasing ones wealth through owning gold and silver in the current turbulent economic environment.
To simplify the process of purchasing physical gold and silver bullion in NZ – particularly for first time buyers.
---
We look forward to hearing from you soon.Have a golden week!

David (and Glenn)

Ph: 0800 888 465

From outside NZ: +64 9 281 3898
---
The Legal stuff – Disclaimer:We are not financial advisors, accountants or lawyers. Any information we provide is not intended as investment or financial advice. It is merely information based upon our own experiences. The information we discuss is of a general nature and should merely be used as a place to start your own research and you definitely should conduct your own due diligence. You should seek professional investment or financial advice before making any decisions.
Copyright © 2015 Gold Survival Guide.All Rights Reserved.