Wanting Some Small Denomination Silver Bars?
LIMITED STOCK – Just 70 Remaining
Sunshine Mint (USA) 10oz .999 Silver Minted Bars
$266 each pick up
(Insured delivery price add $9.20 when purchasing 1-12 bars)
Note: Locally refined 10oz bars are $273.40 each – pick up
(and they are only cast versus these minted bars)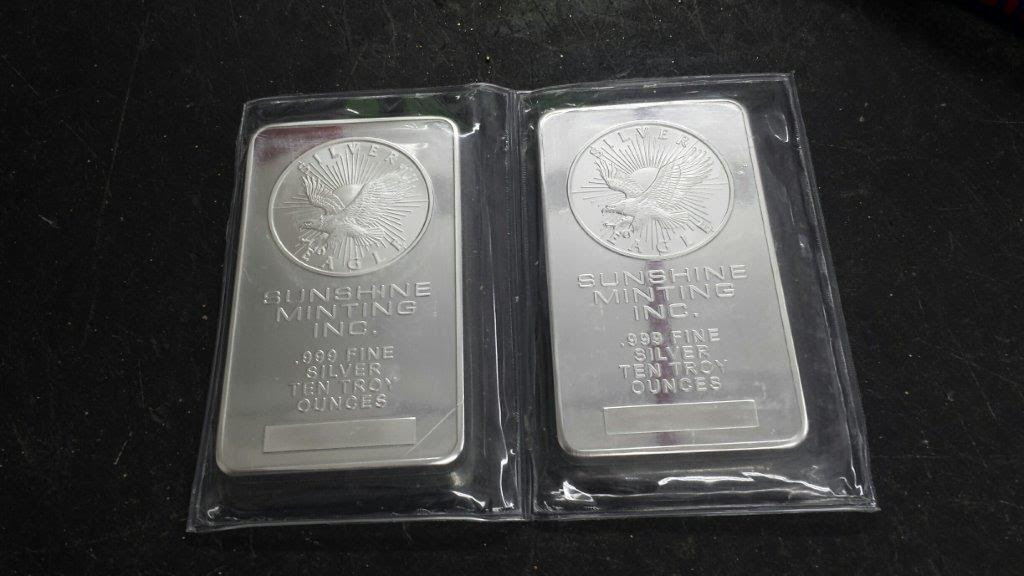 Ph 0800 888 465 or simply reply to this email to secure them
This Week:
How Does Gold Compare to Shares For the Past 100 Years?
Silver Flash Crash Signals Market Bottom?
Dissent within the Fed?
Silver + June = More Ounces for Your Currency!
Prices and Charts

Looking to sell your gold and silver?
Buying Back 1oz NZ Gold 9999 Purity
$1646
Buying Back 1kg NZ Silver 999 Purity
$703
Gold Down – But Silver Up – Just
Gold in NZ Dollars is down yet again this week. It's been a pretty relentless fall all this month.
The local gold price touched $1700 briefly earlier this week during what has been call a "
fat finger flash crash
".
Supposedly some junior trader got confused between ounces and futures contracts or someone made a typo and sold $2 Billion worth of gold at 4am. Hmmm. Seems suspicious to us.
This tripped stop losses galore and gold plummeted before bouncing back to close only $10 lower than where it started. The story went that the whole sale was bought back in the minutes that followed. But as already stated not before many other stop losses were tripped and traders sold
More on that shortly with an interesting angle on why it may signal the bottom for silver.
Since then the US gold price has headed higher. The NZ Dollar gold price is still higher than the low during the flash crash. But the Kiwi dollar has strengthened even further today so NZ gold is struggling to make much headway.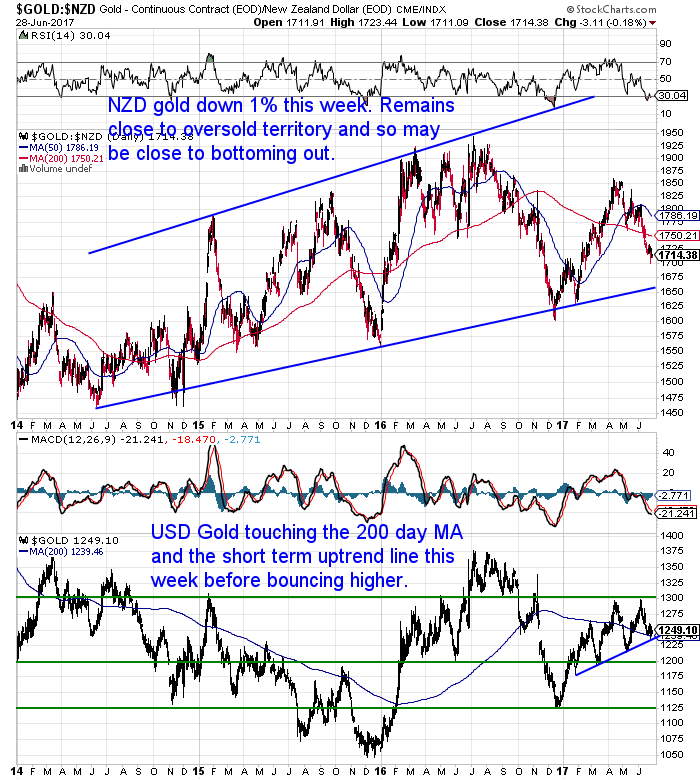 NZD silver has bounced back more strongly than gold after the flash crash. Today it is back above the $23 level for the first time in almost of weeks. Even up slightly on a week ago.
The RSI indicator is just edging up out of oversold territory. Now we'll see if it can rally convincingly from here.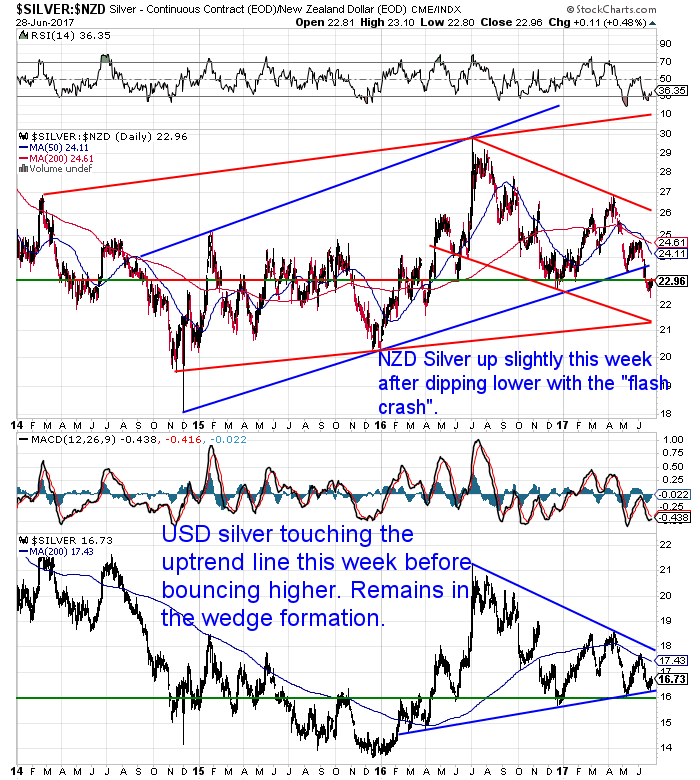 As alluded to already, the Kiwi Dollar has headed even higher this week. Although the MACD indicator does look to be turning down, so this current rise might not have much left in it. (Although we have been saying that for a a week or more already!)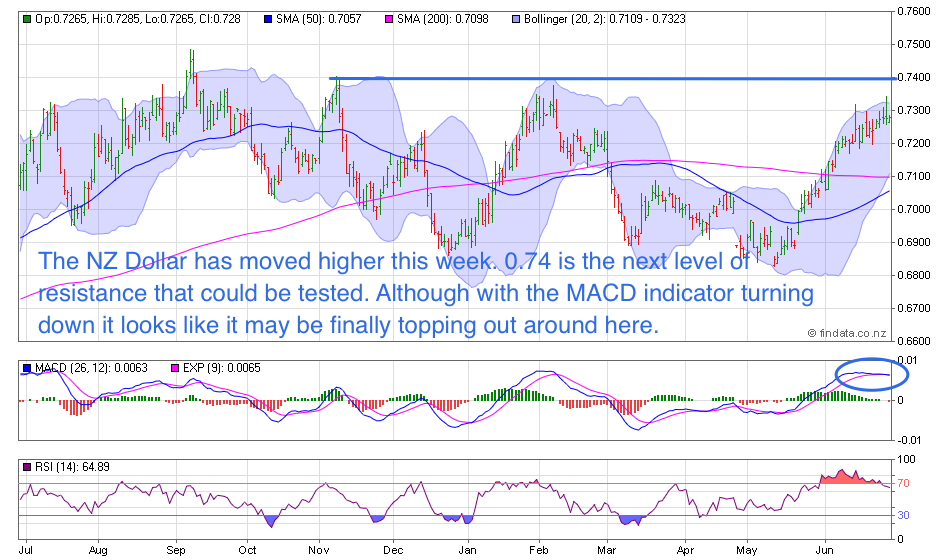 Silver Flash Crash Signals Market Bottom?
Bix Weir had some interesting thoughts on why the "flash crash" in silver might signal a bottom.
Of course Bix doesn't doubt the cause of the flash crash. It's nothing to do with fat finger typos or dense junior traders. But straight out manipulation.
But he reckons this plunge is a sign they are ready to take the price higher. This was an orchestrated move to flush traders out before the next run higher.
How Does Gold Compare to Shares For the Past 100 Years?
Last week we asked for ideas on what to write about. Thanks to those who took the time to respond with ideas.
One question we got this week was a request to look at gold versus shares rather than just against fiat currency.
So that's what we did in this week's feature article. You'll discover:
That shares outperformed gold over the last 100 years.
But why perhaps you shouldn't simply compare shares/stocks to gold over a long period of time and then use this as an argument not to buy gold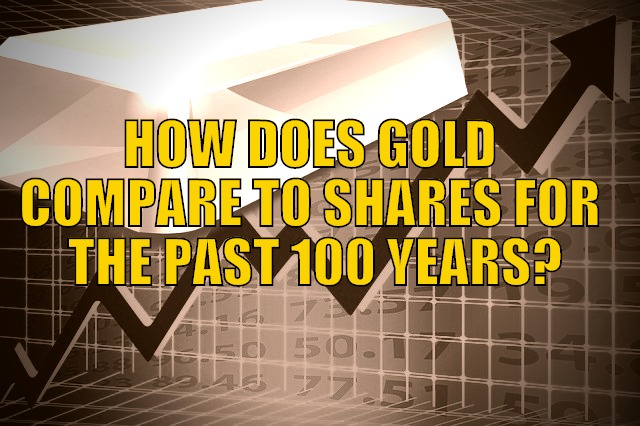 Dissent within the Fed?
This morning Jim Rickards explained why he believes the US Central Bank is likely to pause its interest rate increases in September. Last week there were some key words from insiders that led him to believe this.
"Now, what happened last week that's so pivotal?
What happened was that the opposition to more tightening broke out in open revolt.
Charles Evans of the Chicago Fed and other prominent commentators like Larry Summers said that a rate hike in September would be a huge mistake. (There's a Fed meeting in late July, but no one expects a rate hike then.)
These voices were added to earlier opposition from Fed Gov. Lael Brainard, who gave a speech on May 30 saying she was a yes vote for the recent June rate hike but is a likely no vote in September.
Why the opposition to tightening all of a sudden, and what does this have to do with gold?
Again, the reason for the opposition is that disinflation, one of our model pause factors, has returned with a vengeance. Both actual inflation and inflationary expectations are plunging. The global economy is slowing perceptibly.
The disinflation is coming from the prior Fed rate hikes going back to last December. One more rate hike this September would be suicidal for economic growth. We're likely headed to a recession by late summer anyway. The Fed is poised to make things worse. That's why they'll eventually change course and not raise rates in September.
Once that message gets out, gold prices will soar.
Forward guidance about no rate hikes is a form of ease, which will weaken the dollar and send commodity prices and the dollar price of gold much higher.
Gold has been performing well against the head winds of higher rates. Once the head winds turn to tail winds, gold will be like a thoroughbred in the paddock when the bell sounds and the paddock gate springs open. "They're off!!"
I expect gold to win the race against all other forms of money."
Despite falling since April gold has actually done pretty well so far this year. But sentiment towards gold doesn't reflect this at all.
Conversely silver (particularly in NZ Dollars) has struggled in 2017. It shot up initially but has given up all those gains and a bit more.
However this happening mid year is not a major surprise. Below Jeff Clark has crunched the numbers on silver's performance and this shows that historically silver dips the most in June.
Silver + June = More Ounces for Your Currency!
I calculated the average gain and loss of silver for every day of the year since 1975 and put it in a chart. Here's what it shows.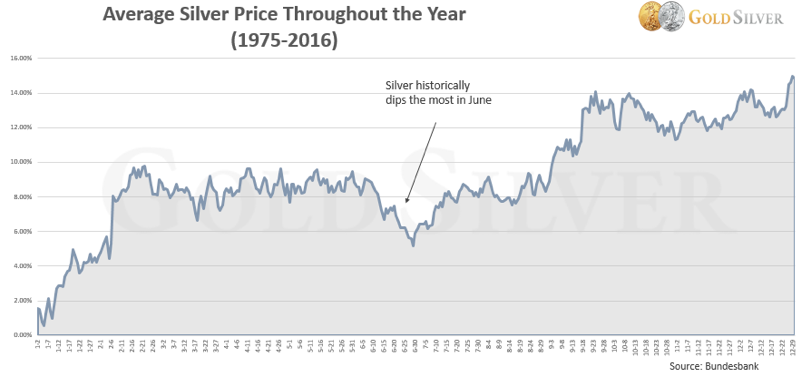 "The official beginning of summer occurs in mid to late June every year (this year it was June 21), and you can see that is when silver historically has its biggest dip of the year. There are always exceptions, but 41 years of data says we shouldn't be surprised to see silver sell off this month.
What this means is that other than January, the best time of the year to buy silver is in June.
In other words, now. Yes, today. As in, log on now or pick up phone and buy some silver.
If you don't, history says you will likely pay a higher price later.
Of course, any correction is a buying opportunity if you don't have enough bullion to offset an economic or monetary crisis. In that type of environment—and one we think is inevitable—physical gold and silver are one of the few assets that will prevail.
So only a couple of days left to buy in June!
On top of this it's worth again looking at this chart of Fed rate hikes and the US gold price.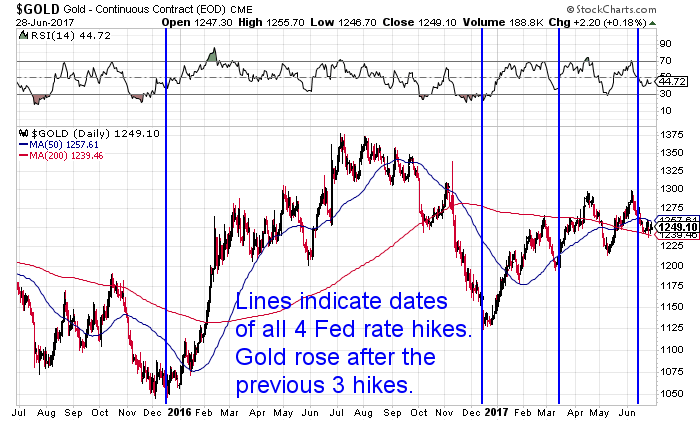 Does it appear that gold may once again be bottoming out soon after a US central Bank interest rate rise?
So if both of these historical occurrences play out again, this will make now a great time to buy either metal. On top of this the NZ Dollar looks quite "toppy" so if this turns down soon, that will also gives local gold and silver prices a boost.
2016 Perth Mint Silver Kangaroos 9999 purity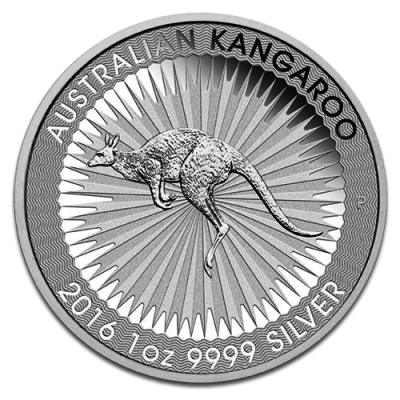 500 x 1oz Perth Mint (Year 2016) Silver Kangaroos are $13,800 fully insured and delivered and delivery is now about 7 business days away.
Call David on 0800 888 465 for a quote or with any questions.
Phone: 0800 888 GOLD ( 0800 888 465 ) (or +64 9 2813898)
or Online order form with indicative pricing
— Prepared for Power Cuts? —
[BACK IN STOCK] New & Improved Inflatable Solar Air Lantern
It's easy to use. Just charge it in the sun. Inflate it. And light up a room.
6-12 hours of backup light from a single charge! No batteries, no wires, no hassle. And at only 1 inch tall when deflated, it stores easily in your car or survival kit.
Plus, it's waterproof so you can use it in the water.
—–
This Weeks Articles:
Thu, 29 Jun 2017 12:39 PM NZST
Stewart Thomson argues that commercial players are back buying silver and so the current price is right in a zone where silver bugs should be buyers too. He also delves into the demand for silver in China and gold in India… Gold And Silver: Respect The Bar Graceland Updates By Stewart Thomson At about 4:00am […]
Thu, 29 Jun 2017 11:31 AM NZST
Here's how with proper planning, you can greatly reduce the risk your home government presents to your financial and personal well-being. You'll see how there are four core areas to consider, some of which you may not have thought about before : your savings, your citizenship, your income, and your digital presence… The Best Way […]
Tue, 27 Jun 2017 2:24 PM NZST
Here's a great question from a reader on gold versus shares. You'll see why perhaps you shouldn't simply compare shares/stocks to gold over a long period of time and then use this as an argument not to buy gold… QUESTION: Often you see the comparison of how currency, example a dollar bill is eventually worth […]
Fri, 23 Jun 2017 1:06 PM NZST
Here's why gold stocks could deliver historic gains in the years ahead…and why now is the time to take advantage… Doug Casey: How You Could Make 10, 20, Even 50 Times Your Money in the Coming Gold Mania By Doug Casey Justin's note: Opportunities to make 50 times your money don't come around often. But […]
Fri, 23 Jun 2017 2:32 AM NZST
This Week: Gold Near All Time Lows? Huh? All Golden Eyes On The Fed An Empire Self-Destructs Doug Casey on Nuclear War With North Korea Got a gold or silver related question? Prices and Charts Looking to sell your gold and silver? Visit this page for more information Buying Back 1oz NZ Gold 9999 […]
As always we are happy to answer any questions you have about buying gold or silver. In fact, we encourage them, as it often gives us something to write about. So if you have any get in touch.
Phone: 0800 888 GOLD ( 0800 888 465 ) (or +64 9 2813898)
or Online order form with indicative pricing
---
---
---
Note:
Prices are excluding delivery
1 Troy ounce = 31.1 grams
1 Kg = 32.15 Troy ounces
Request special pricing for larger orders such as monster box of Canadian maple silver coins
Lower pricing for local gold orders of 10 to 29ozs and best pricing for 30 ozs or more.
Foreign currency options available so you can purchase from USD, AUD, EURO, GBP
Note: For local gold and silver orders your funds are deposited into our suppliers bank account. We receive a finders fee direct from them. Pricing is as good or sometimes even better than if you went direct.

---
Can't Get Enough of Gold Survival Guide? If once a week isn't enough sign up to get daily price alerts every weekday around 9am Click here for more info
---
Our Mission
To demystify the concept of protecting and increasing ones wealth through owning gold and silver in the current turbulent economic environment.
To simplify the process of purchasing physical gold and silver bullion in NZ – particularly for first time buyers.
---
---
The Legal stuff – Disclaimer: We are not financial advisors, accountants or lawyers. Any information we provide is not intended as investment or financial advice. It is merely information based upon our own experiences. The information we discuss is of a general nature and should merely be used as a place to start your own research and you definitely should conduct your own due diligence. You should seek professional investment or financial advice before making any decisions.
Copyright © 2017 Gold Survival Guide. All Rights Reserved.